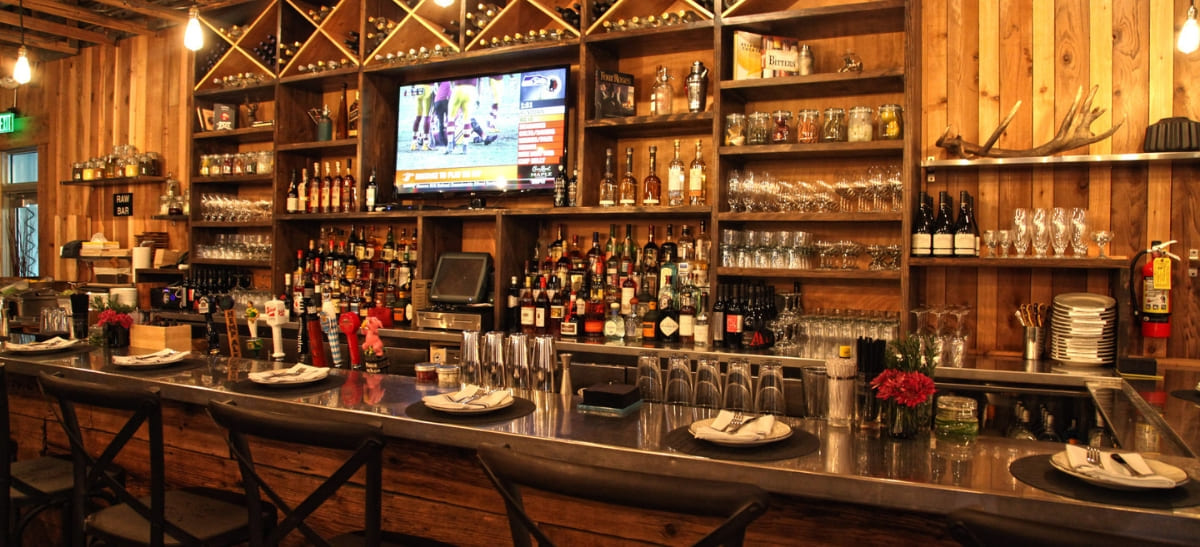 15/02/2019 From upscale bars to elite cocktail lounges to rooftop awe-inspiring scenes, here are the best bars in Miami
With tons of bars and incredible nightlife, the drinking scene in Miami is a perfect blend of vintage style and modern twists. From retro-inspired surroundings to so-cute-it-hurts bars and elite restaurant where the bar program is phenomenal, there is something for everyone. No wonder it tops the "must-visit destination" in the bucket list. Miami is blessed with incredibly good looks, it is eye-catching all day. The best way to dive in these stupendous views is with an expertly mixed cocktail in hand and gorgeous surroundings.
---
---
Below is a list of trending bars that Magic City has to offer.
Sweet Liberty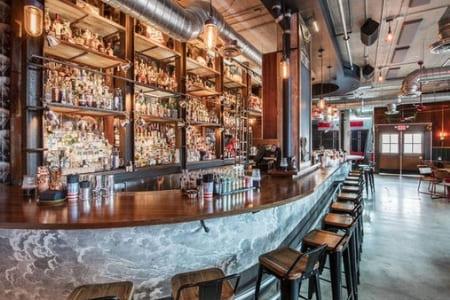 Image source: Pinterest
Want to dance away with '90s hip-hop? Come over on a Saturday night (or any night) where you will find people dancing to old-school tunes, enjoying beer in a booth or singing along with the live band at Sweet Liberty. This award-winning bar (Tales of the Cocktail, The Worlds 50 Best Bars 2017, Time Out Bar Award, Playboy's Best Bars in America etc) is conceived and operated by award-winning bartender John Lermayer and Dan Binkiewicz along with restaurateur David Martinez. This establishment offers an excellent selection of drinks and crowd-pleasing food. The best thing? They have happy hour every day (4 PM – 7 PM) which features $5 beer, $8 cocktail and $0.95 oysters, that's quite a steal for a good time. The bar opens at 4 PM and closes till 5 AM to cater the night owls as well.
Mac's Club Deuce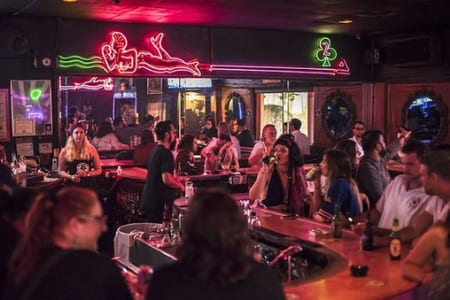 Image source: Pinterest
This legendary establishment which opened in 1964 is one of the oldest dive bars in Miami Beach. This isn't a fancy place with lavish cocktails; here the liquor is stiff with strong character. The good thing is you don't have to spend hundreds of dollars for a night out, domestic beers are available for $5 to $6. Two-for-one happy hours run from 8 AM to 7 PM all week. It is unchanged since its opening (can't beat that). Mac's Club Deuce is a neighborhood spot to drink, play pool, share a cigarette with a real-life cowboy and chat with a person sitting next to you. One of Anthony Bourdain's (celebrity chef) favorite dive bars.
The Regent Cocktail Club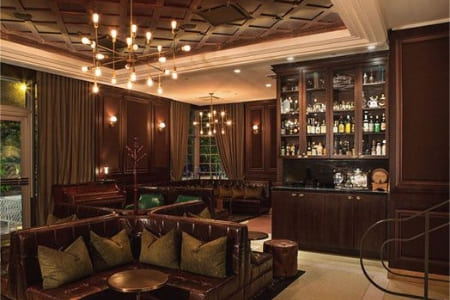 Image source: Pinterest
The Regent Cocktail club will take you back to the simplicity and elegance of the 1940s. Charming decor, dressed up bartenders, dark leather banquettes, antique furniture, and high ceilings is enough to draw someone's attention. The daily rotation of drinks here makes the crowd coming back indicating no trip here will be the same. If you are planning to dine, keep this as your pre or post meal spot. If you're fine with few bar snacks with your drink, you'll be pleased. Keep your crew small as it can get crowded on weekend nights but even when there are few people deep at the bar the bartenders won't take long to acknowledge or serve.
The Broken Shaker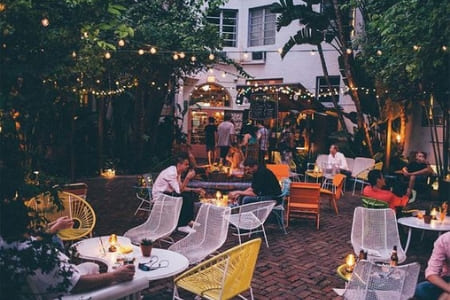 Image source: Pinterest
In 2012 a former pop-up bar blossomed into a permanent and much-loved spot for Miami locals in the form of The Broken Shaker. This backyard sitting at the Freehand hotel has seasonal drinks and monthly specials, the cocktail menu is constantly recreated based on what's fresh, most of their exotic herbs are grown in the backyard garden. This Tales of Cocktail's award-winning Best American bar is a perfect blend of ingredients and international flavors to complete your Miami Beach getaway! Oversized chairs with a shady courtyard full of banyan trees is surely a place to relax with a tasty cocktail. On a cool breezy night escape to this backyard oasis to sit under the glitzy lights for a romantic night. Happy hours are best if you are looking to save a buck or two.
[[relatedPurchasesItems-31]]
The Anderson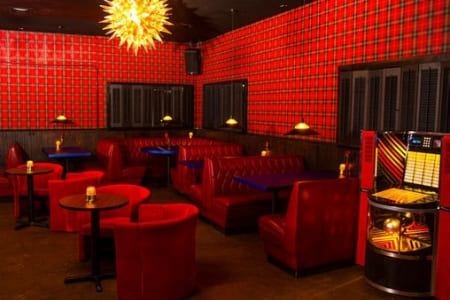 Image source: Pinterest
Enjoy the upscale cocktail menu in this '80s inspired ambiance of the Anderson by the Bar Lab team which still has the essence of its well-loved predecessor the Magnum Lounge. Here you will find a harmonious blend of nostalgia and newness. The creators have kept much of the elements from Magnum. Fans will quickly recognize the dimly lit red interior with red couches and mirrors, a vintage jukebox filled with '80s classics, and the piano. The cocktail menu is divided into two categories- New Wave and Originals. No matter the preference, you can expect a range of seasonal and classic cocktail with Bar Lab's twist,
Gramps Bar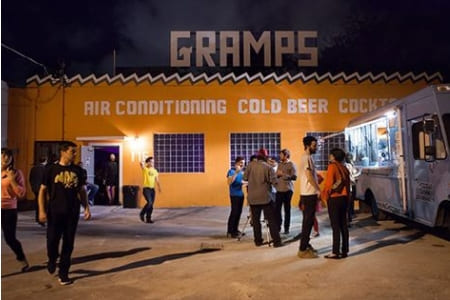 Image source: Pinterest
Could you ask for anything more in perpetually hot Miami other than sitting in an air-conditioned bar which has lots of drinks? Perhaps a variety of local brews on tap, weekly karaoke, and cocktails too. If not that, grab a slice of pizza from Gramps own restaurant. Entertainment ranges from live music to live comedy. This can be your perfect spot to begin or end the night with its strong yet balanced drinks and friendly atmosphere.
Lagniappe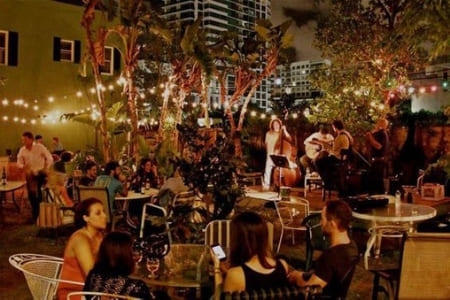 Image source: Pinterest
Lagniappe has a laid-back environment, feels like having a bash at a friend's backyard. Only the backyard is spacious with mismatched furniture and hung up lights. There are no menus, no cloth napkins or silverware, no waiters, just pick up your bottle from the racks holding wine by the bar's entrance, take it to the counter where it is uncorked and head back to find a table on the patio under the fairy lights. They have grilled basics, crusty bread, crackers, marinated olives, sautéed veggies, BBQ chicken etc. A perfect place to hang out with friends, have good beers, wines and live music. Still finding a reason to do? They. Got. Cheese.
Juvia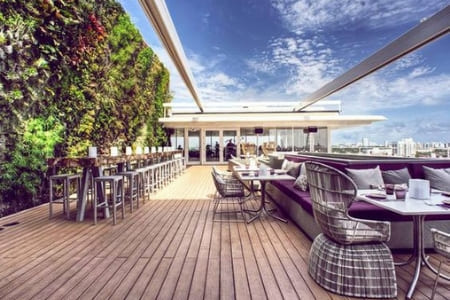 Image source: Pinterest
Situated on the ninth floor of the 1111 building, Juvia is a magnificent rooftop bar and restaurant. The large wooden rooftop terrace and indoor sky restaurant with floor to ceiling windows are beautifully decorated to offer stunning 270-degree panoramic views of Miami Beach and Downtown Miami. The atmosphere is vibrant and you will find well-dressed people enjoying food and live DJ in the vertical garden. This epitome of fine dining flaunts French, Japanese, and Peruvian inspired dishes which is presented and plated in a stylish yet professional manner and served by an expert team. Enjoy your brunch with refreshing and well-crafted cocktail and appetizers. Juvia is a perfect mix of Miami- relaxed and chic.
Ball and Chain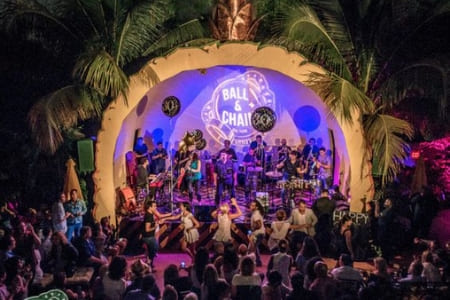 Image source: Pinterest
Ball and Chain is a re-creation of the historic jazz bar from the '50s. This Little Havana nightspot has retro feel mixed with Latin flavor. They serve Cuban-style tapas and tropical cocktails in its lively environment. Sandwiches like the Cuban Sandwich made with ham, pork, swiss cheese, and Mojo grilled Chicken Sandwich made swiss cheese, spicy mayo, and tomato, served with grilled pineapple slaw and potato frites are incredibly flavorful. The Ball and Chain's cocktails like Havana Regal made with Chivas Regal Extra, fresh lemon & lime juice, angostura bitters, simple syrup, fresh mint, Passion Fontaine made with tequila, passion fruit puree, lime, basil and jalapeno, a great addition to the atmosphere. Walking along Calle Ocho, you may hear some music coming from this place, from a live Cuban band. You might want to practice your salsa moves as there's no doubt that larger acts will be hitting the stage in no time. Everyone is cheerful and Men will love if you invite them to salsa all night.
**
Related articles
New York Bars You Should Not be Missing Out On
Now Accepting International and Domestic Submissions. Enter Your Brands Before October 31 and Save Big. Time To Grow Your Brand In Bars, Hotels and Restaurants Of USA.