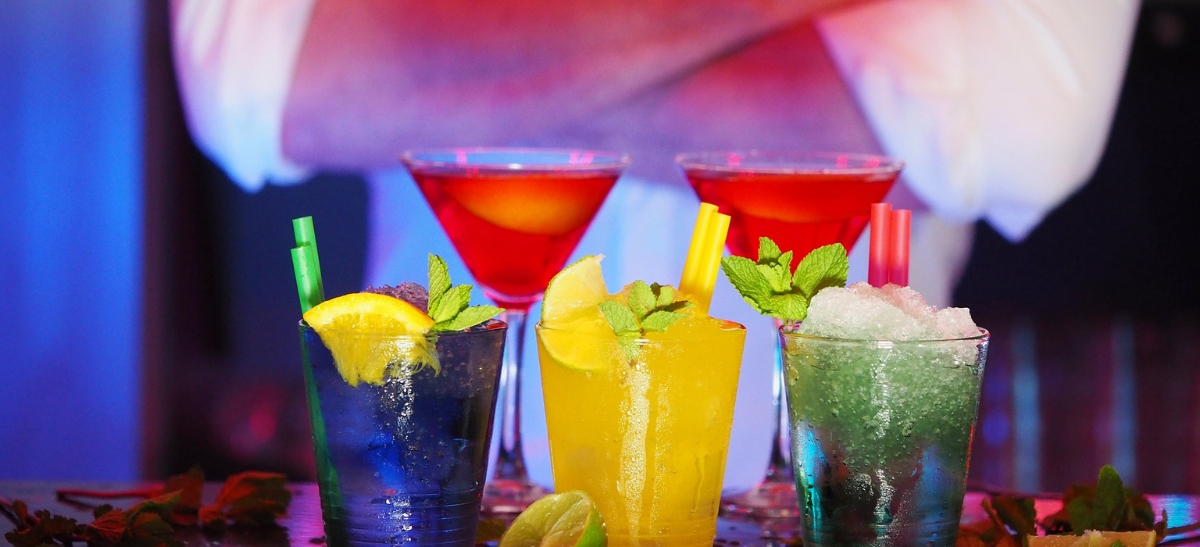 10/01/2019 Meet some of the most renowned names in the world of Mixology.
We live in a constantly changing world where invention and innovation is a part of routine life, this industry is no different.
---
---
Meet some of the leading Mixologists from the USA who became famous for their love of mixology and thirst for innovation and creation of craft cocktails.
Lynnette Marrero
She is a New York-based bartender, mixologist, and even philanthropist Lynnette Marrero is a master behind many things aside from mixing flavourful cocktails and drinks. She's actually the one who created the world's first all-female speed bartending competition, "Speed Rack."
Her most preferred choice in mixing is rum and she worked hard to perfect the art of mixing the best rum cocktails. Aside from mixology, Marrero is the president and founder of LUPEC NYC. She's, no doubt, one of the best mixologists in the world.
Dale DeGroff
Dale DeGroff, also known as the King of Cocktails or King Cocktail, is an American bartender, mixologist, and author. The New York Times in 2015 called DeGroff "one of the world's foremost cocktail experts", and wrote that his book "The Craft of the Cocktail" is considered an essential bartending reference. From 1987 to 1999 DeGroff rose to prominence in the Rainbow Room at Rockefeller Center in New York City. He is the founding president of the Museum of the American Cocktail in New Orleans and a partner and consultant in the Beverage Alcohol Resource.
David Wondrich
He lives in Brooklyn, New York, David Wondrich is the writer and mixologist behind Alcohol, David Wondrich is widely hailed as one of the world's foremost authorities on the history of the cocktail and one of the founders of the modern craft cocktail movement. Dr. Wondrich is a five-time Tales of the Cocktail Spirit Award winner. He is the author of countless newspaper and magazine articles and five books, including the hugely influential Imbibe, which was the first cocktail book to win a James Beard award and Punch, which came out in late 2010 to broad acclaim and did much to spark the current boom in punch-making. At present, he is immersed in the Oxford Companion to Spirits and Cocktails, a multi-year project. He is a founding partner in Beverage Alcohol Resource, America's leading advanced training program for bartenders and other mixologists. He also is a frequent guest lecturer at venues such as the Smithsonian Institute, the American Museum of Natural History and top bars on five continents and ships at sea.
Derek Brown
He lives in Washington, D.C, Derek Brown is an American entrepreneur, writer, and bartender, mixologist. In addition to being a leader in the classic cocktail movement, he is an expert on the history and culture of spirits and drinks. Brown travels the world teaching seminars on the importance of alcohol in shaping our society and learning about regional and local variations of spirits and drinks. He owns bars Columbia Room,
Micah Olson
Micah Olson is the Co-owner and mixologist at both Bar Crudo and Okra Cookhouse & Cocktails, Micah Olson's signature cocktail is Crudo's best-selling drink, Olson created the lounge's cocktail menu, which features simple cocktails with only a few ingredients each to allow the spirits to shine. The menu is separated by the types of spirits made by the distillery: vodka, gin, tequila, whiskey. Many of the drinks are classics, with a handful of originals. Olson is really trying to make the Old Walrus lounge a neighborhood hangout and eventually a destination for imbibers from all across the Valley.
Ross Simon
Ross Simon is the mixologist, working at the family restaurant in the old country of his native home of Scotland. Now, following two decades experience in the catering industry and after mixing it up with the biggest names and brands in the cocktail world, Ross has opened his cocktail lounge inside the historic Luhrs Building in the heart of downtown Phoenix. Ross has created what he calls The Flawless Martini. Ross has continued to participate on projects ranging from events, television and menu creation to hosting cocktail seminars & global cocktail competitions, with each raising the awareness of professional bartending and helping the craft of the cocktail move forward on the world stage.
Jason Asher
He is currently the Director of Mixology & Craft Spirits for Young's Market Arizona, and Director of Beverage Development for Scottsdale, Arizona cocktail bar, Counter-Intuitive. Jason Asher is a Scottsdale-native, began his career working in restaurants throughout high school and college, He began his journey from bartender to mixologist at the Sanctuary Resort on Camelback Mountain His hospitality experience spans from cooking in kitchens, nightclubs, resorts, craft cocktail bars, assisting with national account beverage programs, private events, management and, most importantly, as a mentor within the local Arizona mixology community. He has been featured in numerous national publications, including Esquire, Imbibe, Tasting Panel, Food & Wine, GQ, and Saveur.

John Henderson
He is a New York-based Bartender, Mixologist, and a Scientist as he continues to immerse himself in the world of spirits, and cocktails member of the United States Bartenders Guild, John has competed in various competitions, including, Drambuie's Nail or Fail 2012, Barenjager National Bartender competition 2012, Tequila Ocho's Viva Sangrita 2013, was twice a finalist in Diageo World Class US 2013 and 2014. In the past, John has been featured in The Boston Globe, Stuff@Night, The Forward, SeriousEats, The Daily Meal, DuJour.com, Men's Health and several other national publications.
JP Fetherston
He is a Washington, D.C. based Mixologist, bartender. JP is a Beverage Director for Drink Company, overseeing all of Drink Company's menus, spirits, training, and educational programs. Previously, as the head bartender of the Columbia Room, he led his team to win "Best American Cocktail Bar" at the 2017 Spirited Awards. He has also been named Food & Wine Magazine's "2016 Best New Mixologists in America" and included in Thrillist's list of "America's 21 Greatest Bartenders of 2015." Previously, he was Bar Manager at the now defunct Southern Efficiency and won numerous accolades for himself and the bar including Eater D.C.'s 2014 "Bartender of the Year," Food & Wine Magazine's 2014 "People's Best Bar in the Northeast" and Bon Appetit Magazine's 2014 "Top 50 Best New Restaurants in America."
Pamela Wiznitzer
She is a New York-based mixologist, Pamela Wiznitzer has a true passion and zest for the industry that is seen and tasted in every drink she serves and also transcends the bar. Since 2006, Pamela has been working throughout NYC, and most recently as the Mixologist for Henry at the Life Hotel in Manhattan. She has earned the honor from her industry peers such as winning 1st place in the 2014 National Restaurant Association's "Star of the Bar" competition. She has been nominated as one of the top 10 bartenders for 2014, 2015 and 2016 "American Bartender of the Year" award at Tales of the cocktail and was named the "2014 Bartender of the Year" by the Village Voice. Additionally, she was just named as one of Food & Wine Magazine's top 10 Rising Star Mixologists, an inductee to the "Dames Hall of Fame" in 2015 and one of Wine Enthusiast Magazine's "40 Under 40" in 2015.
Charles Joly
He is a Chicago based Mixologist and bartender. Charles has been the mind behind some of the most refined cocktails bars in the world, with his last venture earning a James Beard Award, the highest honor in the culinary arts. His long list of accolades includes being crowned Global Bartending champion in the 2014 World Class competition, besting over 50 countries to become the first American to hold the title. He has twice been named top American bartender and is recognized nationally and internationally as a leader in the craft of the cocktail. Along with developing Crafthouse®, Charles travels the globe presenting educational seminars on spirits and cocktails in every corner of the world. He has been featured prominently on the Today Show, Rachel Ray, Steve Harvey, The New York Times and countless other media outlets as an expert in the field
Gina Chersevani
She is a Washington, DC-based Mixologist, Gina Chersevani served tasty treats for adults to kick off DC Beer Week, but she didn't leave the kids behind. She also poured a frosty mix of alcohol-free drinks. Since 2012, Gina Chersevani has opened two places of her own the cocktail bar Buffalo & Bergen and the drinks truck Suburbia at Union Market. Chersevani's summer drinks tend to go light on the alcohol, so you can enjoy a few without getting totally loaded in the heat In the Dunes of the Cape drink is inspired by her love of piña coladas and named after a lyric from the Rupert Holmes song "Escape."
Julia Momose
She is a bartender and mixologist in Chicago Crafting cocktails takes Oriole's beverage curator and partner in forthcoming Kumiko Julia Momose all around the world. Julia's meticulous attention to detail and appreciation for hospitality has led to national acclaim for her creative vision and beverage programs. From 2015 through 2017, she created and led Green River Restaurant and Bar's beverage program as Head Bartender. There, she was responsible for multiple menus across three venues, as well as staff training on cocktails and spirits. During her time there, Green River was awarded their first Michelin star. Previously, she was the Head Bartender at The Aviary, the James Beard Award-winning Chicago bar from Grant Achatz's Alinea group
2023 Submissions are closed. The Deadline for receiving samples in the warehouse is April 30, 2023.