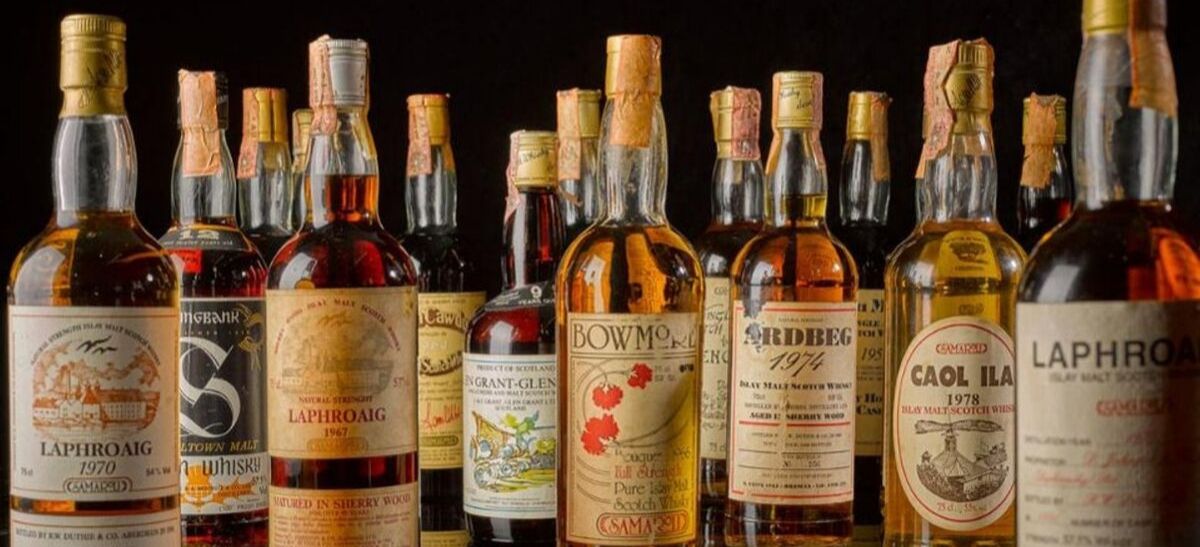 19/09/2019 Offered by an unnamed whiskey enthusiast the collection has been estimated up to $4.8 million in value
Later this month, international auction house Sotheby's will auction off a spirits collection dubbed as "The Ultimate Whiskey Collection." The collection, estimated to be up to $4.8 million in value, is the most valuable collection of whiskeys and will be the auction house's first-ever single owner offering of spirits.
---
---
The collection hails from the cellar of an unnamed whiskey collector known to the spirits market only as "The Ultimate Whiskey Collector." The collector's whiskey collection features the following:
A small contingent of Macallan whiskeys, with a total estimated value of $2.7 million. These include a 60-year-old Macallan from cask #263 (estimated to be at $550,000), two Macallans from the Lalique Six Pillars collection (a group of six bottles estimated at $550,000), one Macallan from the vertical series, and a collection of 1937-1991 46 Macallan Fine and Rare miniatures (estimated at $107,000) encased in a wall-mount designed by craftsman, James Laycock.
Apart from the Macallans the collection also features, a vertical of Port Ellen (1st to 7th edition), a 70-year-old Gordon and Macphail, a Mortlach and Glenvilet (estimated at $25,000 and $23,000 respectively), a few releases from the Italian bottler Silvano Samaroli (estimated to be valued up to five figures), a vintage 64-year-old 1937 Glenfiddich, a 50-year-old 1937 Balvenie, and a two 50-year-old Dalmores and Highland Park.
The Ultimate Whiskey Collector reflected on his massive whiskey collection by saying:
"I started this collection and realized that if I really spent time on it and was selective in my choices, I might be able to put together something significant and unique. Two decades on, I think the collection is at that point where it is indeed unique. Having cherished these bottles, I am now ready to share them with collectors around the world."
Sotheby's Spirits Specialist Jonny Fowle proclaimed The Ultimate Whiskey Collection as one of the most comprehensive catalogs of whiskey offered in an auction by a single owner. Fowle gave his opinion on The Ultimate Whiskey Collector by saying that:
"Whilst collecting whiskey can appeal to different people in different ways, it is clear that this collector is a true fan of the liquid within the bottles as well as the bottles themselves"
Described as "a groundbreaking sale" by Sotheby's chairman Jamie Ritchie, the online bidding for The Ultimate Whiskey Collection will begin on September 27 and end with a live auction on October 24 at the Olympia event space in West Kensington, London. The live auction of The Ultimate Whiskey Collection will take place alongside RM Sotheby's auction of collectible cars on the same day.