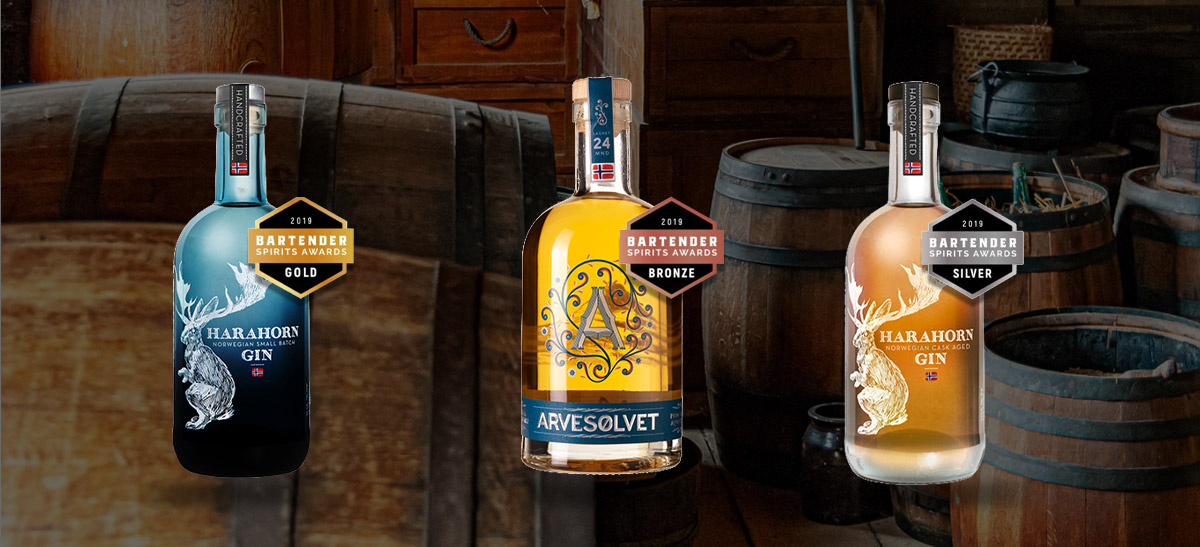 30/06/2020 Det Norske Brenneri From Norway Grabbed Three Medals at the 2019 Bartender Spirits Awards
Det Norske Brenneri, Norway's second-largest liquor producer grabbed the Gold medal along with a Silver medal & a Bronze medal at the 2019 Bartender Spirits Awards.
Det Norske Brenneri, formerly Puntervold / Agder Brenneri broke the monopoly.
How, you ask?
Det Norske Brenneri has its production and barrels in Grimstad in southern Norway. Here, among other things, various aquavit brands and apple spirits have been produced since the production monopoly in Norway was dissolved in 2005. They were the first private brewery in Norway after more than 80 years of monopoly. Grimstad has a history dating back to the 1880s when it comes to the production of hot wines, through the brand Fuhr.
DET NORSKE BRENNERI FIRE FOR OLD CRAFTS TRADITIONS
In their aquavits, they use only the best herbs and spices, many of them from Norwegian nature. Due to the climate, there are few places on the planet where herbs and berries have such taste and aroma as in Norway. Det Norske Brenneri collaborates with botanist Rolv Hjelmstad in the Urtekilden on Oppdal and organic herbs from Røros. They place great emphasis on barrel storage and use only the best Oloroso sherry barrels from Spain. Many of their aquavits have received Norwegian and international awards for their quality.
Today, Det Norske Brenneri is best known for its craft products; the aqueducts Heres Silver, Heres Silver Clear, Chief, and Hellstrøm.
Det Norske Brenneri bagged a Gold, Silver & Bronze medal for its Harahorn Small Batch Gin, Harahorn Cask aged Gin, & Arvesølvet Cask Aged Aquavit respectively at the 2019 Bartender Spirits Awards.
To evaluate the entrants, the Bartender Spirits Awards invites a leading panel of top-level experts only; the experts who are involved in direct commercial buying activities for selling spirits to the consumers. They are the professional spirits buyer who selects spirits every day to go on the shelves of the restaurants, hotels, supermarkets, and spirits stores.
Bartender Spirits Awards, organized by the Beverage Trade Network, is focused on the needs of the U.S. on-premise establishments such as bars, restaurants and clubs and is the only competition of its kind that is judged solely by bartenders, bar managers, bar owners and other professionals within the industry.
To check out other 2019 winners, click here.
To know more about Bartender Spirits Awards, click here.