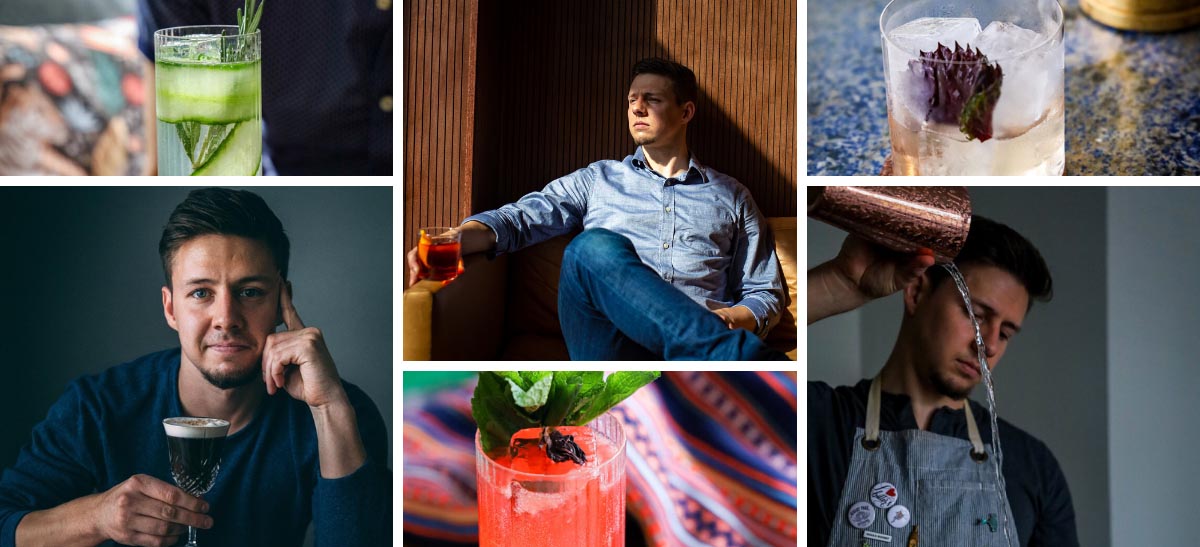 23/11/2021 Award-winning bartender and beverage consultant, Tyler Zielinski shares tips, insights for bartenders and more.
In conversation with the multi-talented, award winning bartender, drinks writer and consultant. A man that follows his passions so when Tyler isn't building cocktail programs and bespoke serves for bars, he is developing cocktail recipes for brands and media outlets.
Tell us a little bit about yourself. How did you begin your career and how did you progress into this role?
I started my career in the cocktail bar industry in 2014 in Cambridge, Mass, while studying in college to make some extra cash. After finishing university, I moved to New York City, where I worked at a couple of advertising agencies, working on powerhouse clients such as Procter & Gamble and ABInBev. In NYC, I found that I missed being behind the bar and connecting with the bar industry, so I started a now-retired blog called Bon Vivantito, where I wrote about food and drink in New York. The blog was recognized by leading culinary outlet Saveur Magazine as a finalist in their 2018 blog awards for "Best New Voice." That nomination catapulted my career in the bar industry in drinks writing and allowed me to get back behind the stick while freelancing on the side. My career has been pretty unorthodox, but it's been led by my passions first and foremost. Now, I get to spend time behind bars, consulting for brands as a drinks expert, and writing about bartending, where to drink around the world, and so on. What I do is not for the faint of heart as it's a hustle, but I do enjoy being a part of this industry in various ways.
Define your role and the tasks involved in your role.
This really depends on whether I'm behind the stick or freelancing full-time. Generally, if I'm doing both, the tasks involve writing about cocktails and bar culture, consulting for bars and brands on various areas within the bar/beverage industry, and developing menus and bartending.
What questions would you ask the bar owner before you plan your sales growth strategy?
First, you have to understand ownership's expectations financially. What are the expected gross sales per night/week/month? What overhead is the business accounting for? Familiarizing yourself with the business should always be the first step (and as owners, transparency is key). As for actionable questions, it's important to know if there's a preferred pricing model for the menu (i.e sliding scale, or each cocktail priced according the the goods served), and if there are specific drink categories that should be focused on for one reason or another (e.g. If the bar has a tropical theme, ownership might want to ensure sales of tropical cocktails and rums, as opposed to vodka, etc.)
How can suppliers work with you to drive sales?
Suppliers can offer case deals, allocated products, and possibly even brand deals, in collaboration with the ambassador, for ensuring that the business is profitable while still keeping menu prices affordable for guests.
What do you look for in items that qualify for house pour?
House pours should be reliable and available consistently (i.e, I should be able to get the product in every week without fail); they should be affordable for the bar's concept; house pours should also be of a high quality at the price point.
What are the four main things you focus on daily in your role?
This is a difficult question to answer since my role is a hybrid of many things, and depends on what I have going on. If I'm bartending: it's preparation, both in knowledge and ingredients/products for service. For writing and consulting, I focus on writing about stories that are valuable for imbibers seeking new places to drink and for bartenders hoping to understand a bit of cocktail history or technique.
5 ways to upsell drinks at the bar
Upselling is less about sales, and more about ensuring the best experience for your guest. I know that sounds counterintuitive, but most consumers want to have the best possible time while drinking or dining at a bar or restaurant — it's typically why they're there. By ensuring that your guest has the best experience by lending them your expertise, you'll inherently upsell. For example, a new guest walks into your bar for the first time. Maybe they have an idea of what they'd like after reading the menu, but you could ask them if it's their first time, what they typically drink, what they're going to eat, and then provide a bespoke beverage experience for them that complements their food, or fits one of the other criteria (e.g. the guest likes Margaritas, so you serve them a twist on that classic using a premium spirit). There are many ways to upsell drinks, but if you're doing your job properly and have been trained, this should just come naturally to you while providing a hospitable experience.
Tips on training new bartenders
It's not about the cocktails; it's about the service and hospitality. People can get great cocktails anywhere in 2021, so it's important to ensure that new bartenders are trained to be service-oriented first. Once they've got service and hospitality down, then it's important to make sure they understand how the bar is run operationally, how to mix drinks properly (think: Milk & Honey, Death & Co., and NoMad-trained bartenders), and general knowledge of cocktail and spirits.
What are the drinks trending in your country? cocktails, brand names, categories?
I'd say this is more of a global trend, but the return to simple twists on relatable classics with interesting culinary-focused ingredients; a focus on low-waste practices for menu prep; and less is more (i.e minimalist cocktails with complex individual ingredients).
What's customer service to you?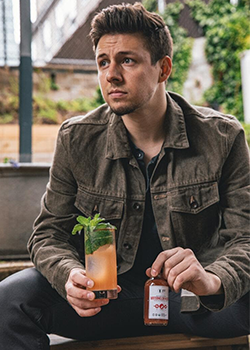 Customer service is paying attention to why the guest is dining or drinking with you, and making sure that they are served accordingly. Basically, it's all about empathy and reading the room. Are they on a first date? If so, maybe don't interrupt much, until you pick up a cue that indicates you should. Are your guests a family of four celebrating an occasion? Maybe go out of your way to engage with them, and offer them a birthday shot or dessert on the house as a way to say thanks for celebrating with us.
Define a good bartender
A great bartender is someone you'd enjoy sitting with and talking to even without a drink or bite in-hand. They should be both entertaining and hospitable, thoughtful and enthused, and technically-sound and knowledgeable about drinks. All of the formerly mentioned traits are what bring guests back into your bar over and over again — a great bartender makes the difference.
How do you manage non-performing brands?
Toss them in some weekly or daily cocktail specials, and keep them moving. But, if you brought it in, you should know that it'd either be a fit for your guests and beverage program, or would put it in a cocktail that sells. If a brand isn't performing, it's likely the bar manager's fault, or whoever decided to stock it.
How can you increase your beverage sales with the selection you already have.
Get creative with programming, special menu offerings, and upselling.
How, according to you, has the role of the Bartender evolved, especially now during Covid times?
I'd say it devolved rather than evolved. Unfortunately, with bartenders unable to be as intimate with their guests (i.e having masks on so you can't see a smile, etc.), and some guests unable to even sit at the bar depending on where you live, bartenders have essentially become bar chefs in many ways — the connection with the guest has been lost. Hopefully, this will change, and bartenders can reconnect with guests, offering them the hospitality that makes bars so special.
What else do you look for in a brand before saying yes apart from quality, value, and package?
I consider if the product is ethically produced — both from an environmental perspective, and if the owners and staff are good people with a positive mission. Why is this product in the market, and what is it bringing to the table that's different aside from its quality, value, and packaging? It's also important to make sure that you have a fit for a brand in your beverage program and that your clientele will enjoy it. You know what sells at your bar, so stick to what's profitable.
Give us an example of a common problem in bar business and how you handle it.
Not getting paid enough and unhealthy work environments. We are all humans and deserve to be treated with kindness and compassion. If I'm not respected in that way when working for a bar or individual, then I'm out — plain and simple. Life is too short to be treated poorly. I realize that having the option to up and leave a job based on my freelance roles is a privilege, though; but fair working conditions is something I'm always very vocal about for those who don't have the same luxury I do.
Your favorite places to enjoy drinks?
Side Hustle at NoMad London, Lawrence Park in Hudson, NY, and Dead Rabbit in NYC during the early afternoon.
What's the best and worst part of your job?
The best part about my job is that it's flexible and that I'm my own boss. But, on the flip side, it's a hustle and can get tiring. If I'm not working, I don't make money as there's no salary or guaranteed work. It's a trade-off I've come to terms with, and it works for where I'm at in life at the moment.
Interview by Prithvi Nagpal, Editor & Sommelier