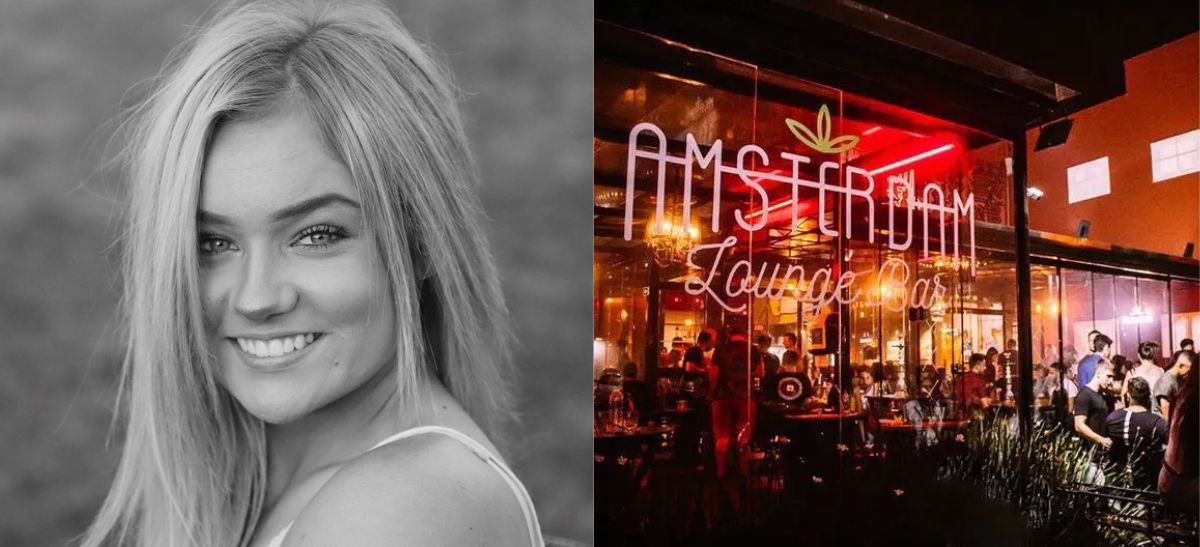 30/11/2022 Carlie Strom, Bartender at Amsterdam Lounge, in the interview below talks about her role as a bartender, how the role of the bartender evolved, especially now and post Covid times and shares valuable tips for new bartenders.
Carlie is a senior at Boise State University pursuing a degree in Business Marketing. She began working at Amsterdam Lounge during the beginning COVID times. She started working as a cocktail waitress and started training to bartend three months later. While working in the sector, she developed a passion for bartending and the spirits industry. She had the opportunities to work in a variety of settings in the bartending industry, including the afterparty for the musician Russ and promotional teams for brands like 44 North Idaho Vodka.
Where do you work?
I work for Challenger Hospitality Group at Amsterdam Lounge in Downtown Boise, Idaho.
Tell us something about yourself.
I am a Senior at Boise State University pursuing a degree in Business Marketing. I grew up in Tucson, Arizona, and spent my teenage years in Washington State, where my family now resides. I love to snowboard, work out, spend quality time with family and friends, and bartend!
What inspired you to get into bartending?
For me, becoming a bartender was not necessarily a goal of mine. It started with wanting to find a job through college that would allow me to have a flexible schedule. I began working at Amsterdam Lounge during the beginning COVID times. I started working as a cocktail waitress and started training to bartend three months later. I am now so grateful that I was in the right place at the right time and have had the opportunity to work for a great company and develop a passion for bartending and the spirits industry.
How, according to you, has the role of the Bartender evolved, especially now and post Covid times?
The role of a bartender has evolved immensely since its start. There are many more spirits, bitters, and easier access to fresh produce to be used in cocktails than there was back when bartending began around the prohibition era. I believe bartending has become much more of an art. In many upscale cocktail lounges and restaurants, you will see extravagant cocktails created by brilliant bartenders. To me, a bartender is someone who can make you a great drink and has a friendly face that makes you feel at home in their bar. Through COVID, it has been a priority to allow patrons to have a great time while ensuring their safety. I believe the pandemic has caused many bars to take precautions and ensure a safe and clean environment for our customers to enjoy.

Image: Carlie Strom
What's the best part of your job?
The best part of my job is the people and opportunities that have come my way. I have met extraordinary people I would have never met if it wasn't for bartending. The stories I have heard, the advice I have been given, and the people I have met are by far my favorite part of my job. I have had many opportunities through bartending, from bartending musical artist Russ's afterparty to working on promotional teams for companies like 44 North Idaho Vodka. You never know who will sit down at your bar next and what opportunity might come from that.
[[relatedPurchasesItems-31]]
What are some of the most important skills for a bartender?
I believe the most important skill as a bartender is your people skills. As the stereotype goes, people love to talk to bartenders about their lives, whether they need advice, comfort, or just vent to someone. Throughout my years bartending, I have developed a great deal of people skills.
What cocktails and drinks trends do you see in 2022?
In 2022, I see many new cocktail trends coming about. With social media being such a big part of our society, it is easy to see others' creativity. I cannot count the number of times someone has asked me to make them a drink they saw on their TikTok. I love that people are playing around with different ingredients to create their own version of the classic cocktails we all know and love. There are also many niche brands on the market. It is great that there are so many emerging wine, beer and liquor brands on the market. I also see mezcal making a rise and being used more in cocktail menus. Mezcal is such an interesting spirit because of the robust, smokey flavor it brings to a cocktail.
What are your favorite TV shows right now? Or your favorite movie?
I am a bit behind the trend right now on TV shows, but I love to watch Ozark, Mad Men, or That 70's Show.

Image: Carlie Strom
If you had to pick one spirit as your personal best, which would it be and why?
If I had to pick my personal best spirit, it would be Gin. I love using gin in cocktails because it is refreshing, easy, and fun to find flavor profiles that go well with it.
Any tips for new bartenders?
If you are a new bartender, I would suggest learning about different spirits, their making, and their history. Knowledge is power and will help you understand and appreciate the cocktails you are creating on a different level. Also, you get to impress your customers and friends with your extensive liquor knowledge, which is a plus.
What's the most underrated cocktail ingredient or spirit?
The most underrated cocktail ingredient, in my opinion, is egg whites. I love putting egg whites in cocktails to give the drink that frothy consistency. Egg whites make the cocktail richer and can also tone down the sharpness of the drink a bit. One of my personal favorite cocktails is a whiskey sour with egg white.
What experience or a customer story you thought was funny and that you remember?
I have had many funny customers and crazy stories throughout the years. One of the most dramatic moments was on a mellow Thursday night. A man had walked in, sat at my bar, and ordered a Sailor Jerry's and coke. Easy enough. I gave him his drink as he threw down his card on the table. I gave him the benefit of the doubt, thinking he may have had a bad night. Turns out I was correct. Later in the night, a woman stormed in and asked me to close his tab. They had a heated exchange, and before the couple left, the man turned to me and said, " Put one more drink on my tab and give it to the blonde woman sitting behind me. Then flip her off". They hurried out of the bar. I made a drink the woman had been drinking all night and gave it to her. When she asked me who it was, I explained the odd situation and described the man to her. She exclaimed, "I knew it was him!". She then told me that she was his wife's best friend and had witnessed him on a date with his mistress at a restaurant earlier that night. Turns out, the woman that asked to close the tab was his mistress. I felt like I was watching a soap opera being played out in real life.
What's your career goal? Where do you want to be, and how are you working towards it?
My goal is to pursue a marketing career in the beverage industry. During my time being a bartender, I have fallen in love with the wine and spirits industry. I love how people are brought together over a drink at the bar. Whether it is a first date, a family that hasn't seen each other for years, or coworkers meeting up for a happy hour. I would love to market the products I have had the opportunity to sell over the last few years.
Define a good Bartender according to you.
To me, a good bartender knows a little bit of history about the product they are selling and what ingredients they can use to bring out the flavors and dimensions of the spirit. I love when a bartender has a great personality, and you can tell they love and are passionate about their job.
What's an ideal bar drinks menu? What should it include, and what profit metric should it try and achieve?
An ideal bar menu has diverse liquors, including fun and unique ones. I love going to new bars in different cities and seeing what local spirits they have on their menus. A great menu has something for everybody.
Get In Front Of Leading Bartenders and Grow Your On-Premise Presence. Enter Your Brands Before the Early Deadline Is January 31, 2024, and Save.