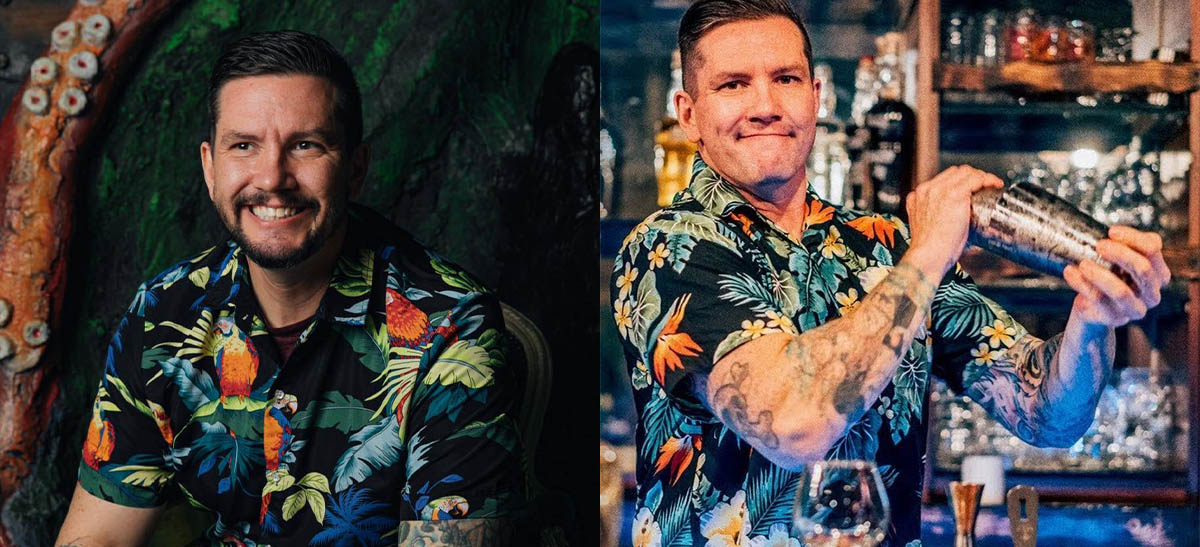 06/01/2022 Robert Adamson is an ex-search and rescue swimmer and operations specialist, who is now the Owner of Strong Water, a Tropical Bar in Anaheim
Tell us a little bit about yourself. How did you begin your career and how did you progress into this role?
I have always wanted to be a bartender. I know that probably sounds like hogwash but I LOVED the movie Cocktail starring Tom Cruise and the glamor of bartending was just burned into my brain.
Define your role and the tasks involved in your role.
My main focus is always quality cocktails. The second is coaching my team about good guest service. We instruct all our staff that if a guest doesn't like something then let's get them what they do like. We appreciate guests trying new things and most of the time they enjoy it but if the Mezcal, Absinthe, and Allspice Dram Old Fashioned didn't work for you then let's find what you do like. After that, I do whatever is needed for the success of my team.
What questions would you ask the bar owner before you plan your sales growth strategy?
Before I talk to the owner about a bar plan I would ask them, "Is this something you want"? A lot of time, I have done the work, shared the numbers and the owners did not see any reason to change anything as it was working for them. It is important to be in a place where you are supported and encouraged.
[[relatedPurchasesItems-31]]
How can suppliers work with you to drive sales?
I would love to have guest bartenders over from more popular locations. I feel that for a sponsored event, having a well-known bartender slinging drinks is pretty awesome. The cross-promotions give us a nice boost and introduce new people to our little spot.
Give us an example of a profitable bar menu program with examples of names and why you have them.
Every spirit must be represented in one shaken cocktail and one stirred. Along those lines, every family style of cocktails must be represented. This helps in creating something on the menu for everyone.
The cocktails should be named in both creative and familiar ways. E.g. Everyone knows the Mai Tai (familiar) but a Mezcal Mai Tai is something creative. Intending puns never fails to generate interest. We once did a movie-themed menu where we named the cocktail 'James & The Giant Peach' which was a Jameson Irish Whisky Old-Fashioned with Peach bitters. Another one was 'Who Framed Pomegranate' which was a Bourbon and Pomegranate Banger.
We choose familiar themes for the menus while focusing, motivating and inspiring the drink creators. Notice how I did not mention the bartenders? At our place, everyone has the opportunity to contribute and give suggestions on the menu. We don't make cocktails for other bartenders but for everyone to enjoy. If your 'Malort Swizzle' is great for the bar team but the host does not like it then we might not give it a spot on the menu.
What do you look for items that qualify for house pour?
Great taste and a mixable. I once had an awesome Rum with great chocolate notes but when I tried to make it into a Daiquiri it fell apart. What I mean is all those flavors, no matter how much Rum I added, wouldn't come through.
What are the four main things you focus on daily in your role?
My focus is always on Freshness and Aesthetics. Freshness is the key to good flavors and Aesthetics is the key to social media. Drinks have to taste good, smell good and have to be photographed well. If your drink doesn't hit those 3 points then you will lose a positive word of mouth.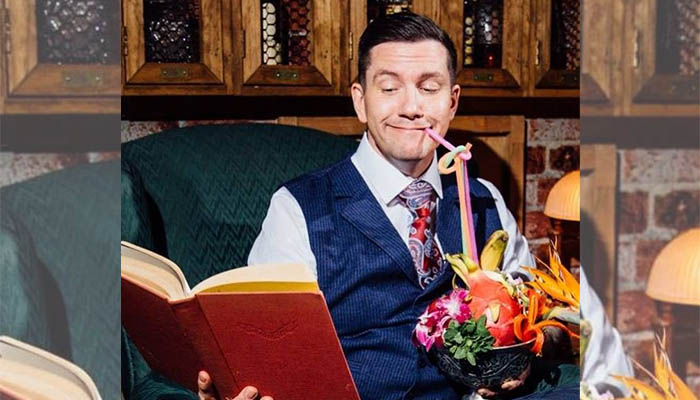 Robert Adamson enjoys a cocktail while reading a book.
How according to you has the role of the Bartender evolved, especially now during Covid times?
What I have witnessed so far is heightened self-care. Whether it is taking care of mental health or physical health, it's a lot more prevalent to me now than anytime before.
What else do you look for in a brand before saying yes apart from quality, value, and package?
First of all, it needs to taste good and the value or the pricing needs to meet the budget we are bringing it in for. Secondly, is it available? With supply issues, bringing in a bottle that is hard to source is a bigger headache for the program.
Give us an example of a common problem in the bar business and how you handle it.
A common problem in the bar business I would say is theft. Man does it suck when things go missing. Along with that the mistrust it creates. Nothing ruins a team faster than a lack of trust. Along those same lines, guests feeling the liberty or bravery after a few cold ones to just take a souvenir from the bar just disappoints me. So we bolt everything down, glue it, and screw it to the wall.
Your favorite places to enjoy drinks.
I love after-work drinks at work. We digress about the day's events and we do it in a safe place with good people. Nothing could be better.
What's the best and worst part of your job?
The best part is that I get to work with an amazing leadership team. The worst part is that I am getting older, which is fine, but man am I out of shape. I love meeting people but boy do I need to workout.
Interviewed By Prithvi Nagpal, Editor & Sommelier, Beverage Trade Network
Get In Front Of Leading Bartenders and Grow Your On-Premise Presence. Enter Your Brands Before the Early Deadline Is January 31, 2024, and Save.