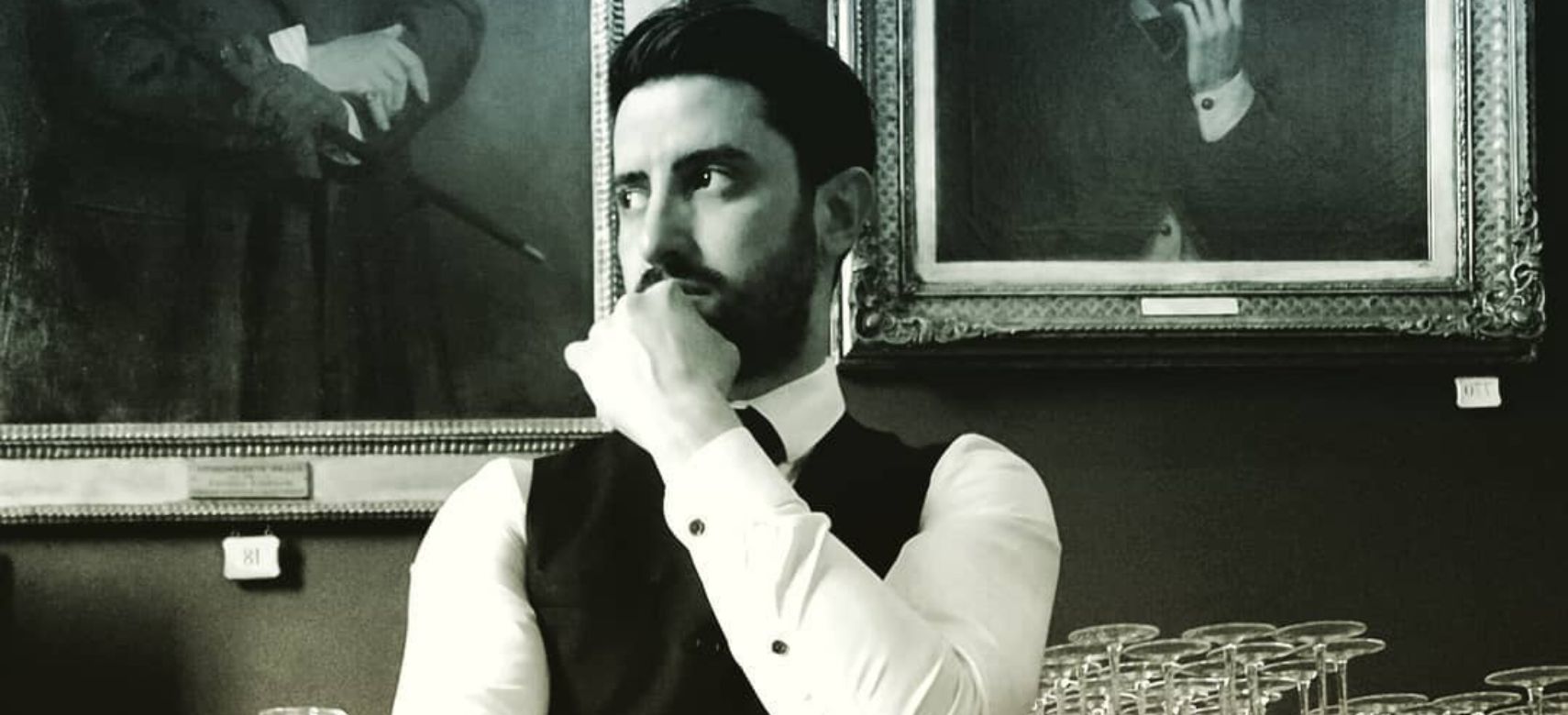 07/10/2022 In the interview below, Gabriele Zisa, Bar Manager at Garrick Club, London talks about his role as the Bartender evolved, especially now and post Covid times & shares his views on cocktails and drinks trends in 2022.
Gabriele is an ambitious and passionate man with more than 10 years of working experience in the beverage industry. He has previously worked as a bartender at Bar il Palio, Italia The Cuban Camden, London and is now working as a bar manager at The Garrick Club, London. Learn more about his journey in the bartending space below.
Where do you work?
I work at the Garrick club, a gentlemen's private club in the heart of theatreland in Covent garden. I've been working here for more than 5 years, I started as a bartender, and I've been the Head of the department for almost one year now. It's a very nice place to work, especially for the members and staff.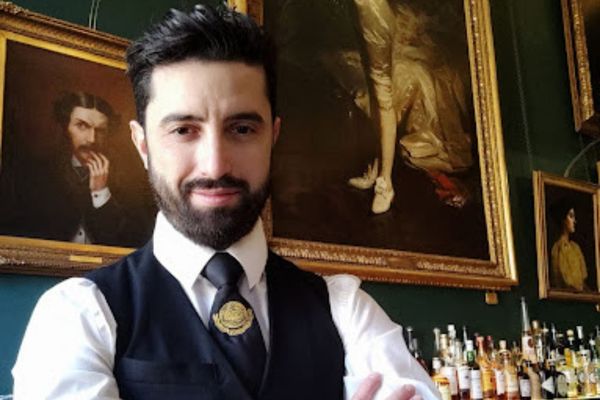 Image: Gabriele Zisa
Tell us something about yourself.
I'm Italian from Sicily, and I lived many years in central Italy between Rome, L Aquila (where I was studying the science of investigation) and Siena, Tuscany, which has been my last stop for traveling around. Here I started my adventure as a bartender. I had a lot of up and down because the city is very small. At the time, there weren't any needs for bartenders, so I started from the bottom as a bar back first, waiter after, and after 1 year and a half, I finally had the opportunity to do my job, and since that moment, I never looked back.
After five and half years in the city of the Palio, I decided that I needed a fresh start, to have new experiences, and to prove my bartender skills in the European capital of bartending, London. I first arrived here in the spring of 2016, and I felt straight away at home. I was full of positive feelings and ready. I had my first job in the no more existing Cuban in Camden Market. I remember the day when I started, I had the interview on a Friday afternoon, and in the evening of the same day, I was already working for the company. I had a very funny 9 months, but it wasn't enough, and I wanted something more and better for myself, which is why I'm now at the Garrick club.
[[relatedPurchasesItems-31]]
What inspired you to get into bartending?
More than the "what", it's "who". In my case, it has been my brother Fabio, and he was my inspirational model to follow. I was always going to watch him working, trying to learn his movements behind the bar, how he approached the clients, the style of preparation of cocktails, the jokes, the working flair, etc. For me watching him was like a live YouTube tutorial to "how to be a bartender and have fun", and trust me, it's a very fun job. So definitely, my brother makes me the bartender that I'm now in a strong percentage.
How, according to you, has the role of the Bartender evolved, especially now and post Covid times?
Well, in my opinion, the Bartender nowadays evolved into someone far from the classic figure that we used to see. We have an example in the 1988 movie with Tom Cruise, "Cocktail". In that movie, we can see a different way of bartending and, more specifically, the working flair. So is not anymore the barman in a suit stirring a Martini cocktail in a posh cocktail bar in Manhattan, but a guy on a shirt spinning bottles and shakers in the air, having fun and more important, entertaining the crowd. Now is more about finding the most authentic way to make a drink. I remember the molecular one back in 2011/12. Original, yes, but too extreme, in my opinion. I'm more for the classic bartending style of working, it doesn't matter from which height you pour a cocktail into a glass; if it's technically well made, it will be equally good. Speaking about the post-COVID situation, well, the major problem here in the UK is that it came along with Brexit, so now we are facing more than one year of shortage of staff in every hospitality business in town / UK. I know now you can find unprepared and unprofessional bartenders or covering higher positions with little background experience. This is great damage to the hospitality industry in general. Hopefully, the government will do something about it, but I'm not putting so many hopes on it.
What's the best part of your job?
When they don't ask me for a mojito :).
Well, I like to interact with my customers. Like any other bartender, I have my favourite ones with whom I spend more time talking. It's enjoyable most of the time, and we talk about any topics: sports, politics, movies, books, etc. I like to say that is part of my job too, but yes, it's definitely the best one for sure, well we are bar-tender for a reason, we take care of our customers.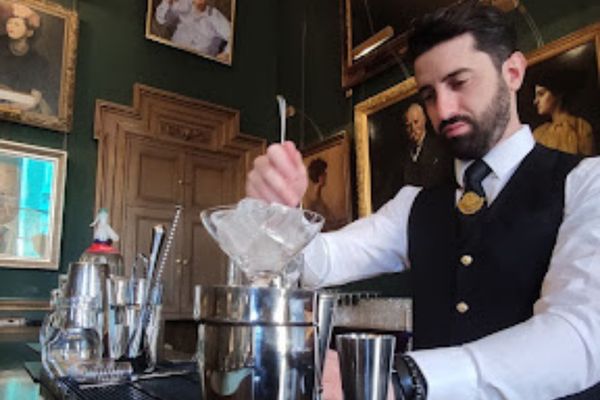 Image: Gabriele Zisa
What are some of the most important skills for a bartender to have?
There are many, but one of the most important is the ability to leave all your personal problems and bad mood on the other side of the bar. When a bartender enter behind a bar is more like an actor entering a stage, our stage is the top bar, and our crowd is the people waiting for a drink in front of us. Imagine an actor that brings his own problems onto a stage; he wouldn't be able to perform, and the same for a bartender. My job is to try to give the best experience when someone comes to the bar for s drink. Then, of course, there are all the other professional skills: very good knowledge of the most iconic and classic cocktails, preparation techniques, being clean and tidy behind the bar, and excellent communication skills.
What cocktails and drinks trends do you see in 2022?
In my opinion, the trend is still the same for 10 years now, with Gin very well established as one of the most spirit drinks. Gin and tonic became, in a short space of time, one of the most popular cocktails requested in any cocktail bar or pub. Because of that, we witnessed growth in production, sales, and recently the introduction of aromatic gins: pink, orange, raspberry, etc. I think it's a smart marketing move to attract that part of customers not really into the strong pure gin flavour and definitely killing the remaining vodka market.
On the other side, there is also a demand for no alcoholic drinks. It started with beers decades ago, but now they make them better in taste, and we have multiple choices like lager and ales, and stouts. Another product that is surprisingly going up is the no-alcoholic gin, which I think is a very profitable item, and it is now a must on every bottle shelf of any bar.
What are your favorite TV shows right now? Or your favorite movie?
Probably The Rings of Power and Andor because they remind me of my childhood. I grow up whit the Star Wars saga and The Lord of the Rings Trilogy. But I like docu-series too, like Untold on Netflix or crime documentaries. Depending on the mood.
If you had to pick one spirit as your personal best, which would it be and why?
Definitely whisky. The choice is easy for me because I love Scotland and scotch whisky. I have good memories bonded to this spirit that I always find quite enjoyable to drink. Two of my favourite Cocktails have a whiskey bourbon base, the Manhattan and Boulevardier. Back to the scotch, whisky is a spirit always been present in my family, almost a traditional spirit. Especially on Christmas, after dinner, the ritual is to have a nice scotch accompanied by a cigar in front of the fireplace: me, my father, and brother.
Any tips for new bartenders?
A few tips are never to stop learning, this job is in continuous evolution, and we all need to update our knowledge. We can learn every day, even from our colleagues, and it's always constructive to exchange opinions. Another is to learn the classic cocktails recipes but even give a personal touch and create new twists and never stop experimenting with new things, keep your mind wide open. The last but not less important tip is to love this job. Otherwise, it will become very hard to continue through this profession. Of course, difficult moments are around the corner, but I learned that dedication and hard work always pay off. So never back down and keep going.
What's the most underrated cocktail ingredient or spirit?
Tequila, I think, is very underrated. We mostly know this spirit because of the Margarita or as a shot with salt and a wage of lime. Instead, there is more about it to know. I like the slightly smokey reposado, perfect for a tequila Negroni. I found the history of this product very fascinating without forgetting, of course, his cousin, the Mezcal. I think that in the future, we will hear more about these two Mexican elixirs.
What experience or a customer story you thought was funny and that you remember?
I have plenty of stories, but one, in particular, there is. During my shift, I crossed the path with Ian McKellen (Gandalf in LOTR); he was looking for his host, I recognized him straight away, and I said, " you cannot pass"(that's a scene from the first movie of the trilogy), trying to imitate his voice's tone. Well, he both smile. I shake his and direct him to the party. I can easily put this memory on top of my favourite working episodes.
What's your career goal? Where do you want to be, and how are you working towards it?
If you asked me one year ago to become a bar manager, now that I am in this position, I'm still freshly enjoying it. But I'm an ambitious man, and I don't put any limits on my goals. At the moment, I'm very satisfied with what I achieved, so now my goal will be to find a new one. One thing that I would like to do is be a consultant in the hospitality business, especially in the bar section, of course.
So, for now, I'm pretty satisfied, but I like changes. I'm always up for new opportunities and experiences.
Define a good Bartender according to you.
A good bartender has to be: a professional, nice presence, clean, tidy, knowledgeable person, a good listener, curious, has fantasy, and creativity, and is not scared to try new things.
Header Image: Gabriele Zisa
Now Accepting International and Domestic Submissions. Enter Your Brands Before October 31 and Save Big. Time To Grow Your Brand In Bars, Hotels and Restaurants Of USA.