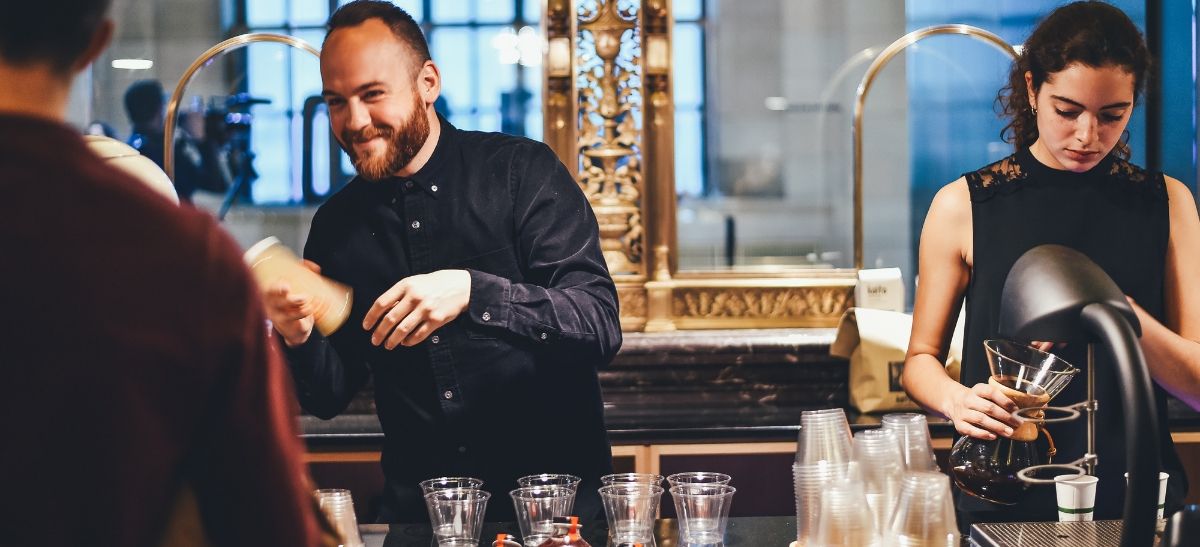 17/12/2020 With preparation and targeting, here are a few ways to create new opportunities and grow distribution in the market.
1. Start with the category
When business plans get written the first thing to examine is the general environment – a PESTLE. It examines the Political, Economic, Social, Technological, Legal and Environmental analysis. This guides and forces many questions as to the essential macro topics which lead to opportunity. Similarly with growing distribution for spirits. What is the general background of your spirits category that leads to opportunity? If you can answer this question then you will be looking at much of the similar information as your distributor creating a great backdrop for why they and their customers should be selling your brand and more of it.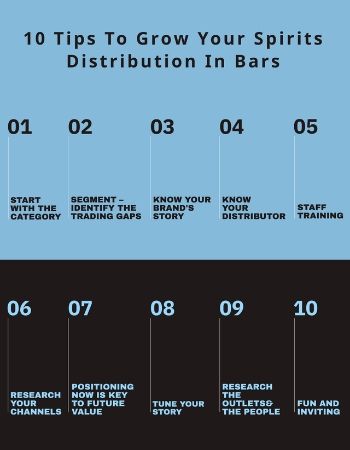 2. Segment – identify the trading gaps
Identifying the gaps for trading is a key piece of activity and a little homework now helps further down the track in identifying real opportunities. What sort of bars are there? Wine bars, beer bars, cocktail bars? Which ones work best and which ones work worst?
We learn more from failure and poor performance than we do from great performance. Why are they doing badly, will they never achieve? If not then be ruthless – move on.
If you can identify gaps in the bar scene then you can form patterns, motivate and sell on that basis.
3. Know your brand's story – fill in the gaps
Be brand conscious. No brand has a perfect story and no brand is all things to all people. More than likely your spirits brand has grown from small (and under-resourced) beginnings. This means that there will be gaps in the story and how it is re-told to its potential target markets. You need to be ready for all comers from the bar scene that you are about to step into. Does your brand need a reason or story for why it fills a gap in a wine or beer bar? Or does it need to identify its uniqueness in front of stiff competition behind the cocktail bar? Identifying gaps equals growing distribution.
4. Know your distributor – how can they help
Your distributor is the first place to stop. Their income relies on your brand, at least in part and the energy with which it is pumping through its supply chain. What are the channels that they service well and which channels do they not service?
Why should they help?
One leads to the other if there is a how then closely followed will be a 'why' and you need to be ready with the reasons. They could be new customers, increased margins, increased volumes, achieving a volume target, or good corporate press.
5. Different experiences - different channels - tune your story to consumer experience
How a consumer drinks your spirit may be for completely different reasons in a wine bar than in a cocktail bar. Some people sip, some drink, some mix. Identifying the different reasons and being versatile provides a kaleidoscope of opportunities.
Ensuring that the story and consumer experience is aligned in each outlet, maximises the bars opportunity and your brand's.
6. Positioning now is key to future value
Positioning is not just pricing, it is also venue and competitive set. Being seen in the right and best places is the best way to future-proof your brands future value creation. The homework about where your brand is positioned in the market can be easily achieved, by scoring the key competitor brands on quality, price, volume, image and plotting them on a graph. Where is your spirits brand and how does it honestly match up? It is important that it is an honest reflection, and you can achieve this by ensuring that each positioning has an objective justification alongside it. This is also a great team event which can be fun and informative at the same time, and to you as the brand owner or key stakeholder future-proof its value.
7. Staff training
Does your spirits brand have an outlet staff training manual or guide? What are the key aspects to deliver to the staff so that they can deliver a brilliant consumer experience, which helps them bring back their customer's time and again?
Identifying these means real credibility in front of the bar managers and owners. They need help in delivery and a professional, well thought through presentation really adds tremendous value and can be an 'order winner' in front of the unprepared competition.
8. Social media is crucial in sharing the experience – research your channels
Reputation precedes us! Of course, said in the appropriate tone this can be ambiguous and mean as much bad as good. In either direction helping create a positive reputation for your spirits brand on line through the social media channels is both easily achievable and critical for consumer engagement these days. However before you jump in and start opening new social media channels, consider which ones are the right ones for your spirits brand and why? Remember the easy bit is opening the account, the expensive, resource hugging, time-consuming bit is running the account. Many operators miss this simple point and end up looking lame because they can't pay the time and attention to the account.
9. Fun and inviting
Being fun and inviting is easy to say but difficult to do consistently time and time again. So understanding how you and the brand can be fun and inviting helps you tune-in in front of the customer. Better still include the bar customers in creating the story for example - can you create competition across several bars for the best bar-tender?
Leveraging the bar stories and ensuring that they are posted on line is another good way of ensuring ground-up engagement and looking appealing for new consumers to get involved.
Creating brand advocates and making them famous across the bar outlets is another way to help project the brand message.
10. Research the outlets& the people
In the end, alcohol is an experiential product requiring and facilitating human interaction. It requires a transaction to take place where one person consumes and, hopefully, enjoys the experience. Each of the people involved in creating that is important and passes on brand 'DNA'. Researching the outlets, knowing a little about the people moves beyond the transaction (I want to sell you as much as I can) to the relationship level (I like you it would be great to bring this to our customers). It is certainly not a mechanical process, but one which requires emotional intelligence and respects it as dynamic. This helps oil the wheels of relationships and makes things happen.
There is much that can be done in growing distribution which is within our power not just from above. It is certainly not just about sitting behind a desk and pushing information out there. You have to wear out the shoe leather, visit places, speak to people and find out. With preparation and targeting, this is the way to create opportunity and grow distribution.