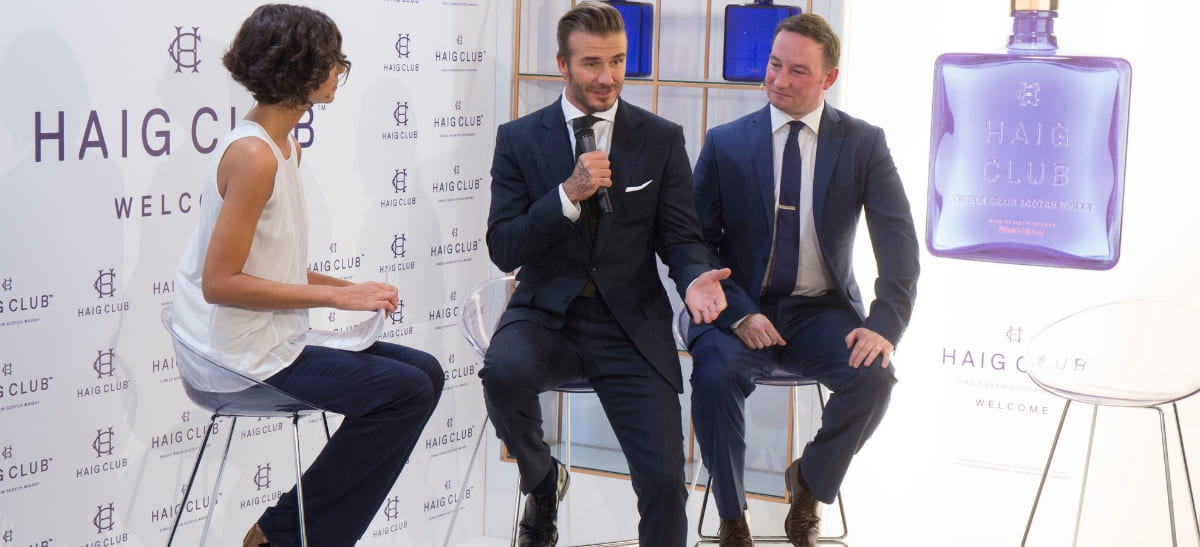 24/08/2020 Big screen stars are teaming up with alcohol brands to give you a much-needed sprinkle of stardust.
Get your lavish party started (even if you don't want to) as these companies are combining two of your favorite things- celebrity and alcohol. These megastars are coming up with some impressive booze which are pretty damn good that you won't need a reason to get tipsy. Celebrities endorsing in an alcohol brand is certainly a recipe for success.
---
---
If you are done having the common brands and want to try a star-studded blend, chose your next libation from the below list of celebrities who have their alcohol label.
P.S. there are heartthrobs included. Bottoms up!
Snoop Dogg, Indoggo Gin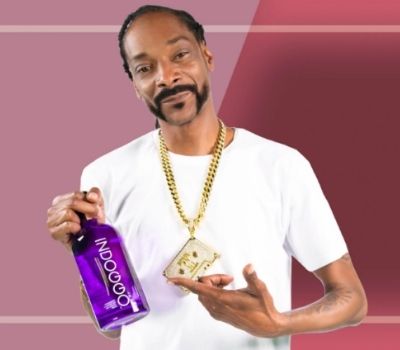 Image courtesy: The Drinks Business
Are you excited about the new launch by rapper Snoop Dogg, a strawberry-infused gin called Indoggo? Because we surely are.
The rapper is hoping to shake up the gin category with Indoggo's accessible style, which goes lighter on the juniper and dials up the strawberry and citrus flavours with its "slightly sweet and fruity finish".
"I can't wait for the world to taste my remix on gin! When I wrote Gin & Juice back in '94 it was about good feelings and real experiences, it just naturally became an anthem," Snoop Dogg said.
Enjoy it on the rocks with a squeeze of lime or mixing with tonic or juice, as recommended by the rapper.
Pitbull, Espanita Tequila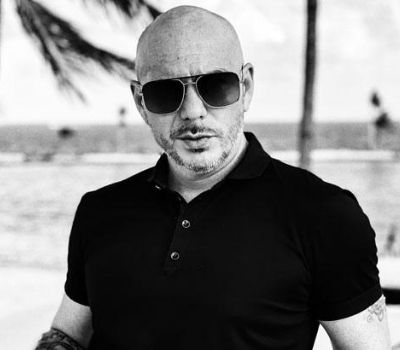 Image courtesy: The Spirits Business
Armando Christian Pérez, better known as American rapper Pitbull becomes Espanita Tequila's strategic adviser and global brand ambassador. Pitbull said: "It's an honour to partner and collaborate with the Espanita Tequila brand. We're proud to be part of a brand that has won so many awards and have been drinking and sending Espanita to family, friends and business partners around the world. We're excited to join this brand on its exciting journey."
Marina Wilson, president and founder of the Espanita Tequila Company, said: "Armando's love for the spirit of Espanita and his enthusiasm for the brand is inspiring for everyone who works on the team.
"Mr. Worldwide is a creative visionary and this collaboration will generate global opportunities for Espanita Tequila. Armando's personal creed of tenacity and grit, and his determination to continually connect with his audience, encouraging people to reach their full potential, is as contagious as his music."
Justin Timberlake, Sauza 901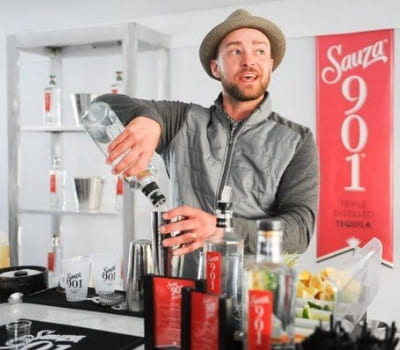 Image courtesy: Pinterest
Justin's transition from being in one of the biggest and famous boybands of all time *NSync to one of the most successful and loved solo artist and now being a tequila creator adds to his many achievements. In 2014, the singer-actor collaborated with the legendary Casa Sauza to create his own tequila. Sauza 901 is a smooth, triple distilled drink, named after the area code of his hometown in Tennessee. It has a unique flavor of 100 percent blue weber agave making it a solid option for margaritas.
Dwayne "The Rock" Johnson, Teremana Tequila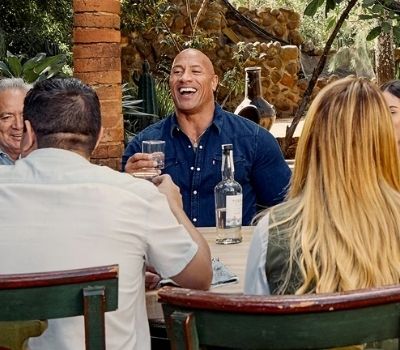 Image courtesy: Teremana
Actor and former Wrestler, The Rock has launched his liquor brand, Teremana Tequila. In his Instagram post (last year) The Rock announced his new creation: "The name is official: Ladies and gents, I proudly bring you, TEREMANA TEQUILA. TERA is meant to represent "Terre" which means of the earth and MANA is our powerful Polynesian spirit that guides us. Spirit of the earth. Our goal is to create a tequila that is the best of quality and taste but done the right way—by hand. Small batch, handcrafted tequila from our Teremana blue agave, maturing in the highlands of Jalisco, for everyone to enjoy. After years of hard work, this blessing is truly a dream come true—but it's just the beginning and there's much work to be done. I'm committed with my team to bring you the best tequila, because quality and legacy are what matter most. From all of us here at Distilleria' Teremana, we invite you to COME HAVE A DRINK. The tequila of the people.
Drake, Virginia Black Whiskey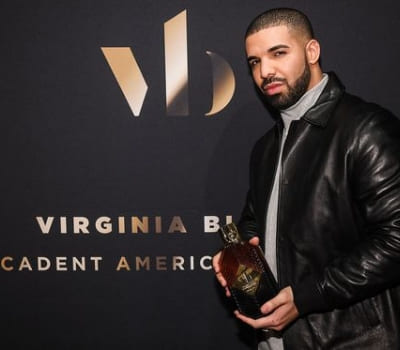 Image courtesy: Pinterest
The Grammy-winning rapper and spirits producer Brent Hocking launched an aged Bourbon whiskey in 2016. Hocking mentioned that Drake is fully involved in the creative process and the partnership is authentic. The Canadian rapper and the spirits entrepreneur have announced the plan to take their whiskey brand public and are hoping to raise $30 million in investments with an IPO.
Ryan Reynolds, Aviation Gin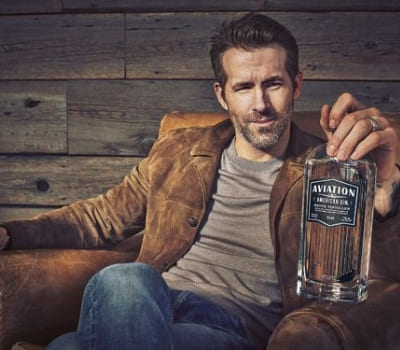 Image courtesy: Pinterest
The "Deadpool" actor, producer and writer announced that he was the new owner of Aviation Gin on February 21, 2018. "I've tried every gin on the planet and Aviation is, hands down, the best. Also, I don't recommend trying every gin on the planet. Stick with this one" Reynolds said. The actor will play an active role in the day-to-day business and oversee creative direction as part of his mission to introduce the world to the great taste of Aviation.
Matthew McConaughey, Wild Turkey Bourbon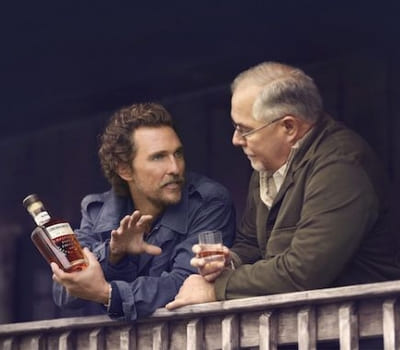 Image courtesy: Pinterest
With his acting accomplishments, Matthew keeps busy off camera as well. As a "creative director" for the Kentucky-based company Wild Turkey, he launched his Longbranch whiskey in 2018. Longbranch is created by taking 8-year-old Wild Turkey bourbon through a double filtration process, first filtered through white oak charcoal and then paying tribute to McConaughey's hometown by using Texas Mesquite Wood. The finished result is a golden brown whiskey with a smoky flavor.
Nick Jonas, Villa One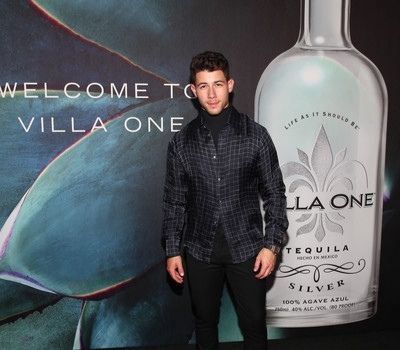 Image courtesy: Zimbio
Singer-songwriter Nick Jonas has entered the agave spirits industry and created Villa One Tequila in collaboration with US designer John Varvatos. Villa One is produced in Jalisco, Mexico, using 100% blue weber agave. The bottle for Villa One was designed by Jonas and Varvatos, with each expression featuring fine jewelry-inspired metalwork around the neck.
David Beckham, Haig Club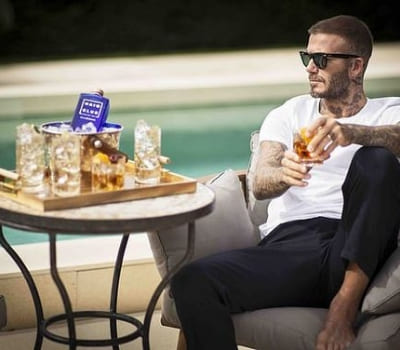 Image courtesy: Pinterest
Soccer star and dad, David Beckham partnered with Diageo to develop Haig Club, a single grain luxury Scotch whiskey in 2014. The whiskey is packed in a glamorous blue glass bottle, which Diageo said is inspired by the tradition of blenders using blue tasting glasses so the spirit can be reviewed on aroma and taste alone.
Channing Tatum, Born and Bred Vodka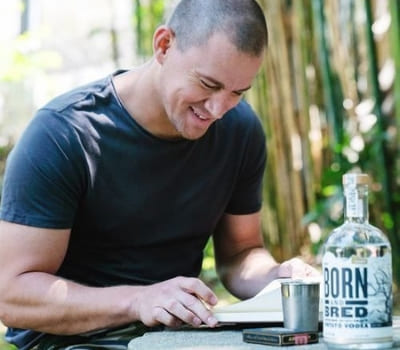 Image courtesy: Pinterest
Born and Bred was originated following the quest of Channing Tatum to find the best vodka in the States. His adventure led him to the award-winning Grand Teton Distillery in Idaho. This American craft vodka is made from the best Idaho potatoes which has a "smooth taste to it like a cool feeling in your mouth." Born and Bred is a premium refreshment which doesn't require a special occasion. The crisp taste is perfect for neat or "on the rocks" savorings.
Diddy, Ciroc Vodka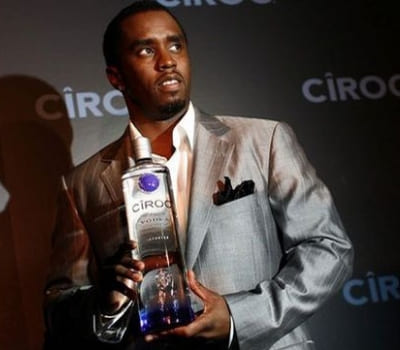 Image courtesy: Pinterest
Rapper and entrepreneur Sean "Diddy" Combs and beverage giant Diageo partnered for the Ciroc vodka brand. This joint venture is among the most successful celebrity partnerships in the history of the industry. Back in 2007 when the vodka was only shifting around 40k units per year, Diddy took all the responsibilities for the struggling French vodka brand and within only a few years later, Ciroc was on number two in the premium vodka category. By 2012 an incredible jump to 2.1 million units were sold. The partnership was clearly a hit for both the parties. Diddy jokingly refers himself as "Ciroc Obama". Diageo and Diddy announced a tequila joint venture in 2014 and launched a new DeLeon tequila.