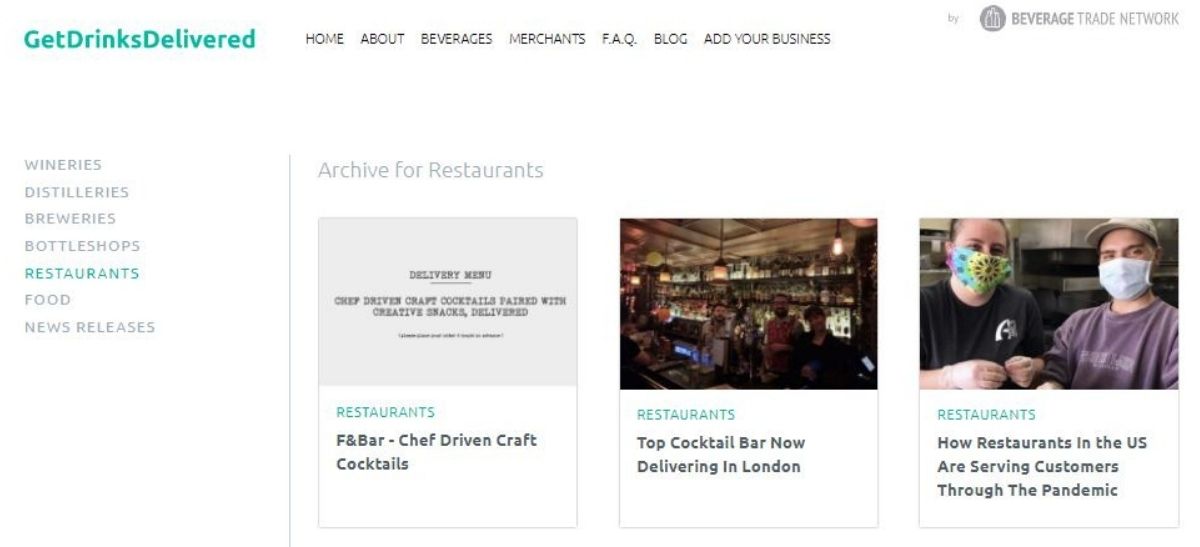 We will be going through a strategic marketing technique that can be an important tool for restaurants to boost their online delivery business during Covid-19.
As more customers turn to the convenience of e-commerce to deliver alcohol during the coronavirus epidemic, the recent surge may be reflective of a larger change that could drive the relatively untapped segment of beer, spirits and wine long after the virus has dissipated.
With customers spending more time at home sipping beverages or having practically happy hours and getting together with friends, food and beverage transactions have soared — and the e-commerce sales of alcohol have become far and away one of the biggest beneficiaries.
Just because your visitors have been pushed into self-isolation doesn't mean they can't love and root you in various ways. Creating original web content on a regular basis is a perfect way to improve your brand and hold the customer's interest when your doors are closed to the public. This form of strategic marketing can be an important tool for restaurants in the sense of the COVID-19 crisis.
Using social media to its full potential
The best part of social media is that content is reasonably easy to build by only using your phone. Sharing pictures of your establishment is a perfect way to help remind customers of the great times they've had in your establishment and keep you at the forefront of their minds when they can eventually come back. Using social media during this period of social distancing to communicate with regulars and reach out to potential new patrons by playing with social media platforms and features you've never tried before.
Keep your client base in the loop on what clean-up steps you're taking, what special features you're operating, and how you and your workers are actually grappling with the ever-changing industrial environment. If you're looking for content ideas, here are a few ideas to help you get started:
• Behind the scenes of your establishment;
• Frank message on how you deal with it during your stay at home
• Ways that patrons can help your establishment right now
• New Business Offerings (delivery or otherwise)
If you are a restaurant that has already carried out an initiative, be sure to remind your customers that you are free to carry on business during this closure. If you are new to the marketing industry, make sure to promote your new marketing menu to your consumers on your social media pages or through other means. Many establishments are developing brand new facilities at their sites, and there has been a steep learning curve for these new initiatives.
If you have your own distribution team or accept pick-up orders, tell your customers exactly what the operation would look like. Explain how the delivery drivers practice social distances during delivery to the customer's house or follow detailed directions regarding pick-up orders such as where to park and how to make a payment. Being open about new procedures will help minimize miscommunication and tension on both your employees and your customers.
Revisit and Optimize Your Online Presence
Use this time to check your company's online presence to make sure you get the most out of your digital marketing activities. It's a great place to start by making sure you're set up with Google My Company. It's free, easy to use and helps you to control your online presence through Google+, like Search and Maps. This helps visitors find you more quickly – now through a variety of marketing strategies to keep them interested, and later when you open your doors.
Prompt Future Visits
With and delivery and/or pick-up order, it's a smart idea to include a voucher or gift card that can only be used for a dinner visit in the future; this will hold your establishment at the forefront of your mind for visitors who are unable to dine in a restaurant right now but who are likely to do so in the future. Inspire your customers to give feedback on their impressions of delivery, post food photos, and generally help you on their own network. It is a full freeway that your loyal customers will be able to support you through this period.