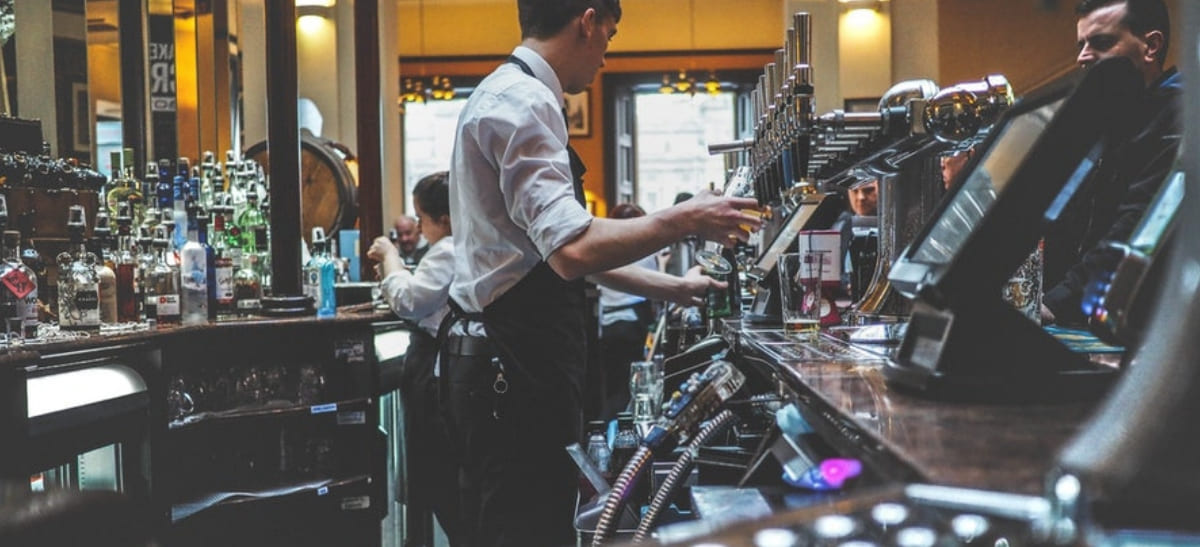 25/05/2019 Technology is helping bars improve in many ways. With the emergence of technology, here's how you can boost your bar's bottom line.
There are a number of different ways to boost the bottom line of your on-premise establishment. One often-overlooked way is by adopting new technological solutions that improve the overall customer experience. At hospitality venues like hotels, for example, new interactive experiences powered by technology can help to increase the size and volume of drink orders. They can also be used to deliver a more personalized experience that has the potential to turn a one-time guest into a long-time customer.
---
---
Here's a brief overview of some of the more common technological solutions that are starting to emerge at on-premise establishments as a way of driving bottom line growth.
Text messaging
If you're like most people, you probably already receive tens, if not hundreds, of text messages each day. So why not leverage text messaging technology as part of your overall customer experience? For one, text messaging offers the promise of 24/7 connectivity and can make all the difference in how guests perceive your on-premise establishment. Deep down, every customer wants to feel like a VIP, and one way to make that possible is by establishing a clear and transparent line of communication between your guest and an actual customer-facing employee.
For example, one solution that is getting traction these days is called Kipsu, which is a real-time text messaging solution. It's been used by the likes of Kimpton Hotels and Deer Valley Resorts and is a way to establish a personal connection between the hotel and the guest during his or her stay. After checking in, guests can opt to receive real text messages composed by real people during their stay - essentially, creating a personal concierge who can help out with daily requests as needed.
As described within a case study on the Kipsu website, this type of constant connectivity is particularly useful during extended stay trips taken by business travellers. A corporate executive might travel one, two or even more weeks at a time, and text messaging is a great way to keep in touch with these executives and provide the personal touch.
Here's just one example: a business executive staying for a week at an extended stay property routinely orders a certain beer, wine or spirit at night during the trip. The next time the guest visits, the employees at the hotel bar can greet him or her by name, and then offer a personalized recommendation based on this past drink ordering experience. In other cases, small complaints can be easily and efficiently handled before they escalate. According to the business case study on the Kipsu website, this type of solution is able to completely eliminate 1-, 2- and 3-star reviews. Before anything can become a problem, your on-premise establishment can already go to work, correcting it.
Of course, there are a couple of watch-outs when using text-messaging technology. For example, you'll want to make sure that the messages being sent are not overly promotional. And it's best if you agree to upfront when the guest would like to be contacted. It's easy to see how this could be a great way to ramp up the volume of drinks sold at your happy hour promotions or a way to bring to the attention of future guests any special private label wines or spirits at your on-premise establishment.
Mixed reality experiences
For now, the two most popular types of "mixed reality" experiences include augmented reality (AR) and virtual reality (VR). Both of these experiences actually started in the gaming world, but may be of particular interest to younger millennial guests. For example, consider the case of augmented reality. The simplest form of AR is a sticker or filter that is applied to an image, similar to the way they are used on the social media platform Snapchat. Thus, for example, you might give your guests a way to send AR-enhanced photos of your establishment, thanks to proprietary filters or stickers made available only to them. Why not give a guest in New York City, for example, the opportunity to send a photo of your rooftop bar or lounge being surrounded by a pack of hungry dinosaurs or an angry King Kong?
But you can take the AR experience further than this. For example, some bars are experimenting with AR drink experiences that are made possible using mobile phones and app-activated drinks coasters. If you thought drinks coasters could only be used to protect your beautiful bar tables and counters, think again. They can also be turned into a key part of an overall AR-enhanced gaming experience. Customers who hold their mobile phones next to branded, app-activated sensors can see their drink orders "come to life." On their screens, they can see exactly how their drinks are made, where the ingredients come from, all in augmented reality. Then, when the AR experience is over, the drink will be waiting for them on their table.
Already, at retail establishments, bottles of wine are now being sold with these AR experiences in mind. Tussock Jumper Wines, for example, is now promoting AR-enabled experiences involving its wine bottle labels. Each bottle of wine comes with a unique character – think rhinos for South African wines, koalas for Australian wines, and sheep for New Zealand wines – that comes to life via AR.
In a similar way, you can make virtual reality (VR) part of the bar experience. This technology takes a bit more buy-in from patrons, however, because you will need to introduce the VR headset to them. Until 2018, this required a VR headset that was connected to either a smartphone or PC. But now it is possible to use all-in-one VR headsets that include a built-in screen.
Guests who order a particular drink can then be given a VR headset where they can take part in a two-minute immersive experience. Imagine a tropical cocktail experience, for example, that takes guests deep underwater in the Caribbean, or a cocktail made with organic ingredients, where VR users can "meet" the farmers who are making the actual ingredients. The key here, of course, is to make this a premium experience, in order to encourage guests to try out expensive, high-margin drinks. If your bar team has just developed an exotic cocktail, for example, this might be the perfect time to build a VR experience that brings it to life.
Video
By now, most on-premise establishments have caught on to the promise of social media as a very clever and effective marketing tool. What bar doesn't already have a Facebook page, for example? However, keep in mind - these social media companies continue to push the bar on what is possible, and the latest trend is now live streaming. What started as just a novelty called Periscope (later acquired by Twitter) soon blossomed into a real technological trend, led by Facebook Live and then by Instagram Live.
This gave bars and hospitality venues an immediate way to transmit exactly what was happening at their venues on any given night. And it also gave these establishments a very powerful brand-building tool: suddenly, patrons could get a behind-the-scenes look at what was happening when the bar wasn't open, as well as to meet "the team" behind the bar. It was a way to draw out the personalities of celebrity chefs, bartenders and sommeliers, establishing a very personal touch between patrons and owners.
Now, this live streaming trend is being supplanted by a live TV option, most notably Instagram TV (IGTV). This is a way for brands - no matter how big or small - to become a regular part of people's lives (and online viewing habits). While it might not be feasible for smaller establishments to become a big IGTV player, it's certainly within the reach of large, national chains looking to steal a march on their smaller, boutique rivals.
Interactive Ordering
This is something that is being used in many establishments as of now. It's like looking beyond the printed menu. A lot of restaurants, hotels, and bars have a system where you can order through the tablets they place on their tables and bar counters. This way, you can place your order exactly how you want it, with different variations - and the bartender/kitchen will receive it on their tablet, and your drink will be served.
The digital menu is the easiest way to include technology in your establishment. Instead of having your regular printed menu's, just replace them with tablets. This might seem like an expensive investment as of now, but think about it this way - when you need to change your menu, or update anything in it, you wouldn't have to get anything reprinted. It will all be done through one click on a software. So it makes your life easier, as well as the customers.
Plus, tablets also help the bars with inventory since having everything digitally recorded makes it easier for them to keep a track of things.
Final takeaways
Of course, technology by itself is not a magic bullet. Even the slickest VR or AR experience, for example, won't be able to gloss over a poorly designed drinks menu or to make a huge dent in a poorly constructed business model. But technology can certainly offer plenty of incremental performance improvements. At the outset, it's perhaps best to keep things simple. If you don't yet have staff members using Snapchat, for example, you might want to hold back on designing an AR experience. And if you lack the resources to staff a 24/7 text messaging service, you might want to hold back on what you can actually offer guests. It's always better to under-promise and over-deliver.
And, of course, you'll want to do plenty of behind-the-scenes experimentation with these solutions before rolling them out in prime time. For example, if your AR drinks experience promises to deliver a cocktail at a certain time, then you better have the timing of your staff down so that a drink "magically" appears at the right time. If you are introducing a lot of new drinks, too, as part of these experiences, you'll want to make sure that your bar staff has plenty of training in advance. Your goal is to have seamless execution every step of the way.
But, the fact remains that the bar of the future is going to use technology to improve the customer experience and boost the bottom line. Even something as simple as using tablets at the point-of-purchase can make a huge difference in how quickly a drink makes its way into the hands of a customer. So if you are looking for ways to optimize the business model of your bar, don't forget about the ability of technology to fundamentally transform every step of that experience.