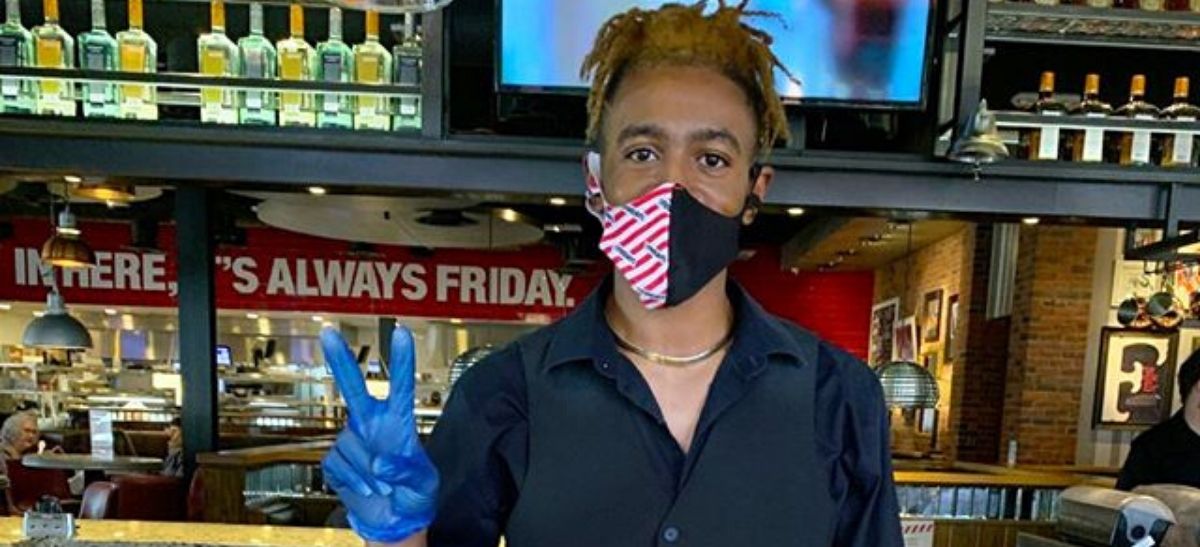 22/06/2020 Lockdowns are being relaxed and things are opening up. Here's how the drinks industry is dealing with post lockdown openings.
[TGIF offering online ordering for pick-up, delivery, and dine-in]
With restaurants and bars opening up once again, things are definitely changing. For the past few months, restaurants and bars had been forced to a closure due to the outbreak of the Covid-19 virus. With the closure of on-premise establishments came a drop in sales for businesses. However, thanks to deliveries and curbside pick-up, things started changing and looking up. With delivery services and pick-up offers, restaurants and bars were able to find a way to get back on track with sales.
Right now, we still have the pandemic in hand, but things are definitely getting better for businesses as state laws are now allowing restaurants and bars to open up, as long as they follow safety guidelines and protocols. Every state has their own rules and regulations, but for most, the safety protocols remain the same.
The drinks industry is definitely changing right now, in terms of how merchants, restaurants, bars, importers, and distributors are going to be handling things. What is going to come next for them, and how things are going to change.
Let's glance into the world of drinks and see how different parts of the industry are dealing with post lockdown reopening.
Restaurants, bars, and tasting rooms - The opening
For restaurants, bars, tasting rooms, and any other establishment which actually has customers sitting in their venues, things are set to change a lot. Safety protocols such as masks, sanitizers, contactless payments, contactless service are all set to take place. Along with that, restaurants and bars are also set to move towards partial capacity, mostly by cutting their customer capacity down by upto 50%. For example, in the LA area, as bars and restaurants are reopening, the law states that bars and tasting rooms would only work upto 50% capacity.
Right now, most establishments are focusing on what they can do to make sure that things are right for their guests. We spoke to Randy Steinbrenner, Director of Brand Marketing, Bar & Beverage at TGI Fridays, who said "At TGIFridays, we are opening very deliberately. We are making sure things are right for the guest. We have focused a lot of our efforts on on-line ordering. We have added new items to the online system including liquor, beer, and wine"
So as Randy said, along with making sure that the place is safe for customers in terms of sanitization, restaurants and bars are also making sure that most of the services are done contactless. A great example is menus and payment. Just like TGI Fridays introducing online menus, other restaurants are doing the same as well. Drinks from the bars are also being ordered through online ordering, which is turning into a huge success.
The new normal we can say is definitely going to be full of digital payment options, digital menus, pre-ordering systems, reservations, and anything that would avoid any sort of contact between the staff and customers.
Consumer drinking habits
Over the course of the lockdown, we saw consumer drinking habits take a slight turn. Even though consumers were still drinking to their most, they had slightly changed the way they were drinking. No more premium wines and champagnes, in fact, it was more of entry level wines, cheaper beers, and bulk spirits which consumers could stock up at home. Along with those came a lot of ready to drink cocktails that restaurants, bars, and brands have now started offering.
A great example is the restaurant BIA, located in Rhinebeck, New York. BIA has their set bar menu for sure, but they are also offering cocktails in a one time drink jar for customers. Let's be honest, not all customers are going to sit home, take a cocktail class and make up a concoction of their own. Most customers like things to be easy and ready, and BIA has done exactly that to help them out. Available for both delivery and pick-up, BIA has been offering ready to drink cocktails throughout the lockdown period, and is going to continue to do so.
Read more on how restaurants and molding themselves to changed consumer habits
We spoke to Doug Zeif, Founder & President at Next! Hospitality services, and also owner of his own restaurant High Dive. Zeif told us a little bit about consumer drinking habits, where in a podcast he said that things might change, but not too much, like we already mentioned above.
"I don't think consumer drinking habits have changed much during this crisis. That said, what we did was "bottle" our four best-selling drinks to speed up our service and make our mixology more consistent. Our staffing guide has been squeezed due to the restaurant only being opened in percentage increments and, until this week, people couldn't sit at the bar, so we only brought back two bartenders. The bottled cocktails helped get us over the service hump. Plus, we added one drink- a whiskey-based "cure" called "Dr. Quinn, Medicine Woman" that is really taking off. People want to be cured!" said Zeif.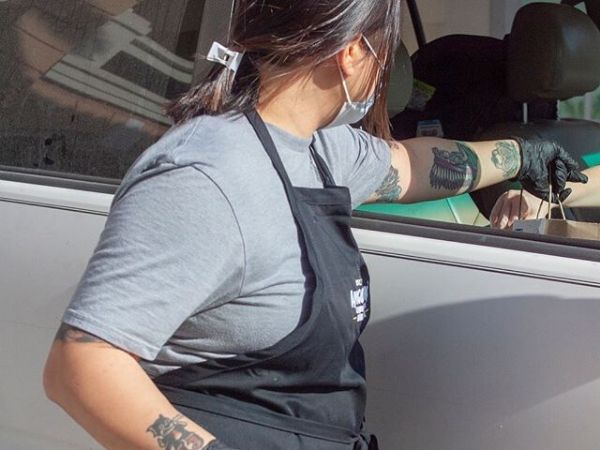 [High Dive West Palm offering curbside pick-up for drinks and food]
So of course, according to Zeif, like we spoke earlier, consumers are set on anything they are going to get bottled and ready to go. Of course, just like BIA, Zeif's High Dive has also worked on providing their customers with the mixology that they want and are craving right now.
The Importer & Distributor Side
Along with restaurants, bars, and bottle shops, importers and distributors also took a huge hit during the lockdown and closure of on-premise establishments. However, as things have started opening up, things are looking better for importers and distributors as well. Earlier, we spoke to Giuseppe Capuano, Vice President at Vias Imports Ltd, who told us the hit importers and distributors are taking due to the current situation.
At the time, Giuseppe said "Right now, retailers and restaurants don't want anything new. They want something their customers already know, they want wines that people will buy. No one wants a new product that might not make it off shelves"
As things opened up, we got in touch with Giuseppe once again and asked for his thoughts on what would change for importers and distributors in terms of what restaurants and bars would want.
"I think that in my opinion is too early, at least in NYC, where we are still in phase one. I believe that for the entire summer restaurant and bar will have a smaller menu and wine list. Regarding wine, I believe that restaurants will stock on White and Rose, mostly value and popular varietal. The real test will be in September" said Capuano, suggesting that even though smaller lists are in store, the seasons will determine what restaurants and bars are stocking as usual. To be honest, this does make us look at the upside of things as they are pushing to go back to slightly normal.
Along with this, even though things are opening up, for importers and distributors, it still might be a little slow as restaurants and bars are still finding the right way to open up and make sure everything is put in place for customers.
" We've had to put a pause on sourcing new items for the moment to focus on servicing existing suppliers and customers. Our customers are streamlining their operations right now, which does not leave much room for innovation or changes in assortment" says Shawn Schiffer, CEO at Epic Wines & Spirits
To-Go here to stay
Even though things are opening up, customers are still leaning towards deliveries and pick-ups. For a lot of customers, going to restaurants and bars once again is still a little scary. However, not only that, but the option for deliveries and to-go are much easier for customers to work around. Plus, let's not forget the partial capacity that restaurants and bars need to offer, due to which to-go and deliveries will still remain.
"Since things have started opening, we are working to find the balance between dine in and To Go. Guests are coming back into the restaurant, but many are still using To Go. The bar area is the heartbeat at many Fridays locations and many locations are still not able to open the bar top. This creates some challenges, but we are working through. Staffing and safety are our major focuses at this time" says Randy Steinbrenner from TGI Fridays.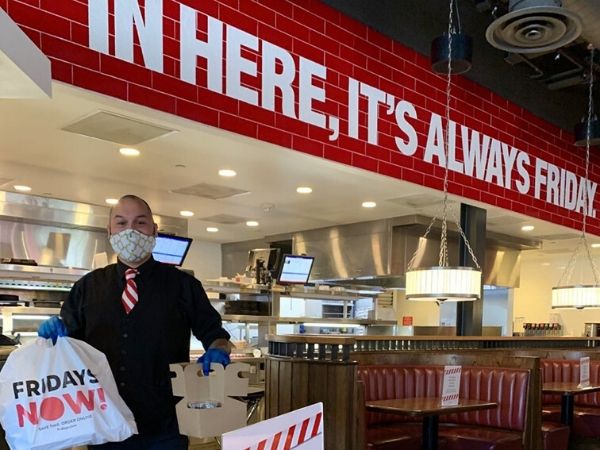 [TGIF still offering contactless to-go, maintaining physical distancing]
So of course, even with restaurants and bars opening, customers are still definitely going to keep using delivery and pick-up services, and those are here to stay. In fact, restaurants and bars might still just be earning mostly from their to-go services even post lockdown openings.
All in all, the drinks industry is opening up slowly, and we are hoping for the wave that comes in to be a positive one, with the industry grabbing the ladder and pulling itself to the top once again.