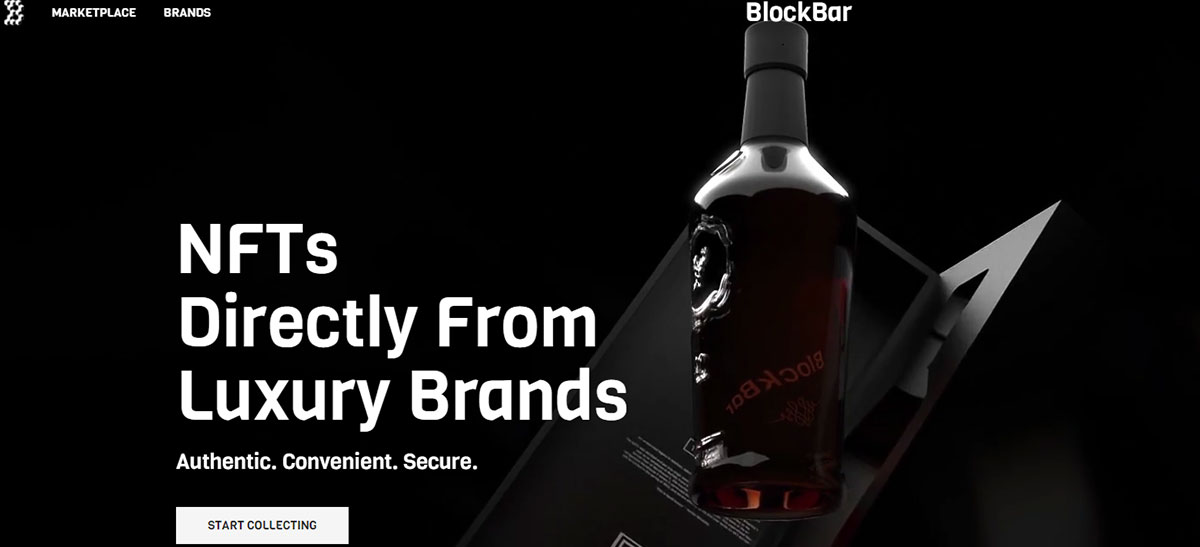 13/01/2022 NFTs are the digital equivalent of collectibles and here's how these Spirit brands are making the most of it!
NFT or Non-Fungible Token is the new kid on the block which everyone is talking about. This discussion becomes even more interesting with NFTs entering the liquor industry and Spirit brands tapping into this market. As explained by Forbes, an NFT is a blockchain-based, non-interchangeable, and hence unique and non-fungible, unit of data stored on a digital ledger. Being non-fungible means that it is unique and cannot be replaced with something else.
[[relatedPurchasesItems-31]]
BlockBar is the world's premier NFT marketplace for beverages founded by Dov Falic and Samuel Falic of The Falic Group, the owner of Duty-Free Americas. It is a platform that connects consumers and collectors with the owners of luxury liquor brands. It gives the consumer an opportunity to exchange an NFT for a physical bottle of liquor and the buyer can then exchange the digital version for the physical version. Basically, the consumer owns the physical bottle, BlockBar stores it for them in a secure facility in Singapore, and the digital version i.e. NFT serves as a proof of authenticity, verifies their ownership and their right to have the physical bottle delivered.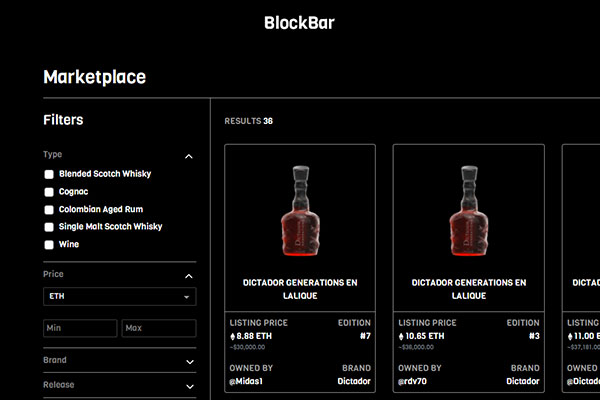 Block Bar - NFT Marketplace for Beverages; Image Source: BlockBar
With BlockBar offering a safe platform for the exchange of NFTs, several liquor brands have started tapping into this market and have been successful. Some of the few Spirit brands that have launched their own NFTs are listed below.
Glenfiddich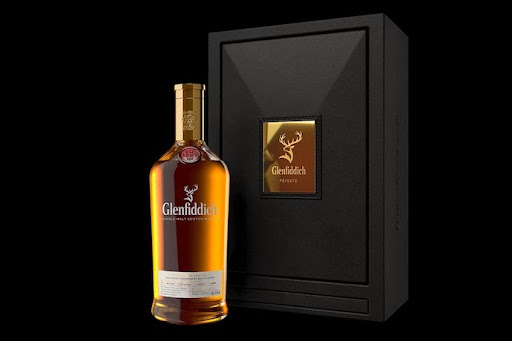 Glenfiddich 46-Year-Old Single Malt NFT; Image Source: The Drum
A Scotch Whisky brand owned by William Grants and Sons launched an NFT each of 15 bottles of a rare 46-Year-Old Single Malt, which was sold within a matter of seconds. Sold for $18,000, the whisky has spent 25 years in an ex-bourbon cask followed by an additional 21 years in an Armagnac cask. The NFT contained a revolving image/artistic impression of the bottle that would also function as a proof of authentication and certify its ownership.
Dalmore
Dalmore, a whisky giant, entered the world of NFT by launching the Dalmore Decades No. 4 Collection. This collection includes four Decades whiskies (1979, 1980, 1995, and 2000) that are hand-selected by Richard Paterson, the Master Distiller.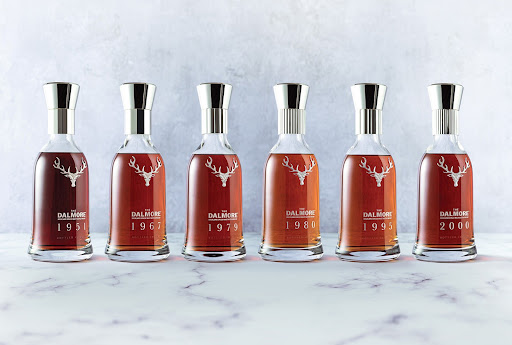 Dalmore Decades No. 4 NFT; Image Source: Whisky Raiders
The Decades No. 4 is priced at $137,700 and has 25 sets of the collection in total. The NFT is accompanied by a visit to The Dalmore distillery in Alness, Scotland with a tour of the distillery and tasting some of the rarest Dalmore whiskies in the warehouse that are hand-drawn from the cash. It would then end with a sumptuous dinner at the distillery.
Bacardi
Bacardi, the owner of the famous rum brand, paired purpose with NFTs to support women in the music industry. They empowered people to invest in women in the music production industry by selecting three female musicians Bambii, Denise De'ion, and Perfxn who would create their own Caribbean-inspired tracks that would be auctioned as NFT mixtapes.
Bacardi Music Liberates Music NFT Mixtapes, Video Source: Bacardi USA
Royal Salute
Royal Salute, a Luxury Blended Scotch Whisky, launched its ultra-limited NFT of the Royal Salute Time Series 51 Years Old 2021. The release of these whiskies only includes ultra-rare whiskies which were laid down in 1970 at the latest. The whisky is unique and has originated in 'ghost' distilleries decades ago. One of the most prestigious bottles, it is a five-decade-old Scotch that includes powerful notes of aged oak, blood orange, salted caramel with the sweetness of Manuka honey, and is perfected by the Royal Salute Master Blender, Sandy Hyslop.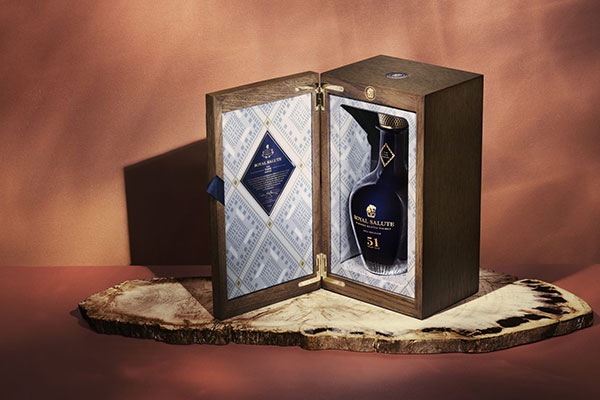 Royal Salute Time Series 51 Years Old NFT; Image Source: NFT Evening
Priced at $35,000, the NFT includes an original signature of Sandy Hyslop, a private tasting invitation with him, and a 5cl miniature replica of the original blend. The holder of the NFT also receives an exclusive tour of the Scottish Strathisia Distillery, a dinner for two along with a luxury overnight stay in the renowned Speyside region of Scotland.
Hennessy Cognac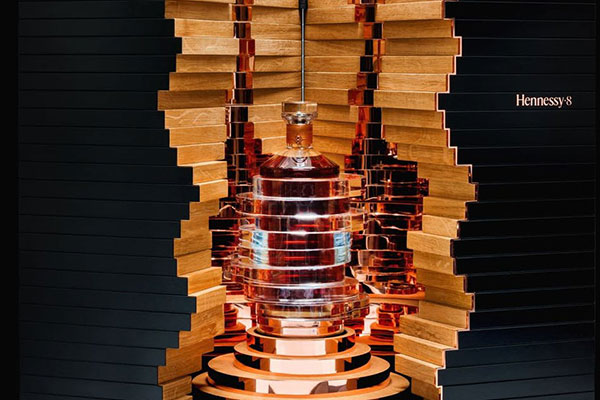 Hennessy Cognac NFT; Image Source: FoodTribe
Owned by the French luxury giant LVMH, Hennessy Cognac launched a duo of its unique Hennessy 8 bottles that are numbered 1/250 and 250/250. To launch these exclusive bottles, they released an NFT to go with them. Priced at $226,000, these 8 bottles will be sold with a custom-made chest that has been designed by artist Arik Levy. The chest is made from 25 layers of oak staves and is accompanied by a copper key. The NFT also includes a box with four tasting glasses, a sculpture, a cork, and a pipette, along with a personalized authentication plate.
Dictador
A Colombian aged Rum with a history stretching back to 1913 announced the launch of 10 limited edition bottles of 1976 Dictador Generations rum, one of the oldest rums in history, through NFT. Each bottle is packaged in a Lalique decanter along with a personalized offer that allows the buyer to understand the Columbian brand "from the inside out."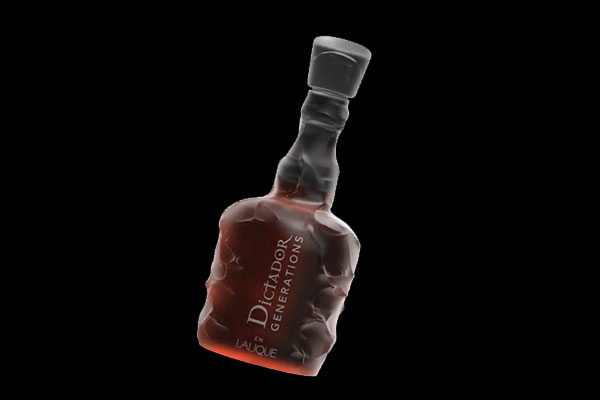 1976 Dictador Generations Rum NFT; Image Source: BlockBar
The NFT comes with a personalized expositor that opens with a thumbprint and is equipped with professional lighting to accentuate the beautiful decanter and an album titled "How was it made?" by Hernan Parra and Marc Larminaux and signed by both of them. Not just this, it also includes an invitation to a private dinner for two with the Master Blender Henan Parra, an individually designed tasting of the finest spirits from the Parra family's private distillery, a tour of the distillery in Cartagena, and a stay for two at the 5-star hotel Cartagena de Indias in Colombia. All of this is included in the NFT which is priced at $45,486.
Article by Shreya Kohli, Beverage Trade Network
Header Image Source: BlockBar
Now Accepting International and Domestic Submissions. Enter Your Brands Before October 31 and Save Big. Time To Grow Your Brand In Bars, Hotels and Restaurants Of USA.