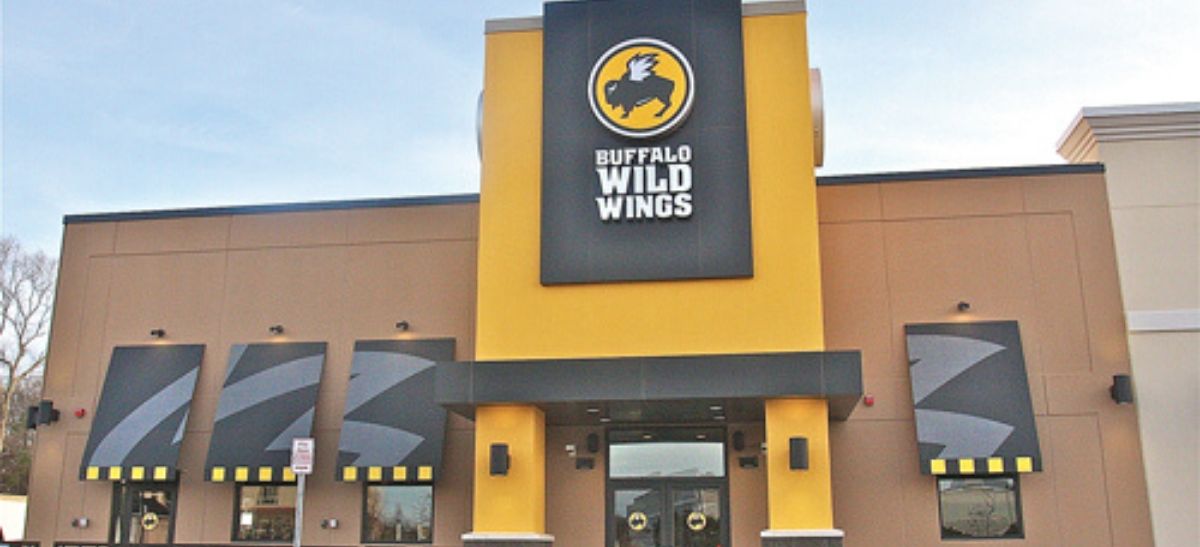 16/12/2020 In conversation with David McPhillips, Director of Beverage Strategy and Innovation at Buffalo Wild Wings.
The beverage programme at Buffalo Wild Wings is one that every brand aims to be a part of. Bartender's Spirits Awards sat down with David McPhillips - Director of Beverage Strategy and Innovation at Buffalo Wild Wings.
In our chat, David spoke in detail about the bar programme at Buffalo Wild Wings, and also dished about how he picks wines, beers, and spirits for the list at BWW.
1. Tell us a little bit about yourself, how did you get into the bev industry?
I started in hospitality at a young age with my first job on the line in a fast-food kitchen where I learned to cook burgers and hand-bread fried chicken – I absolutely loved it. Being able to make something by hand that people would then pay money for and enjoy always interested me. I worked in restaurants and bars in just about every position, but my passion was definitely around bar and beverage. I landed a sales job with a large brewer and worked my way through the ranks in national sales until heading up on-premise customer marketing over the course of twelve years. And then, this great opportunity to help shape the comeback of Buffalo Wild Wings presented itself.
2. So how did you get into Buffalo Wild Wings?
What attracted me to Buffalo Wild Wings was how many people hold the brand close to their heart and have a story ready to tell of a moment they were with friends or family at one of our bars experiencing some sort of emotionally fun moment – usually around watching sports, naturally. You just can't manufacture that; you can only help to facilitate it.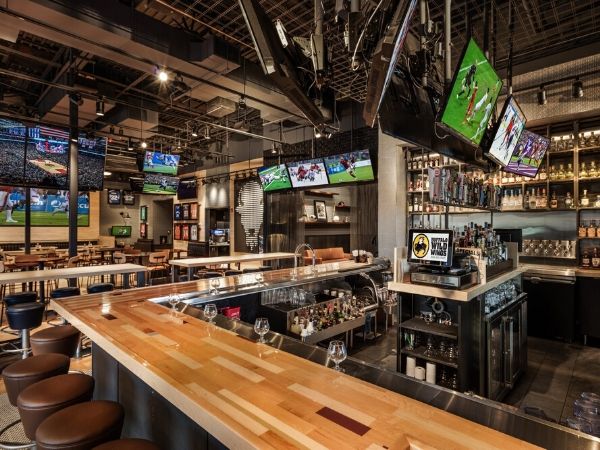 3. What was your aim for BWW's beverage programme?
If we are truly going to be the great American sports bar, then we need to have a modern beverage program that reflects that to our guests. The first step has been to differentiate our beverage menu from casual dining's sea of sameness. Sure, colorful juice-forward tiki drinks sell, but is it really right for the occasion or consumer we are trying to cultivate? When you think about the sports-viewing occasion and what drinks are primarily sold, it's quick and easy options like draft or bottled beer, single-liquor cocktails, and margaritas. Sports fans don't want to wait for overly fancy cocktails that take ten minutes to engineer – they want something quick so they can get back to the action, their friends, and keep a cold drink in their hand.
4. Let's talk a bit about buying. How do you usually pick spirits and wine for BWW? What are some of the things you tend to look at before adding it to your list?
I think we can do more with less. By optimizing our total beverage assortment, it's fairly easy to answer for a wide variety of consumer tastes and price points if you put the filter of analytics and consumer insight on every purchasing decision. The industry is seeing growth primarily in the high-end across all categories, so we have to make sure we are answering for this trend of "buying better." And it's not just about the price-tag and image, it also matters what's on the label in terms of ingredients and brand story.
Additionally, there is definitely still something to be said for relationship building in the on-premise. My primary focus is always on what is right for our guest, but in a time where every insight matters, suppliers who are able to provide the most holistic and strategic value to the category are going to win out every time.
5. And how do brands usually approach you?
With over 1,250 Buffalo Wild Wings sports bars, we are lucky to have so many brands that want to engage with us; and we like to remain desirable to the beverage industry - it means we are doing something right to always have someone knocking on our door! Between LinkedIn, email, networking, and introductions from our beverage agency Patrick Henry Creative Promotions, we're not very hard to find.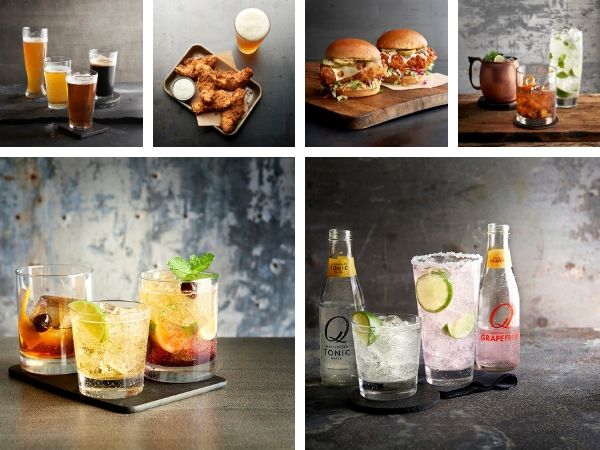 [Pictured from the top left: BWW beer, BWW boneless chicken w beer, BWW hand breaded sandwiches, BWW Moscow Mule-Old Fashioned-Mojito]
[Pictured from bottom left: BWW Old Fashioned-Crowne Apple & Ginger-Blackberry Bourbon Smash, BWW classic G&T and Paloma]
6. In terms of support and marketing, what do you expect from the distributor/brand?
We are no different than any other on-premise establishment that expects suppliers to help within the legal parameters of marketing and merchandising their brands within our business, but as mentioned, the strategic resources that many companies have access to is really what I'm interested in. By having true partners that care enough about our business to figure out ways to work within our goals, rather than simply trying to sell their brands from behind our bar, I can more effectively make decisions on how to collectively grow our brands sustainably.
From the distributor side of the equation, there has been a more recent benefit from the consolidation of that tier, and that is the growth of national account teams that can provide strategic insight to our business over larger swaths of geographic footprint. So far, distributors that are more spirits and wine heavy in their portfolios seem to be way ahead of those that are more beer-centric in offering these national account teams – I look forward to beer catching up in this regard.
7. What are some of the different deals/happy hour discounts you usually put in. And how are they decided? What makes you pick let's say a particular wine, spirit or beer to add to the happy hour menu?
Having over 1,250 locations is a blessing and curse at times. It can be difficult to formulate discounts by daypart from a national level given the complexity of our state and local laws, so we concentrate on utilizing our nationally mandated brands for a sense of consistency around the country, and then tweak the hours or exact discount offer based on where a specific sports bar is located.
As a consumer too and not just a member of the industry, I think Buffalo Wild Wings has a very competitive and broad happy hour and late-night offering that includes food and drink. In picking the brands that are on our feature menus, we rely on the brands that are going to attract the most traffic when featured.