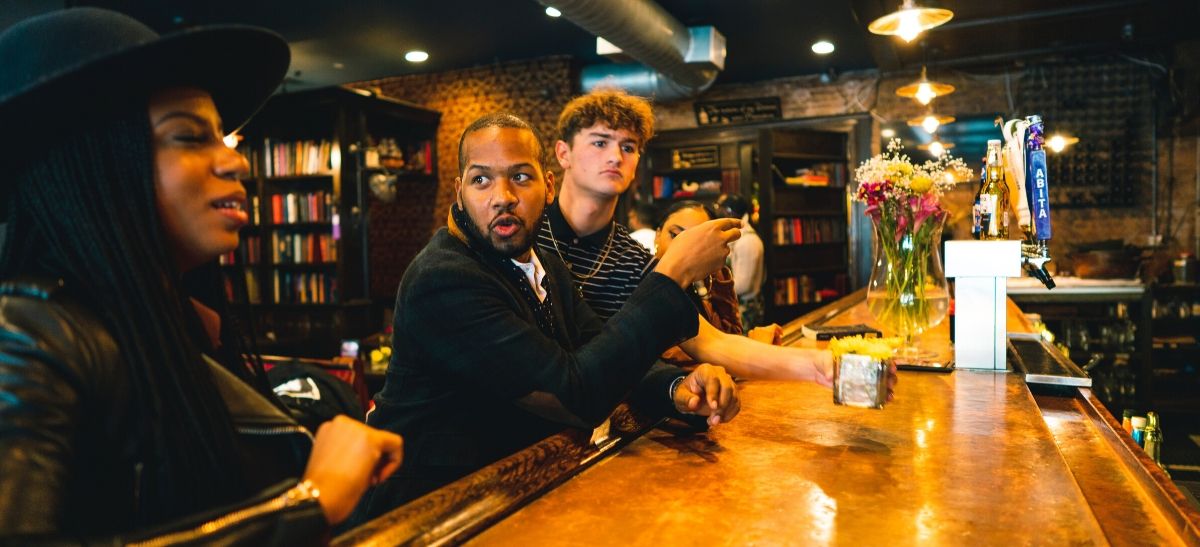 22/04/2020 If you're a front-line on-premise professional whose job was put at risk due to COVID-19, we can help you reach new potential employers starting today!
Beverage Trade Network and Bartender Spirits Awards have taken this initiative to help bartenders and beverage professionals and other front-line staff whose jobs are at risk due to the ongoing COVID-19 pandemic and who have been laid off due to the restaurant industry suffering.
It sometimes feels unfair to see our esteemed colleagues struggling through such hardships, however, such is life. This is not a time to be discouraged though. This is a time to show our solidarity and unity and help our fellow community in getting back up on their feet and make it through these tough times stronger than before.
Not long after the crisis began spreading, the entire restaurant world went into shut down mode and sadly, thousands of our bartender friends and colleagues are now unemployed. They are at home, struggling to make ends meet and hoping that they have a job to return to when this crisis is behind us. While everyone in the restaurant business is hurting, the bartenders are often the first to be laid off and the last to be rehired.
If you know of bartenders in critical financial need, please direct them to our website.
If you're a bartender or beverage professional or an on-premise wine & spirits industry professional whose job is at risk or is lost due to the ongoing situation, you can benefit by this free feature and reach new potential employers.
Our objective here is to continue supporting the on-premise community in any way possible, so if you're facing a challenge in your profession, please don't hesitate to contact us!
These are skilled professionals with a background of service in the hospitality sector and experience in dealing with wine clients. We understand that the on-premise sector is not hiring, but these professionals are also suited for off-trade requirements.
What will Bartender Spirits Awards and Beverage Trade Network do:
► Once we get your profile, we will add it to our daily update on COVID-19 running blog which is distributed daily.
► Dedicated blog post on Bartender jobs at risk due to COVID-19 and now looking for new jobs on our website as well as BartendersBusiness.com
► Social Media support for bartenders looking for new jobs.
► We will distribute your job role and needs to distributors and importers and retailers also for opportunities in the off-trade.
► Daily push via Instagram and Facebook stories.
If you're a bartender or beverage professional or an on-premise wine & spirits industry professional whose job is at risk or is lost due to the ongoing situation, you can benefit by this free feature and reach new potential employers.
---
1. Chloe Oppitz
Cellar hand, Hellfire Bluff Distillery
"Chloe Oppitz is a super enthusiastic and passionate worker, who thrives in the spirit industry. Newly qualified with IBD, Chloe has a fresh, in-depth, practical knowledge of spirit production . With excellent sensory analysis skills, Chloe has already developed a limited release gin and was a member of the team that made multi award winning spirits. Before distilling, Chloe was a senior cocktail bartender, so flavour pairing and combinations are a specialty. Highly driven and skilled, Chloe makes a great member to any team. "
Contact Chloe Via: Email
---

2. Antonio Lee Baartman
Bartender, Head Bartender STARS N BARS
"I'm Antonio from Cape Town, South Africa, started working in a club 10years ago and then move to Dubai.been working in Dubai almost 10 years now. Started from the bottom and worked my way up. Cocktail knowledge, wines, beers, spirits etc. I love working with people, I love learning from other people different cultures and religions. The best part for me is when you make a cocktail with love and you wait for that smile on that person makes my day. "
Contact Antonio Via: Email
---

3. Zach Bunjwa
Food and beverage supervisor, Vineyard Hotel (The Petousis Group Hotels)
"Making sure day to day operation runs smoothly without hiccups to satisfy Guests 's needs."
Contact Zach Via: Email
---
4. Jacqui Thompson
Lead Bartender, SPERINOS/PEPPERONI pub
"Very dependent loves meeting new people. Works great alone or as a team. Honest and loyal to customers as well as Co workers "
Contact Jacqui Via: Email
---
5. Courtney Crockett
Bartender, WESTIN Crown Center KCMO
"A native of Oklahoma Courtney Crockett, known to many as "Boom Boom" with the bar community, currently works as a bar consultant with her company The Traveling Cocktailian based out of Kansas City, MO. She travels the country providing bars and restaurants with an in-depth knowledge of bar training, spirits education, cocktail history and bar method. With extensive continued bar education and spirits certifications she has prided herself on spreading "the gospel of hospitality" around the country especially to the smaller markets that often get overlooked for their tremendous contributions being made to the cocktail industry. Her primary focus is to provide the tools and training necessary to inspire future leaders within the bar industry.
With a passionate love of karaoke and cocktails she is not afraid to lead a sing along behind the bar while serving her guests their favorite drinks. What are her favorite drinks to make you may ask? Well she's ready with her signature response, "whatever you're havin, Darlin!" "
Contact Courtney Via: Email
---
6. Steven Langford
Lead Bartender, Punch Bowl Social Sacramento
"I have been in the service industry for nearly ten years and has been a bartender for six of those years. I have worked in fast paced, high volume bars for the majority of that with a craft focus mixed in here and there. In addition to a strong knowledge of profit and loss, I also have experience with scheduling, inventory and prep. "
Contact Steven Via: Email
---
7. Billy Abraham
Bartender, Nirwana Gardens Resort
"I'm a young bartender,and I'm a mixologist "
Contact Billy Via: Email
---
8. Lindsey Stanard
Bartender/Server, The Fairmount Cocktail Bar
"Two years of cocktail bartending experience, one year of serving experience. Prior to that, I worked in customer service for 9 years. I use my skills and personality to create amazing cocktails and positive experiences. "
Contact Lindsey Via: Email
---
9. Moses Ngala
Mixologist, Stree F &B
"I am Moses from Kenya,currently based in UAE Dubai for almost six year experience in luxury hotel Burj al Arabs,fine dining restaurants and bar lounge concept with Horeca food distributor as beverage trainer in coffee machines,accessories and syrups from Bristol UK."
Contact Moses Via: Email
---
10. Randi Henry
Bartender, Pins Mechanical (Rise Brands) and Pachinko Bar
"It's not bragging if you can back it up!"-Muhammad Ali I have 17 years experience in the food&beverage/hospitality industry; 11 of that as a bartender. I began my career behind my first bar the day after my 21st birthday. I take an immense amount of pride in doing any job to the best of my ability; and that pride is intensified by the love & passion I have for Bartending Industry!! I intentionally made it a point to get on-the- job experience at different types of establishments early on in my career. I now have extensive beer knowledge from a bar with 164 beers on tap; wine & specialty cocktail service from my work in fine dining restaurants, and my spirits & shot ability is expert level! I've served the college crowd at the latest night clubs, business execs on their lunch break at their favorite sports bar, high rollers in the casino, my peers at the local dive bar, wedding parties, runners for charity, famous athletes and even the mayor! After all these years, I have a variety of Cincinnatians as my regulars; willing to follow me to the best bars in the Queen City! Efficiency is key [Ability to multi-task; serve a high volume clientele quickly, without compromising the quality of the product]! I believe, as a bartender, I control the atmosphere! The goal is to create a fun & safe environment for every patron; you never know who could become your next loyal regular!! I truly love making drinks and enjoyable experiences for my guests and the city I love!! My love and passion for what I do as a bartender is matched only by my desire to be spiritually aware, continually evolve, and contribute to the beauty & happiness of others! Find what you love; and if you are really good at it, share it with the world; because some may eventually find a love for what they do.. but me, I already do what I love!! I feel an obligation to the city I love to give them a taste of gratitude; so that for a moment; while they are on the other side of my bar.. they are in the care of someone that goes the extra mile; who truly desires their happiness and enjoys their company"
Contact Randi Via: Email
---
11. Fotis
Batzas
Head Bartender/Mixologist, Merakia NYC
"Lead Bartender/Mixologist with 10+ years of experience. Possess a deep knowledge of wine, spirits and cocktails as well as their optimal food pairings. Expert in creating cocktail lists and maximizing bar revenue."
Contact Fotis Via: Email
---
12. Roisin Furlong
Bar tender/sommelier, Compass Group, MHL Hotels, Decanter
"An overall drinks trad professional I have worked as sommelier, manager and bar tender at corporate events to major sporting events, international wine awards to consumer events, managed restaurants, hired, lead and trained teams. Further to these tasks and responsibilities I have operations management expertise, wines, Spirits and beers, DipWSET, General Brewers Certificate and the usual suspects of DrinksAware, H & S, FOH, BOH, supplier management and negotiations but most fundamentally exceptional customer service skills that garner awards of commendation, recognition excellence. "
Contact Roisin Via: Email
---
13. Keshinro Tunde
Mixology (Bartender), Watercress Hotel
"Making Cocktail and Serving of drinks to guests "
Contact Keshinro Via: Email
---