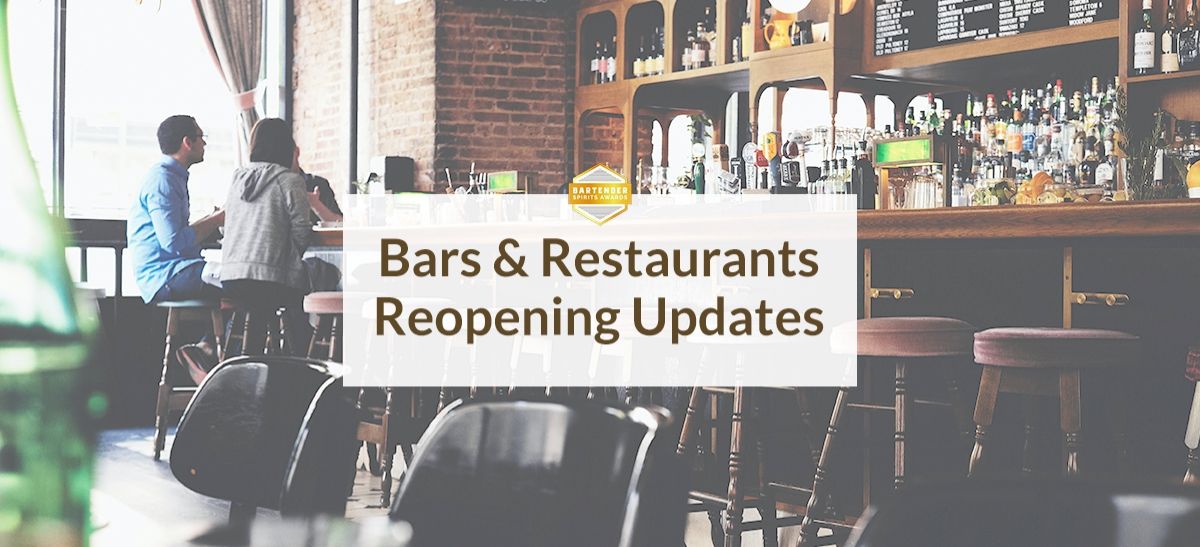 08/02/2021 Stay tuned with daily updates on the reopening of bars and restaurants across the USA.
8 February
25 Essential Pizzas in the Boston Area - Boston Eater
Here are 25 spots that showcase the best of today's Boston-area pizza world. In the interest of keeping to a tight radius around Boston, this map omits the excellent South Shore bar pizza scene, which deserves a map of its own.
-------------------------------------
8 February
Chicago Black Restaurant Week Starts Sunday - NBC Chicago
Chicago Black Restaurant Week was designed to celebrate food and beverage businesses owned by Black people in the Chicago area and surrounding suburbs. 2021 marks its sixth year and the annual event is taking place for two weeks until Feb. 21.
In 2015, founder Lauran Smith decided that African American businesses needed their own week of support, "allowing everyone to get a chance to taste the goodness in the community, where these businesses will share discounts on items of their choosing."
-------------------------------------
12 January
This Week in Houston Food Events: Le Colonial Raises Money for Hope Farms - Houston Press
Here's a look at this week's hottest culinary happenings
-------------------------------------
12 January
Facing new rules, cold weather, here's how New Orleans restaurants keep hanging on - Nola
With New Orleans restaurants reduced to 25% capacity under the latest city rules, only a handful of tables were seated inside, where the kitchen boxed up takeout orders of bourbon-brined fried chicken and shrimp Creole and a bartender mixed a go-cup Sazerac.
-------------------------------------
11 January
How a Pandemic Cooking Project Became a Pop-up, and Then a Permanent, Albeit Hidden, Restaurant Counter - Eater
After operating as a pop-up out of Old Montreal restaurant Bocata this summer, Chilean empanada and sandwich counter Super Loco now has a permanent, though inconspicuous, locale in the Mile End.
The project was born in the early months of the pandemic, when Bocata chef Nicolas Salinas began experimenting with baking Chilean bread and empanadas in his home kitchen. "It was his passion project," co-owner Roberto Porres says.
-------------------------------------
11 January
As Miami Restaurants Close, NYC Group Comes to South Florida - NBC Miami
Major Food Group is bringing its restaurant empire to South Florida, signing leases to open four new restaurants in Miami-Dade this year, starting with the Manhattan crowd pleaser Carbone as early as Jan. 15, one of its founders said.
The restaurant will open at the former South Beach location for Upland, the defunct outpost of another New York City original, situated near Prime 112 and Joe's Stone Crab at 49 Collins Ave.
-------------------------------------
05 January
Make This Jungle-Inspired Cocktail From One of Costa Rica's Acclaimed Bartenders - Eater
Perched above San José's buzzing cultural center, Distrito Carmen, a softly lit cocktail bar hides amid a forest of potted plants from the not-so-far-off wilds. Called Selvática — meaning jungle — the acclaimed nightlife destination is the ideal setting for the inspired creations of visiting bartender Liz Furlong, who has made a career out of what she calls "jungle bartending, using what we can find in the jungle, or neotropical regions, to create delicious cocktails without importing ingredients."
-------------------------------------
05 January
Restaurants, bars call for outdoor dining exception under San Francisco's stay-at-home order - Radio.com
A group of restaurant owners and employees braved the rain Monday in San Francisco to protest the outdoor dining ban.
Last week, San Francisco announced it is extending its stay-at-home order until further notice.
Under the state's regional order, outdoor dining is banned across the region, which includes nine Bay Area counties, and Santa Cruz and Monterey counties. The earliest the restrictions could be lifted is January 7, three weeks after the state's regional order went into effect. But that's very unlikely to happen because ICU capacity in the region remains well below the mandated 15% threshold.
-------------------------------------
22nd December
Stimulus bill will help restaurants, but critics say it won't save them from the pandemic's effects - Washington Post
Late Sunday evening, House Speaker Nancy Pelosi (D-Calif.) and Senate Minority Leader Charles E. Schumer (D-N.Y.) issued a joint statement highlighting key provisions of the $900 billion coronavirus relief package, including important modifications to the Paycheck Protection Program that, they said, would "better assist independent restaurants."
-------------------------------------
22nd December
Cocktail Culture Emergence In China Fosters Spirits Consumption - The Drinks Business
The Hong Kong Trade Development Council (HKTDC) has announced the result of a survey on the recent consumption trends in Mainland China, which shows that as a cocktail culture begins to prevail in the country, spirits consumption is rising.
-------------------------------------
21st December
Pa. Dems' bill would give grants to bars restaurants dealing with COVID restrictions | Monday Morning Coffee - Penncapital Star
"Our restaurants and bars can't wait for the federal government to take action, and we can't wait to see what – if anything – will come from the federal government to help these mom-and-pop establishments," the two lawmakers wrote in a Friday memo to their colleagues seeking support for the plan. "This is why we will be introducing legislation to provide grants, not loans, to eligible bars, restaurants, and catering and banquet halls that are struggling, focusing the aid on the smaller community businesses that need the help more right now, rather than chains and national conglomerates."
-------------------------------------
21st December
The Greatest Restaurant City in America Is Hurting More Than You Know () - The New York Times
About a week ago, indoor dining was banned anew — for how long, nobody knows. That could be the death knell for many of the restaurants that are still hanging on, barely. There has been a war in our city, which is the greatest restaurant city in America, pitting owners and managers and cooks and bartenders and servers and dishwashers against an invisible invader. On too many fronts and in too many instances, the invader is winning.
-------------------------------------
15th December
Michigan Restaurants and Bars Can Apply for Up to $15K in COVID-19 Relief Grants Starting December 15 - Eater Detroit
Michigan small businesses such as independent restaurants that are hurting due to the novel coronavirus crisis can apply starting at 9 a.m. on Tuesday, December 15, for up to $15,000 of a total of $10 million in relief from the Pure Michigan Small Business Relief Initiative. Grants will be awarded on a first-come basis, so make sure to apply early. The relief is part of CARES Act money secured by the state at the beginning of the pandemic. The CARES Act is scheduled to expire on Saturday, December 26, and thus far Congress has approved nothing to replace it. Among many stipulations, applicants must be in compliance with the state's COVID-19 safety guidelines — meaning defiant restaurants need not apply.
-------------------------------------
15th December
Taste American History With Classic Rum Drinks and Contemporary Riffs - Vinepair
Following are Shannon Mustipher's take on rum-based drinks that, by virtue of their ease and tastiness, made possible the classic rum drinks that eventually swept the globe — and set the stage for the cocktails we all know and seek out at the bar today.
-------------------------------------
11th December
Beshear OKs reopening Kentucky bars, restaurants as state reports record 4,324 new COVID-19 cases - WDRB
LOUISVILLE, Ky. (WDRB) -- Kentucky's restaurants and bars can reopen for indoor services Monday at 50% capacity, Gov. Andy Beshear said during a news conference Thursday from the state Capitol.
Establishments must stop service at 11 p.m., must close no later than midnight and must require customers to wear masks except while eating and drinking, the governor said.
-------------------------------------
11th December
A Breakdown of COVID-19 Requirements and Recommendations for Georgia Restaurants and Bars - Eater Atlanta
Georgia's restaurant and bar owners now find themselves navigating a growing quagmire of confusing local and state recommendations and requirements to keep patrons and employees safe and their businesses open.
-------------------------------------
11th December
Independence re-establishes its own health department, then loosens a COVID rule - Kansas
Restaurants and bars, starting Friday, may serve food and drink until midnight. Previously, Independence had followed Jackson County's order that restaurants and bars close at 10 p.m. in an attempt to limit the spread of the COVID-19 virus. Occupancy is still limited to 50% and masks are required of those not actively eating or drinking.
"We just really felt that it was causing more harm to their ability to remain a viable business by closing them at 10 o'clock when we feel like our business owners can manage that situation until midnight," said Independence Mayor Eileen Weir.
-------------------------------------
9th December
'Free-fall': 10,000 restaurants have closed over the past three months, according to the National Restaurant Association - Nation's Restaurant News
More than 110,000 restaurants — or about 17% of the total restaurants in the country — have closed permanently or long-term during the COVID-19 pandemic.
-------------------------------------
9th December
Some Kentucky bars, restaurants to receive relief - The Center Square
Kentucky bars and restaurants may still be closed for indoor dining, but some are getting at least a little bit of relief as the COVID-19 pandemic continues.
Last week, officials in Owensboro and Daviess County announced they would take steps to waive license fees for those establishments in the western Kentucky community, the Owensboro Messenger-Inquirer reported.
-------------------------------------
7th December
Restaurant industry loses jobs for the first time since April as new restrictions hit employment - CNBC
-> Food and drinking places lost 17,400 jobs in November as new restrictions weighed on restaurant sales.
-> This is the first month since April that the industry has lost jobs.
-> Same-store sales across the industry fell 10.3% in November, according to Black Box Intelligence.
-------------------------------------
7th December
Last call for alcohol at Denver restaurants, liquor stores just changed again - Denver Post
In time for the holidays and the last push of 2020, the city of Denver on Wednesday released revised last-call guidelines for restaurants, bars and liquor stores.
The primary effect of the city's latest rules is to extend alcohol sales from both restaurants and liquor stores past 10 p.m., but only for off-premise drinking. Restaurants and bars serving food can officially serve alcohol until 2 a.m. again, but only by offering late-night delivery.
-------------------------------------
4th December
Utah bars send letter urging Gov. Herbert to end 10 p.m. alcohol ban - KSL News Radio
SALT LAKE CITY — Twenty-five bars in Utah are pleading Gov. Gary Herbert to end his 10 p.m. alcohol ban, citing concerns they are on the "verge of economic ruin." The owners co-wrote a letter and sent it to the governor Wednesday, asking Herbert to lift the restriction.
The ban on selling alcohol past 10 p.m. is part of the newly-enforced mandates that became effective Nov. 9. Under the mandate, all bars and restaurants must stop serving alcohol after 10 p.m. — noting it may help to curb the spread of the coronavirus.
-------------------------------------
4th December
Judge rules in state's favor — Michigan bars & restaurants to remain shut down - WXYZ Detroit
(WXYZ) — In a blow to the Michigan Restaurant and Lodging Association, a judge ruled in favor of the State of Michigan to keep bars and restaurants closed under the state's current epidemic order.
-------------------------------------
3rd December
Metro Nashville restaurants, bars restricted to 50% capacity due to COVID-19 - News Channel 5
NASHVILLE, Tenn. (WTVF) — New COVID-19 restrictions went into place at midnight in Metro Nashville.
Restaurant and bar capacity will now be restricted to 50% with social distancing, and 10 p.m. will be the last call for food and drinks. No patrons will be allowed inside after that time. Metro Public Health Department officials said this will help businesses close at 11 p.m. in a more orderly way.
-------------------------------------
3rd December
Drinking at bars might never recover after COVID - Chicago Business
-------------------------------------
1st December
Kentucky restaurants and bars can begin applying for relief funds today at noon - Kentucky Chamber Bottom Line
Following an executive order closing Kentucky restaurants and bars again to in-person dining for three weeks, Governor Andy Beshear created a $40 million fund using federal coronavirus relief funds to help out restaurants and bars.
-------------------------------------
1st December
Details, exemptions for N.J.'s new outdoor gathering limit revealed by Gov. Murphy (https://snip.ly/3dpih5) - Nj.com
In an effort to fight the second wave of the coronavirus, Gov. Phil Murphy announced Monday he's lowering New Jersey's outdoor gathering restrictions for the second time this month to 25 people ahead of the busy December holiday season, though there are some exemptions.
The governor's latest order takes effect at 6 a.m. on Dec. 7 and will be in place indefinitely:
Read the new rules included here.

-------------------------------------
26th November
HOLIDAY WEEK BRINGS MORE RESTAURANT RESTRICTIONS - Restaurant Business
Los Angeles County has suspended outdoor restaurant dining and Nevada has lowered the limit on indoor seating capacities to 25% in the latest flurry of service restrictions imposed on the industry to slow the spread of coronavirus infections.
Restaurants in Memphis, Tenn., were also alerted to new restrictions over the weekend, with officials of surrounding Shelby County reducing dining-room capacities to 50%.
-------------------------------------
26th November
Bars in Most of Louisiana Must Cease Indoor Service - Eater New Orleans
In a press conference addressing Louisiana's rising number of coronavirus cases on Tuesday, Gov. John Bel Edwards announced that restaurants in the state must reduce capacity from 75 to 50 percent and that bars in parishes with a higher than five percent positivity rate must cease indoor service.
-------------------------------------
25th November
As COVID-19 Surges, LA County Shuts Down All Outdoor Restaurant Dining - Eater Los Angeles
Public health officials have announced that outdoor dining at restaurants across Los Angeles County will shut down on Wednesday, November 25. The modification of the county's public health order was announced on Sunday, November 22, and takes effect on Wednesday at 10 p.m., after which restaurants will only be able to offer takeout meals or delivery. During this period, there will be no on-site dining of any kind, indoors or out, for at least three weeks.
-------------------------------------
25th November
Here's Why Kentucky Is Closing Indoor Dining at Bars and Restaurants
Bars, restaurants hopeful outdoor dining expansion in downtown Houston will help struggling businesses - Khou
HOUSTON — Restaurants in Houston are finding creative ways to keep customers coming back as the coronavirus pandemic continues to hit the service industry hard.
-------------------------------------
23rd November
Pa. restaurant/bar owners make plea to Gov. Wolf for financial help and a reopening plan - Penn Live
As frustrations mount over Gov. Tom Wolf's COVID-19 restrictions, Pennsylvania restaurant and bar owners are continuing their fight for relief.
At a rally Wednesday afternoon on the steps of the Pennsylvania Capitol, several dozen representatives from the hospitality industry, including restaurant, bar and hotel owners, as well as brewers and caterers, stressed many establishments will permanently close without financial help or a reopening plan. The rally was sponsored by the Pennsylvania Restaurant & Lodging Association.
-------------------------------------
23rd November
Cleveland bars and restaurants already feeling strain under new coronavirus orders - Fox 8
CLEVELAND (WJW) — Three nights into a three-week curfew, Cleveland bars, and restaurants say they are already feeling an impact. Ohioans are being asked to stay at home after 10 p.m., unless it's for something essential or an emergency.
-------------------------------------
20th November
The National Restaurant Association to U.S. governors: We have become a 'convenient scapegoat' for COVID-19 outbreaks - Nation's Restaurant News
The National Restaurant Association president and CEO Tom Bené sent a letter on Tuesday to the National Governors Association, defending the safety and role of restaurants during the COVID-19 pandemic, particularly noting the "lack of scientific evidence" linking restaurants to the increase in COVID-19 cases across the nation. The letter also urges governors to reconsider or rethink COVID-19 restrictions that would adversely affect restaurants, like completely shutting down indoor dining.
-------------------------------------
20th November
How Cocktails Are Helping Armagnac Reinvent Its Image For A New Generation - by Chris O'Brien at Forbes
According to industry association Le Bureau National Interprofessionnel de l'Armagnac, about 3 million bottles of Armagnac are sold annually, compared to 216.5 million bottles of Cognac. Armagnac sales are falling in France where it retains an image as a stuffy product consumed mainly by old people. Overall, the industry is stable thanks to rising shipments to China, Russia, and the United States.
On paper, Armagnac would seem to be the perfect spirit at a moment when consumers and bartenders around the world are constantly searching for artisanal alcohols and new tastes.
-------------------------------------
19th November
Texas Is Sitting on a $10 Billion Rainy Day Fund. That Money Should Be Used to Bail Out Restaurants - Eater Houston
At present, the best hope for legislative relief for restaurants is sitting at the federal level. Called the RESTAURANTS Act, the bill would appropriate $120 billion to provide direct financial assistance to bars and restaurants that have been hemorrhaging money over the past nine months. Despite support from high-profile restaurateurs across the country, including Houston's own Chris Shepherd, the bill has failed to pick up steam in this current Congress.
-------------------------------------
19th November
Bartenders and waiters struggle on, eight months into the pandemic - The Columbus Dispatch
Outside of frontline healthcare workers, few people have seen the impacts of the coronavirus pandemic like the service industry, particularly those who work in restaurants and bars.
Bartenders and servers have seen their hours cut, and their tips along with it, and while a handful are thriving, nearly all find themselves with expanded workloads as they're asked to take more carryout and delivery orders and thoroughly clean everything customers touch.
-------------------------------------
17th November
What Oregon's new coronavirus 'freeze' means for restaurants, bars - Oregon Live
Eight months after on-site dining was banned at Oregon restaurants and bars, and five months after they were slowly allowed to reopen, Gov. Kate Brown will once again limit food and drink establishments to takeout service only.
Going beyond Wednesday's "pause" on social gatherings in nine Oregon counties, the new restrictions put a statewide "freeze" on both indoor and outdoor dining from Nov. 18 through Dec. 2, Brown announced at a news conference Friday.
-------------------------------------
17th November
New York Announces New Curfew For Restaurants and Bars - Eater New York
Restaurants and bars across the state have been ordered to close indoor and outdoor dining nightly at 10 p.m. starting on Friday, according to the governor's office. The governor indicated that diners should have wrapped up their meals by curfew time. Takeout and delivery is still allowed after 10 p.m., but only for food orders. Takeout and delivery alcohol orders after 10 p.m. will be off limits.
-------------------------------------
17th November
Michigan bars, restaurants to close for indoor dining again - Click On Detroit
CLINTON TOWNSHIP, Mich. – The COVID-19 pandemic has hit small businesses especially hard. The group that represents Michigan restaurants called the decision to shut down indoor dining "disappointing."
-------------------------------------
13th November
Central Ohio bars and restaurants brace for another lockdown - 10tv.com
Gov. Mike DeWine said he would be forced to call for another shutdown of restaurants, bars and fitness centers if the state's COVID numbers do not improve.
-------------------------------------
13th November
In a victory for bar owners, Arizona restaurants may lose the right to sell alcohol to-go - Azcentral
Arizona's restaurants may no longer be able to sell cocktails to-go, a Maricopa County Superior Court judge ruled in a decision released on Nov. 9. The ruling reverses an allowance from Gov. Doug Ducey designed to help restaurants boost sales throughout the coronavirus pandemic.
-------------------------------------
12th November
San Francisco shuts down indoor dining at restaurants - San Francisco Chronicle
San Francisco restaurants will have to close their indoor dining rooms Friday due to a rise in coronavirus cases, Mayor London Breed announced Tuesday.
"The fact is the virus is spreading and we have to make the hard decisions," she said.
-------------------------------------
12th November
With Oregon's 'pause' limiting indoor dining, restaurants brace for further restrictions - Oregon Live
-------------------------------------
11th November
Liquor stores struggling to keep top-selling products on shelves - THV11
Having trouble finding your favorite types of alcohol, like Patron and Crown Royal? You're not alone. And it isn't the liquor store's fault.
-------------------------------------
11th November
Restaurant owners adding COVID-19 safety measures - abc7
Earlier this fall, Gov. DeSantis made the announcement that Florida would be moving into Phase 3 of reopening.
With restaurants across the state operating at 50% to 75% capacity at this time, moving into Phase 3 was a big deal. All seats, barstools and booths would once again be filled with no capacity limitations.
While this was overwhelmingly good news for all restaurants, some owners were still concerned about both customers and staff feeling safe.
-------------------------------------
9th November
New York State quietly extends 'to-go' ordering for alcohol at bars, restaurants - Finger Lakes 1
New York State is extending the window for people to purchase alcohol-to-go.
The state's liquor authority announced the move this week and noted that restaurants and bars could continue serving 'to-go' alcoholic beverages.
-------------------------------------
9th November
How is Ohio's 10 p.m. curfew for serving alcohol affecting bars? - CantonRep.com
Now's an especially tough time to be a bar owner.
The clientele is shrinking due to COVID-19 fears. And there's health rules to enforce, such as socially distanced seating and mask-wearing.
Most challenging, at late-night venues at least, is Ohio's rule that bars and restaurants must stop serving alcohol at 10 p.m. and require customers finish their drinks by 11
-------------------------------------
9th November
COVID-19 restrictions lifted on Delaware beach bars by Gov. Carney - Delmarva now.
Delaware Gov. John Carney on Thursday lifted extra restrictions on bar service in beach towns from Lewes down to Fenwick Island, allowing restaurants and taprooms there to follow mandates placed on establishments in the rest of the state.
-------------------------------------
6th November
Simone Caporale Launches Non-alcoholic 'Spirit' - The Drinks Business
Italian mixologist Simone Caporale, formerly of Artesian at The Langham, has launched a non-alcoholic 'spirit' that mimics the flavour and texture of alcohol.
-------------------------------------
6th November
Beshear announces 12-month fee waiver for Kentucky restaurants, bars - Biz Journals
Kentucky Gov. Andy Beshear said Thursday that the state is waiving alcoholic beverage renewal fees for Kentucky restaurants, bars and temporary venues for 12 months as a way to save them money during the Covid-19 pandemic.
The temporary relief comes as the state's bars and restaurants remain at 50% indoor dining capacity even as winter weather looms that will limit outdoor dining options.
He said those restaurants and bars who have not paid their renewal fees for 2020 won't have to do so until 2021. If the fees have already been paid for this year, he added, the fees will be waived next year.
-------------------------------------
5th November
Jägermeister Launches Call to Action to Save 15 Remaining Lesbian Bars in the US - Adweek
There were an estimated 200 lesbian bars in the U.S. in the 1980s, but the past few decades have been grim for these queer safe spaces. In 2020, a year that's been devastating to all bars across the country, fewer than 20 lesbian bars are still open.

Jägermeister is aiming to raise awareness for the remaining 15 lesbian bars in the U.S., and call on people to keep them from shuttering during the pandemic, with a new online campaign and video PSA.
-------------------------------------
5th November
Restaurants and bars in Michigan to collect names and numbers of customers starting Monday - Fox 17 Online
Michigan is tightening its restrictions on gatherings after linking more than 30 known outbreaks to things like family events, weddings and funerals.
Starting immediately, indoor venues with fixed seating can only allow a max of 50 guests at a time, down from 500, and restaurants can only seat six people per table.
-------------------------------------
5th November
NJ Restaurants in Middle of Semantics Spat Over $35 MillIon Aid Package - Total Food Service
A bill that would reimburse restaurants for the indoor dining false start in July has been vetoed by New Jersey Gov. Phil Murphy. The reason the bill was vetoed, said Murphy in a statement to the Senate, is because $35 million of CARES Act funding — which helps residents and businesses struggling because of the pandemic — had recently been allocated to resuscitate the foundering restaurant industry.
-------------------------------------
4th November
A Guide to Election Day Freebies and Specials in the Bay Area - Eater San Francisco
In Bay Area, elections have always occupied a spot somewhere between politics and a sporting event, a hybrid beast marked by huge annual parties at local bars and restaurants, with participants drinking and dining in celebration or out of grief.
This year, it goes without saying, is different. According to the Bay Area Reporter, officials in typical election night hot spots like San Francisco's Castro District are telling people to stay home, to avoid the spread of COVID-19. Elsewhere in the city, landlords are boarding up storefronts at bars, restaurants, and businesses, the SF Business Times reports, an effort to avoid damage from any civil unrest that follows.
All this to say that on November 3, 2020, the best election day specials are the ones you pick up during the day, or enjoy during a watch party at home. Here are some of the top offerings Eater has seen — and keep checking back, we'll continue to add to this guide up to election day, as additional freebies and deals roll in.
-------------------------------------
4th November
Oregon restaurants, bars ask to stay open until midnight - KGW8
To help restaurants and bars survive, the Oregon Restaurant and Lodging Association (ORLA), which represents around 1,800 restaurants across the state, is asking Gov. Kate Brown to push back the curfew from 10 p.m. to midnight.
-------------------------------------
28th October
Halloween 2020: Virtual Dinners, Spirited Takeout, and Socially Distant Soirées in Halloween 2020 - Eater Atlanta

Despite the ongoing health crisis, several restaurants and bars around Atlanta plan to help people celebrate Halloween by hosting virtual costume parties or murder mystery dinners over Zoom, socially distant soirées on patios and rooftops, and offer spirited cocktail, beer, and food menus for takeout.
-------------------------------------
28th October
Hoboken Announces Bars + Restaurants to Close at Midnight Starting October 29th - Hoboken Girl
Hoboken has made an announcement via its Nixle alert system that starting Thursday, October 29th, it will require bars to close at 12 midnight. The notification was sent from Mayor Bhalla, who said he would be signing an executive order to close all restaurants and bars at that time, daily, till further notice to prevent a greater spread of COVID-19.
-------------------------------------
27th October
New restaurant openings return to pre-pandemic levels, Yelp says - Restaurant Dive
In both August and September, 6,600 new restaurants and food businesses opened, which is closer to 2019 and 2018 volumes, according to the Yelp Economic Average report released Thursday. New restaurant openings in Q3 2020 were down 10% compared to the year-ago quarter.
During the third quarter, over 210,000 businesses that temporarily closed have reopened, with a large increase of reopenings in September.
-------------------------------------
27th October
California restaurants demand state return liquor fees, other charges collected in pandemic - The Sacramento Bee
California restaurants in five counties filed claims against local governments and the state on Monday seeking refunds for a list of fees they've had to pay for liquor licenses, health permits and tourism assessments to stay open during COVID-19.
Restaurants in Los Angeles, Orange, San Diego, Sacramento and Monterey counties have filed the claims against their boards of supervisors and a state office, according to the California Restaurant Association. Establishments in San Francisco, Fresno and Placer counties expected to follow suit. The claims are considered a precursor to a lawsuit.
The claim filed in Los Angeles County alleges "unlawful taxation, fees, and/or charges that were collected" despite restaurants' inability to operate in accordance with California's reopening regulations.
-------------------------------------
27th October
Halloween 2020: Pumpkin-Themed Menus, Virtual Costume Contests, and More - Eater New York
Due to the pandemic, virtual costume contests and spread-out dinner plans are the name of the game for Halloween this year. For those looking to go out for some socially-distant celebrating, restaurants across the city are still making the most of the occasion with pumpkin-spiced baked goods, spooky cocktails, and more. Here, Eater has rounded up a list of restaurants plotting Halloween-themed menus and events for the holiday.
-------------------------------------
26th October
Restaurants Urge Governments To Focus On What's Really Fueling The Current Covid Wave - Restaurant Business Online
With a third wave of COVID-19 clearly underway, representatives of the restaurant industry are imploring government officials to avoid widespread re-closings of dining rooms when science shows other factors fueling the surge.
-------------------------------------
26th October
Star Trek Cocktail Book Launches - The Drinks Business
Mixologists Simon Pellet and Adrian Calderbank have created a colourful compendium of intergalactic cocktails inspired by hit sci fi TV show, Star Trek.
-------------------------------------
21st October
SF Bars Without Food Will Open for Outdoor Drinking Next Month for the First Time Since March - Eater San Francisco
After three weeks in the "orange" stage of California's color-coded reopening plan, San Francisco's COVID-19 numbers are low enough that the county can move into the final stage of reopening (with infection risk within the city deemed "minimal"), state officials are expected to announce Tuesday.
As part of that improved new stage of reopening, San Francisco restaurants will be allowed to operate indoor dining at 50 percent capacity, and bars that do not serve food — all of which have been closed since the pandemic began — will reopen for outdoor drinking.
-------------------------------------
21st October
Restaurants, Down $200 Billion Already, Prepare for Election Fallout - QSR Magazine
This likely comes as no great revelation, but the restaurant industry remains in flux as the heart of winter and a contentious election fast approaches. Industry sales trended higher in September, but at the slowest pace since the economy began to reopen. According to preliminary data from the U.S. census bureau, "eating and drinking places" registered sales of $55.6 billion on a seasonally adjusted basis in September.
The month trended up 2.1 percent, or $1.1 billion, from August's mark of $54.5 billion. As the National Restaurant Association pointed out, this would typically represent a robust result on normal days. Yet these are clearly far from normal conditions.
-------------------------------------
20th October
Oregon restaurant and bar owners brace for winter - OPB
When coronavirus restrictions began to ease earlier this summer, some restaurants and bars were able to use Portland streets for outdoor dining. But as Oregonians brace for the winter, restaurants will have to adapt to the bad weather or make do with limited indoor seating.
-------------------------------------
20th October
Bars & Restaurants In NJ Can Now Serve Alcohol Outdoors Until Next Year - 92.7 WOBM
With many restaurants and bars depending on being able to serve alcohol in their outdoor dining areas during the COVID-19 coronavirus pandemic, it was just announced that the permits to do so will now be good for nearly another 6-months.
According to NJ.com, in his Monday COVID-19 briefing, New Jersey Governor Phil Murphy said that the state will extend the special permitting period that allows bars and restaurants to serve alcoholic beverages outdoors through at least the end of March 2021.

Read More: NJ Bars & Restaurants Can Now Serve Alcohol Outdoors Until 2021
-------------------------------------
19th October
Kansas liquor sales rise during pandemic - Koam News Now
WICHITA, Kan. – Business is booming for one segment of the economy in Kansas during the coronavirus pandemic: liquor stores.
The Wichita Eagle reported that tax collections on liquor sales at stores are up 17.9% from July to September compared to last year, according to data from the Kansas Department of Revenue. It's not just Kansas. The data organization Nielsen says liquor sales at stores are up 22.7% nationwide from March 1 through mid-September compared to the same time last year.
-------------------------------------
19th October
New Ohio Senate bill would repeal the coronavirus-related 10 p.m. last call at bars - Cleveland
COLUMBUS, Ohio – A bill sponsored by Ohio Senate President Larry Obhof, Speaker Pro Tempore Bob Peterson and co-sponsored by 22 Republican and Democratic lawmakers would repeal an executive order requiring bars and restaurants stop serving liquor at 10 p.m.
-------------------------------------
19th October
Drinking in Portland During the Coronavirus Pandemic - Eater Portland
How the city's beverage industry adapted during one of its most challenging years
-------------------------------------
16th October
7 months later: Where the restaurant industry stands - Restaurant Dive
With sales down to 2016 levels, restaurants have a lot of ground to make up, but pent-up demand for dining in is still high and technological innovations can help bring consumers back.
-------------------------------------
16th October
Sexy Fish Launches Surrealism-inspired Cocktail Menu - The Drinks Business
Richard Caring's irreverent Mayfair restaurant Sexy Fish has launched a new cocktail menu and book inspired by Surrealism to mark the venue's fifth birthday.
-------------------------------------
16th October
Diageo Bar Academy to host cocktails to-go webinar - The Spirits Business
The DBA will host a free masterclass next Wednesday (21 October) at 2 pm BST, which will look at driving sales and incorporating a takeaway service within venues.
Posthumus, owner of Amsterdam bars Flying Dutchmen Cocktails and Dutch Courage Cocktails, will host the online webinar, along with special guest, bar owner Vijay Mudaliar. Posthumus was a former World Class winner in the Netherlands heat in 2015. Mudaliar is the founder of acclaimed drinking den Native in Singapore, which was recently named Best International Cocktail Bar at Tales of the Cocktail's 2020 Spirited Awards.
-------------------------------------
14th October
How Bar Bombón Owner Nicole Marquis Is Helping to Save Philly Restaurants - Thrillist
In April, she co-founded Save Philly Restaurants, a campaign signed by 50 independent restaurateurs representing more than 220 establishments. Sent to representatives at the local, state, and federal level, the petition advocated for industry support like immediate unemployment benefits, rent abatement and eviction moratoria, emergency loans for small businesses, and a sales tax holiday on the takeout and delivery orders that were suddenly restaurants' only source of revenue.
"I'm not just advocating for the restaurant industry because it's my industry, but because it's one of the largest industries in the nation, and it provides millions and millions of jobs," Marquis said.
-------------------------------------
14th October
Texas Bars That Do Reopen Will Have to Stop Selling Alcohol at 11 p.m. - Eater Austin
Texas bars that reopen on October 14 — as part of the updated executive order issued by Gov. Greg Abbott last week — will have to stop selling alcohol at 11 p.m. The cutoff time only applies to bars in counties whose judges have opted into reopening its bars, as the governor has left that decision up to those local officials. At this point, Travis County Judge Sam Biscoe, who oversees Austin, hasn't made a ruling yet. Only Texas counties in hospital regions where COVID-19-related hospitalizations are less than 15 percent are allowed to reopen nonessential businesses, including bars this week.
-------------------------------------
14th October
DC Restaurants Get Grants for Outdoor Seating - NBC Washington
Hundreds of restaurants and bars in D.C. are getting some much-needed help to stay open for outdoor dining as the weather turns cooler.
On Tuesday, Mayor Muriel Bowser's administration began sending checks to more than 300 restaurants.
Each restaurant approved for the grant will get $6,000.
-------------------------------------
13th October
A Running List of New Restaurants That Opened in New York City, October 2020 - Eater New York
More than six months into the coronavirus pandemic, restaurants across the city are reopening their doors, some by stretching the limits of outdoor dining regulations and others by making early — and expensive — forays into indoor dining.
Here's a round-up of the restaurants and bars that opened their doors in September.
-------------------------------------
13th October
How will Utah restaurants survive when cold weather brings an end to patio dining? - The Salt Lake Tribune
The Utah Restaurant Association has been working with Gov. Gary Herbert's office, members of the Legislature and health officials on possible solutions — including adjusting occupancy standards, said president Melva Sine.
-------------------------------------
12th October
Historic bars to belly up to in every state when you are ready to travel again - USA Today
Every state has bars that locals claim to have been around forever. But which one has been around the longest?
Taverns and bars opened in America as soon as the first settlers arrived on the continent. And while businesses have come and gone because of changes to commerce, culture, and technology, the demand for a place to drink has been unchanged.
-------------------------------------
12th October
Bar owners bet on the locals to bring back Bourbon Street - San Francisco Chronicle
NEW ORLEANS (AP) — When the end came for Johnny White's bar on Bourbon Street, it closed the book on one little piece of local French Quarter life. Soon, the old barroom will reopen with a new name, new operators and a tall order before it - getting locals back to Bourbon Street.
-------------------------------------
9th October
Cuomo Rejects De Blasio Plan to Shut down Brooklyn and Queens Restaurants For Now - Eater New York
Gov. Andrew Cuomo, in a rebuff to Mayor Bill de Blasio, said during a press conference today that he wouldn't close non-essential businesses in areas of Brooklyn and Queens with spiking COVID-19 infections. Bars and restaurants in those areas will remain open for now, though the governor said during questioning that "there could be," an impact to those businesses soon.
"Compliance with bars and restaurants is markedly better than it has been," Cuomo said of the hospitality industry in New York City.
-------------------------------------
9th October
Business Lessons From A Bar That Shut Down Because Of The Pandemic—Here's How It Bounced Back - By Gregg Schwartz at Forbes
A recent story in Bloomberg shared the lessons and learning experiences of Fort Defiance, a bar in Brooklyn, New York, that was forced to go out of business because of Covid-19. But this story actually has a happy ending! Struggling businesses should emulate what Fort Defiance has done, and pivot toward a new, viable business model.
-------------------------------------
9th October
Eight Restaurants and Four Bars Reopen at Planet Hollywood Resort - Eater Las Vegas
-------------------------------------
8th October
Kemp extends COVID-19 restrictions in Georgia through Oct. 15 - Early County News
Gov. Brian Kemp has extended social distancing and sanitization restrictions for businesses, gatherings and long-term elderly care facilities in Georgia amid the COVID-19 pandemic.
In a news release sent late Wednesday, the governor's office announced Kemp signed an order extending the restrictions through Oct. 15. The order keeps restrictions that have been in place for months largely the same.
-------------------------------------
8th October
P.J. Whelihan's Pub & Restaurant in Dauphin County is hiring for 80 positions as it prepares to open - Pennlive
P.J. Whelihan's Restaurant & Pub in Susquehanna Township is back on track.
The doors of the restaurant at 3882 Union Deposit Road are scheduled to open as early as the week of October 26. The company said it is filling 80 year-round positions for front and back of the house, including servers, hosts and line cooks.
-------------------------------------
8th October
Wisconsin Gov. Tony Evers tightens restrictions on bars, stores as COVID-19 cases soar - Bring Me The News
As cases of COVID-19 continue to skyrocket in Wisconsin, Gov. Tony Evers has issued a new emergency order imposing a stricter capacity limit on indoor businesses such as bars, restaurants, and non-essential retailers.
The new restrictions on public gatherings were announced on Tuesday, with businesses that operate public indoor spaces limited to 25% of their occupancy limits as of 8 a.m. Thursday. The same 25% restriction applies for indoor ticketed events, while public events that take place at private residences are limited to a 10-person maximum.
-------------------------------------
6th October
New $120bn hospitality fund could help US bars - The Spirits Business
New legislation that provides a US$120 billion fund to support struggling bars and restaurants has been passed by the US House of Representatives and is now awaiting approval from the Senate.
-------------------------------------
6th October
Gov. Greg Abbott has closed Texas bars twice since the pandemic began. Now he's hinting at opening them again - Click 2 Houston
Bars are shuttered on Austin's iconic Sixth Street. Gov. Greg Abbott hinted Monday that he could allow bars to reopen for the second time during the coronavirus pandemic.
-------------------------------------
6th October
The Growing List of Local Bars + Restaurants With Heat Lamps for Fall and Winter - Hoboken Girl
One of the most unique and quaint aspects of living in the city is the option to sit outdoors on the various restaurant's and bar's expanded sidewalk cafés. With the coronavirus global pandemic still a concern in the latter months of the year, Hoboken Mayor Ravi S. Bhalla has announced that restaurants and bars may continue outdoor, expanded dining throughout the fall and winter months. But what if it gets chilly? The city has an answer for that – heat lamps!
-------------------------------------
5th October
Florida Enters Phase 3, Reopens Bars and Restaurants - The National Law Review
On September 25, 2020, Governor Ron DeSantis announced Florida's entry into Phase 3 of its coronavirus pandemic reopening plan and issued Executive Order 20-244.
-------------------------------------
5th October
At least 45 bars and restaurants in Phoenix have closed amid the COVID-19 pandemic - ABC 15
PHOENIX — At least 45 bars, restaurants, bakeries, and dessert shops in the Phoenix metropolitan area have permanently closed during the coronavirus pandemic, a devastating reality toward an industry that was hard hit, practically brought to a halt, earlier this year.
-------------------------------------
30th September
Joe Redburn, founder of two famous Salt Lake City gay bars, dies in homeless shelter at 82 - The Salt Lake Tribune
Joe Redburn, the founder of two iconic Salt Lake City gay bars who brought the beer for what became the first Utah Pride celebration, has died.
Redburn died Tuesday, Sept. 22, at the Men's Resource Center in South Salt Lake City, according to the LGBTQ magazine Q Salt Lake, which first reported his death. He was 82. The magazine said officials had not released a cause of death.
-------------------------------------
30th September
Restaurants And Bars Now Included In $3 Trillion Federal Aid Proposal - KSRO
Independent restaurants and bars are one step closer to getting a seat at the table in Washington when it comes to plans for federal relief amid the pandemic.
The House of Representatives' latest federal aid proposal will now include the bipartisan, bicameral RESTAURANTS Act as part of the $3 trillion stimulus package.
-------------------------------------
30th September
COVID Cases Spike In Florida As Bars And Restaurants Reopen At Full Capacity - by Nicholas Reimann at Forbes
Florida reported its biggest jump in coronavirus cases in over a week on Tuesday and testing positivity rates are now on the rise statewide, signaling a possible ramping up of coronavirus spread as health experts are concerned that the reopening of bars and restaurants at 100% capacity could fuel a new outbreak.
-------------------------------------
30th September
Ohio restaurants and bars starving for more business, hope state loosens restrictions - Abc6
Many in Ohio are now hoping the state's cut off for alcohol sales will soon be lifted now that other states are easing restrictions.
"Bars and restaurants have been able to operate safely and that's really at the end of the day the test that everybody wanted to, what would happen," John Barker, President of the Ohio Restaurant Association.
-------------------------------------
29th September
New Orleans Restaurants Can Resume Selling Takeout Alcohol - Eater New Orleans
The office of New Orleans Mayor LaToya Cantrell announced that from September 25, restaurants in New Orleans can resume selling alcoholic beverages through drive-thru, takeout, and curbside pickup. Bars in the city will remain closed entirely for the time being.
-------------------------------------
29th September
Boulder Issues Emergency Order: Alcohol Sales At Bars, Restaurants Prohibited After 10 P.M. - Denver CBS Local
The City of Boulder issued an emergency order on Friday that prohibits alcohol sales after 10 p.m. at bars and restaurants. The order went into effect immediate at 5 p.m. Friday.
The order will remain in effect until Oct. 8 at noon unless it is amended or extended. The current order by Gov. Jared Polis ends alcohol consumption at bars and restaurants in Colorado at 11 p.m.
-------------------------------------
28th September
Florida Restaurants, Bars Allowed to Return to Full Capacity - Voanews
Florida Governor Ron DeSantis, a Republican, announced Friday that the state would move forward with reopening plans despite the spread of the coronavirus.
Phase 3 of the state's reopening plan includes lifting restrictions, including capacity limits, on the state's bars, nightclubs and restaurants. In addition, under Phase 3, businesses that have had staffs teleworking as a result of the pandemic are allowed to resume unrestricted staffing on site, employees can resume nonessential travel, theme parks are able to return to normal operations, and gyms and fitness centers can operate at full capacity.
-------------------------------------
28th September
New Restaurant Guidelines in Mass. Begin Monday - NBC Boston
Restaurants in Massachusetts will be able to expand seating from six to 10 people and open bar seating starting on Monday, September 28th.
Gov. Charlie Baker made the announcement last week. The new guidelines apply to both indoor and outdoor seating. Tables must be six feet apart. Customers must wear a face covering at all times, unless seated at a table.
-------------------------------------
28th September
Michigan House passes bill extending closing time for bars, restaurants - Abc 12
Last call in Michigan could be gaining an additional two hours after House Bill 4213 was recently passed by state House lawmakers, meaning cocktails could be served until 4 a.m. instead of 2 a.m.
The bill is designed to bring in more revenue for bars and restaurants – an industry that has been hit hard because of the coronavirus pandemic. But Chris Poulos who owns White Horse Tavern in Flint isn't too thrilled at the idea.
"At 4 a.m. the only people out there are the ones that shouldn't be. They should go home and go to bed, because they're already drunk," Poulos said.
-------------------------------------
25th September
WA bar, restaurant owners want to serve alcohol after 10 p.m., say there is no data to support ban - MyNorthWest
Current mandates only allow Washington restaurants and bars to operate at 50% capacity, and it's no secret that they're struggling. But for many owners who respect the importance of keeping the community safe through social distancing, the nail in the coffin is that they can't serve alcohol after 10 p.m.
-------------------------------------
25th September
16 Philly Restaurants and Bars With TVs Set Up Outside for Watching Sports - Eater Philadelphia
Fall brings prime sports-watching season to Philadelphia as football takes over TVs on Sundays, Mondays, and Thursdays through the winter. Even for those who aren't into the Eagles, sports like soccer and baseball continue well into the colder months, allowing for food- and drink-fueled watch parties for all sports fans.
This year, a number of Philly-area bars and restaurants have set up televisions and projectors outside for watching games outdoors throughout the season, beer and wings in hand.
With the capacity limitations at Philadelphia restaurants, it's a good idea to check if outdoor seating requires a reservation before showing up.
-------------------------------------
25th September
When Will Consumers Feel Safe? Weekly Updates on Consumers' Comfort Level With Various Pastimes - BY ALYSSA MEYERS at Morning Consult
39% of U.S. adults said they are comfortable dining out right now, the highest share since June 9-11.
Comfort also increased back to June levels with regard to vacations, shopping malls, museums, movie theaters and amusement parks.
-------------------------------------
25th September
Riverside County restaurants cautiously approach reopening their dining rooms - The Press Enterprise
California first shut down bars and limited restaurants to takeout and delivery in mid-March in an effort to halt the pandemic.
It eased up on those requirements on Memorial Day weekend, allowing restaurants to have indoor dining with social distancing. But a surge in COVID-19 cases caused Gov. Gavin Newsom to shut dining rooms and bars, which had reopened in June, by Fourth of July weekend.
At that time, more cities began allowing full-service restaurants to expand outdoor service. Dining tables appeared on sidewalks and in parking lots, along with canopies and misters.
The state recently reorganized its reopening framework, setting up color-coded tiers. On Tuesday, Riverside County's public health officer Dr. Cameron Kaiser, said the county is moving from purple, the most restrictive tier, to red, which allows more indoor activity.
-------------------------------------
23rd September
Bill relaxing restrictions on restaurants and bars passes Pa. Senate - Penn Live
Legislation won state Senate approval on Tuesday that would relax some of the restrictions imposed on Pennsylvania's restaurants and bars that have forced some of these establishments to close for good.
House Bill 2513 would set minimum capacity for restaurants and taverns at a minimum of 50% and would allow them to go beyond that if their premises allows while complying with social distancing, masks and other safety precautions recommended by the Centers for Disease Control and Prevention and state Department of Health.
-------------------------------------
23rd September
Where to Dine Outdoors in San Francisco, by Neighborhood - 7x7
As of June, restaurants with patios began opening for limited outdoor service. Sidewalks have been converted for table space, and new parklets have popped up to accommodate businesses not previously set up for alfresco dining.
Plus, on September 18th, Mayor London Breed announced the City's move-forward plan for indoor dining, which may resume by the end of the month at 25 percent capacity up to 100 guests. Until then (and maybe even after that because, hey, we're playing it safe), here's where to eat and drink outside in San Francisco.
-------------------------------------
23rd September
The 'Carajillo,' Famous in Mexico, is Now One of the Fastest Growing New Classic Cocktails in the U.S. - PR Newswire
The Mexican carajillo, known as a "Carajillo 43" or "Original Carajillo," is made from espresso and Licor 43, poured over ice. (Licor 43, the best-selling Spanish liqueur in the world, is a brightly golden-colored spirit created from a secret age-old family recipe of 43 natural ingredients.) Thriving interest in Mexican culture in the U.S., coupled with increased awareness and taste for high-quality coffee, has helped the Carajillo 43 quickly become a new favorite this side of the border.
-------------------------------------
23rd September
Bar Convent Berlin gears up for 2020 digital show - The Spirits Business
Because of the ongoing Covid-19 pandemic, BCB will host a week-long digital event from 12-18 October, called Pouring Digital. Throughout the week, trade professionals will be able to immerse themselves in seminars, panel discussions and tasting events, while discovering a range of new products and embracing the networking opportunities available.
-------------------------------------
22 September
Here's what Colorado's new last-call extension means for bars across the state - Denver Business Journal
Gov. Jared Polis has extended last call for alcohol at bars and restaurants in Douglas and Arapahoe counties but not for the rest of the Denver metro area, based on a new formula that determines booze-sales shutoff times based on the current uptick of coronavirus in an area.
-------------------------------------
22 September
As Texas Restaurants Expand Service, Struggling Bar Owners Say They're Being Ignored - Houston Public Media
Bars who don't serve food are still not allowed to reopen, causing frustrated owners to accuse the governor of picking winners and losers in the reopening process.
-------------------------------------
21 September
Texas bars and distilleries rip Gov. Greg Abbott for leaving them out of "unacceptable" reopening plan - The Texas Tribune
While restaurants are allowed to expand to 75% capacity, those in the bar industry worry prolonged shutdowns could lead to 30% of its businesses closing within six months.
-------------------------------------
21 September
Ohio liquor commission has punished bars and restaurants for COVID-19 violations. Here's a list of decided cases since the pandemic began - Cleveland
COLUMBUS, Ohio -- The agents who inspect Ohio bars and restaurants for violations of their liquor permits -- an issue that has come to the fore during the coronavirus pandemic -- are plain clothes officers.
Most of the time, they slip in and out without the businesses even knowing they were there. That's because they've found no problems.
But occasionally, and increasingly during the pandemic, they've found employees not wearing masks and serving drinks past 10 p.m., or patrons not social distancing, Sometimes they even find illicit drug use or determine employees were trying to hinder the agents' investigation.
-------------------------------------
21 September
How Denver restaurants are preparing for outdoor dining in colder weather - 9 news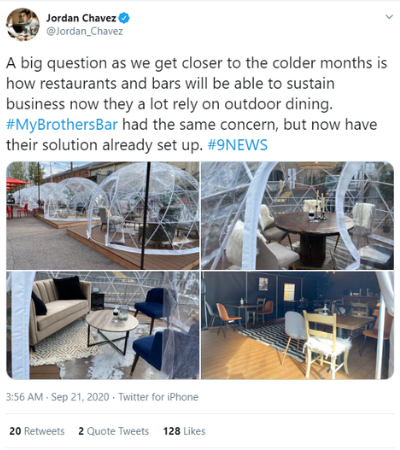 (Image: Twitter)
-------------------------------------
18th September
Florida bars reopen at 50% capacity - Wesh
Florida's Secretary of Department of Business and Professional Regulation Halsey Beshears had made the announcement about bars reopening on his Twitter page Thursday evening. Bar owners are now able to reopen their businesses as long as they follow state social distancing and COVID-prevention rules.
-------------------------------------
18th September
Gov. Beshear extends curfew: Bars, restaurants across Kentucky can now stay open until midnight - Lex18
The state is revising its curfew for bars and restaurants effective immediately, allowing them to stay open until midnight.
Governor Andy Beshear says bars and restaurants can move their "last call" or "last service" from 10:00 p.m. to 11:00 p.m. daily. All food and drink service must stop by that time, and every bar and restaurant must close by midnight.
-------------------------------------
17th September
Michigan's Top Health Official Says Bars Must Remain Closed for Indoor Service - Eater Detroit

On Wednesday, September 16 during a state briefing on the novel coronavirus pandemic response, Dr. Joneigh Khaldun, chief medical executive and chief deputy director for Health for the Michigan Department of Health and Human Services, impressed upon viewers and media outlets the ongoing need for bars to remain closed for indoor service. Khaldun said at the press conference:
Some have specifically asked why bars are not open even though people can purchase an alcoholic beverage in a restaurant. So there's data that shows that many outbreaks of COVID-19 across the U.S. have originated in indoor bars and restaurants. Bars in particular are associated with unique risk factors: Lots of people, tight spaces, and alcohol, leading people to change their behaviors and increasing the risk of spread of COVID-19.
Here in Michigan, prior to the governor tightening her executive order, there were several outbreaks at bars that impacted hundreds of people. So while we're still trying to get a handle on this virus, it is very appropriate for our bars to remain closed.
-------------------------------------
15th September
Indoor Dining Returns to NYC on September 30. Here's How It Will Work. - Grub Street
Almost exactly six months after the citywide restaurant shutdown, New York governor Andrew Cuomo announced that New York City restaurants will soon be able to welcome people back inside. Cuomo announced that indoor dining will return to the five boroughs on September 30, at a reduced capacity of 25 percent, with additional restrictions.
-------------------------------------
15th September
Free masks for hospitality workers as Florida bars reopen - WOK.V
Bars in Florida reopened Monday at 50% capacity.
The Florida Restaurant and Lodging Association handed out 50,000 free, reusable masks for hospitality workers in Northeast Florida.
-------------------------------------
14th September
Gov. Edwards announces Phase III reopening plan for bars, restaurants - KSLA
There are some changes throughout Louisiana when it comes to reopening the state.
Gov. John Bel Edwards has announced plans and guidelines for reopening bars, nursing homes and restaurants.
Under the Phase III guidelines, bars are restricted to a capacity of 25% while restaurants are restricted to a 75% capacity.
-------------------------------------
14th September
Bars in St. Augustine doubtful state's lifting of restrictions will boost huge uptick in sales - The St. Augustine Record
With Gov. Ron DeSantis' go-ahead, bars in Florida will be able to reopen at 50% occupancy Monday, but some business owners in St. Augustine aren't certain it will make a huge difference in sales.
-------------------------------------
8th September
Gov. DeSantis says Florida will 'get to yes' on reopening bars and breweries - News 4 Jax
Gov. Ron DeSantis said he hopes to give Floridians the "ability to have some enjoyment in their life" by soon lifting on-site drinking restrictions imposed on bars and craft breweries since late June.
-------------------------------------
8th September
About 20% Of All Massachusetts Restaurants Have Closed For Good Due To Pandemic, Association Says - CBS Boston
-------------------------------------
4th September
Restaurants in NJ can reopen for indoor dining beginning Sept. 4 - Fox 5 New York
Indoor dining can resume at restaurants across New Jersey with restrictions starting at 6 a.m. on Friday, Sept. 4, announced Gov. Phil Murphy Monday.
"NEW: Restaurants statewide will be able to open for indoor dining beginning this FRIDAY at 25% capacity and with social distancing between tables," said Murphy via Twitter. "Reopening responsibly will help us restore one of our state's key industries while continuing to make progress against #COVID19."
-------------------------------------
4th September
Beach bar seating ban may end this weekend - Delaware Business Now
The new beach bar guidelines call for the following:
Guests seated at the bar must have a reservation Guests seated at the bar must order food (cannot only order drinks)
Guests seated at the bar must socially distance from those not from the same household
Bar Seating/Service may resume "this weekend."
-------------------------------------
4th September
Douglas County's health order means restaurants, bars stop serving alcohol at 9 p.m. - KMBC News
Health officials in Douglas County, Kansas have issued a new health order requiring restaurants, bars, entertainment venues with a liquor license to stop serving alcohol at 9 p.m. The new health order takes effect Friday.
-------------------------------------
3 September
Virginia liquor sales up $117M from last fiscal year - Fox 5 Washington DC
The Virginia Alcoholic Beverage Control Authority (ABC) released its financial statements for the fiscal year, showing a $117 million increase from the previous year.
ABC revenues include the sale of distilled spirits, Virginia wines and mixers and license fees and other revenues.
-------------------------------------
3 September
Restaurateur Gains Funding For $35m Whisky-themed Hotel - The Drinks Business
Restaurateur Adolfo Suaya has secured US$35 million to fund a seven-storey whisky-themed hotel in Hollywood, complete with whisky fountain and a rooftop bar.
-------------------------------------
1st September
How will the role of Sommeliers and Mixologists evolve due to Covid-19? - IWSR
Sommeliers and mixologists around the world will likely see their roles become increasingly flexible and multi-skilled as the Covid-19 pandemic transforms the global on-premise channel. With bars and restaurants adjusting to the new normal of social distancing, opportunities for face-to-face interaction with customers have decreased – accelerating the adoption of new technology and digital marketing to fill the gap.
-------------------------------------
1st September
Restaurant closings can double within next 3 months, investment company CEO warns - Fox Business
The number of restaurants closing permanently could double in the next 60 to 90 days due to the coronavirus pandemic lockdowns, Ray Washburne, Charter Holdings CEO, said Thursday.
Washburne, whose company has investments in real estate and restaurants, told "Mornings with Maria" that he predicts more closures after the Payroll Protection Plan money ran out at the end of July, calling it a "bleak, bleak situation" for independent restaurants.
-------------------------------------
31st August
State Says San Diego County Can Reopen Indoor Dining - Eater San Diego
San Diego County, which came off California's coronavirus watch list last week, is currently in the Substantial (red) tier, which is defined as four to seven daily new cases (per 100k) and five to eight percent positive tests.
This means that starting this Monday, August 31, restaurants in San Diego County could be allowed to reopen indoor dining with modifications — a max of 25 percent capacity or 100 people, whichever is fewer, and still following mask mandates and social distancing guidelines.
Bars, breweries, brewpubs, and distilleries where no food is provided must stay closed.
-------------------------------------
31 August
'We kind of have to tip-toe': Some Arizona bars have reopened again. Here's how it went - AZCentral
-------------------------------------
28 August
Should to-go cocktails last beyond pandemic? States consider changing alcohol laws - The Columbus Dispatch
The coronavirus is shaking up America's liquor laws.
Ohio is one of at least 33 states plus the District of Columbia temporarily allowing cocktails to-go during the pandemic. Only two — Florida and Mississippi — allowed them on a limited basis before coronavirus struck, according to the Distilled Spirits Council of the United States.
Struggling restaurants say it's a lifeline, letting them rehire bartenders, pay rent and reestablish relationships with customers. But others want states to slow down, saying the decades-old laws help ensure public safety.
-------------------------------------
28 August
15 Recently Opened Outdoor Spaces at Bars and Restaurants Around D.C. - Eater Washington DC
A strong showing of new patio options just landed in D.C., bringing diners a string of new places to sip rosé and tiki drinks outside.
Under D.C.'s Phase 2 COVID-19 reopening protocols, guests are required to wear masks (except when eating and drinking), tables are limited to six, and at least one food item must be ordered per table. Many restaurants and bars encourage or require reservations.
Here's a list of the newest patios to try right now!
-------------------------------------
27 August
More Nashville bars, businesses trying to become full-service restaurants - Fox 17
More bars and businesses in Nashville are on the path to becoming full-service restaurants in efforts to help their bottom line.
The Alcohol & Beverage Commission says obtaining full-service restaurant license, means a few things:
> At least 50% of sales must now come from food, and they'll be required to serve food with any drink purchase above 8% alcohol.
> They must report their sales to the commission each month.
> Businesses must have a meal prep and seating capacity to serve at least 40 people at tables
> Are subject to TABC monthly report reviews, hold in-person inspections and detailed audits
> They must also agree to abide by all TABC rules and regulations, including the requirement that the business must follow all state statutes, executive orders, local ordinances, and local orders and any such violation is subject to an administrative citation which could result in fines or suspensions or revocation of its license.
-------------------------------------
27 August
Gov. John Bel Edwards Extends Order Closing Bars in Louisiana - Eater New Orleans
During a press conference about Hurricane Laura on Wednesday, Louisiana Gov. John Bel Edwards announced that he is extending his executive order closing bars in the state for at least an additional two weeks.
The current order closes bars to on-premise consumption, caps restaurant and casino capacity at 50 percent, and mandates masks statewide. Originally introduced in mid July, phase 2 restrictions were previously extended until August 7, then again through this Friday, August 28. Phase 2 will now remain in place through at least September 11.
-------------------------------------
26 August
Emergency TABC amendment relaxes requirements for Texas bars to reopen as restaurants - KSAT
A new amendment approved by the Texas Alcoholic Beverage Commission Tuesday is opening a new path for bars to reopen as restaurants.
The amendment to Rule 33.5 will allow bars to more easily qualify for a food and beverage certificate by removing certain requirements that make obtaining the certificate difficult.
-------------------------------------
26 August
COVID-19: New Restrictions Placed On NY Restaurants, Bars - Nassau Daily Voice
The New York State Liquor Authority said that activities such as dancing, karaoke, live entertainment, comedy shows, darts, cornhole, and pool are not allowed at bars and restaurants.
Live music at bars cannot be advertised, all live music must be non-ticketed events and cover charges aren't allowed.
-------------------------------------
25 August
To-go drinks an elixir for the public, a lifeline for business - Outlook
The coronavirus is shaking up America''s liquor laws. At least 33 states and the District of Columbia are temporarily allowing cocktails to-go during the pandemic. Only two — Florida and Mississippi — allowed them on a limited basis before coronavirus struck, according to the Distilled Spirits Council of the United States.
Struggling restaurants say it''s a lifeline, letting them rehire bartenders, pay rent and reestablish relationships with customers. But others want states to slow down, saying the decades-old laws help ensure public safety.
-------------------------------------
25 August
New (and Reopened!) Outdoor Bars and Restaurants to Try Around DC - Washingtonian
-------------------------------------
25 August
A Timeline of Oregon's Restaurant Reopening - Eater Portland
COVID-19 has ravaged Portland's restaurant industry with a particular fury. The last five months have seen more than 80 percent of Portland food workers laid off or furloughed, and some of the city's most beloved bars and restaurants shuttered. Despite the devastation, this crisis has given rise to extraordinary acts of kindness and resilience in the food community. But recovery, or anything like it, remains far out of reach.
Here's a timeline of how COVID-19 has impacted Oregon dining, from before its quick close and through the arduous, ongoing process of reopening.
-------------------------------------
24 August
Pa. House bill would offer COVID-19 relief for struggling restaurants, bars - The Times
New legislation proposed by two Democratic state representatives would provide COVID-19 relief to locally owned bars and restaurants in Pennsylvania.
State Reps. Joe Ciresi, D-Montgomery County, and Tina Davis, D-Bucks County, introduced House Bill 2791 – the COVID-19 Community Restaurant and Catering Business Grant Program Act – on Aug. 13, and it was assigned to the House Commerce Committee.
-------------------------------------
24 August
10 p.m. Last Call Order Amended: Colorado Bars And Restaurants Can Serve Alcohol Until 11 p.m. - Denver.cbslocal
Bars and restaurants will now be able to serve alcohol until 11 p.m. instead of 10 p.m.
Gov. Jared Polis confirmed the change at a news conference on Friday. The 11 p.m. Last Call Order is set to last for another month.
-------------------------------------
24 August
Outdoor Dining Is a Hit, but Restaurants Face 'Apocalyptic' Times - The New York Times
Nearly 10,000 restaurants have set up outdoor seating in New York City. They are struggling to stay alive until indoor dining returns.
-------------------------------------
19 August
These San Antonio bars have reopened as restaurants under new TABC guidelines - KSAT
Several San Antonio-area bars have reopened this month after reclassifying as restaurants with the Texas Alcoholic Beverage Commission.
According to TABC guidelines, bars with full kitchens can either apply for a food and beverage certificate or submit an alcohol sales reporting affidavit.
Bars must prove to TABC they can generate more than 51 percent of their sales from food or merchandise instead of alcohol.
In San Antonio, more than two dozen bars have reclassified as restaurants as of Tuesday, according to TABC records. Click here to know the list
-------------------------------------
19 August
Lawyer: Vegas-area bars might open again midnight Thursday - MyNews4
Las Vegas bars and taverns might be allowed to reopen Thursday at midnight, even though a Nevada judge decided not to force Gov. Steve Sisolak to lift a coronavirus closure order, an attorney who sued the state said Tuesday
-------------------------------------
18 August
E'ville restaurants, bars modify operations with COVID-19 restrictions - Olean Times Herald
ELLICOTTVILLE — Most Ellicottville restaurants and bars have taken advantage of the warm summer weather to further accommodate their patrons while following mandatory COVID-19 guidelines set by New York state.
-------------------------------------
18 August
Suddenly There Are Not Enough Restaurants - Restaurant Business Online
Large numbers of closures have drained much of the industry's supply, even as demand has remained strong, says RB's The Bottom Line.
-------------------------------------
18 August
'Questions and concerns:' Outdoor drinking areas may offer lifeline for bars and restaurants, but oversight questions remain - BY KATE CARLSON at MiBiz
Designating outdoor drinking areas is not only a way to modernize Michigan's alcohol regulations, but also extends a critical lifeline for restaurants and bars grappling with limited activity during the COVID-19 pandemic.
However, these new "social districts" — the state's relatively quick entrance into a new normal for drinking establishments — have raised a series of questions and concerns over enforcement and who will get to participate. Legal experts say the Michigan Liquor Control Commission, which oversees the sale and distribution of alcohol statewide, has been notably absent in providing owners guidance.
-------------------------------------
17 August
As COVID-19 cases spike, KC considers reimposing limits at restaurants, bars - KMBC News
In Kansas City, Missouri, the city is in its worst COVID-19 spike since the virus began. Leaders are now considering whether to reimpose seating limits at restaurants and bars.
The city is going to set a record this week for reports of new cases, with more than 700 this week.
While bars are still limited to 50% capacity, there are no restrictions at Kansas City, Missouri, restaurants now.
-------------------------------------
17 August
State official predicts bars and breweries could remain closed for six more months - Florida Today
The prediction was made Friday by the head of Florida's regulatory agency for bars and restaurants during a meeting with craft brewers in Vero Beach, said Chris Hughes, an owner of Dirty Oar Beer Company in Cocoa Village.
-------------------------------------
17 August
What is a 'bar masquerading as a restaurant'? It's complicated - Boston
A week has passed since Gov. Charlie Baker announced another set of rules for restaurants to follow in order to stay open. On August 7, the governor stated that alcohol may only be served at restaurants if accompanied by food prepared on-site, and, more specifically, one item of prepared food must be ordered at the same time as an initial alcoholic beverage(s) order.
"Bars are closed in Massachusetts," Baker said. "And bars masquerading as restaurants also need to be closed."
-------------------------------------
14 August
Here are 4 Bay View bars with new outdoor spaces for tiki drinks, ice cream cocktails and more - Milwaukee Journal Sentinal
If you're looking for someplace new to check out for a cocktail, beer or wine this weekend, the place just might be in Bay View !
-------------------------------------
14 August
Bars and restaurants react to Gov. Baker's new COVID-19 restaurant rules - Boston
After a new pandemic-related safety standard was issued last week, restaurant and bar owners are left wondering whether they'll have to close again.
On 7th August, Gov. Charlie Baker announced new COVID-19 gathering and restaurant rules, including a rule that alcoholic beverages will only be served at restaurants if accompanied by food prepared on-site. The new measure goes into effect on Tuesday, and is in response to a recent uptick in COVID-19 cases in Massachusetts.
"Bars are closed in Massachusetts," Baker said in Friday's press conference. "And bars masquerading as restaurants also need to be closed."
-------------------------------------
14 August
Here's how some Acadiana bars have been able to reopen during mandated coronavirus closure - The Acadiana Advocate
Some bars have been welcoming customers back inside even after Gov. John Bel Edwards ordered all bars, including those that serve food, to close for on-premise service last month.
Acadiana bars with fully operating kitchens have been able to apply for conditional-use restaurant permits to reopen for indoor service. Among them are popular Lafayette spots such as Daiquiris Supreme, The Tap Room, Green Oaks Lounge and Legends Annex.
-------------------------------------
13 August
No One Knows How Many Restaurants Have Closed in New York City - Eater New York
Five months into the pandemic, few things are certain for restaurants and bars in New York City, where state regulations are announced over Twitter and updates to dining guidelines can come with less than 24 hours' notice. In interviews with state leaders, small-business owners, and local reporters, though, one thing is abundantly clear: No one knows how many restaurants have closed in New York City.
-------------------------------------
13 August
Kentucky Bars and Restaurants Can Reopen with 50% Indoor Capacity and New Food and Drink Curfew - City Beat
After two weeks of either being closed or operating at a reduced indoor capacity, Kentucky bars and restaurants are both allowed to reopen on Tuesday, Aug. 11 with 50% capacity inside and unlimited outdoor seating.
However, they are now subject to some additional regulations — including a last call curfew for both food and drink service at 10 p.m.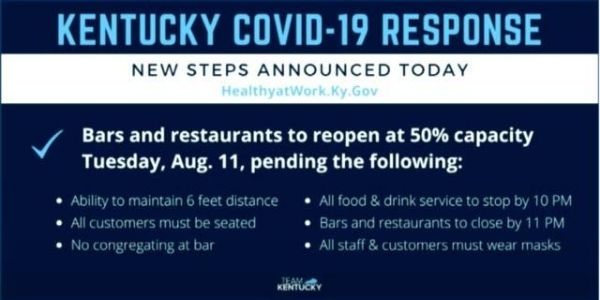 -------------------------------------
11 August
Where to Find To-Go Cocktails in Metro Detroit - Eater Detroit
Takeout cocktails, long off-limits to many people across the United States, are now legal in Michigan. Gov. Gretchen Whitmer signed this piece of legislation into law on July 1, 2020, paving the way for bars and restaurants to start buoying their takeout and delivery business with alcohol sales during the ongoing pandemic. It's also a win for customers who may not have the chops or the desire to mix a drink at home.
-------------------------------------
11 August
Restaurants, bars and breweries scramble to reinvent themselves to get around Gov. Greg Abbott's bar shutdown - The Texas Tribune
Hundreds of Texas bars and restaurants are scrambling to change how they operate, maneuvering through loopholes that will allow them to reopen after being closed by Gov. Greg Abbott's latest shutdown targeting bars.
-------------------------------------
11 August
Ohio Restaurant Association: Half of Ohio's restaurants, bars could close permanently - Cincinnati
The Ohio Restaurant Association (ORA) has conducted weekly polls over the past several months across Ohio to "gauge the impacts of COVID-19 on the industry, and the results continue to be devastating."
If current capacities continue, 54% of restaurants anticipate forced closure within nine months, the ORA found in its most recent poll.
-------------------------------------
10 August
One of Dallas' most popular bars, Katy Trail Ice House, reopened Friday - Dallas News
Despite an order from the Texas governor keeping bars closed during the COVID-19 pandemic, Katy Trail Ice House in Uptown Dallas reopened Friday, Aug. 7 at noon.
The popular outdoor bar has sold more alcohol than nearly any other standalone bar in Dallas in the past year, according to Texas Alcoholic Beverage Commission (TABC) figures.
Katy Trail Ice House co-owner Buddy Cramer says he worked with the TABC to reopen his establishment under the agreement that it will begin to sell more food than alcohol.
-------------------------------------
10 August
Kentucky to implement 10 p.m. alcohol curfew on bars, restaurants - WLWT5
Speaking during his Thursday afternoon news briefing, Gov. Andy Beshear said that his team is working to finalize new guidance for the bar and restaurant industry.
-------------------------------------
7 August
Everything You Need to Know About Michigan's New and Improved Liquor Laws - Eater Detroit
Bars and restaurant owners have been shifting at every turn during the pandemic, aiming to keep their customers and employees safe while keeping the lights on. Amid all the worry, new legislation has lifted some of Michigan's liquor restrictions, many of which had been in place since Prohibition.
-------------------------------------
7 August
Many Colorado restaurants have closed. The ones still open aren't sure how long they can weather coronavirus - The Colorado Sun
State data shows that even though restaurants have recovered some since April, the industry is still down thousands of jobs. More than 2,500 establishments have shut down since March.
-------------------------------------
6 August
Building Phoenix: 6 bars and restaurants coming soon to downtown Phoenix - ABC 15
The area around Roosevelt Row in downtown Phoenix has welcomed a host of new restaurants, bars, and breweries for people to eat, drink, and hang out in recent months and years.
Despite the constraints that COVID-19 has put on the hospitality industry, many new projects have remained in the works in the Phoenix area and development is moving forward.
-------------------------------------
6 August
Baldwin Bar Sibling Ivory Pearl Opens in Brookline - Eater Boston
A new oyster bar and seafood restaurant is opening at 1704 Beacon St. in Brookline's Washington Square in the space formerly occupied by Grassona's (and before that, Fairsted Kitchen). Ivory Pearl debuts on August 5, opening for dinner service at 5 p.m.
While the bars at the Baldwin Bar and Blossom Bar focus mostly on tiki and tropical drinks, Duan previously told Eater that Ivory Pearl will feature a cocktail program unlike its siblings — and unlike any other in Boston. "Our focus is to pair not only wine but cocktails with seafood," he said at the time.
-------------------------------------
5 August
Washington's Indoor Bar Ban Makes Exception for Those That Serve 'Reasonable Amount' of Food - Eater Seattle
In newly-modified guidelines, bars and other drinking-focused establishments can serve people inside at half capacity during phase two and three — as long as they either convert their existing food license to a full restaurant license, or make enough food available on their menu.
-------------------------------------
5 August
Some closed-up local bars and restaurants are reopening in Central New York - Syracuse
It's starting to be a little bit of a trend: Several restaurants and bars around Central New York that had closed their doors in recent weeks and months are starting to open back up.
-------------------------------------
4 August
How Covid-19 is prompting city bars to evolve - The IWSR
Bars around the world, whether urban or rural, have altered their business models to stay afloat during the pandemic. Many have introduced new safety and hygiene measures, restricted table numbers and implemented mandatory reservation systems to adhere to social-distancing guidelines.
-------------------------------------
4 August
Alcohol Sales Jump Everywhere But Pennsylvania, Where A Government Monopoly Has Depressed Commerce - Forbes
According to a new report by the National Alcohol Beverage Control Association (NABCA), spirits retail sales in control states were up 19.6% in June compared to the prior year. NABCA found that spirits retail sales rose by double digits in 15 control states, with greater than 20% increases in 10 control states.
Yet Pennsylvania only saw spirits retail sales increase by single digits, less than 1% in Pennsylvania's case.
-------------------------------------
3 August
KC bars, restaurants fear possible new restrictions after mayor's call with White House task force - Fox 4
On Monday, Kansas City Mayor Quinton Lucas shared a call with Dr. Deborah Birx, who's on the White House Coronavirus Task Force. The mayor said Birx identified our region as a potential hot spot for rising infections.
Her suggestions to curb the spread of the virus would mostly impact bars and restaurants.
-------------------------------------
3 August
NY bar, restaurant crackdown continues with new violations, suspensions - Pix 11
The state has been cracking down on bars and restaurants not following guidelines under Cuomo's phased reopening plan amid the coronavirus pandemic.
Crowding outside of New York City bars and restaurants has been an issue since the weather began to get warmer and the number of new coronavirus cases started to drop in May.
-------------------------------------
31 July
Atlas collaborates with bars on new cocktail series - The Spirits Business
Singapore bar Atlas has launched a series of cocktails in partnership with venues across the world in a bid to support the on-trade community.
-------------------------------------
31 July
Bars, restaurants that serve alcohol in Nashville must continue to close at 10 p.m. - WSMV
Mayor John Cooper is keeping Nashville in a modified Phase Two, which means bars and restaurants that serve alcohol will still have to close at 10 p.m. each night.
Last week, Cooper signed Public Health Order 9 requiring downtown businesses serving alcohol to shut down at 10 p.m. On Tuesday, Cooper said he is extending the order. However, there is no end date for that order.
-------------------------------------
31 July
Judge: Colorado Bars Must Limit Capacity, Abide By Earlier Last Call To Prevent Spread of Coronavirus - CPR News
A Denver district court judge has ruled that Colorado's executive orders limiting capacity in bars and requiring a 10 p.m. last call will stand, rejecting requests for injunctions filed by a group representing bars and restaurants.
"I do see that my decision is going to harm some businesses, and I'm sad about that," Judge Brian Whitney said Thursday while delivering the decision.
-------------------------------------
30 July
15 Exciting DC-Area Bars and Restaurants That Opened in July - Washingtonian
It's an incredibly difficult time for restaurants and bars right now. But in spite of it all, a number of independent businesses are still opening and expanding their services around DC. All of these places debuted in July, from full-on restaurant openings to ghost kitchen launches, carryout-only operations and outdoor food and drink gardens.
Remember: double-check hours and reservation policies before you make plans, as both are subject to change these days.
-------------------------------------
30 July
Nielsen Survey: Consumers Are Slowly Returning To Bars And Restaurants - Forbes
Slowly but surely, more Americans are once again beginning to dine out at restaurants in some of the states hardest hit by the coronavirus pandemic.
According to data from Nielsen CGA, which surveyed 1,560 consumers in California, Florida, New York and Texas (about 400 in each state) between July 17 – 19, 41% of respondents said they had been out to eat this month.
That's up slightly from the 36% of people who said they went out for a meal four weeks ago, and the 30% who ventured out between the end of May and early June.
-------------------------------------
30 July
Minneapolis mayor orders bar areas closed to slow Covid-19 spread - The Business Journals
Bars and restaurants in Minneapolis will no longer be allowed to have customers order directly from the bar as of Aug. 1.
Minneapolis Mayor Jacob Frey said the new emergency regulation was intended to turn back an "upward trend" in Covid-19 cases. At least nine bars in Minneapolis have been tied to outbreaks, he said.
-------------------------------------
29 July
105 New York Restaurants and Bars Cited For Social-Distancing Violations Over the Weekend - Eater New York
The State Liquor Authority handed out an additional 105 violations to bars and restaurants located in downstate New York — mostly in NYC — over the weekend, the New York Post reports. Gov. Andrew Cuomo first made the announcement on his Twitter account Sunday morning, and noted that liquor license suspensions as a result of these violations would be announced this week.
The SLA did not immediately disclose which bars had been cited, but last week the agency published a spreadsheet that keeps track of all the establishments that have been cited.
-------------------------------------
29 July
Kentucky orders bars to close, restaurants to reduce indoor capacity - The Hill
All bars in Kentucky will be shut down for the next two weeks in an effort to slow the spread of coronavirus, Gov. Andy Beshear (D) announced Monday.
The move, effective Tuesday, marks the second time that bars have been shut in the state and comes amid a major uptick in coronavirus cases.
Indoor dining at restaurants will be reduced to 25 percent capacity, Beshear said. Outdoor seating can remain at full capacity as long as physical distancing is enforced, and everyone needs to be seated.
-------------------------------------
29 July
A Group Of Bar And Restaurant Owners Is Suing Colorado's Governor Over His 'Last Call' Order - Delish
A group representing bar and restaurant owners in Colorado has filed a lawsuit against the Colorado Department of Public Health and Environment and the state's governor following an executive order he issued stopping alcohol sales at bars and restaurants at 10 p.m.
-------------------------------------
28 July
Gov. Cuomo hits more than 130 bars and restaurants with liquor license violations, some penalized for 'not serving enough food', as bar in New Jersey closes when staff member tests positive a day after it was packed with maskless revelers - Daily Mail
> Gov. Andrew Cuomo announced 132 bars and restaurants were hit with liquor license violations and 10 had their licenses suspended over the weekend
> The State Liquor Authority issued 52 violations on Friday, 53 Saturday and 27 Sunday to eateries that violated social distancing and face-mask mandates
> Some bars were penalized for failing to provide 'substantial food' with alcohol
-------------------------------------
28 July
Ian Burrell, Global Rum Ambassador and Equiano Rum Co-founder, Is 'Edu-taining' His Way to Racial Equity in Rum - Vinepair
In June, Ian Burrell introduced Equiano Rum, a premium blend of African and Caribbean liquids, to the United states. It's the first of its kind in the category, bringing together two distinct rum cultures, distilleries, and island nations of the East and West. Burrell's journey from rum enthusiast to brand ownership has hardly been a straight line: Like the product he now champions, it charted a path across distant points of the planet.
-------------------------------------

27 July
Pennsylvania Liquor Control Board provides additional guidance for licensees regarding operations during targeted mitigation efforts - The Business Journals
The Pennsylvania Liquor Control Board provided additional guidance for liquor licensees on how to best operate during targeted mitigation efforts implemented throughout the state in the wake of a rise in Covid-19 cases.
According to the PLCB, the guidance was designed for restaurant, retail dispenser, and hotel licensees; club and catering club licensees; brewery, distillery, limited distillery, winery, and limited winery licensees; and golf course licenses.
-------------------------------------
27 July
Consumers remain cautious about on-trade in US - The Spirits Business
More than half of consumers in the US have not returned to bars or restaurants because they don't feel safe being in close proximity to strangers in these venues, new data from Nielsen CGA has shown.
-------------------------------------
24 July
15,770 US restaurants have permanently closed - The Drinks Business
As reported by Business Insider, 15,770 of the 26,160 US restaurants on Yelp's platform that have been closed since March are now permanent closures. According to Yelp, California has had the highest number of permanent closures since the lockdown, followed by Texas and New York.
-------------------------------------
24 July
Death & Co creates Alienist-inspired cocktails - Today News Post
New York bar Death & Co has partnered with broadcaster TNT to create a cocktail menu that celebrates the release of the second series of The Alienist: Angel of Darkness.
-------------------------------------
24 July
Industry group lobbies for insurance payouts to bars - The Spirits Business
A new advocacy group has been established in the US to lobby insurance companies that are refusing to pay claims from small bars and restaurants that have been impacted by the Covid-19 pandemic.
-------------------------------------
23 July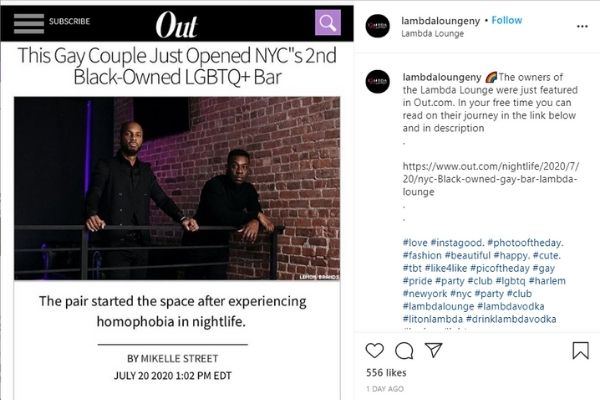 Check it out HERE
-------------------------------------
23 July
New York Gov. Cuomo says state has suspended 27 liquor licenses for violations of social distancing rules - CNBC
New York Gov. Andrew Cuomo said Tuesday the state liquor authority has suspended 27 bar and restaurant alcohol licenses for violations of social distancing rules as public officials try to keep the coronavirus outbreak under control.
"I'm sorry it's come to this, but it's a dangerous situation, and I've said it many, many times," Cuomo said during a press conference call. "We never opened bars. This was a violation by them from the beginning."
-------------------------------------
23 July
Japan's first non-alcoholic bar opens in Tokyo - The Drinks Business
The zero-alcohol trend is sweeping across the world. Tokyo's Roppongi district, the dazzling business and nightlife hub of the city, is now welcoming a brand new non-alcoholic and vegan concept.
-------------------------------------
22 July
U.S. Fast-Food Chains Are in No Hurry to Reopen Dining Rooms - Bloomberg
While some U.S. states have given the green light for restaurants to reopen their dining rooms, McDonald's and other fast-food restaurants are in no big rush to do so.
That's because there's a lot of effort and expense involved in preventing the spread of the coronavirus, as exemplified by the McDonald's step-by-step guide on everything from adding protective panels to sanitizing tables after every use. Franchisees say this will require hiring more staff.
-------------------------------------
22 July
Why RTD Cocktail Sales Are Soaring - Vinepair
There are few winners in a Covid-19-era beverage purchasing landscape, but ready-to-drink (RTD) cocktails are certainly coming out on top. Though demand was already growing for pre-mixed, canned, or bottled cocktails, the category exploded after the U.S. began to feel the pandemic's effect, seeing 90.4 percent year-over-year growth in Nielsen-measured off-premise channels for the pandemic-impacted period ending June 27.
-------------------------------------
21 July
Ohio restaurants concerned about Gov. DeWine's new orders - WKBN
Ohio Governor Mike DeWine said more orders would be issued this week to control the spread of COVID-19.
DeWine appeared on "Meet the Press" Sunday and talked about where the virus is spreading in the state.
"It's occurring in bars," he said. "It's occurring in churches. It's occurring from people who have traveled out of state, while a lot of it, frankly, is just people in casual settings — 20, 30, 40, 50 people gathering together."
-------------------------------------
21 July
NY requirement to serve food with alcoholic beverages, explained - Auburn Pub
Gov. Andrew Cuomo announced a significant mandate on Thursday: Alcoholic beverages can't be served at New York bars and restaurants unless patrons order food, too.
Hours after Cuomo detailed the new requirement, the State Liquor Authority released guidance for licensed establishments.
-------------------------------------
21 July
No mask, no entry: Virginia liquor stores won't allow any customers in without face coverings - Wusa 9
VIRGINIA, USA — Starting July 20, state-owned liquor stores in Virginia will not let customers come inside unless they are wearing masks, the Virginia Alcoholic Beverage Control Authority announced Friday.
The move to wear a mask comes in an effort to slow the spread of the coronavirus, and joins the effort other major retailers have implemented in recent weeks, CEO Travis Hill wrote in a July 17 statement.
-------------------------------------
16 July
Suntory explores protective headgear for drinking - The Drinks Business
Japanese drinks group Suntory is designing different forms of protective headgear and face coverings that will allow for safe drinking in pubs and bars. The drinks group is not alone. Los Angeles-based company Production Club has created a full-body suit called Micrashell, a form of PPE designed to allow users to dance, drink and even vape in close proximity.
-------------------------------------
16 July
Global Bartending Talent Agency is world first - The Spirits Business
Former Diageo World Class manager Dan Dove has launched the world's first talent agency dedicated to bartenders. The Global Bartending Talent Agency will work to connect drinks professionals with luxury brands, consumers and peers in the industry.
-------------------------------------
15 July
Is safety affordable? How restaurant operators are factoring PPE into their budgets - Restaurant-Hospitality
From masks and face shields to table dividers and thermometers, restaurants are facing new budget needs as workplaces deal with coronavirus
-------------------------------------
15 July
California orders all bars to close and restaurants to stop indoor operations - Business Insider
California ordered all bars to close and multiple businesses to halt indoor operations statewide on Monday in response to the increase of Covid-19 cases.
Gov. Gasin Newson announced that all restaurants, wineries, movie theaters, zoos, bars must halt their indoor services
-------------------------------------
13 July
Pennsylvania task force cracking down on crowded bars not following green phase rules - 6abc
After seeing a spike in coronavirus cases among the younger crowd in Delaware County, officials are warning establishments that patrons and enforcement officers are watching.
"They're going out at night and they are going out to bars, and they are partying like it's 2019," said Christine Reuther, Delaware County Council member.
-------------------------------------
13 July
Ex-Obama health official tells Gov. Tim Walz to shut down dine-in service at Minnesota bars again - Bring Me The News
A former administrator for the Centers for Medicare and Medicaid Services says he has advised Minnesota Gov. Tim Walz to shut down bars and other indoor services to prevent further spread of COVID-19.
Andy Slavitt, who worked under President Barack Obama from 2015-17 and is a fundraiser for the Minnesota DFL, has sparked debate with a series of tweets posted to his 500,000-plus Twitter following on Sunday.
"I spoke to Governor Walz and Commissioner Jan Malcolm today and called for closing all of the bars to indoor service across the state of Minnesota," Slavitt began.
-------------------------------------
13 July
It's Official: Reopening for San Francisco Restaurants and Bars Is on Indefinite Hold - Eater San Francisco
At a press conference Tuesday morning, Mayor London Breed announced that reopening for the city's bars and restaurants is on hold, and the planned July 13 reopening for dining rooms and outdoor drinking is officially canceled.
-------------------------------------
10th July 2020
Portillo's announces first Michigan restaurant location - Second Wave Media
Portillo's, a fast-casual restaurant chain known for Chicago-style fare, announced on Tuesday plans to open a location in Sterling Heights. This marks the brand's first restaurant in Michigan, the ninth state for the chain.
The site for the 7,900-square-foot restaurant is on Hall Road, a popular restaurant and retail corridor in the city, and is expected to open in the second half of 2021.
"We have had Portillo's fans asking us to come to Michigan for years," said Michael Osanloo, CEO of Portillo's. "We can't wait to be a part of such a great, thriving community in Sterling Heights."
-------------------------------------
10th July 2020
Closure confusion? While some bars ordered to close, others on Beale Street are exempt - Wreg
MEMPHIS, Tenn. — Establishments listed as bars across Shelby County were ordered to close by midnight Thursday morning by the health department — but one of Memphis' biggest and busiest drinking spots still looks to be open.
Below: A list of 45 Shelby County bars with "limited service licensing" according to Tennessee ABC
DBA/Business Name
ALCHEMY
Blind Bear
Brewskis Sports Bar & Grill
Brookhaven Pub & Grill
Cheers of Millington
CLASSIC HITZ
CLASSIC SOULZ
Clicks Billiards
Crosstown Arts
Dan Mcguinness Pub
Dru's Place
Flying Saucer Draught Emporium
Fox & Hound
Hadley's Pub
Hammer & Ale
Havana Mix Cigars
indulge lounge
knifebird
Love
MAX'S SPORTS BAR
Memphis Sports Pub
Mollie Fontaine Lounge
MURPHY'S
My Spot
NEWBY'S
Rec Room
ROBERT ALAN COLETTA SOLE MBR
RUMBA ROOM
SILLY GOOSE
Stage 64 Lounge
Statuz Bar & Grille
T.J. MULLIGAN'S- CORDOVA
Tavern 018
The Blue Monkey Midtown
The Bluff
The Flying Saucer
The Hi Tone Cafe
THE POCKET, LLC
The Pumping Station
TJ Mulligans
TJ Mulligans-HWY 64
TRUTH NIGHT BAR
Whiskey Dicks
WKND
Zebra Lounge
-------------------------------------
9th July 2020
As the coronavirus resurges, restaurant sales start slowing again - Restaurant Business Online
The renewed spread of the coronavirus has put the brakes on the restaurant industry's comeback.
Data from various sources suggests that restaurant sales have slowed over the past week or two as the virus has had some renewed life. Yet consumers, and not states pausing or pulling back their reopenings, could be the main factor.
-------------------------------------
9th July 2020
Napa to again shut down dine-in restaurants, bars, indoor tasting rooms starting Thursday as coronavirus cases rise - Napa Valley Register
In a statement shortly before 5 p.m. Monday, the county announced the impending return of restrictions, which would take effect at 12:01 a.m. Thursday. Dine-in eateries, indoor tasting rooms, movie theaters, museums, card rooms and indoor entertainment venues would have to remain closed at least through July 30.
-------------------------------------
7th July 2020
Amendment allows some Florida bars to re-open - My Suncoast
The Florida Department of Business amended its order to let places who are licensed to sell both alcohol and food re-open so long as social distancing guidelines are still followed.
-------------------------------------
7th July 2020
Lamont suspends Phase 3; bars stay closed for now - Ct Post
Gov. Ned Lamont is suspending phase 3 of the state's reopening plan, as the coronavirus continues its fast-moving spread through states that were initially spared the ravages of the infection.
"We're just erring on the side of caution as we look at other states," Lamont announced Monday.
-------------------------------------
6th July 2020
Details coming on next phase of reopening in Connecticut this week - Fox 61
Officials expect to decide on the details of the Phase 3 reopening plans Monday or Tuesday this week. Gov. Ned Lamont said Thursday that the 4th of July weekend is important for Connecticut in terms of looking ahead to Phase 3 reopening.
He announced that a decision on reopening bars will be made around July 6 or 7, but he is looking to keep them closed for now after reports of surges in other states.
-------------------------------------
6th July 2020
Bars, restaurants launch COVID-19 promise setting guidelines to stay open and healthy - WWMT
A group of bars and restaurants in Michigan, mainly West Michigan, banded together and launched a promise to implement COVID-19 health rules as Gov. Gretchen Whitmer's restrictions lift.
Dubbed the MI Restaurant Promise, the group comprises dozens of restaurants and bars. As restaurant owners and managers, the website said the group feels "a sense of responsibility for the health and well-being of our employees, our guests, and the community at large."
-------------------------------------
3rd July 2020
Guidelines For Restaurants and Bars by alabamapublichealth.gov - Click here
-------------------------------------
3rd July 2020
San Francisco's bar business might still have whiplash from last week's bar back-and-forth: The city announced last Thursday night that outdoor drinking would resume on Monday, July 29, but by Friday morning that plan was on ice, as cases of the new coronavirus (COVID-19) continued to rise across California. At a press event Tuesday, San Francisco Health Officer Dr. Tomás Aragón said that the city would keep that reopening on hold for now, and would reevaluate the matter after the long holiday weekend.
-------------------------------------
2nd July 2020
In Texas, the Mexican restaurant Hugo's is open for business with a message - "WELCOME BACK! WE MISSED YOU!"
To ensure safety, they promise that all of Hugo's employees will be wearing masks & gloves all the time. Also, they will get their temperature taken and complete a health survey prior to each shift.
All indoor and outdoor seatings at Hugo's will comply with the appropriate social distance guidelines. It also promises to be a leader in safe sanitization practices with all team members certified in safe food handling and a certified on every shift.
-------------------------------------
Major restaurant chains are making adjustments while preparing to open up post-COVID. Dine Brands Global Inc., one of the full-service dining companies in the world is getting rid of condiments like its signature syrup containers on tables as IHOP locations begin opening. "Its Applebee's restaurants have also nixed shared condiments like ketchup," Chief Executive Officer Steve Joyce said in an interview.
"Plastic plates and forks, knives, and spoons are available if customers want those instead of porcelain plates and silverware. Kitchens are opening with fewer staff members, allowing for social distancing," he said.
-------------------------------------
Brinker International Inc. one of the world's leading casual dining restaurant companies in Texas is also open for business. Brinker announced to place the tables 6 to 8 feet apart in its Chili's restaurants that are allowed to reopen Brinker said the chain's "fairly large" dining rooms give them an advantage.
"Workers will be wearing masks and gloves, and there will be a table at each restaurant's entryway stocked with hand sanitizer and paper towels for guests. But patrons won't be allowed to sit at Chili's iconic margarita bars -- it's too hard to do social distancing there," the company says.
-------------------------------------
While other establishments are planning to open for business, Starbucks is not leaving itself behind. Starbucks also plans to reopen most of its U.S. stores next week, they will just be for the drive-thru, delivery, and pickup orders. Even in states like Texas that will allow sit-down service, Starbucks's dining areas will remain closed, a company spokesperson said.
-------------------------------------
1st July 2020
Today we will talk about 5 states that have reopened in the USA for restaurant dining & the laws
Alabama
Capacity limit in bars & restaurant dining - Eight-person party limit, tables must be six feet apart
Alaska
Capacity limit in bars & restaurant dining - 100 percent; reservations recommended but not required
Arizona
Capacity limit in bars & restaurant dining - Reduced occupancy based on restaurant size; 10-person party limit
Arkansas
Capacity limit in bars & restaurant dining - 66 percent; 10-person party limit
California
Capacity limit in bars & restaurant dining - Reopening decided on a county-by-county basis, following social distancing measures
---
The San Francisco Bay Area has been rising up from a roughly three-month quarantine in the past few weeks. Businesses have slowly been reopening, including many restaurants that were either forced to shutter or directed to takeout or delivery only due to COVID-19.
To know about 152 Bay Area restaurants that are now open for outdoor dining, click here.
---
People of California, we have news for you. If you are in San Francisco 1428 Haight street is open for business.
1428 HAIGHT Patio Café & Creperie is a family business with 2 generations of family working side by side. Their goal at 1428 HAIGHT is to provide our customers with exceptional food and service in a welcoming atmosphere. "We are appreciative of all of our guests, both local and visitors from around the world, for their continued support," says the family.