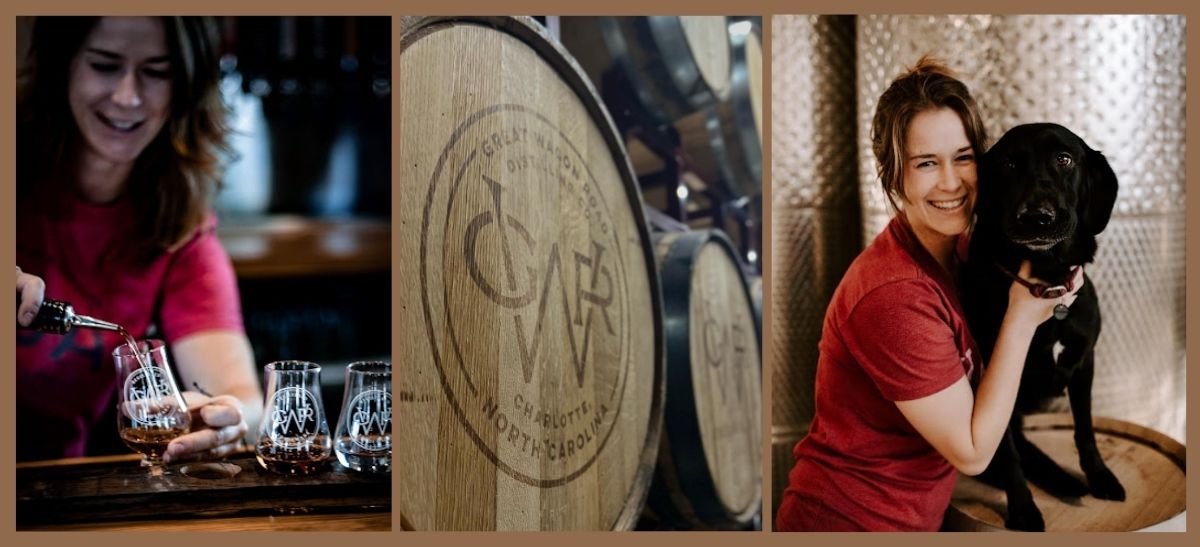 08/09/2022 Michelle Piechowicz, Distiller at Great Wagon Road Distilling Co, shares her experience working as a distiller and her views on the evolution of the spirits industry.
Michelle has a degree in environmental sciences and has always been very interested in sciences and chemistry. With more than five years of experience in Brewing and Distilling, she worked as a taproom manager at a small brewery south of Charlotte in NC; soon after, she was fortunate to enter into the distilling business for Great Wagon Road Distilling Co. Michelle enjoys working in fast-paced environments where she can constantly learn and challenge herself. The production area of a craft distillery keeps her on her toes and moving. She greatly believes in working hard and making a difference by supporting local businesses.
[[relatedPurchasesItems-31]]
What has your distilling career been like? Tell us a little about your background.
I was literally in the right place at the right time to fall into this industry. My education and background were in environmental conservation, and I am very passionate about implementing that into my career as a distiller. I've always been very interested in sciences and chemistry. So brewing beer and making spirits is an excellent fit for me. I was working as a taproom manager at a small brewery south of Charlotte in NC and was more knowledgeable about the actual brewing process. I asked about helping out in the brewery during the day and then working at the bar at night. By a lot of hard work and advancing my way up, I was fortunate to fall into distilling for a great local distillery in North Carolina. I have met many people who have taught me what I know about brewing and distilling and have not looked back. I love constantly moving and learning and expressing myself through spirits to share with friends and loved ones.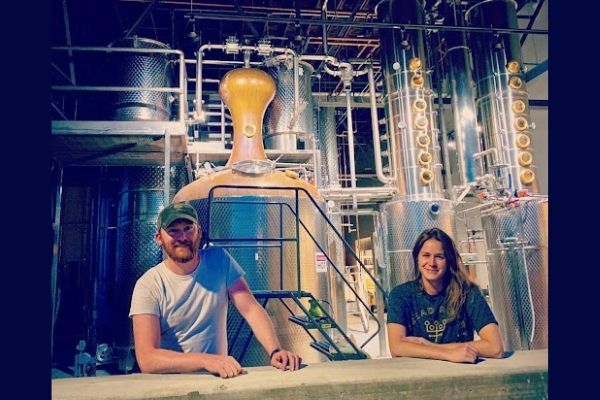 How do you think the Spirits industry has evolved?
I think that it has changed exponentially in the last ten to fifteen years. The amount of craft distilleries and breweries that have popped up is fantastic and crazy. I love it. It's a whole community of people that want to make a difference and help each other, of course, while having a good time and enjoying a few delicious libations. I never knew that spirits could taste so good when I was younger. I've learned that a good, well-made spirit and drink does not need to have a lot of sugar or mixers to mask its flavor and make it taste good. Whiskey or vodka can taste great on its own, and then when you get into mixology, that spirit will stand out and be even more enjoyable. That was what pulled my interests into this industry at the start. It is an art form and a way to express yourself. Different recipes and flavors that you hope to create. It takes time and hard work, and when done correctly, you can tell. I think that craft and local are the future, and I'm excited to be involved.
Tell us a little about your day-to-day role.
I wear many hats; anyone who works at a minor operation knows that all too well. Other than your typical daily, mash, ferment, distill, barrel, or bottle. Lately, I am constantly problem solving and trying to keep everything running smoothly. Having a solid core foundation and good communication is very important. Keeping things in stock has been a colossal obstacle lately since covid. If it's not bottled, it is corked, or we can not get barrels for 8 to 10 months. So it's always learning on your feet and rolling with the punches. Have to stay positive and calm and find ways to adapt and improve.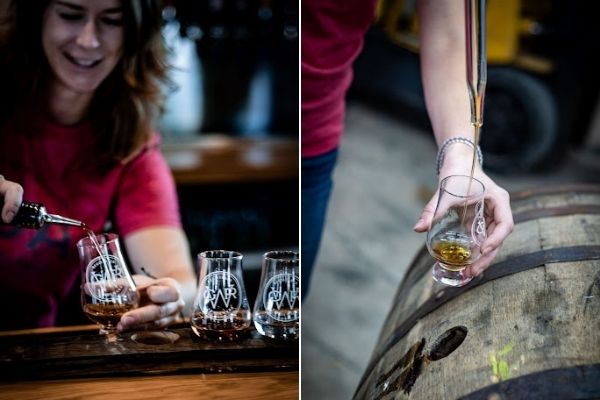 What's unique about your Distillery that you like?
We have a 1000 L system, so it is smaller. We still are designed explicitly for whiskeys and infusions with an additional column and vapor infusion basket. So it allows us to come up with some exciting and limited small batches of spirits. The city of Charlotte is such a great place to be located in. All the breweries and distilleries, heck, even the bars and restaurants, work together and are all like one big family. We help each other and collaborate with different projects, and there's a sense of identity that the city radiates on its local businesses. I like that we distill a variety of spirits; it lets my creative juices flow from time to time.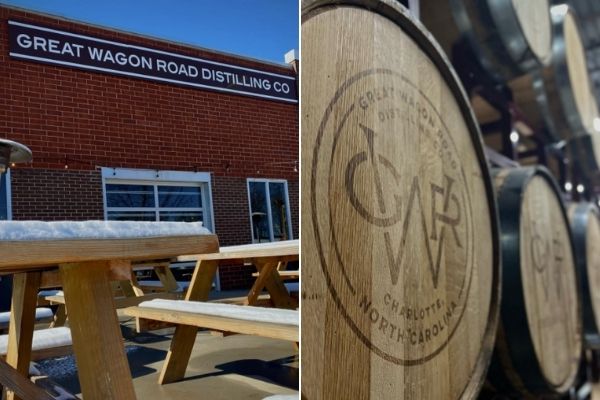 What were some of the challenges you faced when you distilled your first spirit?
I was fortunate (knock on wood :)) to have learned from some impressive brewers and distillers. Everything has been hands-on and challenging. I'd have to say that working in a production facility has taught me to stay calm, cool, and collected even when problems arise. You need to constantly be aware of temperatures, pressures, sounds, everything you do; you need to be good at multitasking in this job. The first spirit that I had a difficult time with was an agave project, and the fermentation process was very different from what I was used to with 100% grain mash-ins. We messed up our first batch, but our second batch came out good with some research and other yeast and some additives during fermentation. You never stop learning.
How do you think a distiller can help in driving marketing and sales personally?
Oh man, I have had to step up and take over that role during covid. It was crazy and challenging, but I think that people and local business owners who are passionate about supporting local products appreciate the actual owner or distiller coming out and talking about the spirits. First off, we know the most about them because we make them or develop recipes. I feel like it gives an extra special and unique touch to have a producer or owner in that business area.
What are some of the essential skills required to distill?
To have a good nose and palate is very important. Also, detail-oriented and organized. I also think that it is beneficial to multitask because there are so many things going on at one point in time on any given day that you need to prioritize and stay on track.
Define a good distiller.
Someone passionate about producing good quality and tasting spirit. Putting a definition on it is hard, but I'd say the hard-working, positive, strong ability to grasp and comprehend science and math-related topics.
What advice would you give to future distillers?
This industry is constantly changing and evolving. I like that aspect of it very much, but it might be frustrating or not what they expected for some people. So go into it with an open mind and a strong work ethic. Be willing to take constructive criticism and listen to the people around you about what they think about your spirits and the atmosphere of your distillery.
Which is your go-to drink and what is the perfect setting you enjoy it in?
It depends on the time of year and my mood, haha—Wintertime, strong whiskey old-fashioned by an outdoor fireplace for sure. I like to experiment with more seasonal flavors and fruits during the summer. A good rum mojito sitting by the ocean or a lake, any water, I guess is my favorite.
What do you do when you are not distilling?
I am constantly moving and exploring. I love being outdoors. Hiking, hunting, kayaking, camping, traveling to new places, and spending time with my better half, my dog Nala, is my favorite decompression activity.
What is your idea of a good life?
To not have any regrets. I like to live life at the moment. Here and now. And to treat others the way you want to be treated. I know that sounds cliche, but I genuinely believe that you need to put good energy and vibes out into the universe and be willing to receive that goodness back in return. Selflessness and being true to yourself are two things that I value and try to implement into my life as much as I can.
2023 Submissions are closed. The Deadline for receiving samples in the warehouse is April 30, 2023.