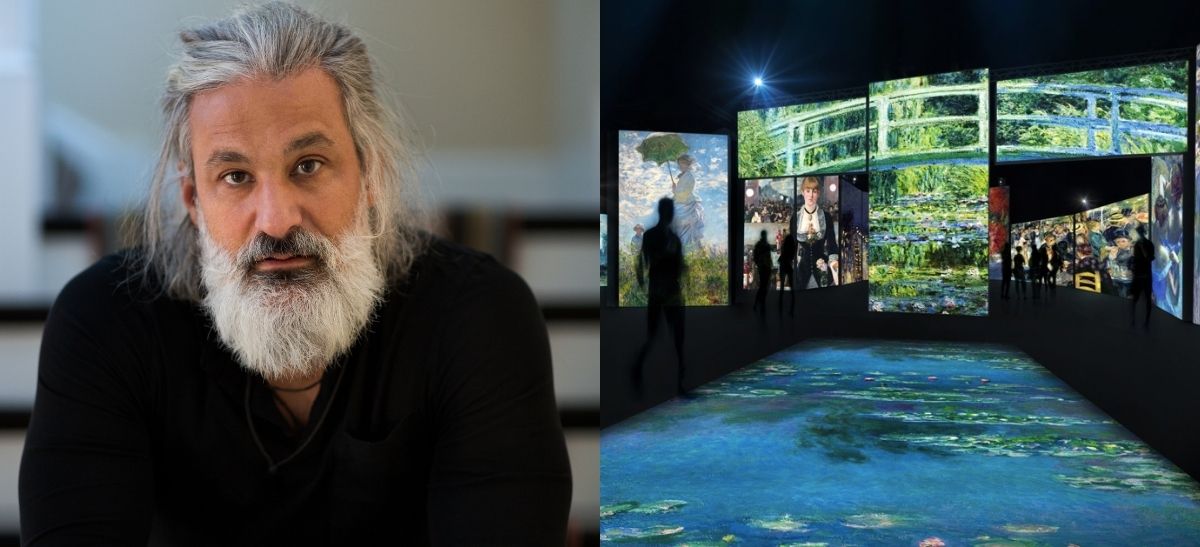 17/03/2022 We caught up with Brett Berish to discover how he has shaken things up, the songs he listens to while building his spirits empire and what's on the horizon for Sovereign.
Brett Berish, President, and CEO of family-owned wine and spirits Sovereign Brands has grown his company with the ethos of creating standout liquor brands that bring something entirely unique for each of their respective categories. Berish has launched several notable brands, including Armand de Brignac Champagne, and in 2014, famously sold luxury champagne label Ace of Spades to Jay-Z. Recently recognized as one of 2021's 100 Most Intriguing Entrepreneurs by Goldman Sachs, Berish also established the "Self-Made Tastes Better" campaign to celebrate artists who have challenged convention and paved their own path to success. And with a portfolio consisting of Queen & the Violet Fog Gin, Bumbu Rum, Luc Belaire French sparkling wine (the fastest-growing French sparkling in the US), and Villon liqueur, Berish has indeed challenged convention and accomplished what he set out to achieve. We caught up with Berish to discover how he has shaken things up, the songs he listens to while building his spirits empire and what's on the horizon for Sovereign.
[[relatedPurchasesItems-31]]
What are the advantages of being an independent player in today's wine & spirit market in an industry dominated by conglomerates with big brand names?
We pride ourselves on being a unique company in this business. We've never followed trends, and for that reason, the industry has always doubted our brands. We have created multiple successful brands while most companies our size have only one brand – they push as hard as they can and spend as much as they can in hopes someone will come along and buy it from them. For us, we have a whole portfolio of successful brands, and while each of them is different, we have a large contingent of customers who drink more than one of them. People have become excited to try the entire range we offer and are equally excited to see what we have coming next. I don't think there's another liquor company with so many unique, successful brands and a fanbase that wants to try them all.
Has the vision for Sovereign brands remained the same since its inception?
Yes, the concept has remained the same at its most basic level: create cool brands that bring something new to their categories. I want to do this in every single category of alcohol, and we are well on our way.
You have several brands in the Sovereign portfolio, all quite different from one another. What are the key elements for you when selecting a product to take to market?
First and foremost, I have to like the way it tastes, and I have to prefer the product from competitors in a blind taste test. I have to feel the product stands out on the shelf, and I want our bottles to be something that people don't want to throw away when they're empty. We don't chase trends; I don't want to do a "me too" brand in a category that everyone is doing. That's why we don't sell a hard seltzer at the moment, for instance. I want to create brands that are really offering something not already out there in another bottle.
Is there a category at the moment that offers more opportunity for growth?
Just about all categories provide opportunities for growth with the right product. You can be "in a category" without being "of the category" – every category has room to innovate and innovation breeds growth.
Is there a product you would still like to see in the Sovereign portfolio?
We are constantly working on new things. I probably have 10 ideas for new brands I want to do right now, and the only problem is I can only release one or two a year.
What does it take to stand out in the consumer market at the moment?
Never follow trends! The industry has always doubted our brands, but we are unique because our brands don't look or taste like other products. When you're different, there will always be skeptics, but we don't believe in introducing "the same old thing." I need to feel like there is a meaningful difference between our brands and what's already being sold – otherwise, what's the point in creating something new?
How do you work with distributors to gain shelf space?
Our mantra is, "if we aren't talking about our brands, no one is." The distributors are enormous, they have millions of brands, and they all want attention and shelf space. We cannot outspend the giant players in our category to get shelf space, so we have to make it happen with relationships, quality products, and creating buzz and consumer demand, the last of which is the most important. If consumers ask for your product, the distributor has to sell it. That is the only way we are going to get shelf space.
What advice would you give to someone following in your footsteps, creating a self-made brand?
Listen to your gut! When you are an entrepreneur, you get bombarded with advice from people who have no skin in the game. If you are starting your own business, it's because you believe your ideas are good. Trust those ideas. I always say that if we fail, I want it to be my fault, not because I trusted someone else's opinion over my own.
What can we expect from Sovereign in the coming year?
We recently launched a new Belaire cuvée, Belaire Bleu. The reception has been like nothing I've ever seen before with any of my past brands. On the week of launch, we grew 50,000 followers on Belaire's Instagram (@OfficialBelaire) and sold out in every state almost as quickly as the product was delivered. We finally got a new allocation that went out to stores, so I'm pleased the fans will be able to get their hands on it again. The same is also true for Bumbu Creme and Villon. Demand has exceeded the supply of these too, but more is coming soon!
Current favorite cocktail?
I have two: one is a combination of Bumbu XO and Bumbu Original, which I call "Bumbu XOG ."Bumbu XO is a more traditional-aged sipping rum. Bumbu Original is totally unique, sweeter, and more flavorful. I go half and half, sometimes with a giant ice cube.
Three songs on your current playlist.
Jucee Froot - Belaire Bleu
Rapper Estates - Rick Ross, Benny the Butcher
Activated - Fedd the God, Chevy Woods, Wiz Khalifa
Interviewed By Colleen Thompson.
Photo Credit: Neal Edelstein Courtesy of Sovereign Brands