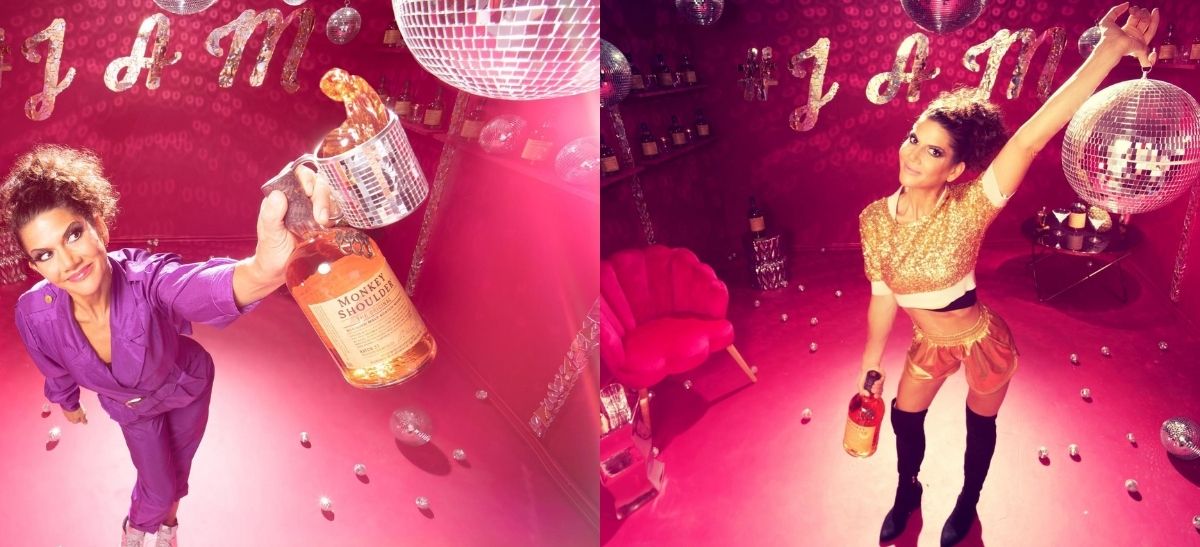 03/02/2022 Anna Mains is the face of Monkey Shoulder for the United States. She talks to us about her journey, marketing strategies, and what makes her role unique.
Anna Mains is the National Brand Ambassador for Monkey Shoulder which is one of the most celebrated blended malt whisky among the bartenders as well as sippers. Having lifelong experience in the hospitality industry, Anna feels there is no other role that fits her personality like Monkey Shoulder's Ambassador does. Make yourself a Monkey Shoulder cocktail while she takes us through her amazing journey from being a waitress to representing one of the best-selling scotch whisky in the world.
[[relatedPurchasesItems-31]]
Tell us a little about yourself? How did you progress into this role?
My first job was as a waitress during my first summer home from college. It was only a few months before they moved me from the floor to behind the bar- to this day, I'm pretty sure it was only because I did a flip over the service bar one day in pre-shift, and a bar regular started bringing people in to see me do my "bar trick" again. I fell in love with hospitality and found true joy in serving people. I loved finding ways to delight guests and make every person feel special. I loved connecting and learning from people from all different backgrounds. I loved helping facilitate connections between people that were sitting at my bar.
It wasn't until almost 10 years later, after I already owned my first restaurant, that I fell in love with cocktails. I went to my first Tales Of The Cocktail in 2012, and was amazed at what bartenders were doing with flavors and how they were presenting them! I was living in Oklahoma City at the time, and the cocktail culture hadn't really happened there yet, so it was all new to me! This tale was also where serendipitously, I was connected to Charlotte Voisey (our global head of ambassadors now for William Grant). I lost my license at the William Grant portfolio party, and she had found it. She happened to see a picture of me on the Tales Facebook page jumping on the bed and messaged me that I could meet her at the seminar she was about to give to get my license. I had no idea who she was, or even what a brand ambassador was at the time..so had no clue that I was about to make a connection that would change my career trajectory forever! I showed Charlotte the bar I was building out at the time, and she connected me with Sebastien Derbomez, who is now my boss leading all of the US William Grant ambassadors but was the Monkey Shoulder ambassador for the US at the time. He helped me develop what would eventually be the top-selling cocktail on that bar's menu, and after seeing what he did, I knew that I wanted to be a Brand Ambassador.
I closed my bar and restaurant in Oklahoma City in 2017 and was presented with the opportunity to work as the luxury specialist for Beam Suntory in Dallas. I was born and raised in Dallas, so I jumped at this opportunity even though the role was more of a sales role than an ambassador role. I knew it would get my foot in the door on the supplier side, and that I would learn invaluable knowledge as far as understanding the sales side of our industry. After a year in that role, I was given the opportunity within Beam Suntory to move to more of a brand ambassador type role and became the Maker's Mark diplomat for Texas.
Right before Christmas 2019, I got a message from Charlotte and Sebastien that they were going to be looking for a new Monkey Shoulder brand ambassador. I always said there would only be one role, I would leave Maker's Mark and Beam Suntory for… the national Monkey Shoulder Ambassador role. There is no brand that fits my personality like Monkey does, and there is no company that does ambassadorship like William Grant does. My first day with Monkey Shoulder was March 16, 2020 ( literally the day the world shut down), so my journey with Monkey & William Grant has been way different than I thought it was going to be so far, but I'm excited that we are getting back in front of people again, and out from behind our computers now! I am ready to make it monkey and want to do as much for the brand as it has done for me. Monkey Shoulder is the reason I decided 10 years ago that I wanted to be a brand ambassador, and the reason I was able to make connections and get into the cocktail community that I love so much.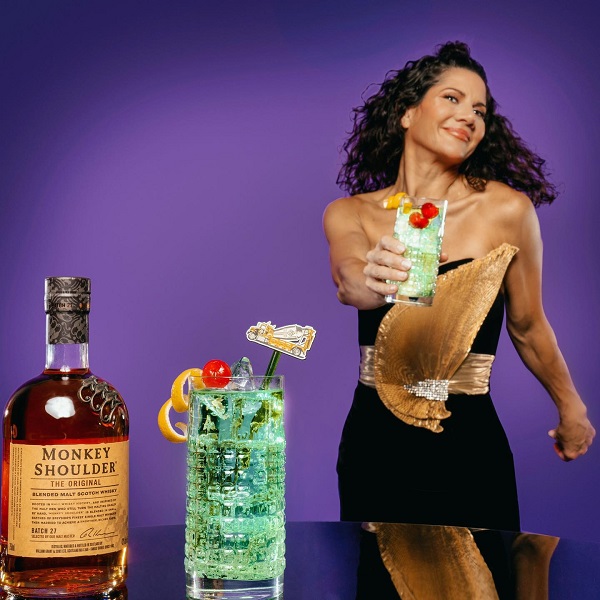 Could you define your role and the tasks involved in your role? How has your role developed from your previous role at Maker's Mark?
At William Grant, Brand Ambassadors are a pure marketing role. Some companies have ambassador roles that have commercial goals and focuses as well as advocacy; At William Grant, we focus solely on advocacy. Obviously, our role should help the commercial team achieve their sales goals, but our performance isn't measured on volume or cocktail menu placements at all. I help develop on-premise programming for our sales team and distributor partners to use in their markets, help educate trade, consumers, and internal WGS employees on Monkey Shoulder, plan and execute events around the country, develop cocktail strategies, and work closely with the brand team to come up with brand messaging. We act as the face and spokesperson for the brand in the media and have had to learn some photography skills as well to bring the brand to life on our Instagram pages – follow @annamains for all things monkey, and a lot of bed jumping, flipping, and bathroom selfies.
As a brand ambassador with William Grant, you have to bring the personality of your brand. to life.. this is why it is so important to me that I truly believe in and love Monkey Shoulder.
At Maker's Mark, the role was very different. Maker's has such a strong brand identity, and Rob and Bill Samuels are the face and voice of the brand. My focus in that role was more solely on education and on promoting the Private Select program. While the role was very different, it gave me some amazing knowledge and insight that really helps me explain Monkey Shoulder, and understand how Monkey came to be. Both brands started with a flavor vision and then worked from there. There isn't an age statement on Maker's because Bill Samuels will tell you "Makers is Makers when it's Makers.."Some barrels may take 7 years to taste like Makers, others may take 5. it's about the signature Makers flavor profile, not the age. Similarly, Batch 27 is on the neck of every bottle of Monkey Shoulder. This isn't a batch number for the specific batch, this is our flavor vision..its the batch that our malt master landed on as the perfect flavor profile for Monkey when he was creating it in 2005. We started out taking a barrel from each of our Speyside distilleries to make Monkey, but as we grew, we couldn't keep the flavor profile consistent that way. We don't specify what Speyside distillery each barrel comes from now, not because we are trying to hide anything, but because Monkey is Monkey because of its specific, made for mixing flavor profile. This is what guides our malt master when making Monkey, not making sure it's a barrel from Glenfiddich, one from Keninvie, and one from Balvenie. My role at Maker's really helped me better understand the ethos behind Monkey!
How do you Increase visibility and promote brand awareness around consumers and trade?
Through events, education, sampling, and creating programs that assist the sales team make it monkey in their markets
What strategies do you use to gain distribution, increase volume sales and gain cocktail placements? Could you give me an example with an account you recently cracked?
I work closely with our sales team as basically the most valuable piece of POS they have in their arsenal. I help make cocktail strategies, do training, and most importantly help create relationships with accounts by acting as a partner like helping come up with event ideas or cocktails for an account. My biggest strength is my energy. In person, I am great at connecting with accounts and am able to get people excited about Monkey. I recently did a training for a big account in Vegas that didn't even carry Monkey Shoulder, the staff loved my presentation so much that they put Monkey Shoulder in their well and added a Monkey Shoulder cocktail to their menu- at all 50 locations nationwide! It was a huge win, and it was rewarding to help out the commercial team in such a big way. While my KPIs ( Key Performance Indicators) aren't based on distribution or sales increase, my role is a huge asset the sales team can use to achieve these commercial goals.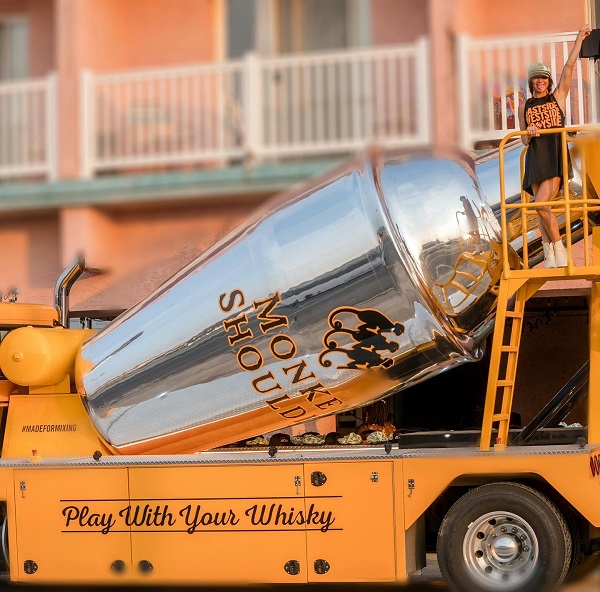 What is the biggest challenge you face in your role?
Our roles look like all fun and games on social media, but a huge part of our role is computer work, managing budgets, putting together presentations, and managing all the behind-the-scenes details that go into event planning. My favorite thing about my role is that we wear a ton of different hats and get to travel all over the country wearing all these hats..If you have ever tried traveling with fancy hats, it's not easy. We have late nights and early mornings a lot, and have a very chaotic life but have to keep it very organized. I am so thankful for all the experiences that I get to have, but it isn't as glamorous as it looks all the time J
What are the 3 things you focus on while pitching your product to buyers?
What makes Monkey Monkey- its flavor vision and how it's made for mixing, the difference between a blended malt and a blended scotch ( As a blended malt, we are just a blend of 3 single malts. A blended scotch has malt whisky and grain spirit mixed in)
What do you focus on in your training and masterclasses? Could you take us through your training module?
I always start with where our name comes from, and make sure they understand that Monkey Shoulder is a blend of 3 single malts, it isn't a blended scotch. I focus a lot on how Monkey came to be ..it was born because, in 2005, bourbon started to be the belle of the ball and was the spirit every bartender wanted to make cocktails with and pour. Our Malt Master, Brian Kinsman, said " we have barrels that have the flavor notes they love in bourbon..what if we made a whisky that played like a bourbon? What if we made a whisky that was made for mixing and kicked all the old rules to the curb?" I help them understand how we blend barrels consistently. I also spend a lot of time on how versatile Monkey is. It truly is made for mixing, not because it isn't delicious neat, but because its flavor profile is made to easily mix with so many different flavors. Take almost any classic cocktail and switch out the base spirit for Monkey..it will be delicious.
Maintaining relationships with your clients is a big part of your role, what are a few simple yet effective ways to keep that going?
Always let people know when you are in their market. Write down bartenders' names, so you can remember them. Be present when in markets so you make authentic and real connections.
What kind of digital marketing do you do personally to promote your brand?
I stay very active on Instagram. This is actually something that we are tracked and measured on. I make sure I post consistently, engage with people who post and tag Monkey Shoulder and always respond to people that send me questions on the brand. Our PR team sends us requests from online media sites that I send in cocktails and responses to as well.
How do you motivate distributor sales reps and what piece of advice would you have for newly appointed brand reps?
I always invite them to my events and take them out to drinks to have the chance to listen to their market needs and make sure I can assist them in any way I can. As a new brand rep, learn as much as you can about your products. Most bartenders now are very knowledgeable about their spirits, so if you aren't an expert on your products, they won't take you seriously. Also, there are a ton of brand sales reps out there, there are only a few brand partners. Be a partner. Always listen and observe an account before pitching them on anything. Make sure that what you are going to pitch them fits their program, would be something they would get behind, and something that would be valuable for them. If you show bar managers and owners that you understand and respect what their goals are ( they need to understand and respect your goals as well), and approach everything as a partnership, you will stand out. Also, respond quickly. 85% of the opportunities I have got in accounts, happened purely because I was quick to respond, was upfront and honest, and reliable.
Which is your favorite Monkey Shoulder cocktail and how to make it?
Monkey Shoulder and Coconut water is my everyday go-to. 1.5oz monkey shoulder, 4 oz coconut water, poured into Collins over ice. Garnish with lemon zest or a slice of pineapple.
My very favorite cocktail though is a Monkey Colada.
2 oz Monkey Shoulder
1 oz coconut cream
3 oz pineapple juice
.25 oz lime
Dash of orange flower water
1 cup of ice, blended, poured into the tropical glass (it makes a difference), garnished with a dash of angostura bitters, pineapple fronds, and an umbrella.
Which are some of your favorite spirits you have on your shelf other than Monkey Shoulder?
The Balvenie Caribbean Cask was the whisky that made me get into whisky! It's such a beautiful spirit.
I really love El Tesoro reposado tequila… just on the rocks with a slice of orange.
My bottle of Glenfiddich Grand Cru is my special occasion bottle. It's such a treat!
I also really love Baker's bourbon. I think it's one of the most underrated bourbons in the market.
Interviewed By Tushar Anand, Junior Writer, Beverage Trade Network
Image source: @annamains on Instagram