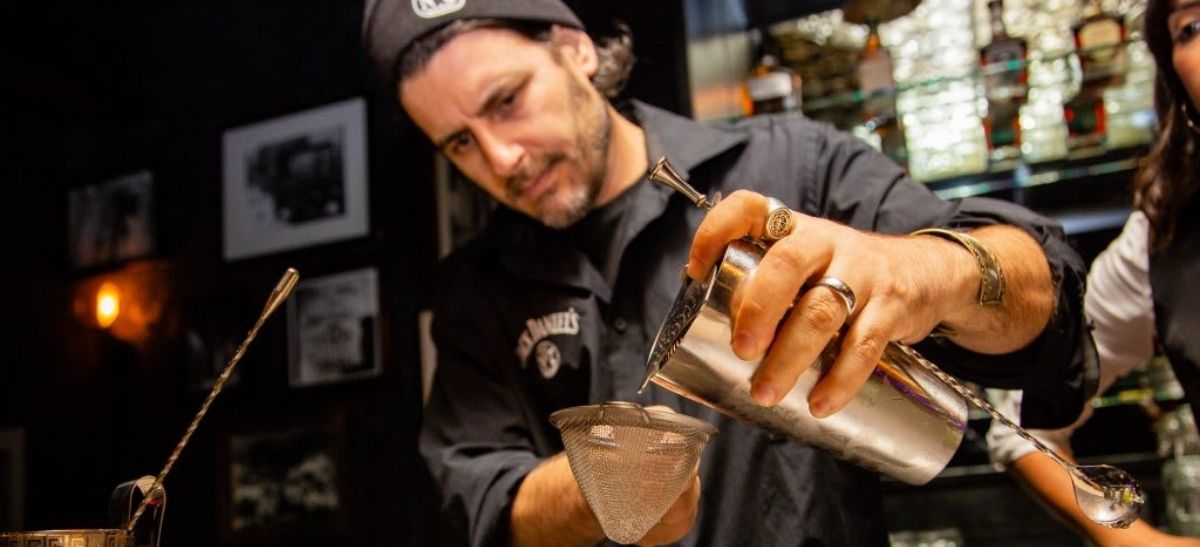 03/02/2022 Brand Ambassador of the world's most loved Tennessee whiskey, Eric Tecosky explains the role of a brand ambassador and shares tips on how to be the best in the game.
Eric 'ET' Tecosky is the National Brand Ambassador for Jack Daniel's in the United States. He has been mixing drinks behind the bars of Los Angeles for a long time, which helped him shape his role as the Brand Ambassador of the world's most loved Tennessee Whiskey. He is the man behind the first bottled premium olive juice - Dirty Sue. Created to enhance the cocktail drinking experience, with a full range of cocktail garnishes newly added to the portfolio. ET travels all over the United States sharing stories and educating people about Frank Sinatra's whiskey of choice, what he calls "The Nectar of the Gods".
[[relatedPurchasesItems-31]]
Tell us a little about yourself? How did you progress into this role?
I had a pretty unique work opportunity just out of college in Los Angeles. I moved West (from Philly) and things went great for six months. And then they didn't. I needed a job and I pretty quickly found work as a barback at a club/lounge in West Hollywood. All the bartenders were well seasoned and trained me well. This was the pre cocktail revolution. That would come later. During my years as a bartender, Jack Daniel's was the one constant. I believe I found the whiskey through its connection to music but I stayed for what is in the bottle. The local Jack Daniel's team knew what a huge fan I was and asked me to host a tasting dinner. That turned into another event and another opportunity and not long later, I became the first National Brand Ambassador for Jack Daniel's.
As a Brand Ambassador for Jack Daniels, could you give us a brief about your role and what are some of the tasks involved?
This role is ever-evolving. On the one hand, I take the hard work and magic that is done by the men and women at our distillery and cooperage and share that with the world. Whether it's discussing our best-in-class distillation process, charcoal mellowing, the importance of making our own barrels, etc. After over 150 years of whiskey-making, we have a lot to tell. On the other hand, there is the life that Jack Daniel lives outside the bottle. We are very fortunate to have a very rich history there as well and it is another part of the role that I take a large amount of pride in.
How do you Increase visibility and promote brand awareness around consumers and trade?
There is no magic pill to do this. In my role, it is through training, events, cocktails, and education. Jack Daniel's is a big brand and that can sometimes bring an assumption that we can't be a craft or well made. In fact, the exact opposite is true. I would say that there is not a more capable distillery making American Whiskey today. As our Master Distiller, Chris Fletcher likes to say - 'Once the whole grain is delivered to our distillery, no outside source touches any part of the whiskey-making process all the way until it fills the bottle.'
I also think it's important to be authentic with people. Be true to the brand. Over the years I have created programs to teach and/or entertain that are in line with Jack Daniel's. From a Sinatra Supper Club to a one-of-a-kind music tasting, to a bartender Black Book program, to cocktails mellowed through charcoal - I am always looking for ways to stay true to the brand while continuing to stay unique, engaged, and forward-thinking.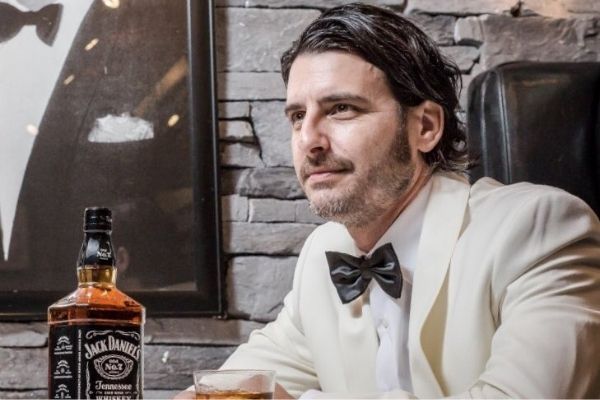 Eric Tecosky, Source: Twitter - Jack Daniel's US
What strategies do you use to gain distribution, increase volume sales and gain cocktail placements? Could you give me an example of an account you recently worked with?
This is a business of relationships built on trust. Under-promise and over-deliver. This industry is ever-changing and evolving and the one huge key to success is to be true to your word. And of course, represent a great brand.
I do remember one of my first training sessions. It was at a high-profile cocktail bar in LA. The bar staff was only interested in new and shiny 'craft' brands. Jack Daniel's didn't seem to fit their model. The owner asked me to come in and do a tasting anyway. Before we got into any tasting or history, I asked them to tell me all the reasons why they felt Jack Daniel's was not the right brand for the account - with no filter. They came at me fast and furious with questions and facts that were actually fiction. I did my best to dispel the rumors and focus on the facts and once they tasted Jack Daniel's with a clear mind and a head full of history, they opened their doors to Jack Daniel's and ten years later, those doors are still wide open.
What are the 3 things you focus on while pitching your product to buyers?
I wouldn't necessarily say my role spends a ton of time 'pitching.' It's important for me to be out in the world, on the road, making and maintaining friends of Jack. This business relies on personal connections more than most. I like to be out there, visiting with people, finding out what their needs are, and doing my best to help.
What do you focus on in your training and masterclasses? Could you take us through your training module?
The most successful training happens when you know your audience. A group of high-level bartenders may want to focus on production. In those rooms, I can get really geeky about the yeast we make at the distillery or the importance of using a good amount of actual malted grains. However, that same training could put another room to sleep. Sometimes I may focus more on our deep history, the story of Jack Daniel, and our authentic connection to music - starting with Jack himself and then Sinatra and then basically all music.
How do you ensure the success of your training programs? Through routine follow-ups or other ways?
Yes. Typically a training will end with questions and talk of what is next. If there happens to be a 'next,' it is crucial that you follow up and make good on anything that was discussed. My father wrote a book on business and a piece of his advice would be very relevant here, "If you are behind schedule on something you promised, let the client know. That will remove all anxiety of the client waiting for you to deliver."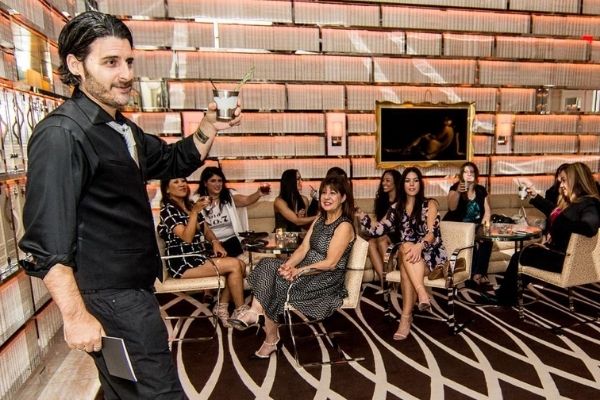 ET hosting women and whiskey event at Wynn, Las Vegas, Source: Instagram - Eric 'ET' Tecosky
What kind of marketing collaborations do you do with Hotels and Restaurants? Could you give examples?
In the U.S., every state is governed by its own regulations and this is most prevalent in the liquor world. What we do in California may not be something we could do in Florida. We really rely on our local teams to find out the needs of the market and help them achieve those goals. When something is fortunate enough to become a national program, it typically starts with the client. It is always our goal to meet and exceed the clients' needs. Whether that be help with a cocktail program or VIP tastings etc, it starts with them.
Maintaining relationships with your clients is a big part of your role, what are a few simple yet effective ways to keep that going?
Show up. It's that simple. Go to your clients' events, accounts, etc. No one likes the Ambassador who shows up once and then isn't seen again for six months or a year. Having said that, my role is a bit different. Our regional ambassadors are really the boots on the ground in a specific market, building relationships and 'showing up.' Because I am on the road quite a bit and don't specifically have a home market, I see my friends and co-workers when I visit their markets or when we can all be together at large trade events.
What kind of digital marketing do you do personally to promote your brand?
If there is something I am a part of that is worth sharing, I take to social media to get the word out. I try not to abuse the platform because I believe, there is a fatigue rate that happens if you post too much about too little.
How do you motivate distributor sales reps and what piece of advice would you have for newly appointed brand reps?
If you are new, get educated. Nothing is worse than a new brand rep getting in front of a distributor and not knowing the brand. The distributor rep may have been in that position for a decade and will know immediately if you are 'green.' Assuming you are trained, how best to motivate? Help them do their job. For example, innovation is huge in our industry now. Jack Daniel's is a legacy brand but in the last year alone we excited the industry with two releases, Jack Daniel's 10 Year and Coy Hill High Proof. And this isn't new for us. If you look at Gentleman Jack, which launched in the '80' - that is still a one-of-a-kind product. Double-mellowed Tennessee Whiskey.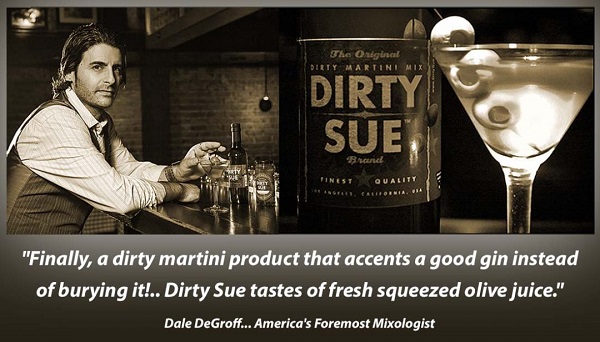 Source: Artisan Foods from Italy
What's the next big thing in The Drinks Industry?
Fun. We all went pretty far into the geeky cocktail scene and it did give the industry better cocktails, better ingredients, and better bartenders. It's time to loosen the tie, keep the good stuff but present it in a lighter, more welcoming way. We go to bars to have fun. Working in bars should also be fun. Cocktails should be fun. And after the past couple of years, we all deserve a little fun.
Finally, Your favorite Song, Podcast, and Book?
Song: Kashmir by Led Zeppelin
Podcast: Shameless Plug - either one of mine. Drinks With The Band or Rock On The Rocks!
Book: I lived in LA for over two decades, so I'm gonna answer with a movie. Two to be exact. #1 Willy Wonka & The Chocolate Factory #2 Casablanca
Header image source: Jack Daniel's Distillery
Interviewed By Prithvi Nagpal, Editor & Sommelier, Beverage Trade Network