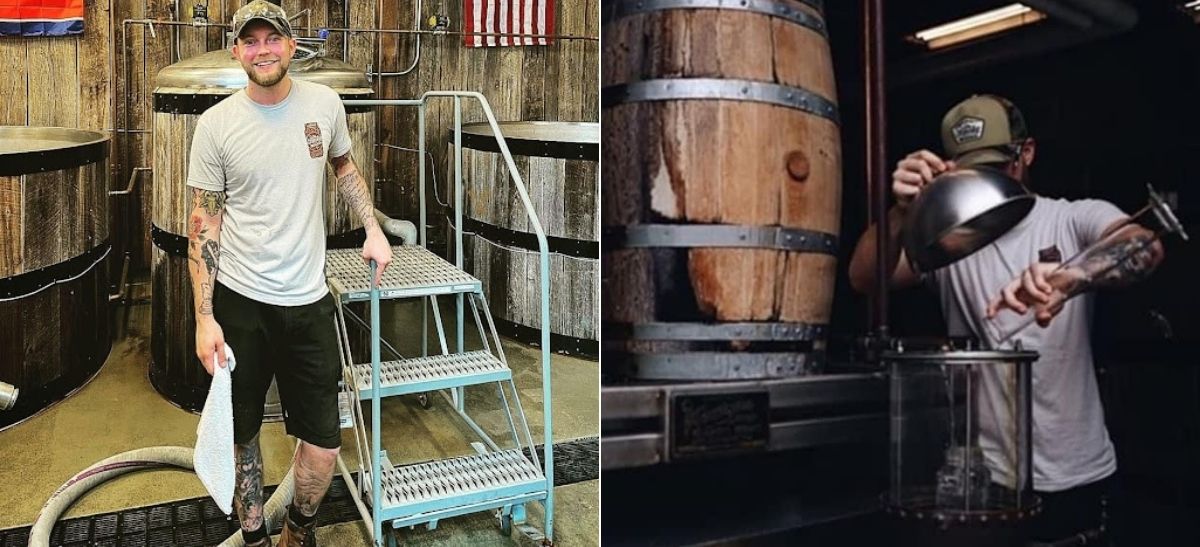 12/02/2022 Benjamin Heflin, Lead Distiller of Ole Smoky Distillery, shares interesting insights about the spirits industry and how it has evolved over the years.
Following the path of his grandfather, Benjamin started his career as an Assistant Vintner and worked in the wine industry for the longest time. He learned to take care of the cellar along with other activities like operations, harvesting, etc. Moving forward in the distilling career, he joined the Big Machine Distillery where he worked as a Lead Distiller and Plant Manager and led everything from production to inspections at the distillery. Having great knowledge of the Nashville market, a few years back, he took over the role as a Lead Distiller at the Ole Smoky Distiller which is a leading distiller of premium moonshine in the world. With great expertise in the wine and spirits industry, Benjamin holds great knowledge about distilling.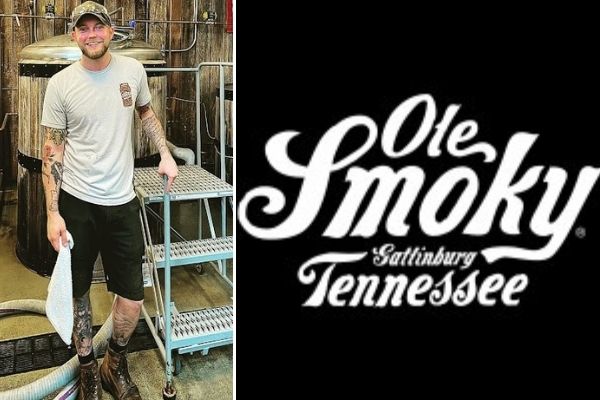 Image: Benjamin Heflin - Nashville Lead Distiller, Ole Smoky Distillery
What has your distilling career been like? Tell us a little about your background.
A culmination of work that has led to a dream come true; 2022 marks my 8th year professionally in wine & spirits production, where I've held roles from Vineyard Hand to Lead Distiller & Plant Manager of smaller distilleries. I grew up in a military household, on the East Coast of Virginia, with my introduction to the industry being through my Grandfather, who was the owner and head vintner of The White Rose Winery in Carthage, Missouri. Following his retirement and my graduation from The University of Missouri, I was headhunted for my initial position in distillation and haven't looked back since.
How do you think the Spirits industry has evolved?
From a production perspective, the technological advances in automation and techniques utilized such as sonic aging have had an incredible impact on the industry in terms of capable volume output. However, I do believe that the larger evolution of the past few years, by way of not only the customer but also businesses, is a focus on long-term environmental sustainability. Similar to food trends, customers now see their purchases as a vested interest in the locality of ingredients and manufacturing practices. This seems to have resulted in a higher demand for light to unaged spirits, which has allowed us as distillers to really showcase our local ingredients and our distillation skill when there is nowhere to hide imperfections.
[[relatedPurchasesItems-31]]
Tell us a little about your day-to-day role.
Currently, I am approaching my 3rd anniversary with Ole Smoky Distillery in my role as Lead Distiller at our Nashville, Tennessee location under our Plant Manager Garrett Beeler. We are one of our current 4 consumer-facing production facilities, with our main focus on production distilling to supply our on-site tasting room & bar. My role consists of leading all production phases and activities related to distilling Ole Smoky Distillery's portfolio of spirits at the Nashville location which includes everything from raw material handling, milling, mashing, fermentation, distilling, proofing, barrel storage, and un-aged spirits warehousing processes, data entry and record-keeping for inventory management and tax reporting, preventive maintenance on boilers, stills, pumps, agitators, and all other utilized equipment. Every day is a new adventure and we definitely stay busy!
What's unique about the Distillery that you like?
Our 6th & Peabody location here in Nashville, TN was actually an old Mercedes Benz Dealership. The multiple bars, retail space, food options, and large stage all sit inside what used to be the showroom. Outside there is a beautiful beer garden with a cornhole, lounge chairs, and a massive outdoor tv screen for sports all year round. Off the beer garden, the distillery itself sits in what used to be the service center with even more event space that includes another bar and arcade room. With large glass garage doors, you can easily view all of our equipment and see us working throughout the day. A very unique venue with so much to enjoy; Even off the clock, you'll still find me on-site!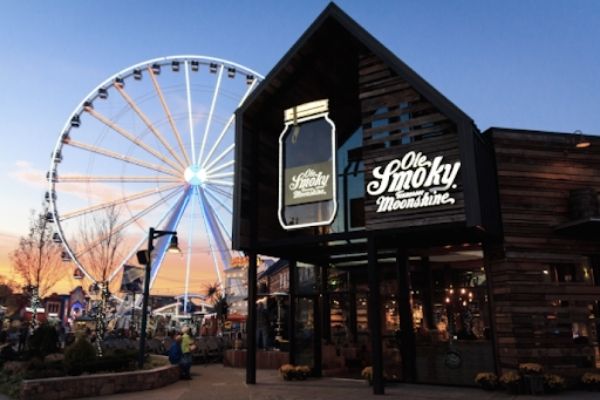 Image: Ole Smoky Distillery; Image Source - tnvacation
What were some of the challenges you faced when you distilled your first spirit?
I think with anything new there comes a very similar challenge, whether that be with a new mash bill, equipment, distillate, etc., and I just refer to it as 'finding the feel'. I've found that by utilizing prior knowledge, experience, and just hands-on time understanding what you are working with, you begin to find that feel, taste, and or sound that everything has and should be operating at. Distillation is definitely a working relationship between science and art.
With every new mash bill or still, I've run it's a journey of constant adjustments to different heat PSI input rates, condenser temperatures, etc. but eventually you find that sweet spot and can ride it like a bike with no handlebars. Whether that's a certain adjustment that needs to be made based on the taste of your cuts, or a corrective action just based on the sound of the water flow rate going through the pipe into the condenser; I feel you exhibit your true skill in those moments.
How do you think a distiller can help in driving marketing and sales personally?
As I mentioned earlier in regards to the evolution of the industry, particularly in relation to the consumer, there has been a shift in focus to the quality of the ingredients and a view and appreciation of what we do as distillers as a true craft. Similar to say a farm-to-table chef, we as distillers see the entire process out from grain to glass and I take a lot of responsibility with that and have a lot of passion for the final product we present to the customer. The ability to discuss that and share our knowledge with consumers both on and off-premise, I believe is an important aspect that helps marketing and sales. Today, more than ever, a customer is more likely to purchase when they are knowledgeable about the ingredients and people behind what they are consuming.
What are some of the essential skills required to distill?
Cleanliness and organization are where I always like to start because a 'clean ship is a good ship'; The running joke for most of us in production is that we are just glorified janitors. That definitely rings true as I believe proper cleanliness and preventive maintenance can be the key to success. From there, the biggest skill I think that is required is adaptability. As distillers, we have so many variables in play such as grain quality, water temperatures, ambient temperatures, etc. that every day will present a new challenge and it is up to us to adapt and utilize prior knowledge and experience to solve it.
Define a good distiller / What advice would you give to future distillers?
In addition to what I view as the essential skills, I define a good distiller as someone who has a passion for knowledge and exploration. With distillation being a sort of marriage between science & art, there needs to be a constant passion to consume resources of knowledge like books, interviews, podcasts, etc. by other distillers, vintners, and brewers. Additionally, a passion for exploration of said food and drink allows you to expand your palate and in return produce more refined cuts.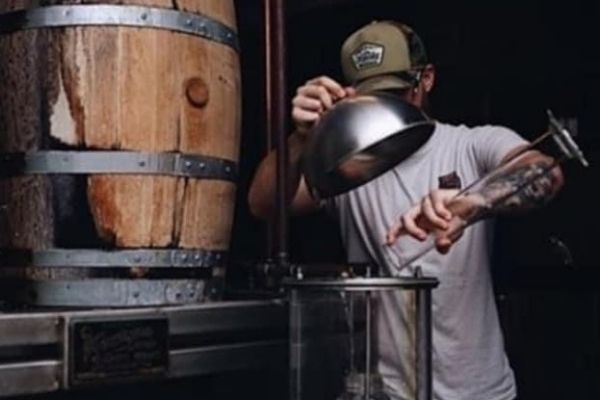 Image: Benjamin Heflin
What advice would you give to future distillers?
Never stop your pursuit of knowledge; As I mentioned in what I think makes a good distiller, a vital component is a passion for knowledge. I've heard from many either home vintners/brewers or fermentation students that they feel burned out or lost in their pursuit and it is usually because they've only spent time buried in textbooks. While I have learned a great deal from school and textbooks, the most important knowledge I have acquired throughout my career has typically come from those other resources like personal conversations, interviews, podcasts, and authored books by other professionals in the industry.
Which is your go-to drink and what is the perfect setting you enjoy it in?
My go-to drink is our Blue Flame on the rocks which is a higher proof unaged cane spirit with a little secret Appalachian Mountain flair that rounds out the mash bill. The perfect setting is year-round for me whether it's out on the boat in the summer with a splash of juice or a fall Tennessee Titans football tailgate to warm you right up!
What do you do when you are not distilling? / What is your idea of a good life?
Depends on the season but is always surrounded by friends and loved ones; Whether that's going to a game, checking out a new restaurant/bar, or just relaxing at home. I spend a lot of time-consuming new books and content by other professionals in the industry but over the years I have found a balance that works great for me!