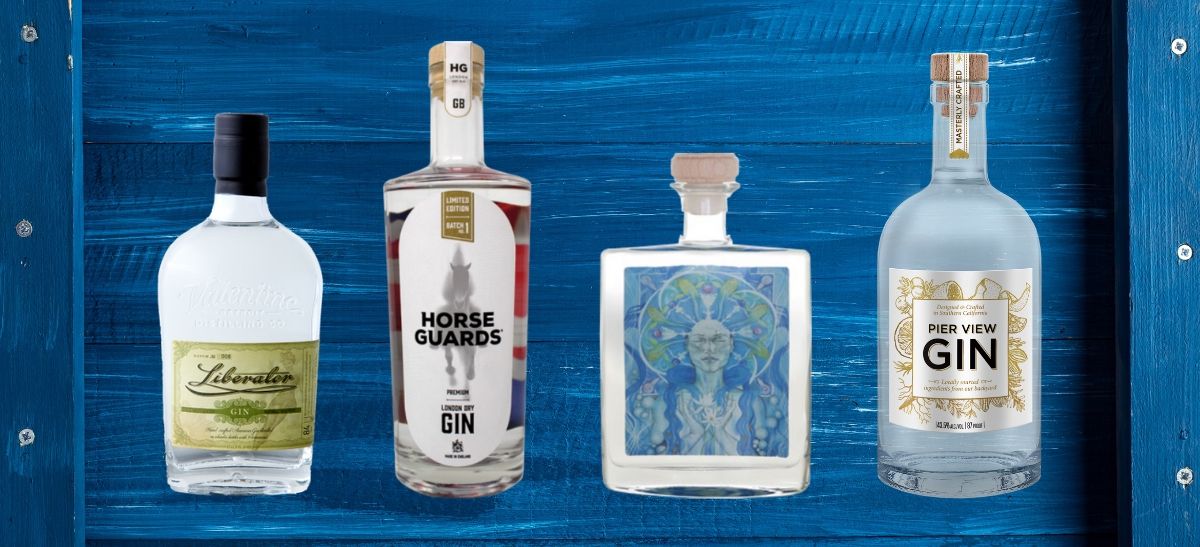 05/08/2019 Whether you are a classic G&T drinker or a fancy negroni lover, we bring you the best 13 gins you can't go wrong with.
Gin's popularity has boosted over the years, and shows no signs of slowing down. One of the reasons for this wave of popularity has been that people have been in search of exotic blends and refreshing combinations that are bursting with new flavors. Whether your choice is London dry, fresh botanicals, or simply the gin on its own, there is something for everyone's flavour profile. But with so many innovative gins in the market, trying to find the exact one for your taste can be a bit puzzling. To help you out with that, here is a list of the best gins to sip this summer.
---
---
These gins were tasted and assessed by the judging panel of Bartender Spirits Awards which included bartenders, bar managers, bar owners and other industry professionals.
Iron Fish Michigan Woodland Gin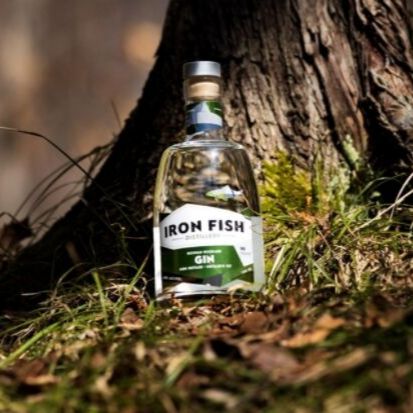 This gin is produced by Iron Fish Distillery. Rooted in glacially formed soil and sourced from the endless greenery encompassing the farm – this perennial woodland gin is sown with Iron Fish estate grown and harvested winter wheat, a subtle hint of juniper, deeply chilled water from the aquifer well, and a bouquet of native botanicals, including sprigs of Concolor Fir, to give breath to a delightful harmony.
Valentine Liberator Gin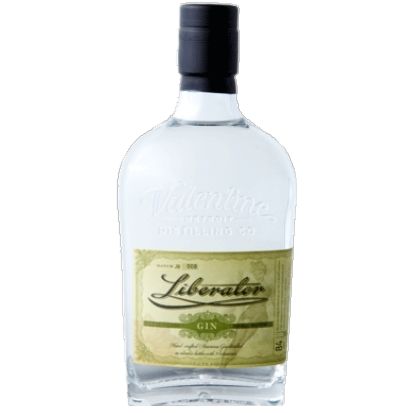 Valentine Liberator Gin produced by Valentine Distilling Co. is clear in appearance with aromas of peppery cinnamon, honey cardamom pastry, dried citrus and candied juniper. This medium-to-full-bodied gin is silky on the palate with a zesty mélange of citrus, herbal roots, anise, pink peppercorn, and cinnamon bark on the long finish. To make this gin, nine botanicals from around the world were selected. Bold flavors were brought to life through a longer maceration process while lighter notes were produced with a special botanical infusion process.
Fun fact: Valentine Liberator Gin is named after the B-24 Liberator Heavy Bomber produced in Detroit during World War II.
Harahorn Cask Aged Gin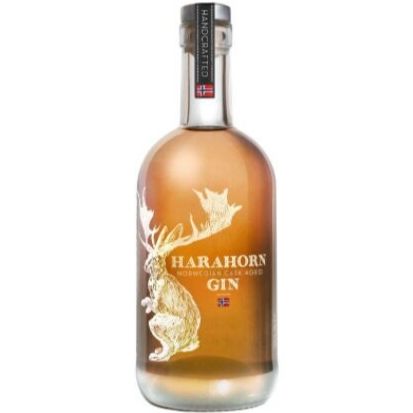 A product of Det Norske Brenneri, this soft gin has fine juniper berries and hints of fat. The aroma consists of pine needles, citrus, and hints of barrels and vanilla. This Harahorn gin has been given one year's storage on the best Oloroso sheriff. That has provided a premium gin with softness and elegance. Along with taste of juniper berries, coriander and spices. Enjoy it in a Negroni or simply alone in a good glass.
Horseguards London Dry Gin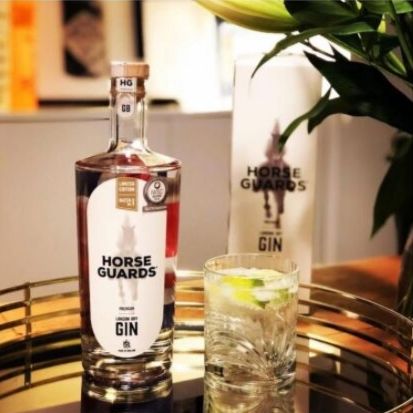 Produced by Horseguards London Dry Gin Ltd, this refined and elegant gin boasts a predominant juniper flavour. It is expertly balanced with juicy citrus notes and just a hint of spice. The smooth and long finish is perfect in a gin and tonic, as well as more exotic cocktails.
Fun fact: The inspiration for the name comes from Britain's Horse Guards formed by King Charles II back in 1661, as well as the extraordinary characters from the regiment over the years.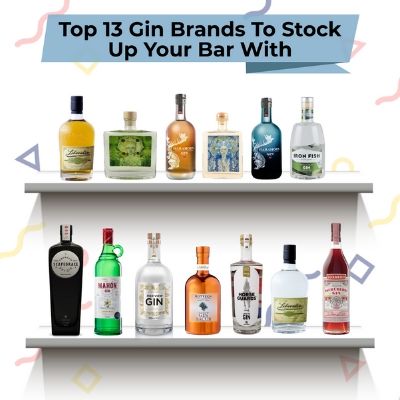 Bacur Gin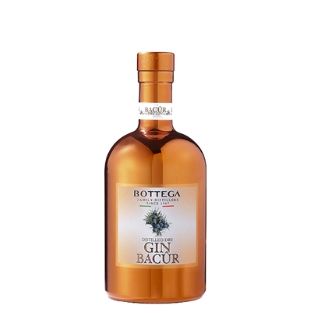 Bacur Gin is produced by Bottega Spa. This distilled dry gin owns its unique character to the botanicals used in producing it. The features of this gin are deeply related to its components, and its quality and complexity depend not only on the quantity of plants used, but also on the conditions in which aromatic compounds are extracted from each of them. It has 40% ABV.
Sour Cherry Gin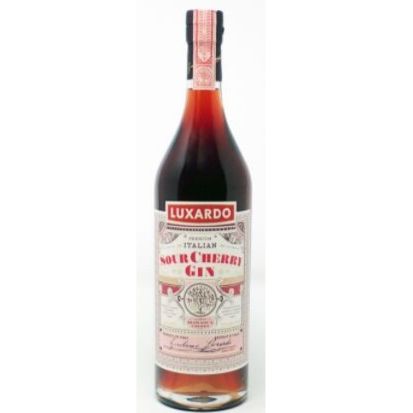 The Sour Cherry Gin is produced by Luxardo S.p.A. This vegan-friendly gin is deep red in color. Luxardo Sour Cherry Gin has a pungent marasca cherry aroma with intense juniper notes. The initial taste is typical of gin with spicy and long-lasting sour aftertaste. This gin can be used to twist many classic cocktails such as the Martinez and the Gin Fizz, or it can be enjoyed neat or over ice as an after-dinner drink.
Materia Gin, Earth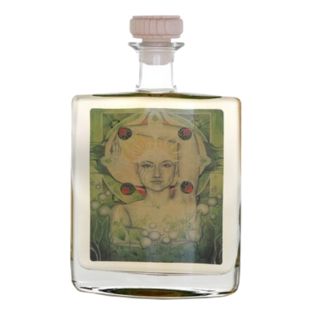 The Materia Gin Earth is the odd man out among the gins that with its various grain alcohols and natural coloring with oak is indeed the shortest on earth as its name suggests. Moreover, with its sunny golden color, it is also different from other gins. A special mix of 20 exquisite botanicals makes this gin extra special. Best tasted with Ginger-Ale and a little lemon. This gin is also produced by Stokerij ZenneZonde - Double Z Distillery.
Materia Gin, Water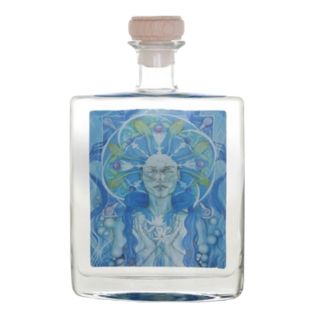 This gin is produced by Stokerij ZenneZonde - Double Z Distillery. It has a subtle taste of anise which gives this gin a wonderful aroma. The 20 specifically selected botanicals make this gin a 'must-have' that cannot be missing in any bar cupboard from anyone who loves gin.
Scapegrace Gin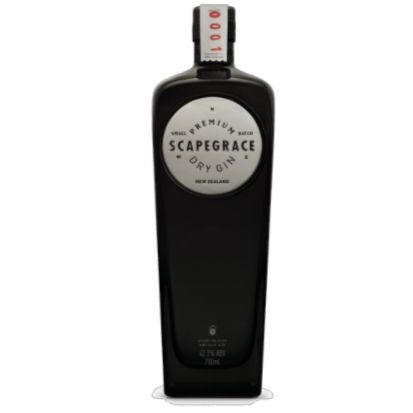 The Scaprgrace gin is classically citrus, super smooth and crisp on the palate. This remarkable gin upholds 12 botanicals, with lemon and predominantly orange peel shining through. It has 42.2% ABV. Scapegrace portfolio provides a modern and progressive lens to the traditional category of gin.
375 Park Avenue Spirits is an importer of superior spirits brands. It is dedicated in creating an environment of growth in the marketplace for their distributors, partners and brands. Their portfolio spans the premium- to luxury-spirit categories and includes numerous expressions from leading international producers.
Fun fact: Scapegrace, which means 'rogue', 'rascal' or a 'free-spirited' is presented in a black-tinted bottle inspired by 19th-century antique genever containers. The black tint protects the liquid and is a nod to gin's somewhat murky history over the years.
Mahon Gin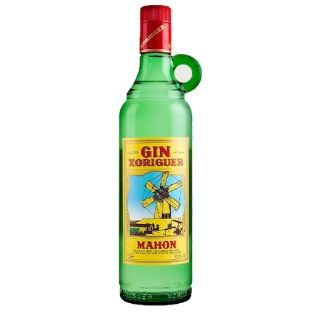 Mahon Gin is produced by Xoriguer Distillery. It is crystal clear in appearance with a distinctive body differentiated by the essential oils of juniper berries. It has aromatic tones of greenwood, herbs, and tones of juniper. Feel the herbaceous palate, which is generous in juniper with smooth citric undertones round of its character. An elongated and light after taste with soft memory of black pepper is felt.
Harahorn Gin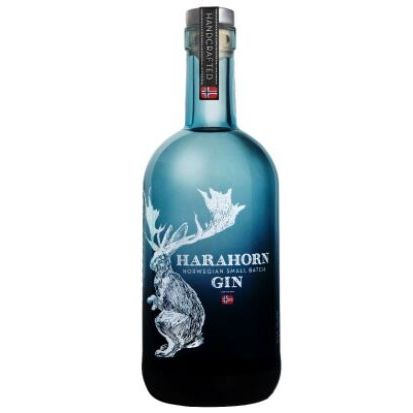 Produced by Det Norske Brenneri, this dry gin has a good filling with a touch of juniper, anise, and citrus. It has a cool aroma characterized by juniper berry, anise, flower and citrus. To make this pleasing gin juniper berries from Røros, blueberries from Nordmarka, rhubarb from Grimstad, seaweed, marjoram, and 16 other spices were used.
Fun fact: This gin was named after a mountain in Hemsedal, and with inspiration from a fabulous animal no one has yet seen.
Valentine Liberator Barrel Rested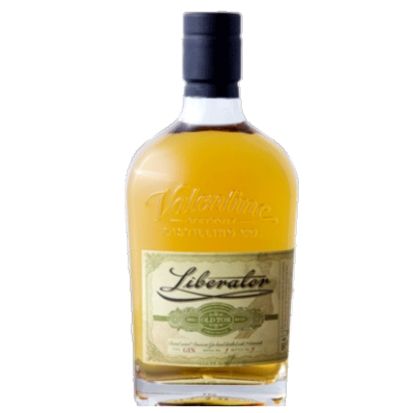 Only a handful of distilleries in the world produce a barrel-aged gin like the Liberator Old Tom Gin. This gin is aged in American Oak barrels for 2 years. Old Tom Gin has an aroma of juniper and pine with hints of oak, woody spices and citrus peel. The initial bursts of juniper berries are mellow and tame and are followed by touches of vanilla, citrus, cardamom, and cinnamon. This gin is produced by Valentine Distilling Co.
Pier View Gin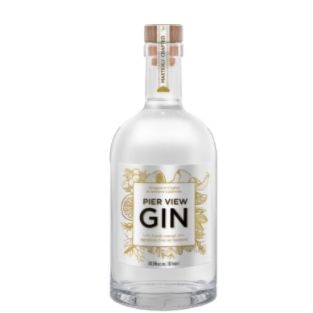 A product of Stoke Distilling Co. which was awarded two special category awards — "Gin of the Year" and "Gin Producer of the Year" along with a gold medal is a light and easy-going vodka. It has aroma of citrus peel, sweet vanilla, and touch of cinnamon. This gin brings out tasting notes that is meant to hit your palate during the beginning, middle and end of each sip. Experience the bright citrus start which is accompanied by a tediously specific blend of herbs and spices, moving to a herbal, rosemary, oolong tea taste in the middle going towards Madagascar vanilla, Saigon cinnamon on the finish, and completing with a dry tail.