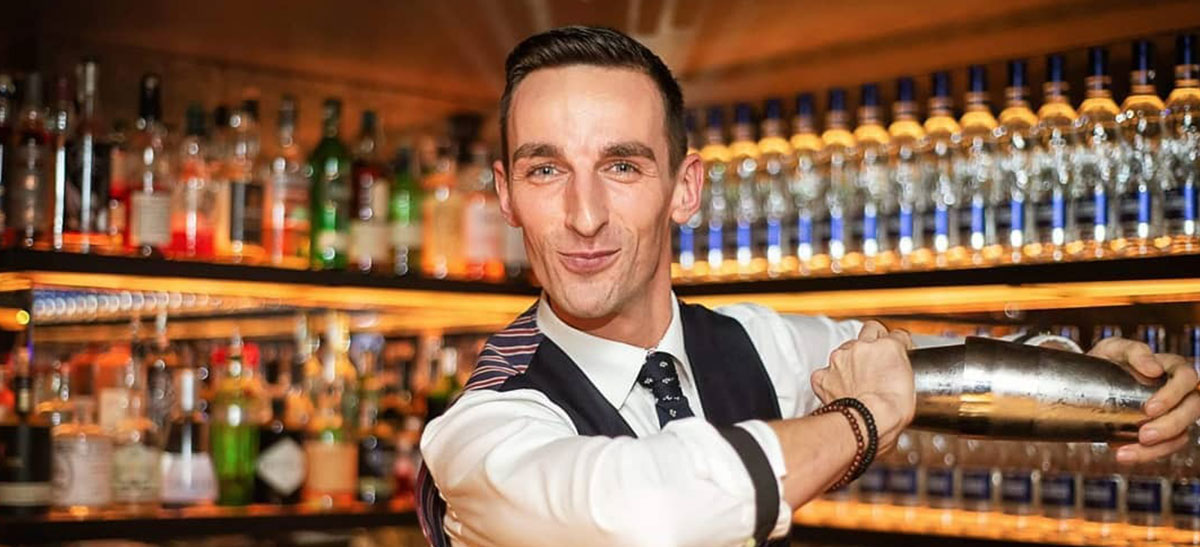 25/01/2022 Marek Posłuszny is a Flair Bartending Expert and The Founder of Flair Factory, a Bartending Agency in Poland
Marek Posłuszny has repeatedly stood on the podium of several renowned flairs bartending competitions in Poland and abroad. He has been a five-time International Bartenders Association World Champion. A travel aficionado, Marek has traveled to 65 countries around the world to teach flair bartending and take part in several flair competitions. He also owns Flair Factory which is a bartending agency working with flair bartenders in Poland.
Tell us a little bit about yourself. How did you begin your career and how did you progress into this role?
I started my career in 2004 at the age of 17 as a waiter in a local restaurant in my hometown Bielsko-Biala in the South of Poland. The place was called Karczma Rogata where I was changing my roles from being a waiter to slowly being a bartender. We offered great local food, good beers, and basic cocktails at this restaurant. This is the place where I discovered flair bartending for the first time.
I was hooked and I really fell in love with all these tricks while making cocktails. I then started practicing it and a few months later my boss informed me that we were going to host a flair competition called Independent Flair League and I was going to represent my restaurant and I did. I thought it would be a small part of my life but after visiting over 60 countries and taking part in over 240 competitions and running bars, this is where I am today.
[[relatedPurchasesItems-31]]
Define your role and the tasks involved in your role.
Due to having 5 jobs at hand, I am always involved in different tasks every day. Some of them are Running Rum and Gin tastings, Teaching bartending and flair bartending, Organizing 7 day long Flair Camp for bartenders in Spain, Organizing competitions, Running a cocktail bar, Having shifts behind the bar, Performing flair shows, Creating cocktail menus for brands and bars, Leading cocktail workshops, Bar catering, Judging competitions and a lot more.
What questions would you ask the bar owner before you plan your sales growth strategy?
These are some of the few questions I ask
What kind of place do you want to create?

How can suppliers work with you to drive sales?

What activities can we plan for our guests and bartenders like a special set menu, spirit tastings, drinks or spirit & food tasting, cocktail workshops for small groups, offering masterclasses to bartenders, etc
Give us an example of a profitable bar menu program with examples of names and why you have them.
It would be a little difficult to translate those names into English, however, one of the great menus was the one inspired by the local district. Our bar was located in the city center so our guests were mostly from that zone. The whole menu was presented like a map of the Wilanów - Warsaw district and the cocktails were named after the places from that area. Our guests really enjoyed ordering cocktails that were named after the streets and places they were from. Thanks to that menu, the bar became quite popular and we became busier.
What do you look for items that qualify for house pour?
The basics also have to taste good and need to be respected by society.
5 ways to upsell drinks at the bar
Conversations

Knowledge of the employees

Great menu

Serve food or side dishes along with drinks

Good presentation of cocktails
Tips on training new bartenders
Being dedicated to bartending always gives a lot in return. The better you train and learn, the more you get out of it.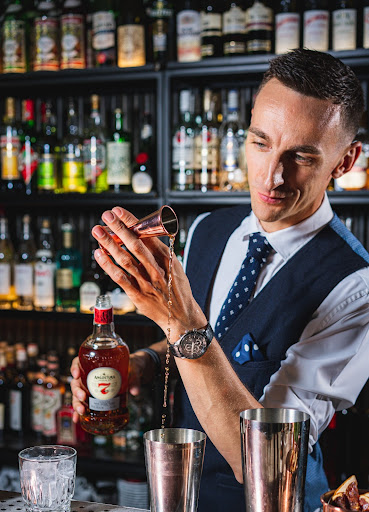 What are the drinks trending in your country? cocktails, brand names, categories?
That's a difficult question as on one side you have big cities like Warsaw, Krakow, Wroclaw, Gdańsk, and Poznań where we have great cocktail bars with creative menus and drinks. People know the cocktails well here like Whisky/Vodka Sour, Pornstar Martini, Negroni, Old Fashioned, Long Island, etc. but in most parts of the country, we drink Vodka, Whisky, Beer and Wine. Probably the most common cocktail would be the Aperol Spritz, Mojito, and Pornstar Martini.
What's customer service to you
It's the core of the bar's operation
Define a good bartender
A person who likes people has a sense of company and knows his job well.
How do you manage non-performing brands?
Talk about them in an interesting way with our guests and try to add some of them to the seasonal cocktail menu.
How can you increase your beverage sales with the selection you already have?
By planning activities for our guests. We prepared special metal plates for the guests who ordered cocktails from the whole menu and hung them on the wall. We had dozens of signs with names or nicknames on the wall and the guests were taking photos with them. The next moment they were ready to order their cocktails and have their name on the wall too.
How according to you has the role of the Bartender evolved, especially now during Covid times?
Certainly, we have become more careful, we care more about our guests, and in their eyes, we are the guardians of their evening and health. Apart from the fact that they come to us for a drink, the moment they see that we are following the rules, they feel safe with us.
What else do you look for in a brand before saying yes apart from quality, value, and package?
The story behind the brand, the people behind it, and how they produce their product.
Give us an example of a common problem in the bar business and how you handle it.
Difficult to say, but I feel sometimes the bartenders get bored of making drinks. So it is important to rotate employees in various sections and motivate them through awards, push them for competitions for their personal development.
Your favorite places to enjoy drinks
Places where I meet my friends behind the bar.
What is the best and worst part of your job?
The best part of my job is the flexible life, friends I meet, and the possibility to travel around the world. The worst part of the job is that I'm driving my own motor right now, once I stop, it will all stop for me.
Interviewed By Prithvi Nagpal, Editor & Sommelier, Beverage Trade Network