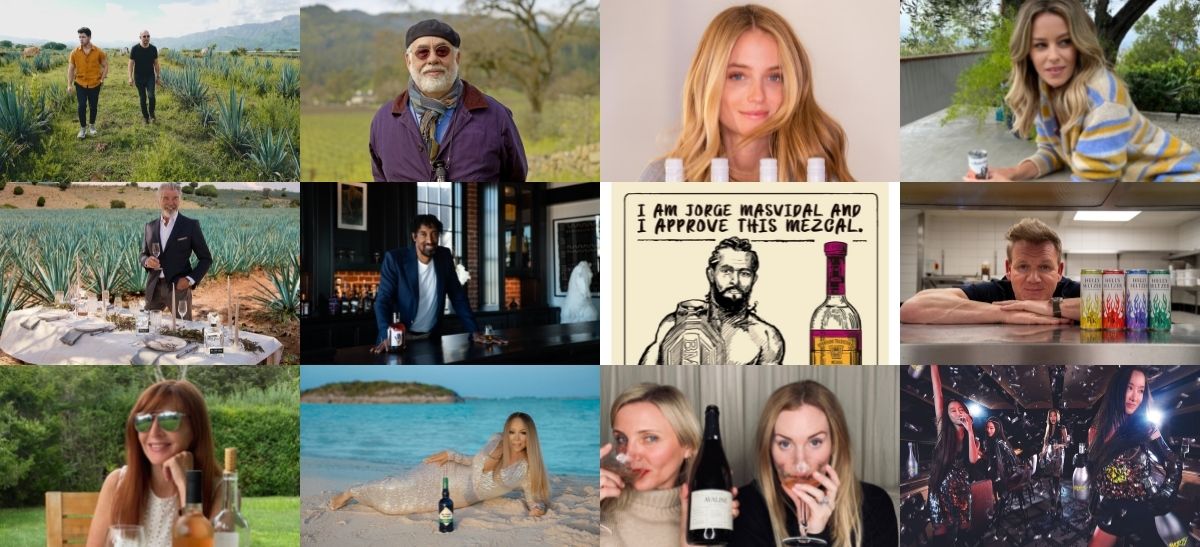 29/10/2021 These Iconic Brands Show Your Special Someone You're Paying Attention.
Not sure what to get that special person in your life? You want something that says "I know what you drink, and I also know what you like to...listen to, wear, and watch. But one gift that covers all of that is tough to find.
We've got the perfect list for you. These celebrity alcohol brands do it all, from bourbon to bubbles, from infamous chefs to tier-one pop stars.
A celebrity bottle of tequila from Nick Jonas and John Varvatos? MBA champion, Scottie Peppin's whiskey? Or a pack of Hard Seltzers from Gordan Ramsay? Whatever your person's favorite thing to drink and do is, we've got you covered.
---

---
Jonas-Varvatos Tequila Embraces Life As It Should Be
Villa One is an ultra-premium tequila founded by Nick Jonas and John Varvatos and brought to market by Stoli Group. These creative minds from the worlds of music and fashion, respectively, came together over a love for tequila and experiencing "life as it should be," with friends old and new, one glass at a time.
Villa One, blended by Master Distiller Arturo Fuentes at Fabrica de Tequilas Finos, uses only sustainably sourced 5-7-year-old 100% blue weber agave from both the Highland and Lowland regions of Tequila, Jalisco, Mexico.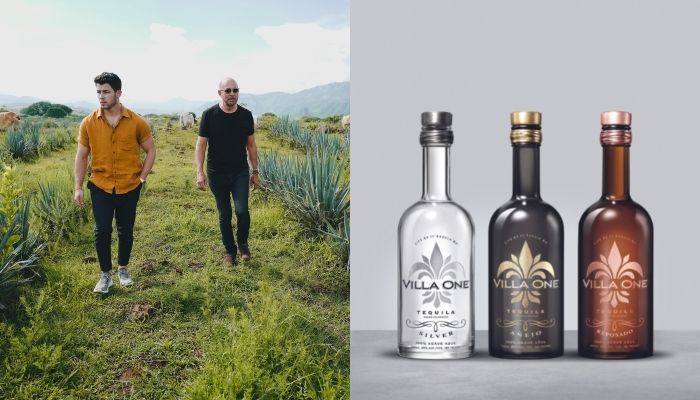 Villa One is offered in three expressions, each of which is 80-proof:
Silver Villa One Silver is a clear liquid with silver shades that is bottled immediately on production to deliver a nose of cooked agave with fruit aromas. It features a continuous bouquet of dried fruit and nuts that meander into a caramelized agave and has a long, smooth finish. $44.99
Reposado Villa One Reposado is a light gold liquid aged in American oak barrels for six months. It produces bronze aromas with caramel and candy and boasts full, balanced butterscotch, chocolate, and smoke flavors before delivering a light finish with coffee, caramel, and a mellowed spice. $49.99
Añejo Villa One Añejo is aged for more than twelve months in American oak barrels, resulting in a dark amber color, with notes of rich caramel, wood, vanilla wafer banana essences on the nose. It has a full-bodied mouthfeel and gives a rich and long-lasting finish with notes of smoke, dark chocolate, and honey. $59.99.
Buy it for $45 - $60 at ReserveBar, Drizly, Wine.com, Flaviar, Caskers, or click on the store locator for a retailer near you.
Score Scottie Peppin's Digits Bourbon
Dave Phinney is to the alcohol industry what Scottie Peppin is to sports. That is, his reputation is stellar and the results of his work are unprecedented. So when six-time NBA Champion Scottie Peppin teamed up with Mare Island-based Savage & Cooke distillery mastermind, Dave Phinney, the bourbon, Digits Tennessee 92 Proof Bourbon, was created.
Scottie's go-to had always been bourbon, starting back when he was winning championships, and creating his own was a dream of his. He was introduced to Dave Phinney through his business partner and the two made a remarkable connection over a six-hour dinner in Los Angeles. Phinney, with a lofty reputation as a distiller to protect, needed to ensure he wasn't entering into a partnership with a listless celebrity seeking an opportunity to slap his name on a bottle. It was clear Scottie was not that character, and instead proved ready and willing to go to work, on everything from the bottle, to the label, to actually working at the distillery.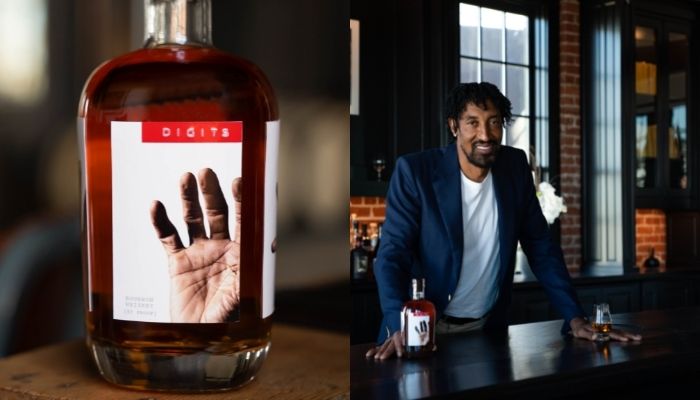 The packaging embraces the tools of Scottie's success, those score-shooting hands, making this perfect for any NBA fan who enjoys bourbon.
Available at Cocktail Courier for $69.99
The Odds Are Forever In Your Favor with Elizabeth Bank's Archer Roose
Elizabeth Banks has joined the Archer Roose winery team as a Co-Owner and Chief Creative Officer.
The label was founded in 2014 by Marian Leitner-Waldman and David Waldman, partners in life and in business. "To me, wine is another form of storytelling," explains Elizabeth Banks. "I have always loved wine but wanted to make it more accessible and build a brand that would resonate with women. When I realized that Marian's gambit was to put really good wine into cans, I thought about my own life and all the incredible shared moments with family and friends–a beach day, a ski trip–and how it would be great to pull a Sauvignon Blanc out of a cooler for a change."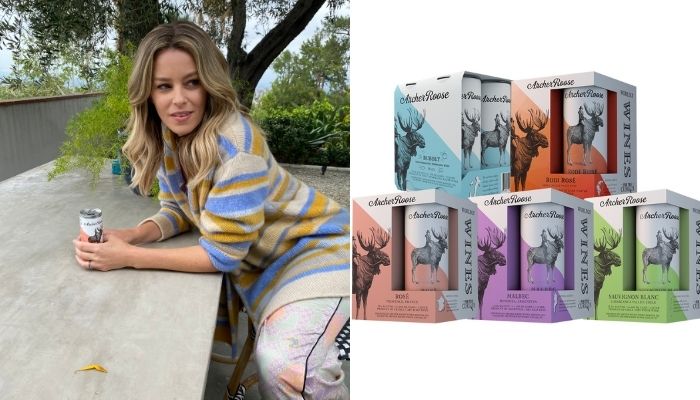 Archer Roose and Elizabeth Banks bring their new relationship to life through a series of hilarious videos on how the partnership began. You can check the first one out here:
Buy directly from the website. 12 cans are $49, and 24 cans are $95.
Drink To Health With Cameron Diaz's Avaline Pinot Noir
The clean and transparent wine brand Avaline, co-founded by Cameron Diaz (actress and wellness author: The Body Book, The Longevity Book) and Katherine Power (Who What Wear, Versed Skincare, Merit), offers a portfolio of six (and counting) clean, delicious wines. All Avaline wines which are made with organic grapes, are vegan-friendly, contain under one gram of sugar, and are free of unwanted extras like colors and concentrates.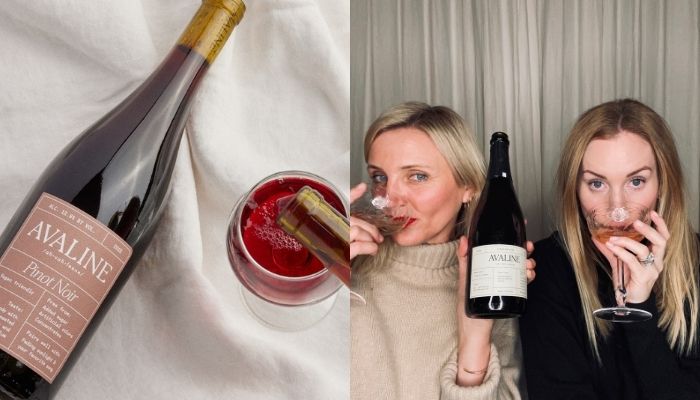 The label just released a limited-edition Pinot Noir, its first wine produced in the brand's birthplace of California, now available exclusively via Avaline's website at $26).
Vera Wang Wants to PARTY
Vera Wang PARTY is a premium Italian prosecco made for celebrating life's moments, big and small. The designer mogul's attention to detail has shaped every step of PARTY from grape to bottle.
Designed to look chic on any table, the bottle is a sleek matte silver with "PARTY" in bold neon yellow letters exuding a modern, easy sensibility. The back of the bottle features an invitation to PARTY from Vera. To craft the prosecco Vera Wang looked to find a winemaker with both heritage and pedigree. She turned to the top winemaking region Piemonte, known for its sparkling wines, and to Araldica, producer of the best-selling Moscato in America.
PARTY is crafted from 100% Glera grapes and boasts aromas of apple and stone fruit, citrus notes and fresh acidity on the palate, with a soft and fruity finish. This new prosecco offers a fresh perspective in the sparkling wine category with its crisp effervescence, coupled with a bold aesthetic and playful voice.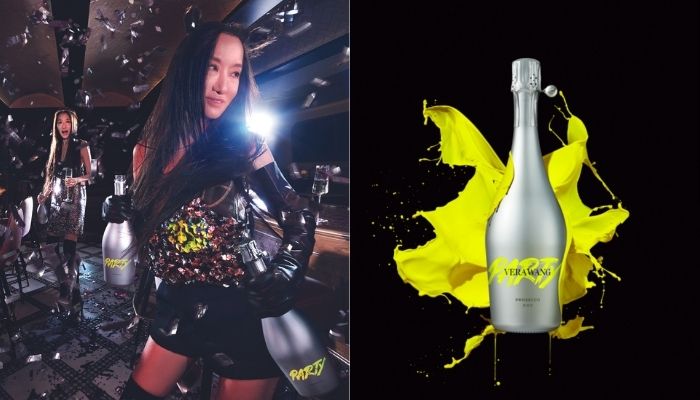 For $24.99 you can buy this directly from the brand's website or through Drizly, or Total Wine & More.
What The Hell's Kitchen? Ramsay's Hard Seltzer!
Fans of the foul-mouthed chef, Gordon Ramsay, are in for a treat. His portfolio Gordon Ramsay's Hell's Seltzer 5.6% abv makes a fun gift for fans or, really, anyone who wants cool stuff in their fridge. Each recipe is inspired by popular menu items from Gordon Ramsay's Hell's Kitchen restaurants across the U.S., and was tested and approved by the grumpy chef, reflecting his knack for delivering recipes that put flavor first.
Hell's Seltzer is a collaboration between Gordon Ramsay, Brew Pipeline, and Global Brews. It's produced by City Brewing in Tennessee.
Berry Inferno: peach, blueberry, raspberry
Knicker Twist: passionfruit, pineapple, orange
Mean Green: kiwi, lime, mint, pineapple
That's Forked: Key Lime Pie, vanilla, graham cracker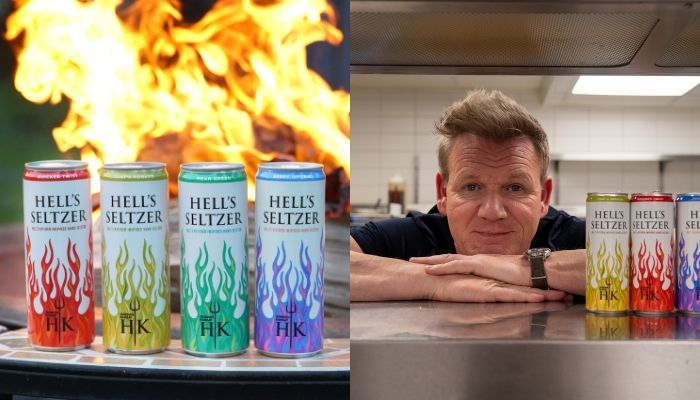 Hell's Seltzer is located at most beverage stores in Los Angeles, including BevMo and 7-Eleven for $15.99 - $17.99. For a store near you, click here.
All We Want For Christmas Is Mariah's Black Irish
Making all our wishes come true, the Queen of Christmas, Mariah Carey gives cause for celebration with the launch of her new liqueur, Black Irish. As a fan of Irish creams and a festive holiday splash or two, the multitalented superstar crafted a drink with high-end ingredients made for the season. The line of products, named as a playful nod to her Black and Irish lineage, includes Original Irish Cream, Salted Caramel, and White Chocolate. "I have been putting my heart into this project for almost two years and I am so excited to finally share this news with you all," says Mariah Carey. "I wanted to create something that embodies the holidays and gives everyone a reason to celebrate year-round, and I really think we have done that with Black Irish."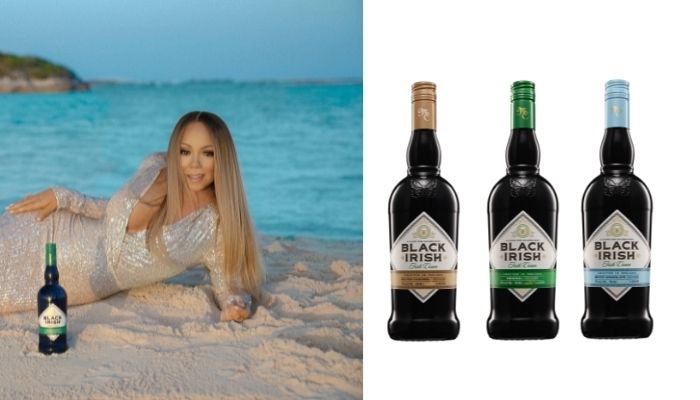 Black Irish is sold in 750ml and 50ml bottles in BevMo for $24.99 and $2.99 respectively, and at Total Wine & More in 7850ml for $24.99.
Bond Within Don Ramón Limited Edition Tequila
It could be argued that Pierce Brosnan was born to be Bond. Suave, serious but still playful, charming, and handsome, this man could sell water to a drowning man. It's no surprise then that his upscale tequila line of Don Ramón is already in demand.
It comes in three beautiful bottles:
Tequila Don Ramón Limited Edition Plata: A clear, double-distilled tequila with bright, clean and herbal aromas. Notes of citrus and minerals. Bottle is embellished with 65 Swarovski crystals, consisting of 28 Xilion Rose crystals on the silver cap and 37 Xilion Rose crystals in Moonlight. 10,000 bottles available for purchase.
Tequila Don Ramón Limited Edition Añejo: An amber tequila aged for 12 months in barrels. It can be described as fresh and woody with elegant notes of dried fruit and cooked agave. Bottle is embellished with 115 Swarovski Xilion Rose crystals in Crystal Golden Shadow. 5,000 bottles available for purchase.
Tequila Don Ramón Limited Edition Extra Añejo: A double-distilled copper tequila aged for 3 years in barrels. It has a robust body expressed through aromatics including berries, cherry and wood notes, with an elegant pepper finish. Bottle embellished with 178 Swarovski Xilion Rose crystals in Light Colorado Topaz. 5,000 bottles available for purchase.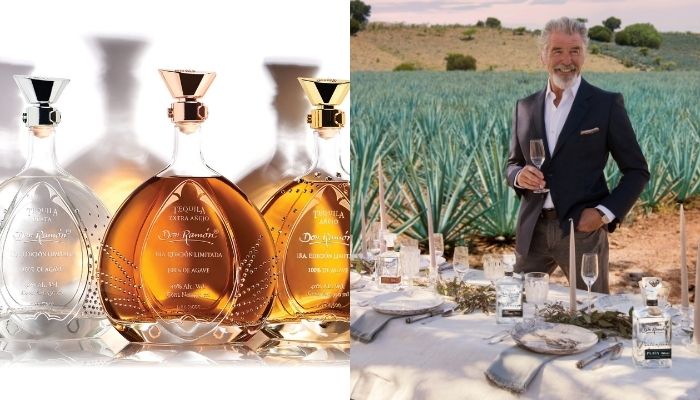 Available through ReserveBar:
Tequila Don Ramon Limited Edition Plata: $375
Tequila Don Ramon Limited Edition Añejo: $500
Tequila Don Ramon Limited Edition Extra Añejo: $575
Jorge Masvidal's Recuerdo Mezcal Is A Mezcal Worth Fighting For
BMF Title-Holder Jorge Masvidal's Recuerdo Mezcal is available in two iterations: con Gusano (that's with the worm) and and without Gusano (Joven, meaning not aged).
Recuerdo Mezcal is cooked with only certified wood over river rocks and distilled with traditional Mezcal production techniques that are honored and proven to produce the finest final spirit. The agave is sustainably harvested in Oaxaca, in a manner that ensures the preservation of the agave plant and the environment. It's available with Gusano for those who prefer the silky texture the agave-worm gives the liquid, as well as without the agave-worm for those who seek smoky notes with less complexity. Recuerdo Mezcal is intended to be savored not rushed, in other words sipped with besitos (kisses).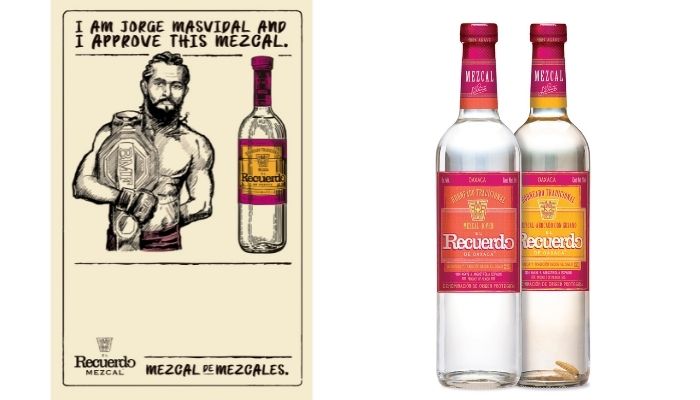 Find both versions at select liquor stores across Los Angeles, or for home delivery at the following link: https://shop.recuerdomezcal.com/. Con Gusano is $34.99 and without Gusano $37.99.
The Godfather of Claret? Coppola's Bordeaux Blend
Francis Ford Coppola's Diamond Collection wines are made from grapes grown across California and Oregon, which are carefully combined to create pairings for all occasions. Francis' favorite Diamond Collection Claret–a bordeaux-style blend–delivers unmatched flair to outdoor grilling feasts, offering meat-matching complexity with heartier fall fare like a juicy burger, which brings out the wine's char and anise notes.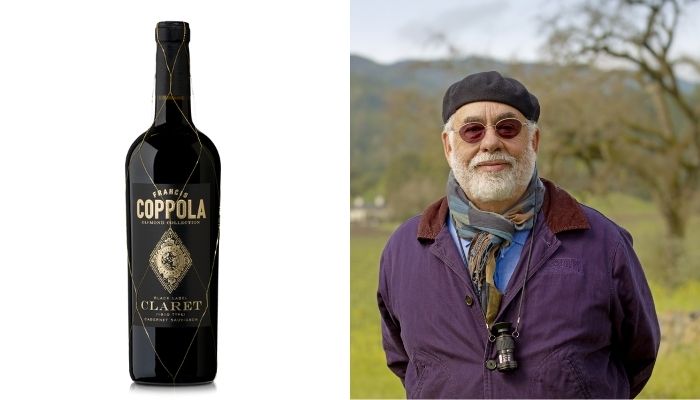 You can purchase it directly from the website for $21 or find it in almost any Los Angeles wine shop.
Drink Like A Supermodel: Kate Bock's Pompette
Pompette is a new innovative beverage company founded in 2019, fronted by Entrepreneur and Sports Illustrated Swimsuit Model, Kate Bock, its new Chief Brand Officer. The company's philosophy emphasizes wellness, and as the first hard seltzer served in a 750ml resealable bottle, Pompette is blended with imported alcohol and natural flavors including Cucumber Lime, Rosé Hibiscus, Lemon Mint and Clementine Berry. Each flavor is naturally gluten-free, contains 5% abv and 40 calories with two grams of sugar or less per six-ounce serving.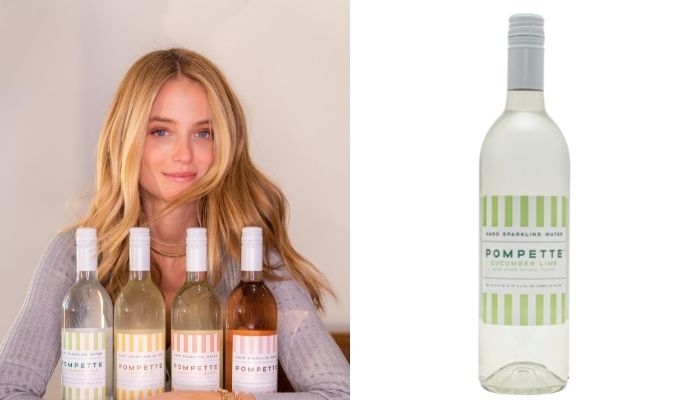 Buy it online for $10 - $13 per 750ml bottle.
Nicole Miller's Wine Design
Introducing Designer, Nicole Miller Rosé Wine, this dry, luscious, rosé wine is perfectly balanced with hints of fresh raspberries and strawberries. Nicole's rosé is made at Château Auguste and is a blend of Merlot, Cabernet Sauvignon and Cabernet Franc grapes. It's vinified by Damien Landouar, the famous French winemaker of Château Gaby.
Being half French, wine was something Nicole grew up with. She remembers being introduced to rose during her summers in St. Tropez–where everyone would be enjoying it during their long lunches or at the beach clubs. Now, like her unique, and, often edgy clothing designs, she's bringing her own sensibility to the wine industry.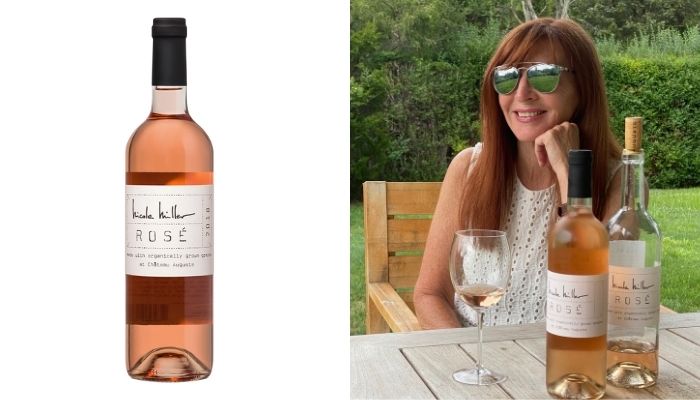 Nicole Miller Rosé is available at WineExpress.com for $22.95 and can be delivered right to your door so even if you can't make it to the South of France this holiday season, you can at least feel like you're there!
---
Article Written by: Natasha Swords
2023 Submissions are closed. The Deadline for receiving samples in the warehouse is April 30, 2023.