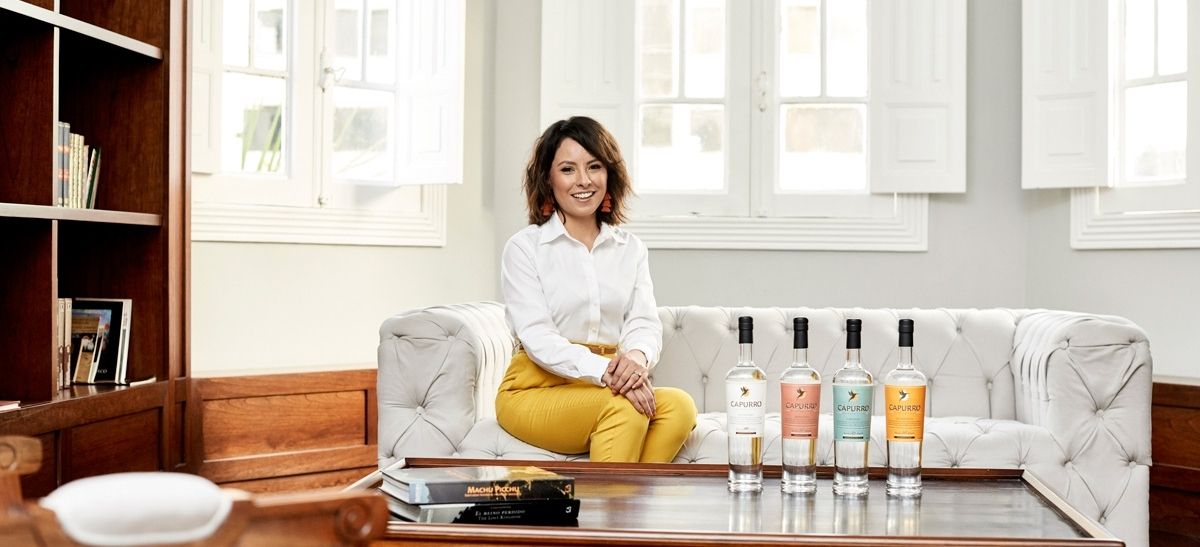 12/05/2021 Romina Scheufele, founder of San Francisco-based Craft Spirits Cooperative, says Covid-19 has affected the rules of distribution.
"The local liquor store is now interested in carrying craft products because the consumer is there. I think the landscape has changed"
The past year has not been easy for distributors. They're not alone in that respect (bar operators, for example, would argue their situation has been harder), but they have had to do more quick thinking than most. That's been particularly true for distributors of smaller craft brands, which lack the national visibility that comes with being a big name.
Romina Scheufele, the founder of Craft Spirits Cooperative, knows all about that. She has a fairly unique perspective, with close knowledge of both production and distribution. Her distribution career began with the 2012 US launch of Capurro Pisco, which is owned by her family.
In the months and years after that, she came to the conclusion that the distribution and sales support Capurro needed didn't exist, so she created it herself. Craft Spirits Cooperative brings together a selection of independent brands, including Ahus Akvavit, Bimini Gin, Cognac Comandon, El Pintor Agave, and Write & Brown Distilling Co.
"We help develop and launch the brand [in the US], and manage all sales and distribution for them as well," she says. "That all originated because Capurro needed something like that to be done well, with an eye on profitability." We spoke to her recently to find out how Craft Spirits' Group's approach to distribution has been affected by the events of the past year.
How did 2020 go for you?
"It was definitely difficult and unexpected! It happened almost overnight: when shutdowns were happening, we were in San Diego, close to the Mexican border, and we had just gotten some Mezcal across the border, on Thursday night. My husband Peter, who's the director of the Cooperative, went to pick it up, because [we thought] that would maybe be faster than trucks, to get it to our customers. And those were the last orders we got out.
"So it was very drastic and overnight, but when California was shut down, New York was still okay. Part of the challenge was finding a strategy. Most of our customers were on-premise; we have a good amount of off-premise clientele, but we had to shift our focus [that way] immediately. Our team is fairly small compared to larger distributors, and so we're very agile in that sense. We did pivot very quickly. We didn't hit the goal that we had for 2020, we were positioned for big growth for 2020. That didn't happen, but we also didn't have a terrible year. It was difficult, a lot of hard work."
Were there any unexpected benefits to 2020 for you?
"It provided a lot of growth for our team internally, which I think we'll see the payoff from in the coming years. To me, our team is very important. When the shutdown happened, we didn't lay anybody off. I wanted to make sure that our team remained intact, and that's what we did."
So what's the situation like now?
"Well, every state is different - and even within California, I would say north and south are different: I think the north opened up a bit slower, and the East Coast is on their own timeline. But yeah, from a day-to-day perspective, does the actual workday look more normal today than it did three months ago, six months ago?
Definitely. And I think things are opening up pretty quickly, despite the conundrum of staffing in all those bars and restaurants, and the clients knocking on the door wanting to get in. I'm starting to see more normality, for sure."
Do you think the last year and COVID-19 have changed distribution at all? Has it changed how you operate?
"We definitely re-examined some offerings, but I think it all starts with the consumer. Take consumers' buying practices; [during the pandemic] they switched to stores, and the result of that was that now your local liquor store - that before maybe had no interest in the craft at all - has customers from the neighborhood walking in, who were no longer working in the big cities.
And so the local liquor store is now interested in carrying craft because the consumer is no longer leaving their neighborhoods as much. I think that landscape has changed. And so for us, it was about re-examining those places that are now ready to examine our product through a different lens, whereas before, maybe they weren't so interested. And those were clients that we were looking for."
And what about on-premise - how has that changed?
"I think bars and restaurants are now looking for local producers as much as possible. A sense of community has really grown, it's beautiful to see - it's a web of people working together to help everybody keep their lights on. The restaurants in the area are purchasing their boxes from that local distillery, instead of a giant brand - and vice versa, those local distilleries are supporting the local restaurants, they're sending clients over there."
What are your thoughts on the future of distribution?
"The demand for alcohol has not disappeared, by any means! I think that consumers have become more curious, and also more educated. And I think that opens up a whole new world for products like the ones that we work with, and for distributors within the craft world. I think that there's a lot of opportunities out there, and I'm excited for the consumer to understand what it is to drink quality."
Header image- Romina Scheufele, Source- Romina Scheufele