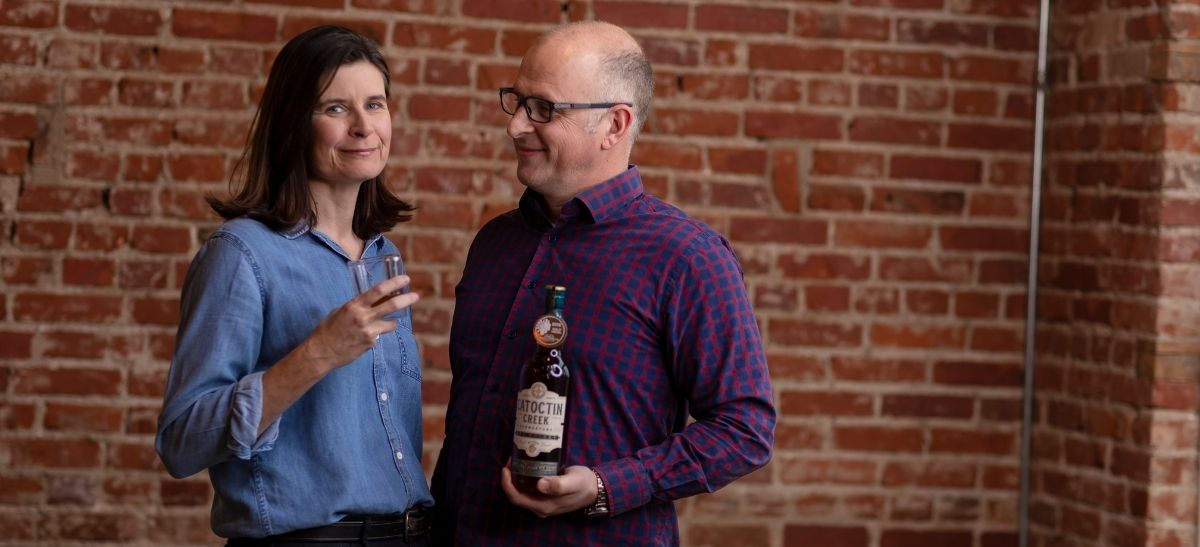 20/04/2021 Virginia distillery Catoctin Creek has taken full advantage of new laws on direct-to-consumer sales. We spoke to founder Scott Harris
"Suddenly people are ordering our whiskey from the far reaches of the state - five, six hours away. It really opened up a market for us"

- Scott Harris
Covid-19 wrecked a lot of plans last year, but it might also have set the scene for a new way of distributing alcohol in the USA. The rise of direct-to-consumer in states across the nation arguably represents the biggest shift in how things are done since Prohibition, and it's a shift that could well be here to stay.
One company that is hoping that's the case is Catoctin Creek, a multi-award winning distillery in Loudoun County, Virginia, which was founded by Becky and Scott Harris in 2009. They were allowed to sell direct to consumers in Virginia for the first time last year; we spoke to Scott to find out more about their experience of the direct channel.
So when did you start shipping directly to customers?
"Over the last 12 months, we have been able to hold our business at par in two ways: producing hand sanitiser and selling direct-to-consumer. We were able to do that in the face of some pretty big challenges: when the crisis first started we had a couple months of $0 revenue for alcohol, because everything was shutting down. We were able to make hand sanitizer, and sell that to government agencies. That actually filled the gap for our alcohol revenue completely during those first two off months.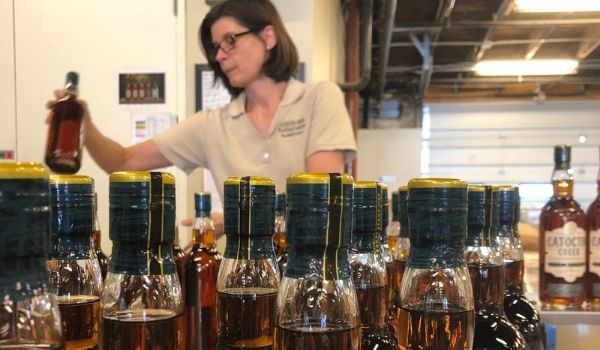 Becky Harris at the Catoctin Creek Distillery, Photo credit: Edward Harris
"Then the Virginia Alcohol Beverage Control authorized us to do direct-to-consumer shipping, which was not previously legal. That was a big boon to our business, and so that filled up the gap there. So all told, by the end of the year, we were at the same level as we were the previous year, which is a significant victory I think. I'm grateful for that."
And do you ship outside Virginia?
"Only wholesale shipping. That's how we've done most of our business, through wholesale shipping to other states and other countries, since we started. That business was affected in 2020, as well. Restaurant sales of alcohol were down in some cases more than 70%, and replacing that was liquor stores. We were able to keep that business going, because a lot of the drinking shifted from restaurants to drinking at home.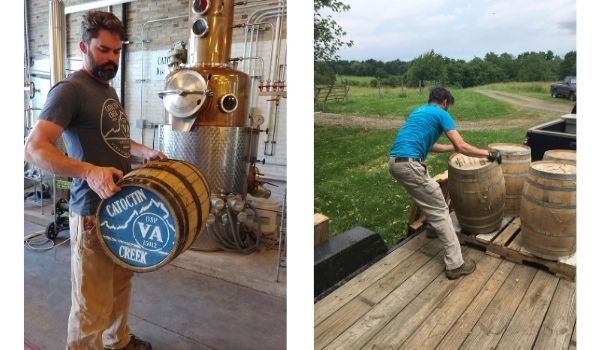 Snaps of the Catoctin Creek Distillery Life, Photo credit (left): Catoctin Creek Distillery, Photo credit (right): Edward Harris.
"It did offer us some very difficult challenges, though. As a craft spirits brand which was relatively unknown outside of our home market, one of the ways that we would make new customers is doing in-store tastings and restaurant events, things like that. All of those things were banned due to COVID. So we had to get really creative with how we did outreach in those markets: endless, endless Zoom tastings and online festivals, where we'd have 200 people tasting through the brands. We seemed to be working twice as hard to get the same dollar that we got before."
Why don't you ship direct to customers further afield?
"We're only legally authorized to ship within the state of Virginia. We're obviously pushing our legislatures to consider direct-to-consumer shipping for the whole nation, but that's a very complicated thing because there's 50 different states with 50 different governments.
"But in the state of Virginia we've built up quite a following. One interesting thing is with special releases: pre-COVID, if we did a special release, we might have people driving from 50 miles around to come and get that release. Now, suddenly we have people ordering the product from the far reaches of the state, four, five, six hours away, who can easily have it delivered. And so it really opened up a market for us. It has really boosted some of our special release sales."
Do you think this will be a big part of your business going forward?
"We're hoping so. Right now, the state has issued an allowance to do direct to consumer shipping as part of emergency measures, which is still ongoing. I think the state is amenable to the idea of making that privilege permanent. We're pushing for that. It's not guaranteed, but we've had a year of showing that we're good citizens, that we aren't shipping alcohol to minors. A lot of the arguments that would've always been against it in the past have been shown to be false.
"One thing I've done for a few seasons now is what we call the 'Art of the Cocktail' class. It's basically where we learn how to make cocktails, a social 'happy hour' on a Friday night. What we've noticed is that the class used to be in person at the distillery and we'd have a handful of people from the local area that would come to that pretty regularly. And now, when I'm giving this class I have 50 to 60 people: we have people coming in from Seattle, from South Carolina, from Denver, Colorado, from California.
"When we go back to in-person, are we going to incorporate an online element so we can continue to reach out to those further-away people? And that's something we're considering - perhaps some element of this online stuff is here to stay in some kind of a way."
Your online presence is impressive. Did that help with your direct-to-consumer sales?
"Yeah, I think so. My background is as an IT professional. So I understood the power of a well-designed website as a landing page for information for people. A lot of what we do, even in social media, is trying to drive people back to the website to make bookings and things like that."
Have you had any surprise best sellers over the past year?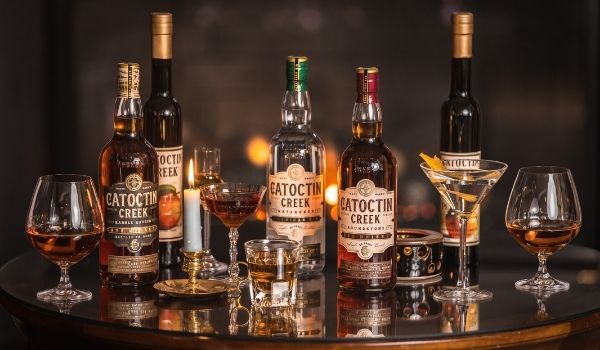 Catoctin bottles in rustic setting, Photo credit: DJ Glisson II, Firefly Imageworks
"Yeah! That's interesting. We were mostly known nationally and internationally for our rye whiskey, which is about 80 to 90% of what we make and sell. What was surprising to us is when the direct-to-consumer shipping started in Virginia, we started seeing a huge uptick in all those other little special things that we make that people can usually only obtain when they come to visit the distillery. Peach brandies, apple brandies and pear brandies and other little special projects, very limited releases. We may only make, you know, 2,000 bottles a year of them. When people were buying a bottle of whiskey, they were like, 'Well, I want to try some of that apple brandy. Let me put a bottle of that on there too.'"
Do you think the past year has fundamentally changed your business model?
"I do think we will be getting back to some level of normal. Right now, we've been on hiatus for most of our in-person events, but those events will return. People will want to go back to restaurants, and things like that. What I think may have changed, perhaps forever, is that we need to continue to have online virtual events like these virtual whiskey tasting sessions, you know, in addition to the in-person festivals. They are a very convenient way for people to experience the products without leaving the comfort of their home. And I think there are certain people who just don't want to drink and drive or they don't want to be bothered with going down to a hotel ballroom for an evening, who find that home thing very appealing."
Are there any changes you've particularly enjoyed?
"In 2020, one of the things that happened was that all of our business to business travel budgets went to zero. We stopped traveling for business, meeting our distributors every few months and flying out to see them and stuff. And a lot of those meetings were conducted through Zoom. And I'm thinking: do I really need to travel five hours to California to have a two-hour meeting with my distributor and then fly back home the next day? Or is that a thing that could now be done over a teleconference? So I think I'm going to be applying more scrutiny to my travel budgets going forward."
---
Header Image: Owners, Scott and Becky Harris, Photo credit: DJ Glisson II, Firefly Imageworks.