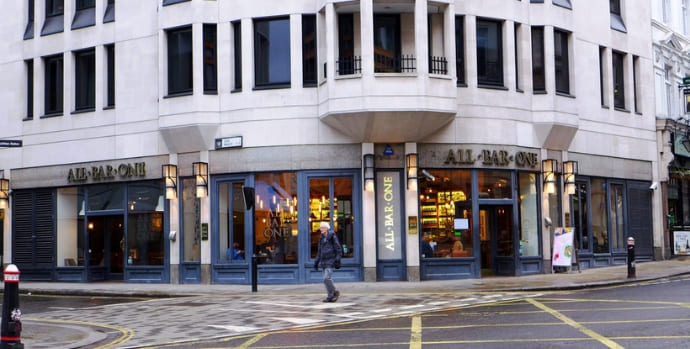 09/12/2020 Looking to expand your bar from one location to multiple locations? Here are the tips.
It's a common dream of many first-time bar owners – to expand from one location in a city to multiple different neighbourhoods, or even to multiple different cities and regions. The good news is that there are several tried-and-true approaches to make possible just such an expansion strategy, all of which can help you to realize your long-time dream.
---
---
Based on lessons and insights from bartenders around the nation, here's a closer look at how to scale up a bar program to multiple locations.
Decide what you are going to keep – and what you are going to tweak
The reason why many bar programs can scale to multiple locations is that the owners have been able to define a unique concept, and then put a novel twist or riff on it at a new location. The idea, of course, is to replicate the same feel and look of the original location but to add enough local details to make it work for the new location.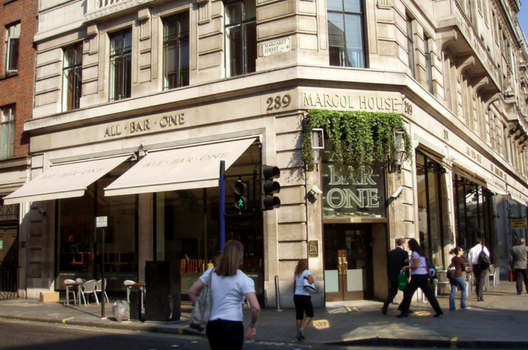 For example, let's say that you operate a bar in Midtown Manhattan, and are now looking to open up a similar type of bar downtown in the financial district. While you can keep much of the décor and design elements the same, you may want to update them for your core clientele – the traders, bankers and Wall Street workers who are stopping by for drinks after work. And those changes and tweaks extend to your bar program as well – what types of drinks are these workers ordering, and how can you serve their needs? While tourists in Midtown Manhattan might opt for certain brands, the well-heeled investment bankers downtown are probably going to prefer the top-shelf alcohol brands.
Remember, you need to play to your audience and let them know that you understand them. Thus, scaling up a bar program to multiple locations is about more than just copying the same food, drink and décor of your original location and expecting it to work in a new location. Think about the local community or neighbourhood, the type of people who are likely to visit, and whether there are any underserved demographic groups in your new location who need to be recognized. Here's where many bar owners go off track – they assume that just because something worked in one location, it will work just the same in another location.
Make sure the lines of communication are open
From a practical, day-to-day perspective, you need to make sure that there are direct lines of communication between the various bar locations. In other words, each bar location cannot be a standalone entity, operating on its own. Often, insights and tips from one location can be easily applied to the new location. And you will also be able to capture certain economies of scale by spreading out your costs over multiple locations as well.
For example, one communication tool that can help to unite and tie together different bar programs is the Slack group messaging tool. With Slack, you can set up different channels for each location, and also have one central channel where all employees can share tips, insights and best practices. This can be particularly useful in terms of staying ahead of new and emerging trends. Let's say that the bar manager at one location notices that patrons are inquiring about a local craft beer not currently on your beer list. That might give you the heads up to add this beer to your bar program.
And, best of all, direct lines of communication can help to reduce the burden of meetings. If your employees are constantly meeting, they won't be on the floor working. If you can limit meetings to just those matters requiring immediate attention, you can go a long way with your bar program.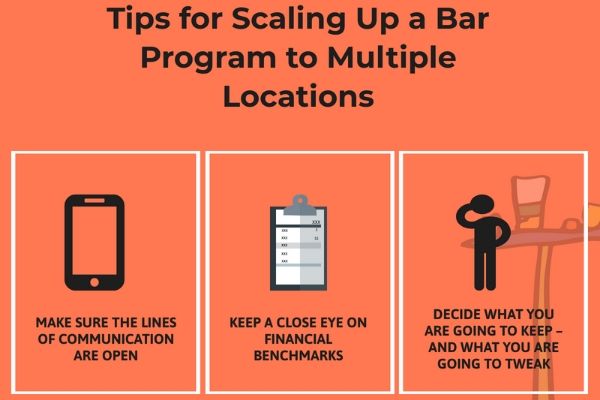 Keep a close eye on financial benchmarks
Being aware of "the numbers" becomes especially important as you scale up in size. Just think of the inventory and recordkeeping that's required when you are tracking multiple locations. You won't be offering exactly the same bar menu at each location, and so you will need to be able to account for all the differences very efficiently.
At the end of the day, you need to know how and why you are making money. Are you making your money from sales of certain wines? Which bar promotions were most successful over the past month? What is the average size of a tab on a nightly basis? Tracking metrics like these can make you a lot smarter about how and why you are making money. You might find that bar patrons are not drinking nearly as much of a certain spirit as you expected, or that certain "slow nights" of the week are actually unusually active.
One great way to go deeper on your numbers is by leaning on your distributors. These distributors, by their very nature, have a much broader view of the market than you do. They work with bars in multiple neighbourhoods, cities or regions. And they know what's moving – and what's not. Best of all, distributors are often able to provide a breakdown of performance by neighbourhood. Extremely granular detail will make it possible to see how performance differs, even across a relatively small area. Sometimes those differences are almost imperceptible – such as a preference for bourbon over Scotch whisky at some locations, and sometimes they are profound – such as when by-the-glass wines sell out at a regular basis in one location, but not at another.
Always keep pricing in mind, in order to determine just how competitive you are. Of course, you need to be charging enough for your drinks to hit your margin estimates, but you also need to know when you are significantly above or below the market when it comes to pricing. This discrepancy should act as a signal to you – it might mean that you are paying too much to your suppliers, or that you are spending more than your rivals when it comes to overhead and salaries.
Get out and hit the streets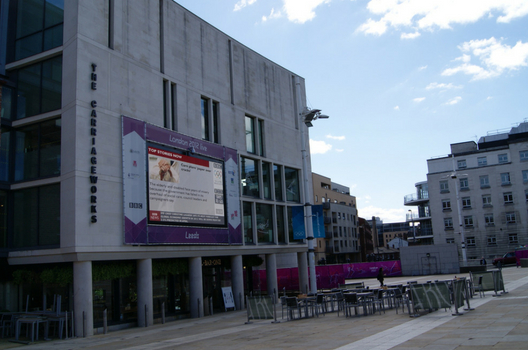 There's nothing that beats actually getting out and seeing what's happening at each of your locations. Often, a little research and investigation will give you clues about what is driving your numbers. You might notice, for example, that the design and layout of a certain location are having a real impact on foot traffic. In Manhattan, for example, there is bound to be a slowdown in foot traffic if there is scaffolding over the streets, and construction is going on for a new high-rise building next door.
Plus, getting out and about will let you learn about the local culture and help you understand the neighbourhood. Maybe you will find out about local products or vendors, or about some of the local people in your neighbourhood. Some bars, for example, proudly display artwork from local artists, or highlight locally sourced ingredients appearing on the drinks menu.
The further apart your bar locations are, the more important it is to develop a local industry network and get the word out about your bar. You will learn more about local distributors, find out about the tastes and preferences of people in your neighbourhood, and develop a finer understanding of the very distinct "micro-cultures" that exist. Just taking a one-mile trip across a city, for example, can lead you to a very different part of the city.
Don't underestimate the impact of training
Finally, different training techniques can be used as part of scaling up a bar program to multiple locations. Most obviously, you can use in-person teaching, training or apprenticeship to make sure that employees in different locations are all using the same methods and approaches. Next, you can also explore different online training resources, such as brief instructional videos or brief videos about the history and culture of your business, so that you ensure that everyone is on the same page.
Training can be particularly helpful in isolating weak spots or in finding areas where you can really gain a competitive edge on your rivals. For example, if you operate a wine bar, you might develop an expertise around a certain wine region, and your service staff can become experts about a certain type of wine and grape.
The best part about training online videos is that they scale. In short, the same video that you create can be watched by 10, 100 or even 1,000 employees. Thus, as the size of your bar program grows, you won't be rushing to create even more training materials. That will free you up to consider broader strategic questions for your bar program
Putting it all together
There's a lot to consider when it comes to your bar program. Often, the choice of which spirits to keep in inventory, or which wines to serve by the bottle and which by the glass are just the part of a broader strategy of expansion. You will also need to keep in mind factors that influence your décor, menu, staffing and training. When both tactics and strategy work together, that's when you will be well on the way to scaling your bar program.
About the Bartender Spirits Awards
The Bartender Spirits Awards will take place in San Francisco on May 19, 2020. This event will become one of the most unique spirits competition within the United States judged entirely by top bartenders within the industry. The aim of the competition is to provide independent and honest reviews for brands targeting the U.S. bar trade. The judging panel consists of some of the most renowned names in the U.S. bar industry, all of them with extensive expertise within the on-premise industry. Using the tagline "Judged By Bartenders, Bar Managers and Off-Premise Managers For The On-Premise Industry," the Bartender Spirits Awards will recognize, encourage, promote and celebrate excellence in the U.S. drinks industry.
---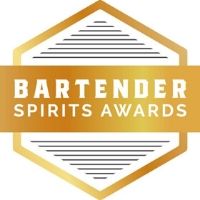 Bartender Spirits Awards gathers the top on-premise buyers, bar managers, and bartenders who have a direct influence on the US on-premise market.
Grow Your On-Premise Brand Presence In The US Market by put your spirits in front of them and get rated by Mixability, Balance & Versatility, Price, Packaging, and Taste, Mouthfeel, & Finish.
Deadline For Submission Is Approaching Fast
Leading spirits brands from around the world now have an opportunity to grow their business and gain the attention of top on-premise buyers, Bar managers, bartenders, and influencers within the U.S. on-premise industry. Time to submit your spirits in the 2021 Bartender Spirits Awards.