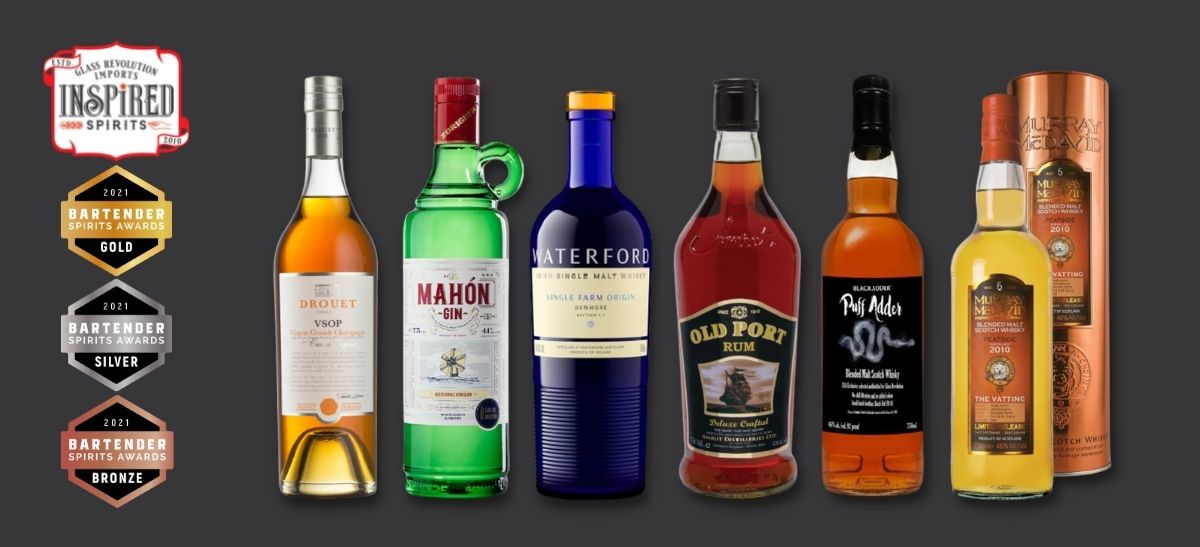 30/07/2021 Glass Revolution Imports won 10 medals at the recently held International Bartender Spirits Awards 2021.
They won 1 double gold medal, 3 gold medals, 5 silver medals, and 1 Bronze medal at the competition.
Their Drouet Vsop Grande Champagne Cognac won a double gold medal with 97 points coming in second in the overall rankings.
List of Award-winning spirits by Glass Revolution Imports at Bartender Spirits Awards 2021:-
Drouet Vsop Grand Champagne Cognac: Double Gold Medal - 97 points
Mahon Gin: Gold Medal - 95 points
Murray Mcdavid Peatside Blended Malt: Gold Medal - 93 points
Amrut Old Port Rum: Gold Medal - 92 points
Amrut Fusion Single Malt Whisky: Silver medal - 88 points
Waterford Dunmore Single Farm Origin Irish Single Malt Whisky: Silver medal - 88 points
La Madre Rose Vermouth: Silver medal - 87 points
Amrut Classic Single Malt Whisky: Silver medal - 86 points
Amrut Two Indies Rum: Silver medal - 81 points
Blackadder Puff Adder: Bronze medal - 77 points
Drouet Vsop Grand Champagne Cognac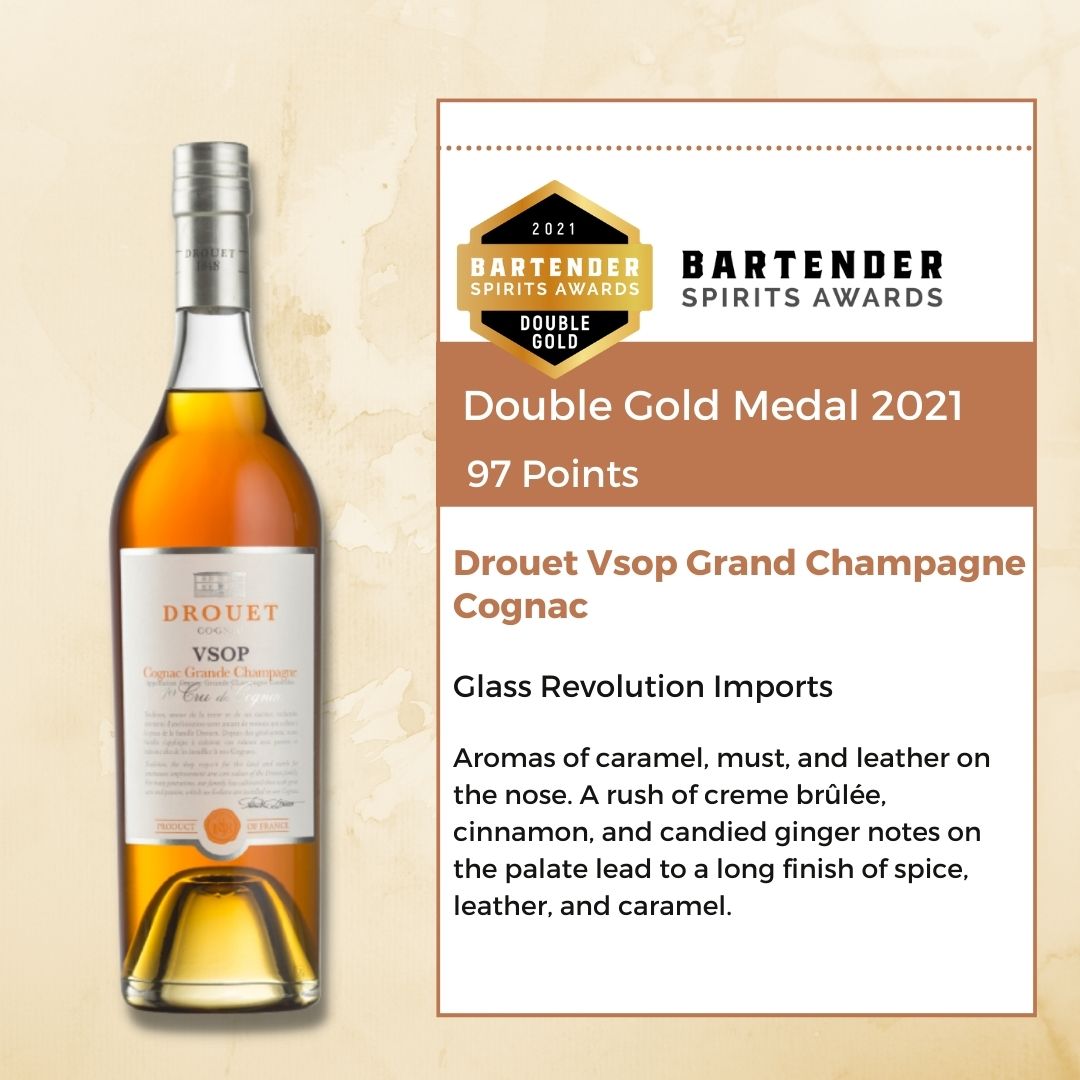 Download shelf talker of Drouet Vsop Grand Champagne Cognac
Cognac Drouet et Fils' estate covers 74 acres of Grande and Petite Champagne nestled near the town of Cognac. It is important to note that all their cognacs only come from Grande Champagne. Cognac Drouet et Fils remain faithful to the traditional production methods of the old.
So faithful in fact, that you can almost taste the tradition in their cognacs ranging from their VSOP to XO to Paradis de Famille. Today, the 4th generation estate is still very much a family business and is run by Patrick Drouet, The Drouet family still carries out their cognac production in-house, sticking to over a century of skillful traditions.
Utilizing grapes grown on-site, Drouet is a true Single Estate Cognac producer. You can find their cognacs throughout the world and they are instantly recognizable due to distinguished packaging and unique bottle shapes.
Mahón Gin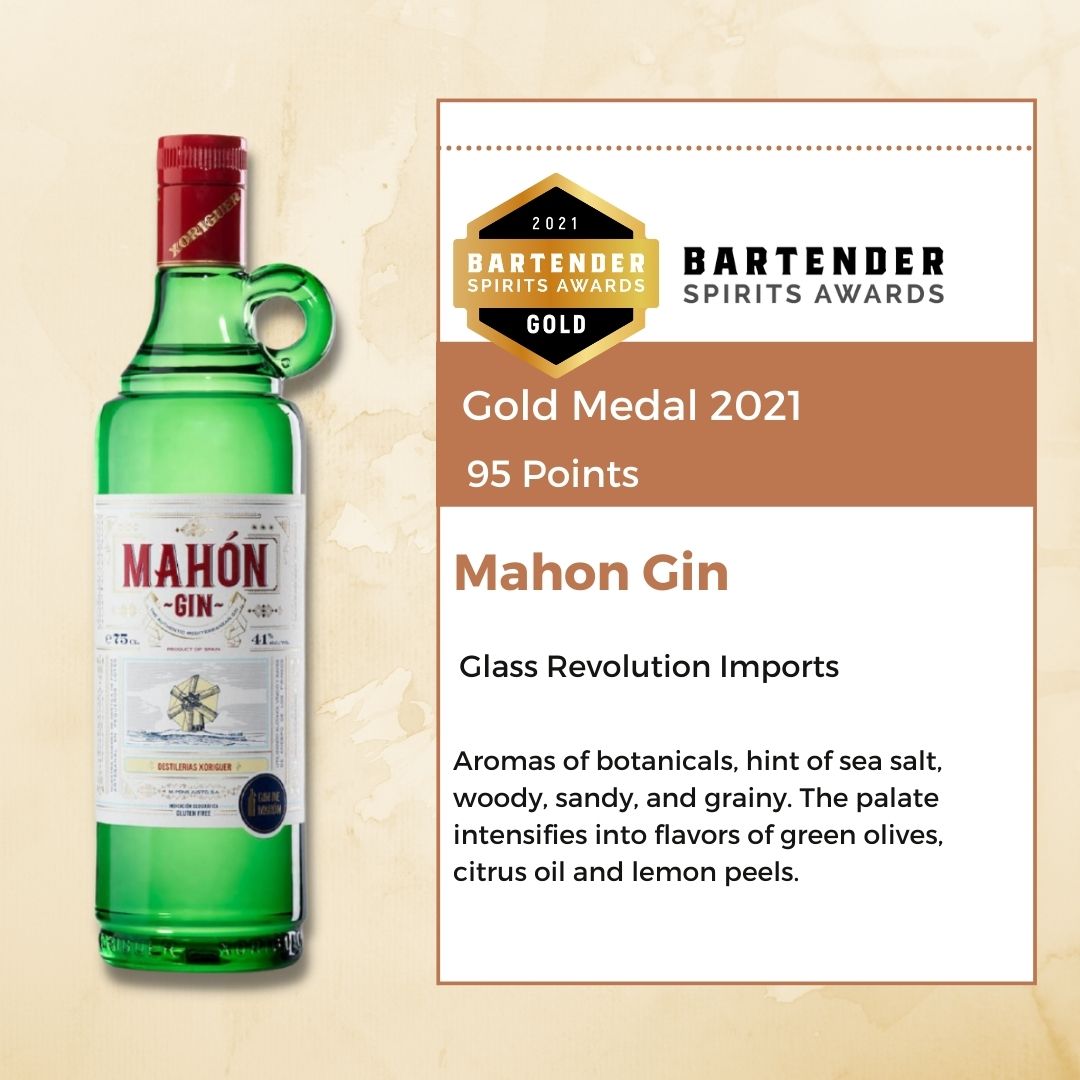 Download shelf talker of Mahón Gin
The history of Mahón Gin is inseparable from that of Mahón, an urban legend from the port city Mahón is named after the brother of Hannibal, the feared Carthaginian leader who was also a frequent visitor on the island.
In the early 1700s when Great Britain took over the city of Mahón for its deepwater port, Lord Nelson became a famed local resident. The gin is still made following the one-shot method with local firewood used as fuel.
Alcohol, Water, and Juniper berries with other ingredients are placed in a copper alembic and then heated. As the vapor turns into a spirit of about 50% ABV the essential oils and aromas are then extracted. ​
Distillation lasts for around 9 hours and then the spirit is finally diluted down and filtered for impurities. No additional flavors or essences are added to the spirit.
Murray Mcdavid Peatside Blended Malt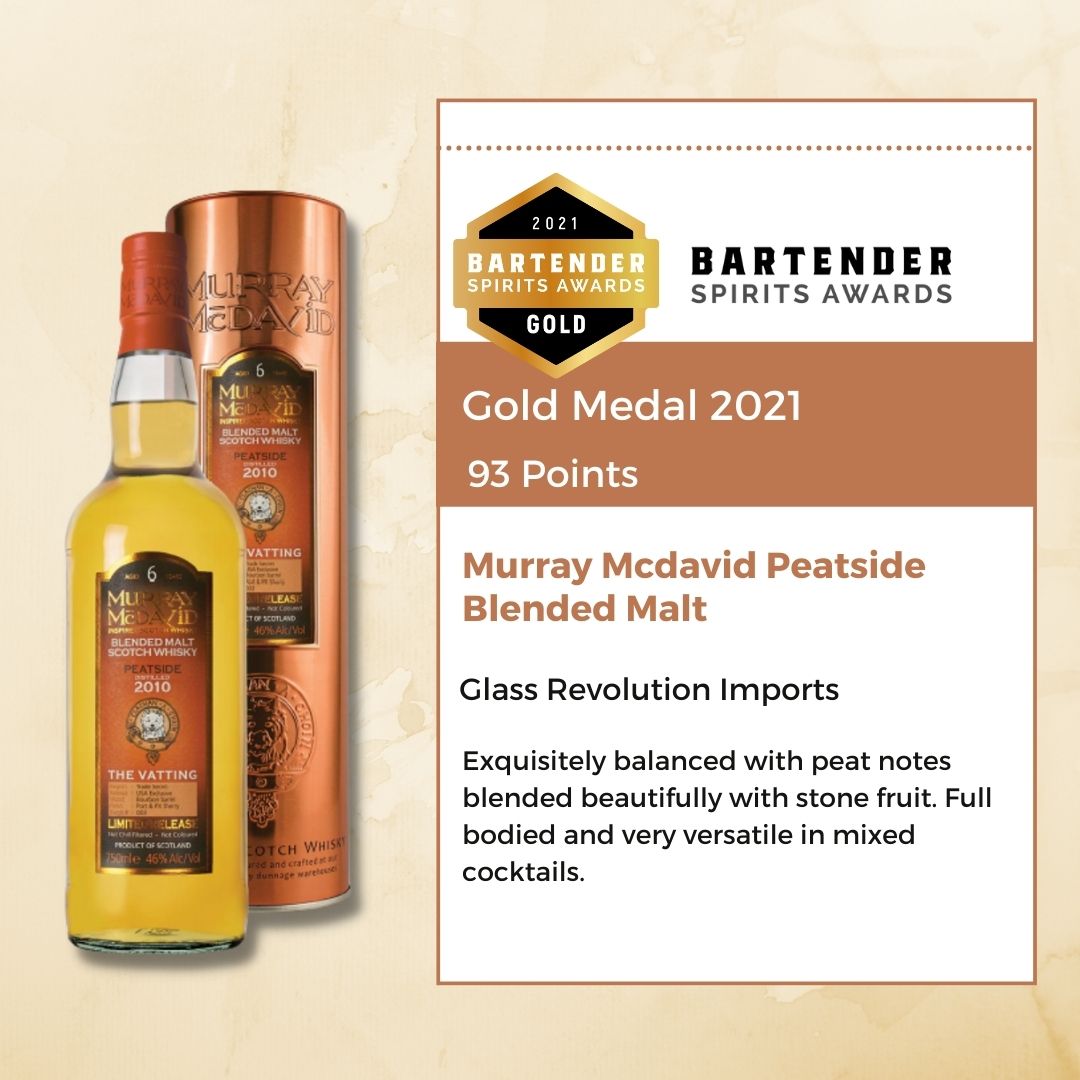 Download shelf talker of Murray Mcdavid Peatside Blended Malt
Established early in 1994, Murray McDavid has quickly become a leading Scotch whisky bottler. One of the first to start using a variety of interesting casks in the Art of Maturation to produce Inspired Scotch Whisky.
Murray McDavid was established by London wine merchants Mark Reynier, Simon Coughlin, and Springbank Distillery's Gordon Wright. They quickly gained a reputation for maturing whisky in interesting casks, especially in fine wine casks. In 2000, the Murray McDavid team set about reopening the closed Bruichladdich Distillery on Islay, engaging the services of Jim McEwan, Islay's most celebrated Master Distiller.
In 2012, spirits giant Remy Cointreau purchased Bruichladdich Distillery and Murray McDavid. Later, Murray McDavid was sold to its current owners, leading Scotch whisky broker, Aceo Ltd.
Amrut Distillery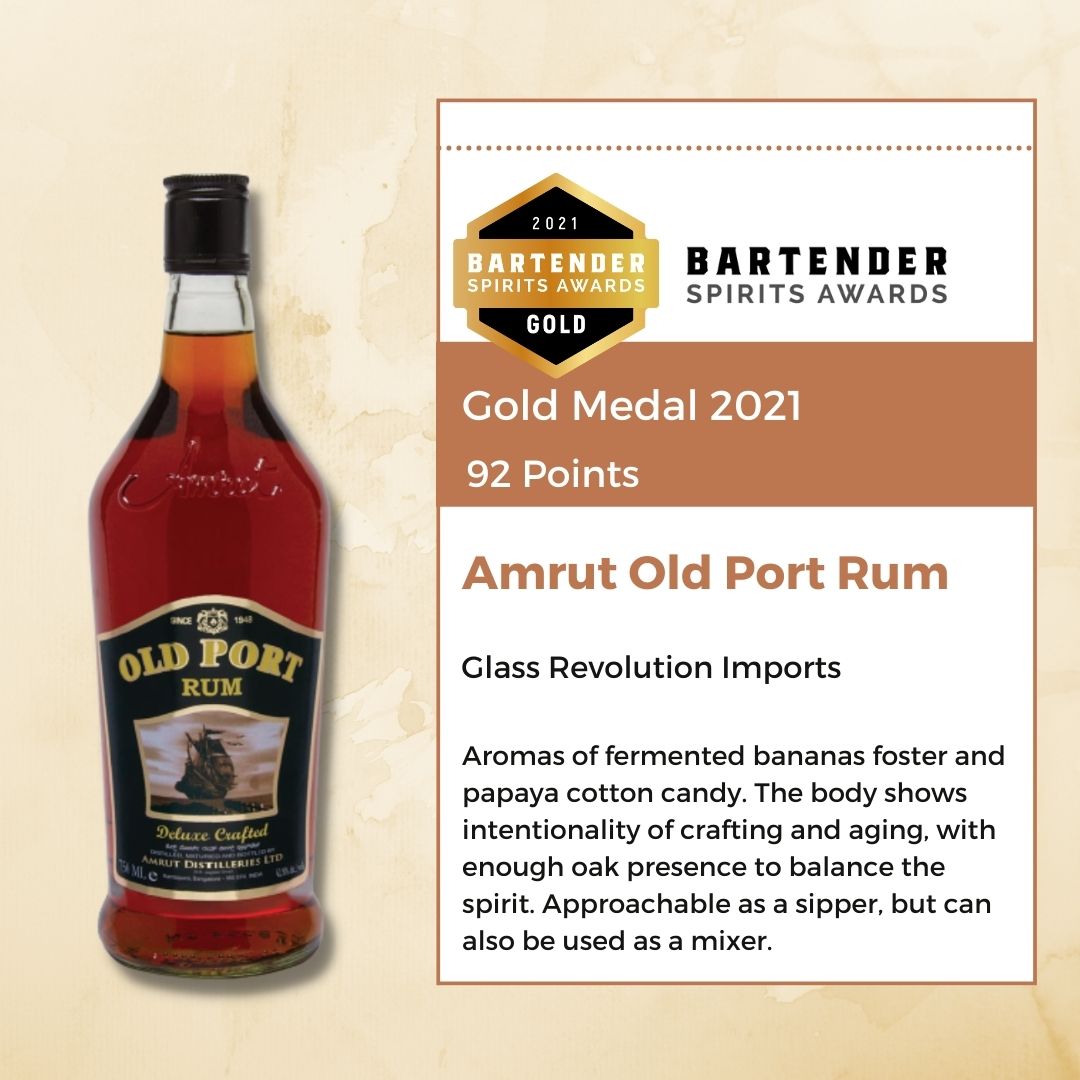 Download shelf talker of Amrut Old Port Rum
Amrut Distillery is a family-owned distillery located in Bangalore, India operating since 1948. Amrut buys bourbon barrels from Heaven Hill, Buffalo Trace and Jack Daniels. The distillery won 1 gold and 3 silver medals at the competition.
Old Port Rum was the first product produced by Amrut Distilleries. Amrut is popular for producing legendary single malt whiskies and also produces impressive rums. Old Port Rum is produced from 100% molasses sourced from native Indian sugar cane. It ages in a combination of ex whisky barrels and new oak which both add to the smooth rich taste.
Waterford Dunmore Single Farm Origin Irish Single Malt Whisky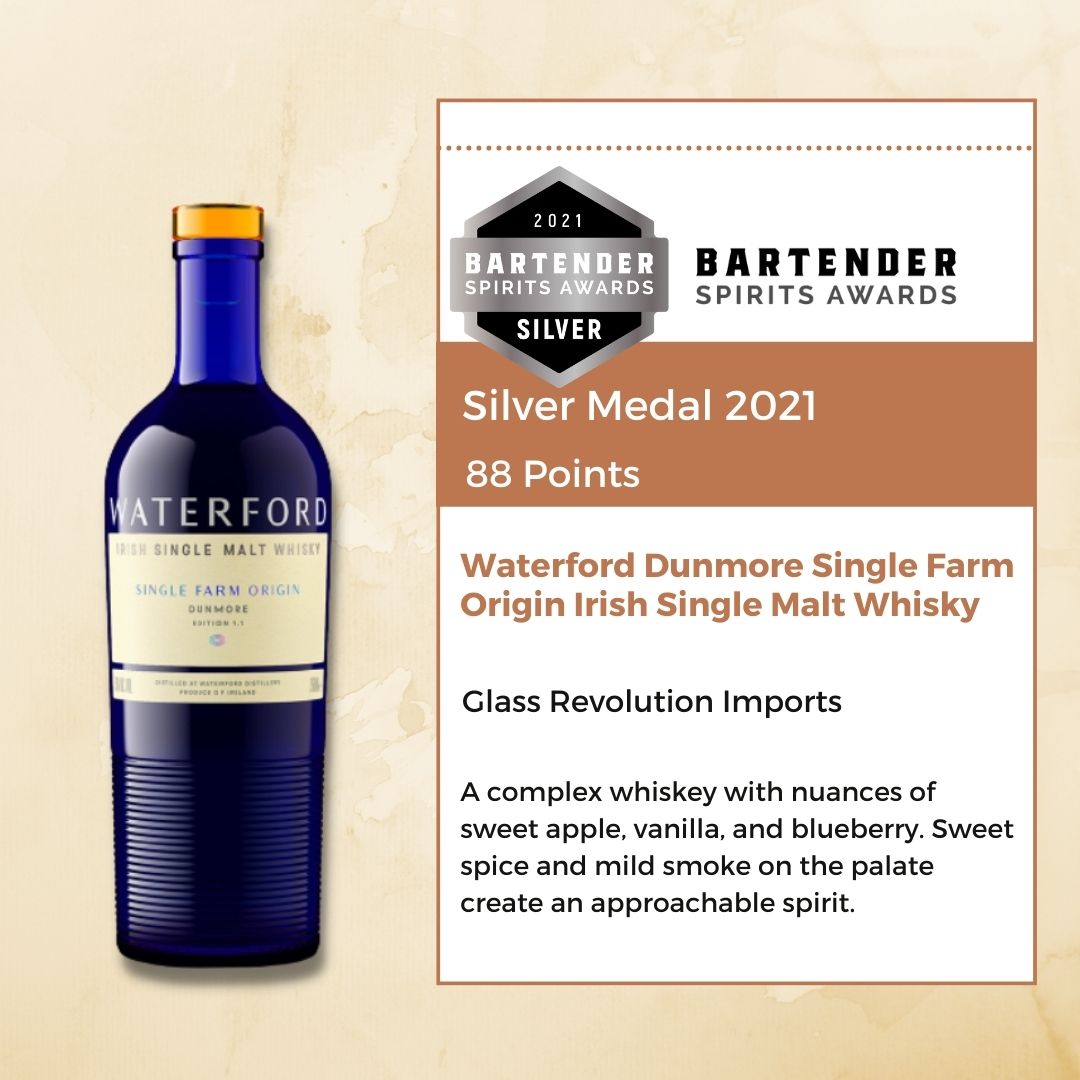 Download shelf talker of Waterford Dunmore Single Farm Origin Irish Single Malt Whisky
Waterford Distillery is located on the banks of the River Suir, in Waterford, Ireland. Originally a high-tech Guinness brewery, the site was purchased by a private team and converted to distillation in 2015. Waterford uses only 100% Irish malted barley from 86 Farms - including Organic (Ireland's first), Biodynamic and Heritage grains, grown on 19 terroirs across the South East of Ireland.
The distillery uses a spectrum of super-premium oak: 50% US First fill, 20% Virgin US, 15% Premium French. 15% Vin Doux Naturel (sweet fortified wines). Waterford Irish Single Malt Whisky is double distilled, first in a 17,000 litre Wash Still, then an 11,000 liter Spirit Still.
This distillery produces approximately 1,000,000 liters of spirit a year. The production uses a mash filter as opposed to a traditional mash tun, extended fermentation times to over 120 hours - almost twice the industry standard - to allow for a secondary, malolactic fermentation, rare for the industry.
This ensures every last bit of flavor is extracted from each terroir, each farm. Waterford founder Mark Reynier is an industry iconoclast for taking on both the corporate Irish and Scotch whisky world with his totally unique concept of terroir in whisky.
Blackadder Puff Adder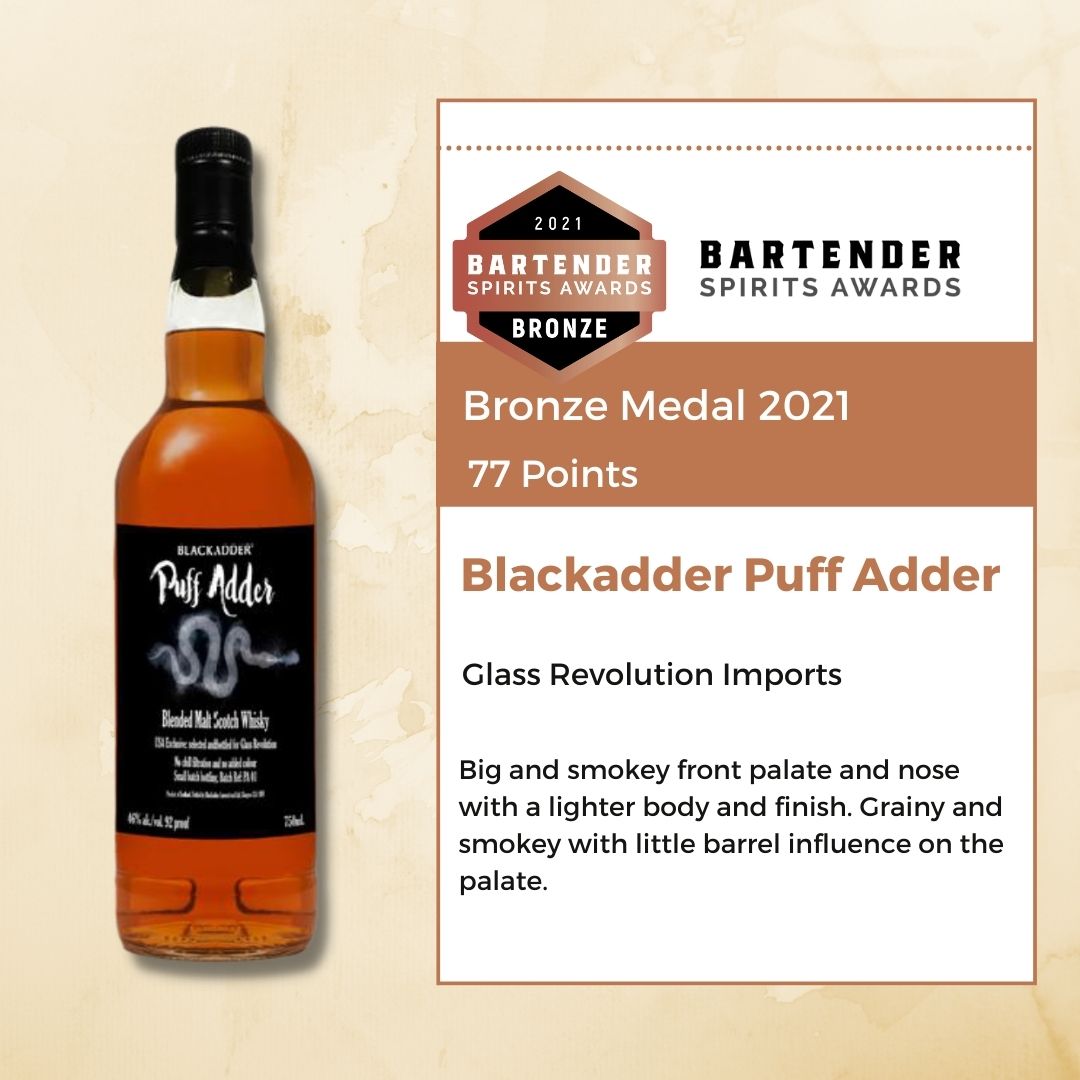 Download shelf talker of Blackadder Puff Adder
Blackadder International was established 1995 by Robin Tucek who, together with daughter Hannah and son Michael run the family business
Robin Tucek is also co-author with John Lamond of The Malt Whisky File – one of the most respected books about malt whisky
The Blackadder Raw Cask whiskies are complete cask whiskies bottled containing cask sediment.
Blackadder's philosophy is very simple – they believe that the Cask is King. Sixty to seventy percent of the flavors in a whisky are taken up slowly from the cask as the spirit lies maturing in the warehouse. The action of changing temperature draws the spirit in and out of the cask. Every cask is unique, with its own fingerprint.
This is why they bottle most of their whiskies from single casks. They don't believe in chilling or otherwise heavily filtering their whiskies, and they never, repeat never, add caramel coloring and flavoring to their spirits. They have always believed the personalities of their whiskies are colorful enough. Puff Adder is a tantalizing vat of Single Malt Whiskies, carefully selected and blended in Scotland for Blackadder.