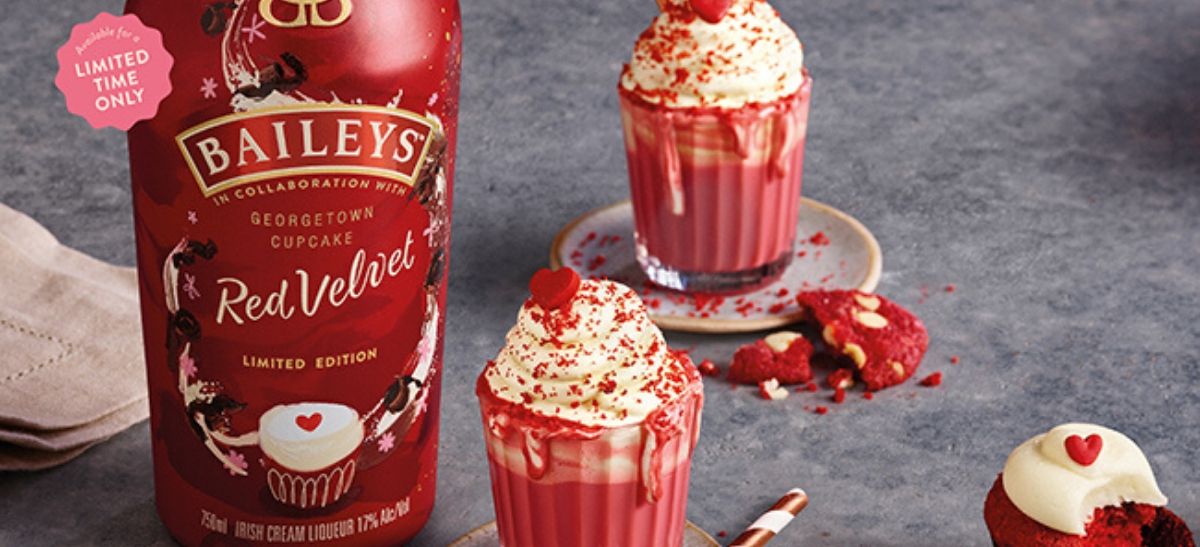 31/10/2019 Diageo has launched a limited edition Baileys Irish cream liqueur infused with the flavor of red velvet cake in the US.
(News & Image Credit: The Spirits Business)
On the occasion of National Liqueur Day on 16th October, Baileys launched their Red Velvet Liqueur in the USA. Baileys partnered with sisters Katherine Berman and Sophie LaMontagne, the founders of Georgetown Cupcake, a national bakery.
---
---
It's recommended best served over ice. This new liqueur, with a 17% ABV expression is based off of the signature flavour of the bakery's prominent cupcake, red velvet.
Described as having aromas of "freshly baked red velvet cupcakes, sweet cream, and buttery icing", Baileys Red Velvet is said to taste like "fresh chocolate cake, topped with a dollop of cream cheese frosting and just a hint of cocoa powder". The finish has "chocolate and creamy icing flavours".
"As icons of the modern dessert world, Katherine and Sophie are the masters of what it means to 'treat yourself,'" said Dorothy DeVenecia, brand director of Baileys and liqueurs, Diageo North America.
"Born in Ireland in 1974, Baileys was the first spirit to combine cream with Irish whiskey and other fine spirits, so we're a brand that appreciates and emphasises innovation.
"We can't wait for people to enjoy Georgetown Cupcake's number one selling flavour and combined with our delicious liqueur in one delicious treat."
To celebrate its release, Georgetown Cupcake will be selling non-alcoholic red velvet cupcakes infused with Baileys at their six stores across the US as well as online throughout November and December.
Baileys Red Velvet is available to buy in the US for US$23.99 per 750ml bottle while supplies last.