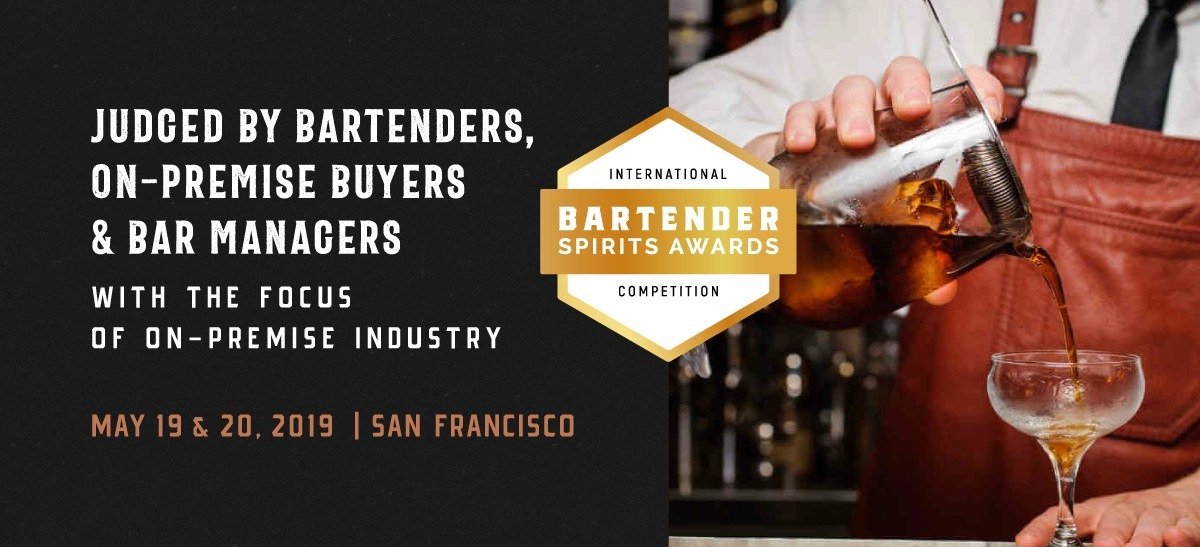 Leading international spirits competition for the on-premise industry will take place in San Francisco in May 2019
San Francisco, California. January 27, 2019 -
Leading spirits brands from around the world have a new opportunity to gain the attention of tastemakers and influencers within the U.S. on-premise industry. Entries are now open for the upcoming 2019 Bartender Spirits Awards, which will take place in San Francisco on May 19-20, 2019. This competition will focus exclusively on the needs on the U.S. on-premise industry and is the only competition of its kind that is judged solely by bartenders, bar managers, bar owners and other professionals within the industry.
The goal of the annual Bartender Spirits Awards is to recognize and celebrate spirit brands that would make a valuable addition to bars, restaurants, clubs and other-premise establishments within the United States. The competition provides independent and honest reviews of all spirits entered into competition, based on several key criteria, including mixability; balance and versatility; taste, mouthfeel and finish; package; and price. All spirits are scored on a 100-point scale, and the highest-scoring spirits receive Double Gold (96+ points), Gold (90-95 points), Silver (80-89 points) and Bronze (70-79 points) medals. In addition, the top spirit in each major category receives an award.
Medals and awards earned in competition at the Bartender Spirits Awards provide a valuable benchmark for the industry, and are very influential in helping to determine which spirits appear on the back bar of on-premise establishments around the nation. As a result, the Bartender Spirits Awards represent a unique opportunity to get in front of a hard-to-reach audience, to raise the profile of both domestic and international spirit brands, to promote award-winning spirits, and to position brands for the U.S. on-premise channel.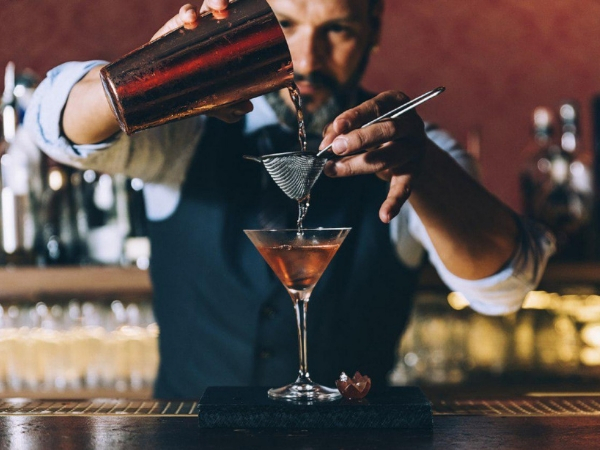 What makes the Bartender Spirits Awards particularly distinctive is the all-star judging panel, which consists entirely of top professionals within the industry, all of them with extensive experience working directly for bars, restaurants and clubs. These bartenders are important influencers for the industry as a whole, giving their scores and evaluations particular value with peers and on-premise buyers. The list of judges for the upcoming 2019 Bartender Spirits Awards includes the following:
Aphiradi Lee, Food and Beverage Manager, W Hotels (San Francisco)
Chris Mendenhall, Lead Bartender, Ritz-Carlton Hotel (Washington, DC)
Natasha Mesa, Head Bartendress, Deadshot PDX (Oregon)
Daniel Parks, Beverage Director, Future Bars Inc. (San Francisco)
Aaron Plein, Bartender, PABU (San Francisco)
Brian Richards, Director of Food and Beverage, Virgin Hotels (San Francisco)
Maritza Rocha-Alvarez, Lead Bartender, Whitechapel (California)
Jacopo Rosito, Bar Manager, Four Seasons Hotel (Florida)
"We are very excited about this high-quality judging panel that we have assembled for the 2019 Bartender Spirits Awards in San Francisco. These top professionals are uniquely able to provide valuable recommendations on which spirits have the best opportunity to succeed in the U.S. on-premise industry," said Sid Patel, CEO and Founder of Beverage Trade Network, the organizers of the event. "We are really looking forward to see which new spirits they select as representing the very best within the spirits industry."
If you are looking to sell more spirits within the U.S. on-premise channel and gain valuable recognition for your spirits brand, there is no better place to be in 2019 than the upcoming Bartender Spirits Awards in San Francisco. Winners will receive a number of important benefits, including prominent listing on the Bartender Spirits Awards website; listing in the "Top 100 Spirits Guide" to be distributed after the event; social media marketing support; high-quality medal stickers for spirits bottles; and special in-depth features for all Gold and Double Gold winners.
For more information on how to enter the 2019 Bartender Spirits Awards, please visit: www.BartenderSpiritsAwards.com
List of Bartender Spirits Awards
Double Gold
Gold
Silver
Bronze
Spirit of the Year
Distillery of the Year
Best Value of the Year
Best Package of the Year
Liqueur of the Year
Bitter of the Year
Gin of the Year
Vodka of the Year
Tequila of the Year
Scotch Whisky of the Year
World Whisky of the Year
Brandy/Cognac of the Year
Rum of the Year
Key Dates
Domestic Registration Ends: April 10, 2019
International Registration: Closed
Warehouse Closes: May 05, 2019
Judging dates: May 19-20, 2019
Winners announced: June 10, 2019
About Beverage Trade Network
Beverage Trade Network (BTN) hosts and organizes competitions, events, trade shows, expos and tastings for the alcohol beverage trade around the world. Popular competitions include the London Wine Competition, the USA Trade Tasting in New York City, and the International Bulk Wine & Spirits Show in San Francisco. For more information on Beverage Trade Network: