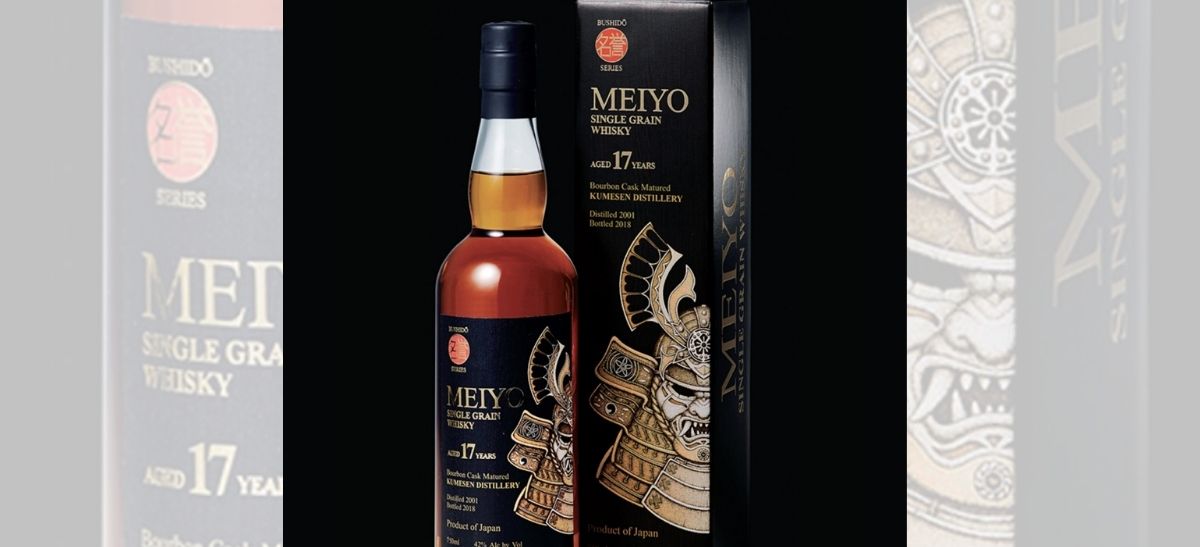 08/09/2020 With a smashing score, Kumesen Distillery bags Whisky Producer of the Year and Whisky Of The Year for Meiyo 17 Japanese Whisky.
From Japan's Kumesen Distillery in Okinawa, this Double Gold winning whisky is aged for 17 years in ex-bourbon barrels has won Whisky Of The Year, Whisky Producer Of The Year award by bartenders and mixologists of the USA.
A single grain Japanese whisky, aged for 17 years in ex-bourbon casks. Distilled, aged, and bottled at the Kumesen distillery in Okinawa, Japan. In Bushido, the unwritten Samurai code of conduct, Meiyo is the principle that represents Honor. Meiyo brings discipline and stability to a higher level. This whisky was meticulously crafted with the virtue of Meiyo as a guide. 42% alcohol.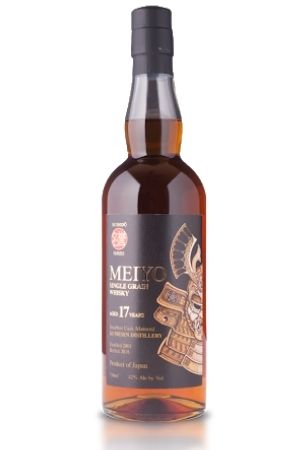 The brand is imported by Aiko Importers Inc. in the USA. Aiko, written with Japanese kanji character for "love" and "child", refers to "a person who loves others". That fact was not a reason why this name was given to the newborn company. But we were pleased to find out that because our name reflects our attitude. Aiko Importers, Inc. is a nationally recognized importer of alcoholic beverages to the US market. Our portfolio represents the broad variety of products that can satisfy the most exquisite taste...
The Bartender Spirits Awards judge spirits across the parameters of Mixability, Balance and Versatility, Taste, Mouthfeel and Finish, Package and Price.

This competition recognizes that bartenders are the true influencers – their passions and tastes provide direction for the consumer, especially via their guidance with wine, beer or spirit recommendations. "We really wanted a way to recognize those spirits that would be a great addition to any bar and that are completely on-trend in terms of packaging and price," said Sid Patel, Founder and CEO of Beverage Trade Network. "Whether bartenders are looking to plug a very specific gap in their existing spirits inventory, or construct an entirely new cocktail menu from scratch, what better advice could they get than from fellow bartenders?"
Medals were awarded to those spirits that meet very specific judging criteria, with a goal of identifying spirits that should become additions to bar inventories. Each spirits brand was evaluated on Mixability, Balance and Versatility, Taste, Mouthfeel and Finish, Package and Price.

Here are the top winners of the 2020 Bartenders Spirits Awards
DROUET VSOP COGNAC Wins The Best Spirits Award at 2020 Bartender Spirits Awards which is made by Drouet.
Spirit of the Year - DROUET VSOP COGNAC
Distillery of the Year - Drouet
Best Value of the Year - DROUET VSOP COGNAC
Best Package of the Year - V-Sinne Gin Schwarzwald Dry Gin
Liqueur of the Year - Ginja9
Gin of the Year - Kinsale Gin
Vodka of the Year - South Fork Vodka
Tequila of the Year - Maestro Dobel Anejo
Whisky of the Year - Meiyo 17 Japanese Whisky
Brandy/ Cognac of the Year - DROUET VSOP COGNAC
Rum of the Year - Saltwater Woody REAL GRAPEFRUIT
View 2020 All Bartenders Spirits Awards Winners

There were 7 double gold winners which scored 96 and more points, 127 gold medals in the 2020 Bartender Spirits Awards. The 2020 competition saw submissions from 34 countries including some new additions like Lebanon, Kazakhstan, Switzerland. The United States had the top submissions where 251 brands were entered followed by Mexico and Australia demonstrating the growth in Tequila and Australian craft spirits culture. Japan was the top favorite when it came to overall quality by country with the highest average by country for gold medals.
'Covid-19 has had a huge impact on the industry,' explained Sid Patel, CEO of Beverage Trade Network, the Organizer company of BSA, 'and when we come out of this, we hope to see a strong rebound in the hospitality sector. The increased number of quantity in 2020 submissions truly demonstrated the faith our industry has in the long term outlook of our hospitality industry'.
Winners will also be promoted on BTN's new direct to consumer portals Los Angeles Drinks Guide, London Drinks Guide, and Get Drinks Delivered along with BTN's trade portal Bartenders Business and BevRoute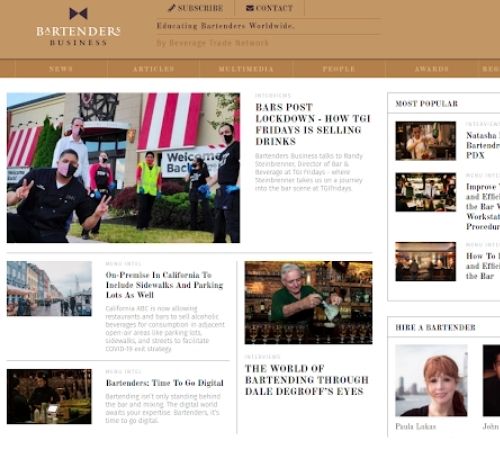 The top 100 spirits for bars will also be marketed to thousands of bartenders and mixologists via the Top 100 On-Premise Spirits website.
In light of the COVID-19 pandemic, the Bartender Spirits Awards along with Bartenders Business will be offering its support to the industry with Bartenders Looking For Jobs Help Page on BSA and on BB and Daily Updates On The Reopening Of On-Premise Industry.
ABOUT THE BARTENDER SPIRITS AWARDS
The aim of Bartender Spirits Awards is to provide independent and honest reviews for brands who are looking to enter the U.S. on-premise industry. The judging panel consists of some of the most renowned names in the U.S. bar industry, all of them with extensive expertise within the on-premise industry. The result will be a relevant and practical source of reference for bartenders, bar managers, bar owners, and other industry professionals when making purchasing decisions for their establishments.
2023 Submissions are closed. The Deadline for receiving samples in the warehouse is April 30, 2023.