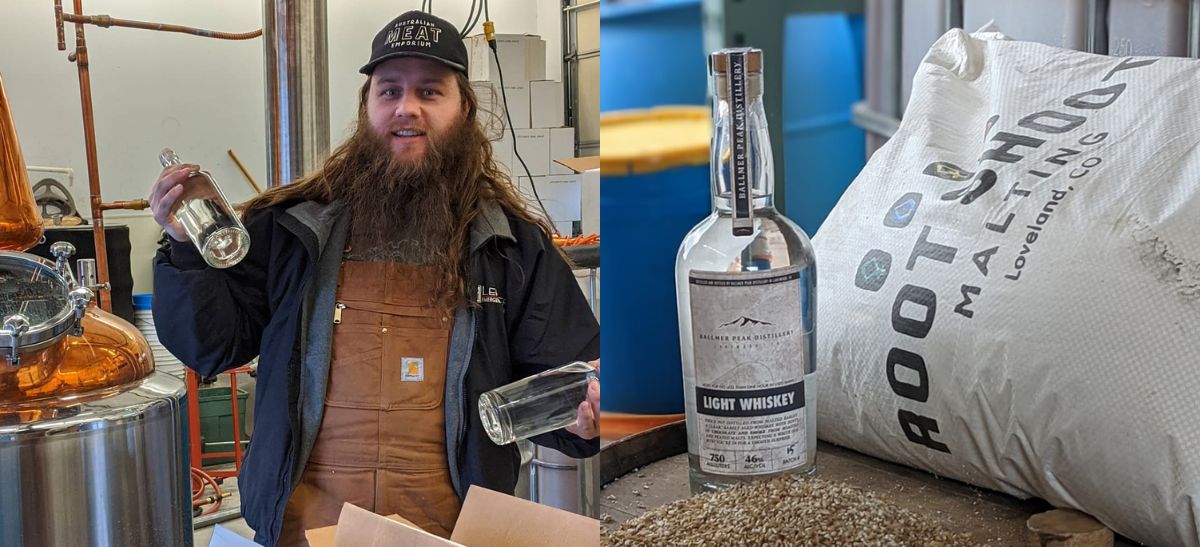 17/09/2022 "Meet The All-Rounder Austin Adamson, Head Distiller & Co-Owner at Ballmer Peak Distillery" Know about his journey in the spirits industry in the interview below
What has your distilling career been like? Tell us a little about your background.
I still feel pretty a bit fresh in the distilling scene. I had done some backyard, apartment distilling, and fermenting to wrap my head around some basic concepts and principles. My first real foray into distilling began at Denver Distillery. I moved to Denver to start the build-out of Ballmer Peak Distillery when we found the perfect building. I was lucky enough to see a job listing that was only up for an hour or so before Denver Distillery removed it and interviewed at their spot to become their assistant distiller. They had only been open for about 6 months at the time and were about the same scale we were hoping to build our distillery (150-gallon ferment and distill sizes). I explained that I was opening my own distillery and this would be a temporary learning space for me, and they still brought me on and paid me to make spirits. I am so grateful for their kindness and openness, and it really helped me learn and grow to become as prepared as I needed to be to start my own distillery with my lifelong friend Eric Strom.
My time at Denver Distillery started as an assistant, 6 months later, I was recruited to be on the first episode of Discovery Channel's "Moonshiners: Master Distiller" series, where I placed second in the competition. After 8 months as an assistant, the founding distiller left, and I was thrown into the deep end and became the head distiller. We quickly found a suitable new hire; I began training him and, after a few more months ended, handed him the title of the lead distiller and opened Ballmer Peak Distillery after a total of ~18 months of industry experience. I have been running the equipment over at Ballmer Peak Distillery for about three years, but three of the most dynamic and challenging years that most businesses can expect to see.
[[relatedPurchasesItems-31]]
How do you think the Spirits industry has evolved?
The spirits industry has evolved quite a bit over the past decade. I think a lot of that is thanks to the craft beer and homebrewing explosion we've been living in throughout the country since the late 90s. Because of this, people had their minds and pallets open up to a wider diversity of flavors and products. Across the US, we've seen the introduction and quick failure of canned cocktails and hard seltzers (think Zimas and Bacardi Breezers)
Tell us a little about your day-to-day role.
It seems like my role changes from week to week, but lately, it's been about training our first assistant distiller. I get in around 7 or 8 am and start the 500-liter pot still, get it warmed up and going while I then prepare for either new fermentation (molasses or grain-based) or prep the column still for a botanical distillation or a vodka run. Then it's all about going through the motions to ensure that the production is moving along until my assistant gets in around midday, where I start to focus on wholesale management, sending invoices, collecting payment, and prepping for deliveries. Throughout the day, sprinkling in general emailing and correspondence for upcoming events that we are either hosting or participating in and coordinating with Eric and the front-of-house tasting room crew. Some days I'll do some sales visits, bringing samples to taste bartenders across the city while out doing order deliveries. On other days I might be found working a tasting table at a liquor store or working our booth at an event or farmer's market.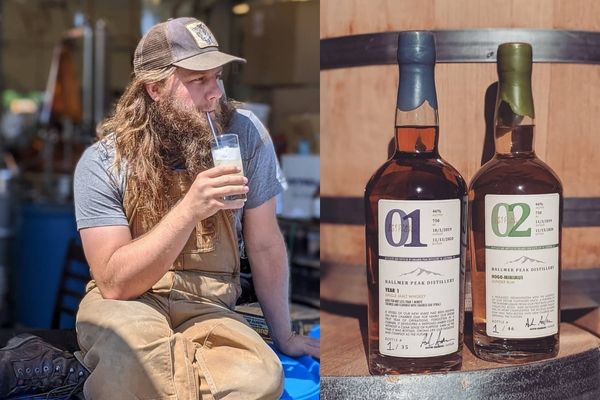 Image: Austin Adamson
Tell us about your spirits range and what makes them unique.
Our spirits are globally inspired by our local take on them. So we have three types of rum, all distilled from rum molasses (less filtered and more fermentable sugars). Silver is run through the pot still twice, retaining a ton of flavor. The golden rum rests with three types of toasted oak and a spiced rum that is distilled through a bunch of spices like Sichuan peppercorns, cardamom, ginger, and cinnamon, to name just a few. We also have two gins right now, both made from Australia-inspired botanicals. Our core gin leans into the flavors like eucalyptus, lemon myrtle, finger lime, and pepper berry, less juniper-forward, and more citrus mint.
The other Gin we call "Aspen Outback'' is the same base gin that's been rested for several weeks with rye-whiskey-soaked charred-aspen discs given to us by another distillery, Locke + Co. We make vodka from a molasses base, which you don't hear about too often, and it changes the mouthfeel into something silkier and more full-bodied than a classical vodka. Lastly in our core lineup is a peated, essentially unaged, single malt whiskey where we use pale, crystal, and Munich malts from colorado and just a tiny bit of peated malt from Scotland for a clear whiskey that is full of flavors: earthy, smoky and a bit of dark chocolate.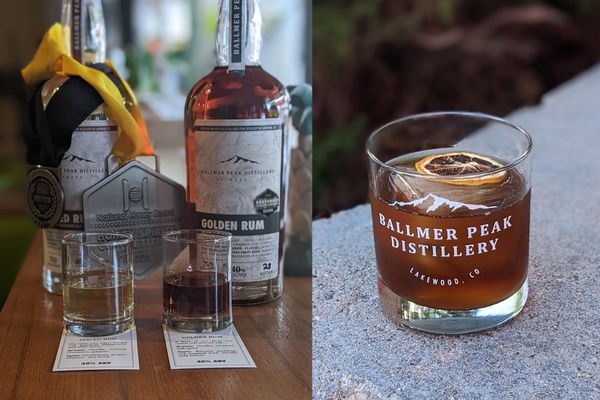 Image: Ballmer Peak Distillery
What's your elevator pitch to a bartender when pitching your brand?
We bring new ideas and flavors, with a deep offering of versatile and high-quality spirits at a very reasonable price. We take flavors and botanicals from across the world and use local ingredients (when possible) to develop unique and bold spirits where every part of the process takes place at our Denver area nano-distillery.
How do you help bartenders with depletions of your brand?
We work with bartenders to create fun and unique cocktail offerings. We jump at the opportunity to provide full staff tasting and education of our products, nerd-out about our processes and ingredients while also being able to answer questions, offer pairing or flavor suggestions and help bartenders understand every aspect of our spirits. We even invite bartenders to our production facility and attached tasting room to see how things are made and sample our spirits in the cocktails we feature. Also, it helps that we are self-distributed. So when a bartender runs out of a product, it's as easy as an email or text to me or one of our salespeople to get a restock.
What do you cover in your product training with bartenders?
We go over anything and everything a bartender could possibly want to know about our spirits. We have no guarded processes or secret recipes. We cover every step of the fermentation, the type of yeast and nutrients used, and the gram if people are curious enough. We make sure to cover the different botanicals we use in our gins and spiced rum and how we use a vapor extraction to achieve the crisp flavor extraction. We also talk about the fact that while we do have spirits aging traditionally in oak casks, we also incorporate changes in temperature, pressure, and light to extract flavors more rapidly for our 'unaged' products.
How do you think a distiller can help drive marketing and sales personally?
In many ways, the distiller can be a critical component to help drive marketing and sales. People love seeing the people who make the products they enjoy and learning or watching the processes involved. Being accessible to bartenders and spirits enthusiasts means they will be more likely to ask questions and get the answers they are looking for directly from the creator/producer of those spirits. I think it helps build a better spirit, which people are more comfortable supporting and enjoying when they are able to learn more about the distiller making them. As our lead distiller, I am constantly popping up in social posts, live streams, and various events. Popping out from production to chat with a table that just ordered drinks or even inviting curious folks back to see some of the processes. It is such a fun industry to be in, and a lot of that fun comes from being able to share my story, process, and knowledge with the people who enjoy the spirits I make.
Define a good distiller.
A good distiller is someone who can manage every aspect of the distillation process. That starts with recipe building and fermentation management. It continues through being able to utilize the right equipment for the desired spirit flavor profile, making intentional, clean cuts, and adapting those cuts again to best suit the spirit. Different cuts for a spirit that won't be aged versus a spirit that will be matured for some amount of time. Then knowing how to manipulate the flavors and base spirits, whether through the addition of spices and botanicals or selecting the right type of oak cask for long-term maturation. Then comes the blending and bottling, understanding the right method to proofing, and the right strength to bottle it for the target consumer. At the end of the day, a good distiller knows every part of the process and can create good spirits that people enjoy.
Which is your go-to drink, and what is the perfect setting you enjoy it in?
My go-to drink is probably gonna change depending on a lot of factors: weather, state of mind, day of the week, etc... Right now, it's been pretty hot out, and I've been enjoying a classic tropical cocktail, the Mai Tai, The perfect setting for that would be near a body of cool water to dip into and relax. Pretty soon, it's gonna be my old-fashioned season, whiskey bitters and sweetener combined with a beautiful mountain sunset.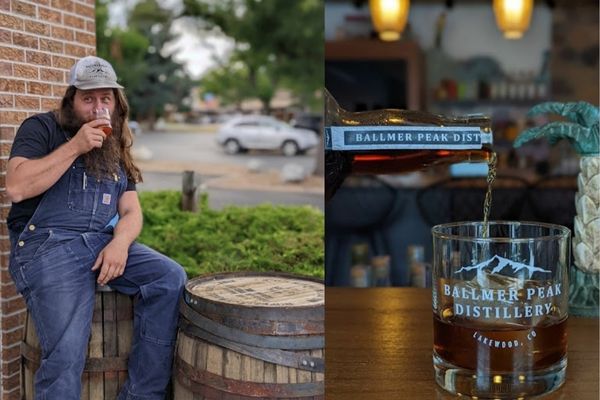 Image: Austin Adamson
What do you do when you are not distilling?
I like to keep busy, so I have far too many hobbies when I am not distilling. I run a non-profit, public ancillary fund (GenerOZity) based in Australia, where we raise money for cancer research. I manage a team of folks across the globe that covers video games (MonsterVine), where we post news, reviews, and previews of the electronic entertainment industry. I also edit and produce a dungeons and dragons podcast called "I Speak Giant." When I am not busy with my endless side projects, I am out trying new food and drinks with my partner Stacey or relaxing at home with our pups Hazel the foxhound and Petey the Weiner dog-terrier.
What is your idea of a good life?
My idea of a good life is simple, not having to struggle to make ends meet and getting to share the things you love with friends and family that make you happy. For me, that's getting to a place where I can work because I want to create spirits and products that inspire me while still being able to find new experiences and adventures with my family and friends. Challenging myself with new hobbies, traveling the world, discovering new food and drinks, and living a long and healthy life.
Interviewed By Aakriti Rawat, Beverage Trade Network
Bartender Spirits Awards medal will help you in raising your bar in the on-trade channels. View complete winning benefits here. The international submission deadline is March 24, 2023.