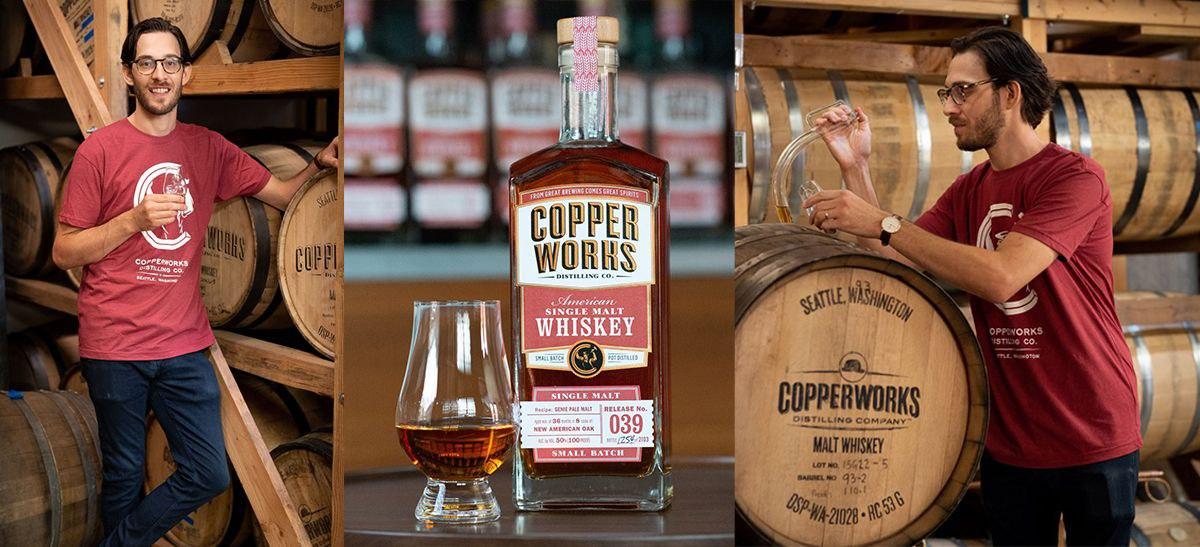 01/02/2022 Vice President and Co-Owner of Copperworks Distilling Co., Jeff Kanof shares the success stories of pioneering American Single Malt Whiskey and plans for increasing customer-facing footprints.
A law graduate , Jeff Kanof left his law firm job in New York City for the Northwest to focus on his passion for fine spirits. He cut his teeth in Seattle by helping to launch Letterpress Distilling. Always an avid beer fan, Jeff spent a month in Belgium seeking out some of the world's best beers. His interest in complex flavors and craftsmanship led him to explore American whiskey. Countless bottles later, he realized he had fallen in love with spirits and the art of mixing drinks. Jeff joined Copperworks in time to help bottle the first batch of spirits and now directs sales and a huge range of other functions at Copperworks. He serves as Secretary/Treasurer on the American Craft Spirits Association's Board of Directors.
Tell us about yourself. What's your story from a Law school to a distillery?
I chose law school because it felt like a respected and lucrative career choice. I was on a successful path working at a large law firm in NY, but I didn't love my job. I kept seeing examples in the media of people that pursued their dreams in their 50s and 60s, and I thought, why not try to get into something I love now instead of waiting until my career is almost over? That caused me to make the move out to Seattle in 2012 (somewhere that was much more affordable than New York at the time…not so much anymore) and start pursuing a career in food and drink. I've always been drawn to food and drink, in part because my family tries to travel quite a bit and I always found one of the most interesting parts of travel is exploring food and beverage culture in other states and countries. My dad was also interested in craft beer in its early days, which I found fun and intriguing. I remember many trips to esoteric beer stores with him as a kid, which caused me to seek out better beer than most of my friends when I was in my early twenties. When I arrived in Seattle, I quickly learned the craft distilling scene was booming in Washington state and was lucky enough to meet Skip Tognetti, the founder of Letterpress Distilling in Seattle. He was kind enough to allow me to help him launch his distillery and was instrumental to me getting my gig at Copperworks. When I started at Copperworks, the idea was to help Jason and Micah (Copperworks' Co-Founders) launch the tasting room and retail store. That quickly evolved into a much larger role, and I became a co-owner in the business.
What has your distilling career been like?
I was lucky to jump pretty quickly from a relatively small and specific role at Copperworks to a leader of our company in a relatively short timeframe. At the beginning of my career, I spent most of my time bottling spirits and serving customers. Nowadays, my job touches almost every aspect of the distillery. But, at the end of the day, the job is really still about what goes into the bottle and what the experience is like for the customer. I just get to spend a lot more time working on the strategic decisions that go into running the distillery. I've also had the opportunity to join the board of directors of the only national trade organization representing craft spirits producers in the US, the American Craft Spirits Association. I certainly would've been shocked if you told me all of this would happen in under ten years. So, I can't wait to see what the next decade holds for Copperworks and me!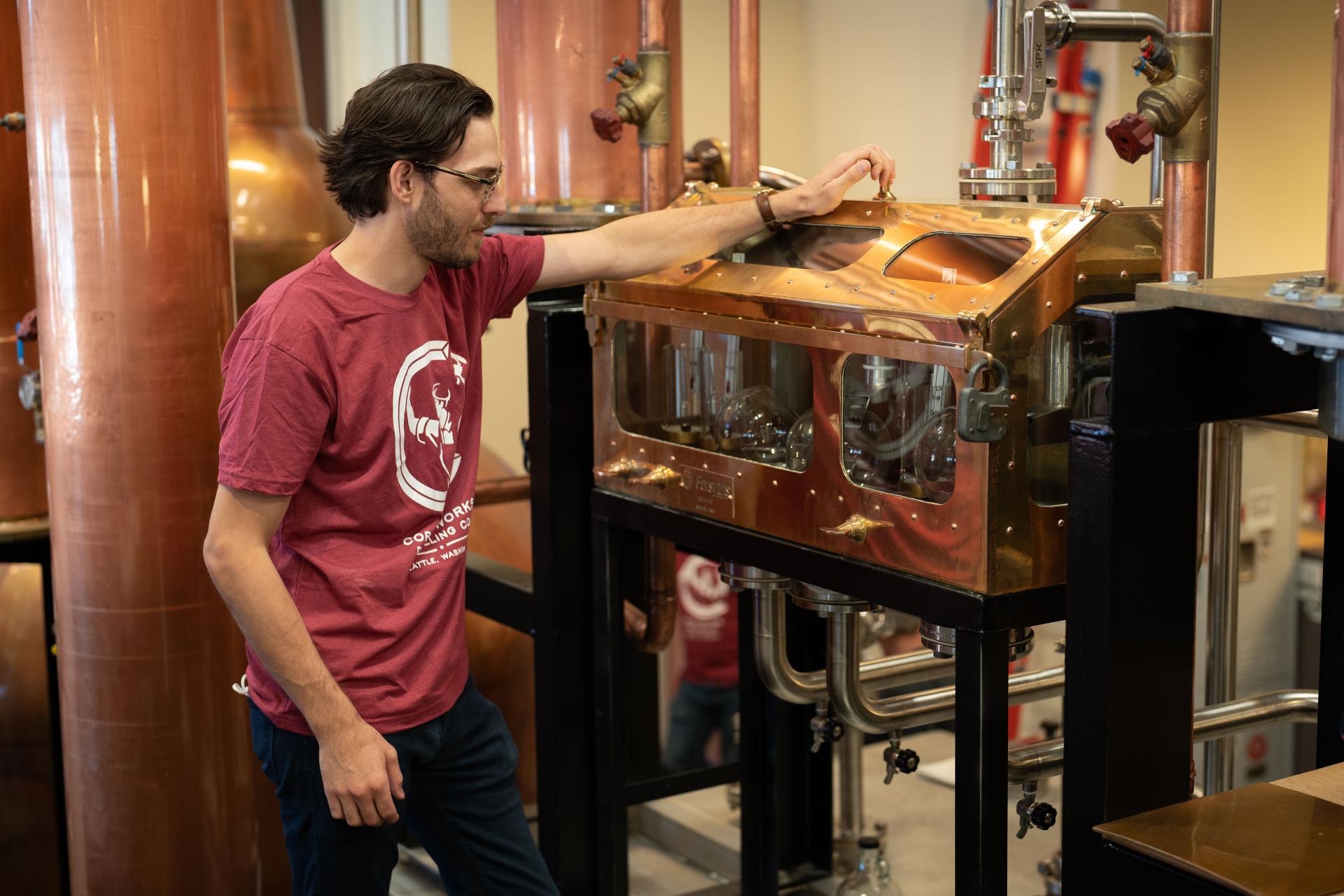 Jeff Kanof at Copperworks Distilling Co.
After so many years and rapid expansion in the Spirits industry , how do you think the Spirits industry has evolved so far in the last 18 months especially in COVID?
Obviously, the pandemic has had a horrific impact on the hospitality business as a whole. That has hit small spirits brands hard because not only do we rely heavily on on-site sales, but some of our best customers and greatest advocates are restaurants, bars, and the fantastic teams that run those restaurants and bars. So, that has been a challenge, and I expect it to continue to be a challenge through the majority of 2022. One bright spot from the pandemic is more of an emphasis on direct-to-consumer sales of spirits. This allows the consumer significantly better access to small brands' spirits, and it allows a distributor to see how brands perform with consumers before it invests heavily in a new brand. It's definitely a win-win, and I'm hopeful that the movement towards more direct-to-consumer avenues will continue.
We see a lot of changes and upgrades with Copperworks Distilling from expanding to Seattle , new eatery , and event space and so much. What is the overall plan and idea?
We are beginning multiple expansion projects that will allow us to increase our size by about ten times in both production levels and customer experience space. This will allow us to better serve our immediate area, as well as produce more whiskey to distribute nationally and internationally. When we started, we always knew we would be expanding production by adding our own brewing capabilities. We built a distillery with large enough stills to support producing about 1,250 barrels of whiskey per year. We currently work with partner breweries to produce the beer for our stills. We love that method, and it has allowed us to scale nicely. But, by fully controlling our own brewing facilities, we'll be able to ramp up production exponentially. On the other side of the coin, we've found that we really enjoy providing educational and entertaining experiences at our distillery. So, when a few ideal locations became available, we started putting together the plans to also expand our customer-facing footprint and offer a more robust experience. Instead of just tastings and tours, we'll be able to offer food, full cocktails, classes, events, and more in the new spaces.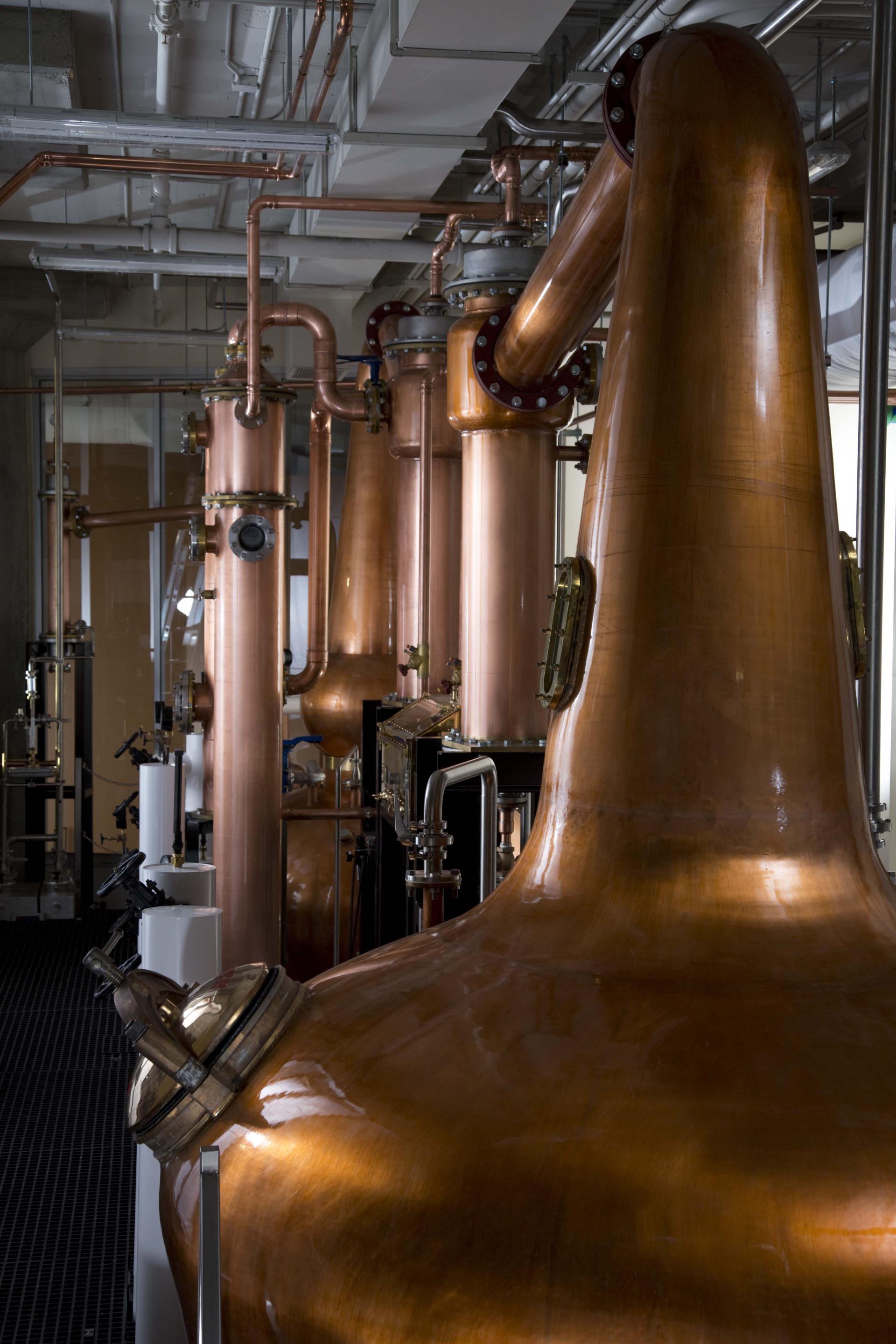 Inside at Copperworks Distillery
Copperworks Distilling has been into a lot of sustainability initiatives . Please tell us more about it.
We are always looking for ways to support the community, which we believe includes the natural environment around us. We do many small things to try to do so, but the most significant impact we can have is through the barley we purchase. As former brewers, we make all of our spirits from malted barley and use about 5,300 lbs. of it every time we brew. Crops like barley are important rotational crops for farmers to help regenerate the soil between higher-dollar-yielding crops. Crop rotation has plenty of advantages for the farmer and prevents farmers from needing to put costly and harmful additives into the soil. Along with practices like proper crop rotation, farmers we work with are focusing on the environment through programs like the Salmon-Safe certification, which essentially challenges farmers to protect the water quality around their land by limiting runoff and the use of certain chemicals. While these ideas may sound simple, economic factors can make it hard for farmers to make these choices since their barley is often sold at a low value for feed. We encourage these practices from the Washington farms that grow our barley, and we are willing to pay the premium in price to buy such grain. This makes it easier for them to make those choices that protect the environment around us all. One of our current Whiskeys, Release 039, showcases 100% Salmon-Safe certified grains.
Who is drinking Copperworks's Spirits - national or international? Please elaborate your target audiences if you have any data.
Until our expansion is complete, we have a relatively limited supply of our American Single Malt Whiskey. Therefore, our current distribution is only widespread in our home state of Washington. That said, we have some relationships with distributors and independent bottlers that have made our whiskey available in other states, as well as Canada, Australia, and the UK. We are also able to ship to consumers in many US states through our online store. As we ramp up production, we'll also be expanding our distribution footprint. We are targeting whiskey lovers, both the entry-level who are just learning and looking for new whiskeys to try and the whiskey nerds who have tried hundreds of different expressions. Basically, if you're curious about whiskey, we want to get our whiskey in front of you for a taste.
What are your upcoming releases at Copperworks Distilling?
Every release of American Single Malt Whiskey from Copperworks is different. This is an intentional choice that we make in order to explore the possibilities in this new category of American Single Malt Whiskey.
We just released our Kentucky Tornado Relief Whiskey. My partner Jason grew up in Bowling Green Kentucky and happened to be visiting his family there when the horrific tornado swept through the area on December 10, 2021. When he got back to Seattle, we wanted to offer a whiskey that would help the people in that area rebuild. To create that whiskey, we turned to whiskey in our inventory maturing in barrels that had previously held Kentucky Bourbon. To achieve the flavor profile they were after, we blended that whiskey with whiskey that had been matured in a new American Oak cask (cask no. 270, in honor of the area code for western Kentucky). It made for a very different flavor profile than most of our whiskey releases that are matured exclusively in new American oak. We still have a small quantity of that whiskey available. $40 from each bottle goes directly to the Team Western Kentucky Tornado Relief Fund.
Our next release, Release 041, will focus on whiskey that was distilled from quite a few different barley varietals, matured for differing amounts of time, and even a small amount of whiskey that was aged in a previously used sherry cask. One of our core concepts at Copperworks is putting flavor at the center of every conversation. Release 041 may do that more than any other release. The whiskey that went into this release does not tell a neatly packaged storyline, but we blended the whiskey the way we did for one simple reason because we think the flavors are great.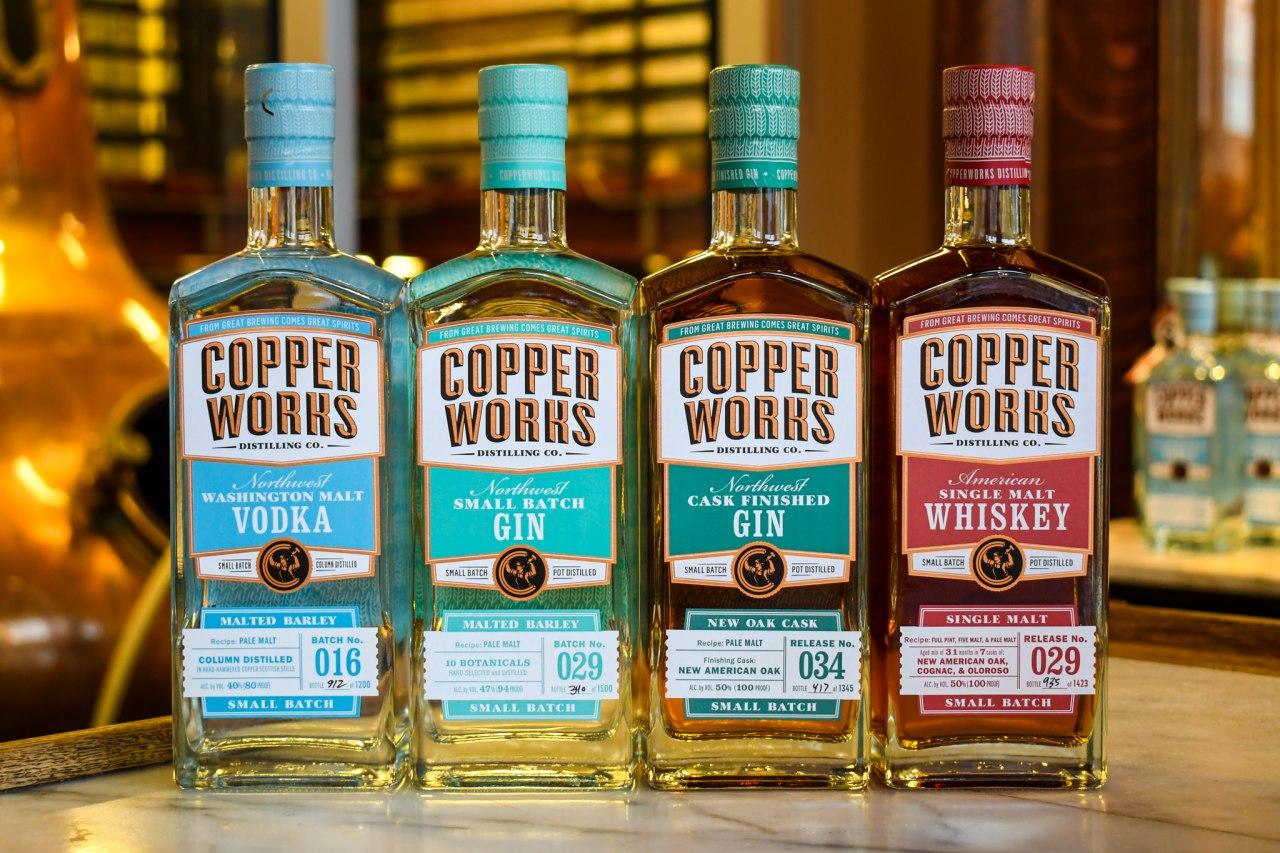 Products at Copperworks Distilling Co.
We will also soon be releasing Copperworks American Single Malt Whiskey Release 042, which will be the third release of our very popular Washington Peated Whiskey. Many of your readers probably know that peat is decomposed organic plant matter compressed in the ground for thousands of years. When burned during the malt drying process, it imparts a distinctive smoky flavor to the barley. While the focus of this technique has typically only been in Scotland, a local malthouse called Skagit Valley Malting has worked to develop a process to use locally-sourced peat to smoke barley grown from small Washington farms. The peat used by Skagit Valley Malting was harvested from a lakebed on the Olympic Peninsula in Washington. This malt is the first peated malted barley produced entirely from ingredients sourced in Washington. The smoky flavors we get from using this peated barley are different than what you find in a Scotch that uses Scottish peat. Why? Because the decomposed plant matter in Washington is different than the decomposed plant matter in Scotland. Using Washington-sourced peat gives our whiskey flavors of roasted almonds, toasted bread, hickory, smoked meat, and wet earth - different from the notes of iodine, creosote, and seaweed often found in Scottish peated single malt.
Finally, later this year we will put out the second release of our Plum Gin. It's a delicious product that combines Copperworks Gin, cask finishing, and Washington-grown plums. It can be sipped on its own or used as a modifier in cocktails, but it is also bottled around 40% ABV. allowing it to shine as a base spirit in cocktails.
How do you explore new markets for your spirits and do business development?
When we first started, we thought it would be best to look for markets where we thought there would be lots of whiskey drinkers. It turns out there are whiskey drinkers almost everywhere, and we've since learned that it's the partnership in sales and distribution that is much more critical to success. As a small team, we can't be everywhere, and we can't usually afford to hire full-time sales representatives in new markets. So, we really look for distribution and sales partners who want to dive into the brand and sell it almost the way we would. They are the people that reach out to us many times before even asking to distribute our brand, they watch all of our YouTube videos, and they e-mail us with excitement about a new release as soon as they see it on our Instagram Feed. In other words, we don't want to be buried in a distribution book of hundreds of spirits; we want to be one of the driving forces in a smaller distribution partner's portfolio. We know we're excited about our whiskey, and we believe the customer will be as well, so we just need to find the distribution partner that shares in that excitement.

Copperworks Distilling Co.
How do you think a distiller can help in driving marketing and sales personally?
At Copperworks, anyone who has operated our stills has also spent hundreds of hours serving customers in our tasting room and at events. This is great because they are quite directly driving sales and marketing by being in front of customers, telling the story, and serving the spirits. But it also gives them a lot of insight into the customer and perspective on the entire operation, which they can take back to the production floor. This can impact big things like how to choose the next casks for our next releases. Or even seemingly small things like how can we make adjustments on the bottling line to make sure the packaging looks perfect.
What's unique about Copperworks Distilling that you like the most?
I love that from the beginning, we've been trying to create something new in the world of whiskey by pioneering American Single Malt Whiskey. We love whiskeys like Bourbon and Scotch, but instead of chasing those flavors and attempting to replicate them, we've always set out to create something new and different. This is what attracted me to want to work with Jason and Micah in the first place. They saw an opportunity in the whiskey world to take their incredible amount of beer brewing experience and apply it to make Copperworks one of the leaders in the emerging category of American Single Malt Whiskey. That desire for innovation has also crossed over into our gin lineup. Not only does our Small Batch Gin taste completely unique when compared to a London dry gin, but we've released over a dozen different cask finished gins that have shown off all kinds of exciting new flavors.
Define a good distiller.
I think a good distiller is well-rounded and interested in learning about the people who are consuming the spirits. I already mentioned above how we require our team to serve customers for a significant amount of time. Also, as a small distillery, we need someone we can really trust since our production team is going to work autonomously most of the time. We need someone who we can trust to do things right, but also who we can trust to fess up when they've made a mistake. Mistakes can usually be fixed in one way or another, and there is quite a bit of learning that can come from them as well (for the person who made the mistake and everyone else).
What advice would you give to future distillers?
My advice for future distillers is to be willing to do all kinds of jobs at any point in your journey. Obviously, you'll need certain skills, and you'll need things like attention to detail, a propensity to keep good records, etc. But, if you don't get experience that shows how your job as a distiller fits into the overall operations of a brand, you'll never meet the full potential of your role. And, if you ever dream of starting your own brand, you're going to spend a lot more time on things that don't impact the flavors of liquid itself than you'd ever imagine. The more you can learn an intro to those topics before you start your brand, the better off you'll be in the long run.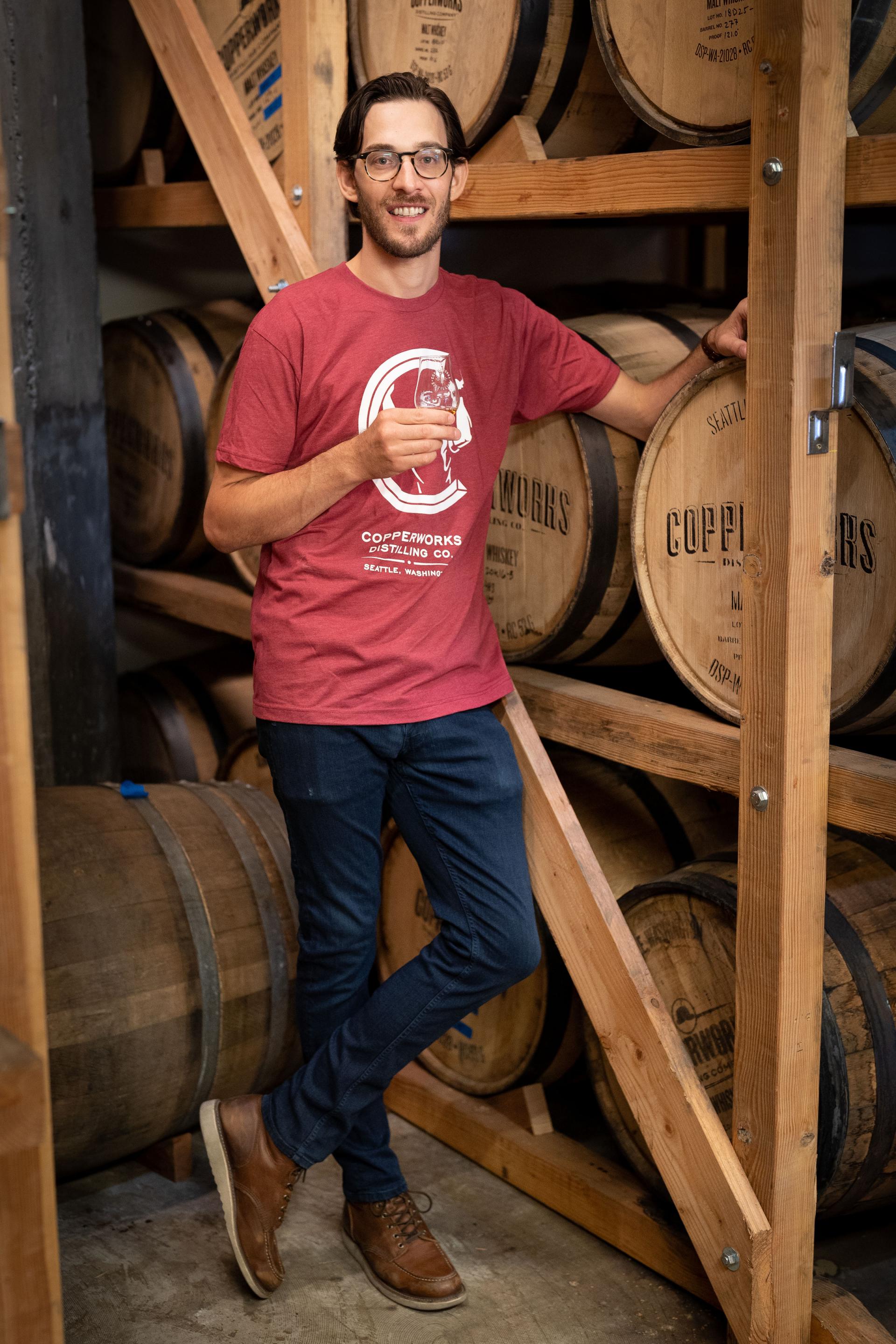 Jeff Kanof , Co-owner and VP at Copperworks Distilling Co.
Which is your go-to drink and what is the perfect setting you enjoy it in?
I love to try new things, so my favorite drink is usually an iconic drink enjoyed in the place it is produced. For example, a Kolsch in Cologne, Germany, or a Japanese Whiskey while sitting at a bar in Kyoto, Japan. I love that you can later drink a similar drink in your home and get transported back to that experience. That said, during the pandemic, I've been finding myself drinking a lot of Old Fashioneds after dinner. It's great to make an Old Fashioned with our American Single Malt Whiskey since each different release makes the cocktail decidedly different.
What do you do when you are not distilling? Any sports you follow.
I love to cook. I especially love working on improving my pizza-making skills. Cooking is great because it provides an excuse to gather friends and family and serve them your creation and great drinks. I also love to travel because I love seeing new places, eating new foods, tasting new beverages, and meeting new people. Travel gives me time to clear my head, and it also gives me a much bigger perspective on the world than I get when I'm in my bubble at home. Obviously, the pandemic has put a bit of a damper on both gathering people around the table and traveling. But I also love to spend time with my wife and daughter, and a bright spot of the pandemic is that it has allowed for significantly more family time.
Interviewed By Ankita Okate, Chief Communications Officer, Beverage Trade Network