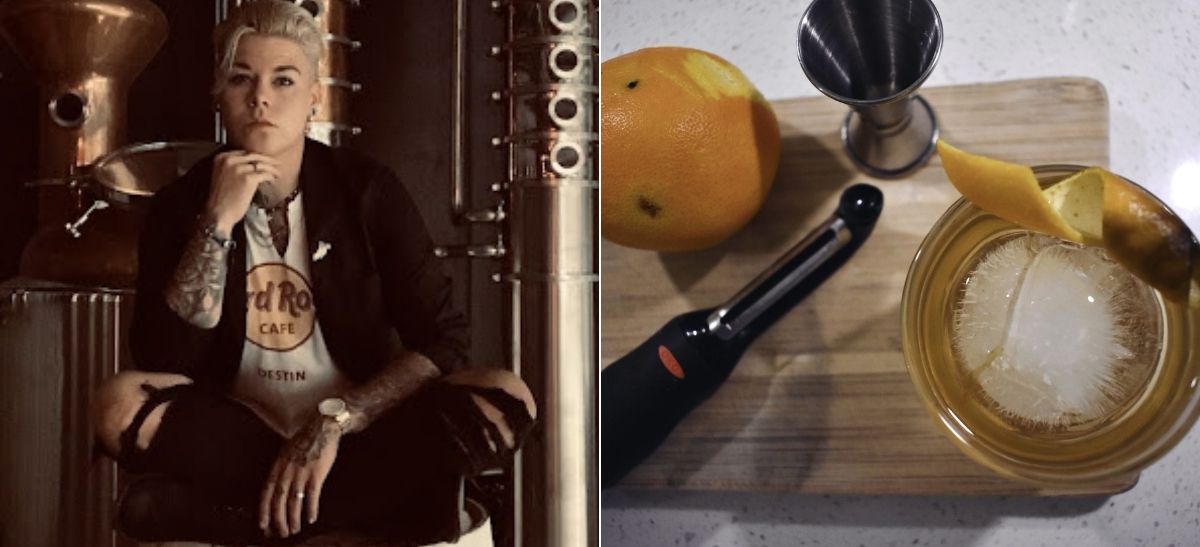 24/01/2022 A Good Distiller Cares About The Consumer Just As Much They Care About The Quality Of Their Products Says Devin Walden.
With an experience of more than 8 years in the beverage industry, Devin Walden started her career as a Manager and Bartender at the Woodford Inn. Few years later, Devin joined the Woodford Reserve Distillery and became the First Female Distillery Operator there. She was incharge of Quality control and SOPs at the distillery which later helped her to bag a Spirits Supervisor role at Total Wines. Having studied Distillation and Brewing, she holds immense knowledge of the field and has been on the judging panel of various wine and spirits competitions like American Craft Spirits Association and USA Spirits Ratings. She now works as the Master Distiller of Tropical Distiller where she handles everything from creating SOPs to recipes.
What has your distilling career been like? Tell us a little about your background.
My distilling career has been very unexpected, but extremely rewarding. My background ranges from bartending, sales, production, and marketing. I didn't have a science background before working in a distillery, so I had quite a learning curve ahead of me. However, through a few awesome mentors/friends, asking as many questions as possible, and a little bit of blind faith I was able to learn and continue to every day.
How do you think the Spirits industry has evolved?
The spirits industry has evolved in many ways but a big way is its presence and importance to the hospitality industry. The hospitality industry and spirits industry have merged over the years in efforts to further raise brand awareness through increasing/improving consumer engagement and experience. I think now more than ever consumers are interested not only in a quality product but also education, experience, and brand story which has created a larger emphasis on the tours, visitor centers, tastings, etc.
Tell us a little about your day-to-day role.
My role varies day to day which is part of why I love what I do. Some days my day is filled with formulating new products, other days researching, production planning, putting SOPs together, and more. I love that my role is cross-functional and I am able to be involved in multiple areas of the business.
Let's go into detail. What do you mean by SOPs for all distillery processes and what all should be in that?
An SOP (Standard Operating Procedure) is a detailed outline of a certain procedure and its steps. SOPs are essential really for any business or industry, not just in a distillery. In thinking of my own experience when I started in the distillery, I worked alone for a large majority of my time there. Often times when I had a question, concern, etc. I didn't have a person there to ask so having the SOP's there for guidance made a huge difference. SOP's should be descriptive of amounts, times, temperatures, etc. To not only ensure that one could perform the task on their own confidently but also control consistency from a quality standpoint.
What were some of the challenges you faced when you distilled your first spirit?
I would say my largest hurdle when it came to distilling my first spirit was the fact that I wasn't the most mechanically inclined at the time. A distillery is full of pumps, valves, steam, water, etc. Pair that with all the things that can go wrong, I had a lot to learn before ever actually distilling. But I did! I remember at one point thinking I was never going to be able to learn it all, but I did. Every day was and continues to be a new learning experience/opportunity and that is one of the best parts of being a distiller.
How do you think a distiller can help in driving marketing and sales personally?
A distiller can, and in my opinion, should be a part of helping drive marketing and sales by integrating themselves with their brand teams. Many consumers want to be informed on a product before making the decision of buying it(how it is made, what makes it unique, brand story, etc.) In order to fully execute this, it requires buy-in and collaboration from everyone which includes the production team. The production team can provide invaluable information that can greatly enhance the value of the product and overall experience. increase
What are some of the essential skills required to distill?
In my opinion, the essential skills required to distill would be tenacity, creativity, being able to think on your feet, and a whole lot of patience. Distilling is not something that has a set in stone set of rules or methods. It is a simple concept yet complex at the same time. An array of unexpected events or problems can arise so it is important to be able to problem solve quickly and think out of the box for solutions.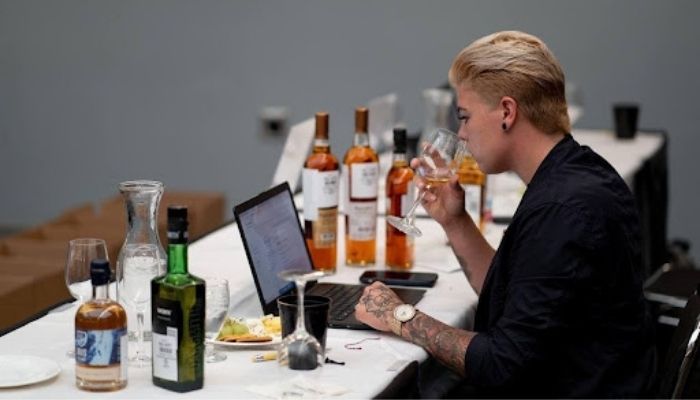 Devin Walden, judging at USA Spirits Ratings when she was a buyer at Total Wine and More.
Define a good distiller.
A good distiller is someone who cares about the quality of the products they make and just as importantly, they care about the consumer. Distilling is a profession I feel you need to really have some passion behind in order to make something great. A good distiller takes pride in their craft and making something unique.
What advice would you give to future distillers?
The advice I would give to future distillers would be to never stop learning. Ask as many questions as possible, join organizations, read books, get involved in as much as you can. Distilling (and the spirits industry in general) can be overwhelming to learn at times, but with hard work and experience, you will find your way of navigating through it.
Which is your go-to drink and what is the perfect setting you enjoy it in?
My go-to drink is the Haden's Mangoldfashioned which is a spin on an Old Fashioned using our award-winning Mango Liqueur. It is perfect for really any setting. The great thing about all our liqueurs is they are so versatile, they are great with bourbon, tequila, rum, anything you can think of. They are perfect for any occasion and an amazing accompaniment to any cocktail!
INGREDIENTS
1 oz. J.F. Haden's Mango Liqueur

1½ oz. Bourbon

1 dash Orange bitters

1 Orange round

1 Maraschino cherry

Source: Facebook
What do you do when you are not distilling?
When I am not distilling, I am working on other distillery projects and always trying to find opportunities to learn. Be it touring other distilleries, taking classes/courses, meeting other distillers, seminars, etc. Outside of this, I love to spend time with my family whenever I can.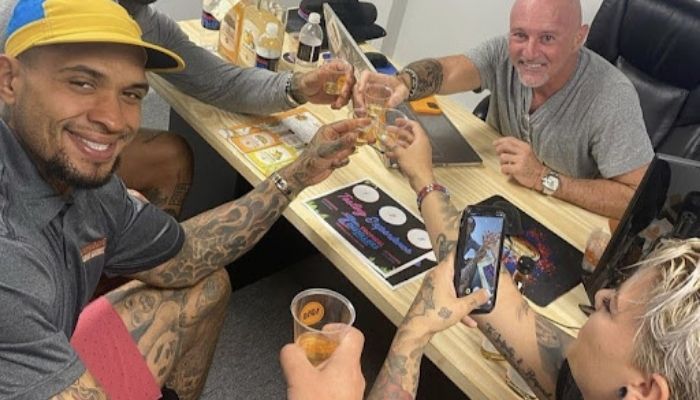 What is your idea of a good life?
My idea of a good life is one with no regrets. I believe a good life is one full of experiences, taking chances, and risks. I don't at any point in my life want to reflect on my career, relationships, or goals and think to myself "I could have tried harder", "I could have done more". Memories, good or bad, will always trump "what ifs".
The Submission Deadline Is April 14, 2023. Enter Now. Bartender Spirits Awards medal will help you in raising your bar in the on-trade channels. View complete winning benefits here.