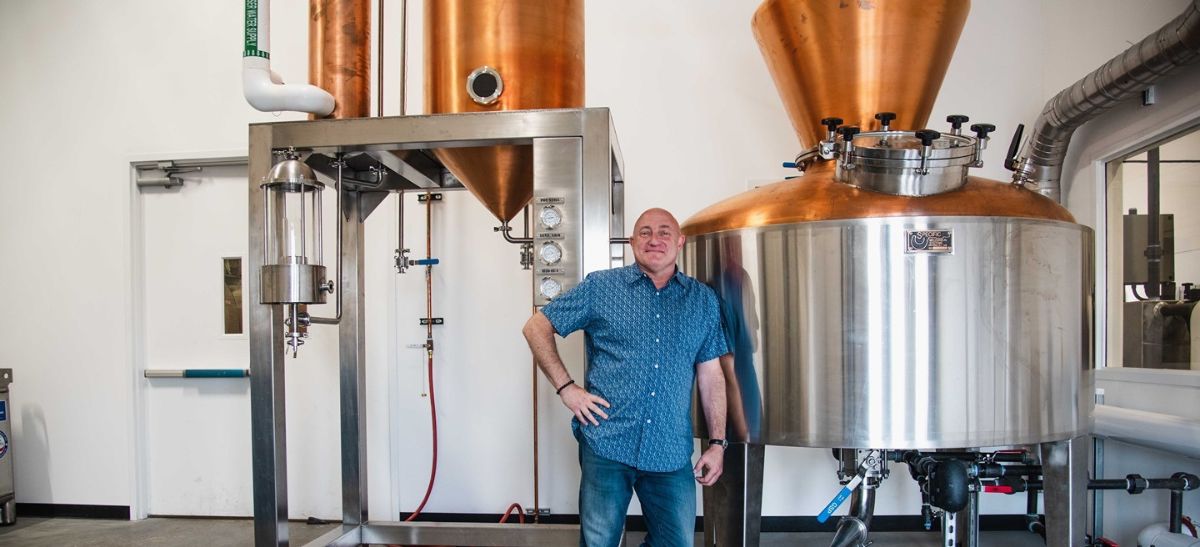 12/01/2023 Someone that has both a passion and an aptitude for making spirits and that will strive to continuously improve the products they make defines a good distiller.
Currently the Master Distiller and CEO of Golden Moon Distillery. Mr. Gould has been distilling for over 3 decades. He is a member of the Board of the ADI, a member of the Board of the Colorado Distiller's Guild, a member of the Craft Advisory Board of DISCUS, and a member of ACSA. He is the first American named Warden of London's Gin Guild. He is also a member of the Worshipful Company of Distillers, one of the City of London's Livery Companies.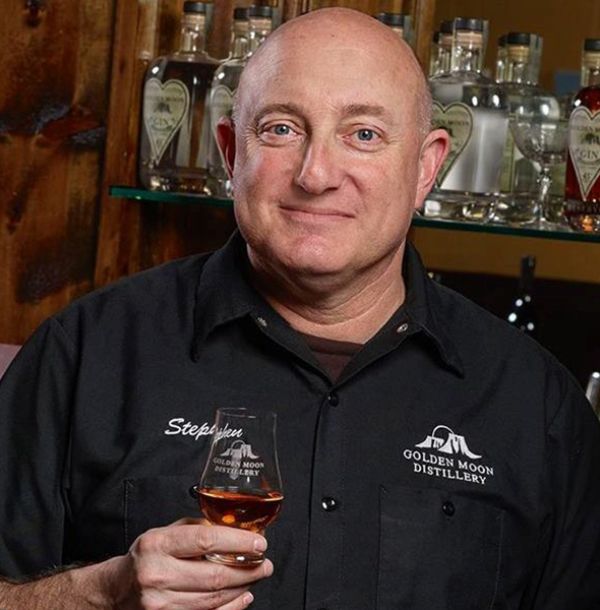 Image: Stephen Gould; Source: Golden Moon Distillery
Mr. Gould is a consulting master distiller supporting distilleries in the US, UK, Europe, Asia, and the Middle East. He lectures and teaches courses on distillation, including whiskey/whisky production, botanicals in distillation, the production of brandies and whiskies, craft-distillery start-ups, and the history of spirits. He has lectured for the American Distilling Institute, the London Craft Distillers Expo, various chapters of the USBG, Tales of the Cocktail, Rome's Jerry Thomas Project, Bar 5-Day, and others. He also lectures at the Colorado School of Mines. He also writes for several industry trade publications, including Distiller Magazine and Artisan Spirit Magazine.
Mr. Gould is also involved in legislative and government affairs issues related to the spirits industry. He is also called upon as a subject matter expert by various news outlets, including Time Magazine and CNN, among others.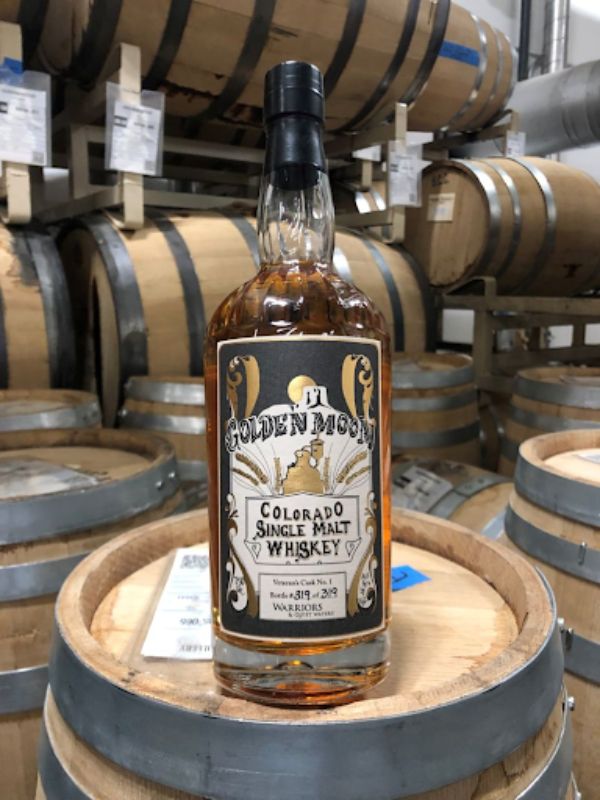 Image: Colorado Single Malt Whiskey
Your current role and what does your day look like?
I am currently the CEO and Master Distiller of Golden Moon Distillery, and a consulting master distiller supporting other distilleries in the US, UK, Europe, the Middle East, and Asia.
The running joke about being called a "Master Distiller" is that when the industry starts referring to you as one, as they have in my case, it actually means that the vast majority of what I do daily isn't actually distilling. It's marketing, sales, distillery operations, and raising funds for our continued growth and expansion.
I do still do some R&D and I regularly taste and smell everything we produce, but the majority of production is handled by our production crew.
On the consulting side, I do get the opportunity to do additional distilling and other related lab work that I love ... but only from time to time.
What inspired you to become a distiller?
I fell in love with food and beverage when I was a teenager working in restaurants. I started brewing beer in high school and founded a brewery while in graduate school. I began to appreciate whiskey while working in a small cafe with 30+ single malt Scotch whisky in the 1980s (very unusual at that time), and after starting the brewery I tried my hand at making my own single malt ... which wasn't very good. That was in 1991 and I've been involved in the distilled spirits industry in various ways ever since.
What are some of the most essential skills for a distiller?
A solid basic understanding of chemistry, specifically the chemistry and biology of mashing and fermentation. If you're planning on making gin or other herbal or botanical products, have an understanding of the various processes used to prepare materials and extract essences and essential oils.
At least basic tool and mechanical skills.
A thirst for knowledge and continuous improvement.
Good project and time management skills.
How do you think a distiller can help in driving marketing and sales personally?
People want to meet the person(s) that make the spirits. As such, a distiller can and should be an integral part of any spirits brand's sales and marketing helping to both educate and entice customers to purchase the brand's products.
[[relatedPurchasesItems-31]]
Define a good distiller
Someone that has both a passion and an aptitude for making spirits and that will strive to continuously improve the products they make.
What is the hardest part of a distiller's job?
Balancing both the "art" of distilling and the "business" of distilling …
What's your elevator pitch to a bartender when pitching your brand
We own several brands and produce for other brands as well… so let's focus on our American Single Malt Whiskies.
Golden Moon's American Single Malt whiskies are all made from 100% two-row Moravian barley, grown in Colorado, Idaho, and Wyoming. The barley is then malted here in Golden Colorado a few miles from our distillery. We use Rocky Mountain run-off water from the Montezuma and Cleark Creek watersheds of Colorado's Rocky Mountains. We use a proprietary yeast strain and a proprietary method of mashing. The result is a family of award-winning malt-forward whiskies. Every main-market malt whiskey we've produced has taken Gold or Double Gold at the San Francisco World Spirits Competition. We've also received numerous other awards and accolades, including being named the Best Distillery in Colorado in 2016 and again in 2020. We were also named Distillery of the Year by the American Distilling Institute in 2019.
What are the current challenges the spirits industry is facing according to you?
Rapidly changing consumer preferences. Rapidly changing regulatory environments at the State level in the US. An ongoing series of domestic and international economic issues...
On the domestic front, the effects of COVID continue to challenge the industry. This includes changes in consumer spending and purchasing patterns. It also includes staffing issues.
On the supply chain front (both domestic and international) the industry continues to struggle to get everything ... glass, barrels, closures, spare parts for equipment, and a host of other things are often difficult (or impossible for the smaller producers) to find.
On the international front, the Trade War enacted under the Trump administration (costing the US Whiskey industry 48% of our EU market share and 53% of our UK market share) significantly harmed our industry. This was followed by the double effects of COVID and the war in Ukraine, the combination of which has disrupted the entire international economic system, further hurting exports. The war in Ukraine has also negatively affected the world grain markets, meaning that even grain from local farmers is becoming much more expensive ...
Along with these challenges we've seen a tightening of the supply of domestic-produced whiskey. The reality is that the US whiskey industry has used "sourced" whiskey almost since it began hundreds of years ago. In the last five years, however, speculators have begun purchasing every barrel they can, tying up supply and contributing (along with the factors mentioned above) to both volatility and rapid increases in the price of bulk whiskey. This has both increased the cost to the consumer and harmed the profitability of many producers and brand owners that use sourced spirits in their products, especially the smaller ones.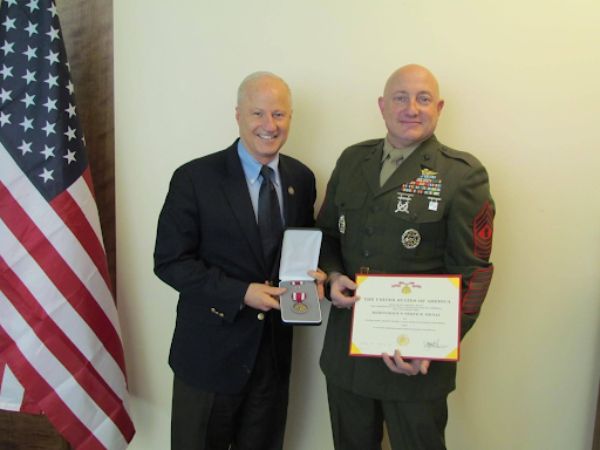 United States Marine Corps, with 30 years and 11 days of combined active and reserve service.
What skill or topic you are learning currently and why?
I continue to study a variety of things to continue to grow my knowledge and skill set. This includes research on various aspects of maturation (I'm currently the principal researcher on a study of the effects of barometric pressure and humidity on whiskey maturation). Along with that, I've been researching both mold-based fermentation (as is used to produce Sake and Shochu, etc.) and the use of pseudo-grains such as Amaranth in whiskey production.
What is your idea of a good life?
One where I have a job I enjoy, a family I enjoy being with, and a safe and comfortable place to live.
Which is your go-to drink and what is the perfect setting you enjoy it in?
My go-to drink is a Golden Moon Rob Roy (same as Manhattan, but made with our single malt) and the perfect setting is sitting on the couch next to my wife ...
What are your favourite 2-3 distilling or spirits books?
1) A Treatise on the Manufacture & Distillation of Alcoholic Liquors - P. Duplais 1856, as translated by M. McKennie, 1871.
2) The Manufacture of Liquors and Preserves - J. DeBrevans, 1893.
3) The Chemistry and Technology of Wines and Liquors - Karl Herstein and Thomas Gregory, 1935. Note - There's also an expanded edition from 1942.
Image: Stephen Gould; Source: Instagram
Get In Front Of Leading Bartenders and Grow Your On-Premise Presence. Enter Your Brands Before the Early Deadline Is January 31, 2024, and Save.