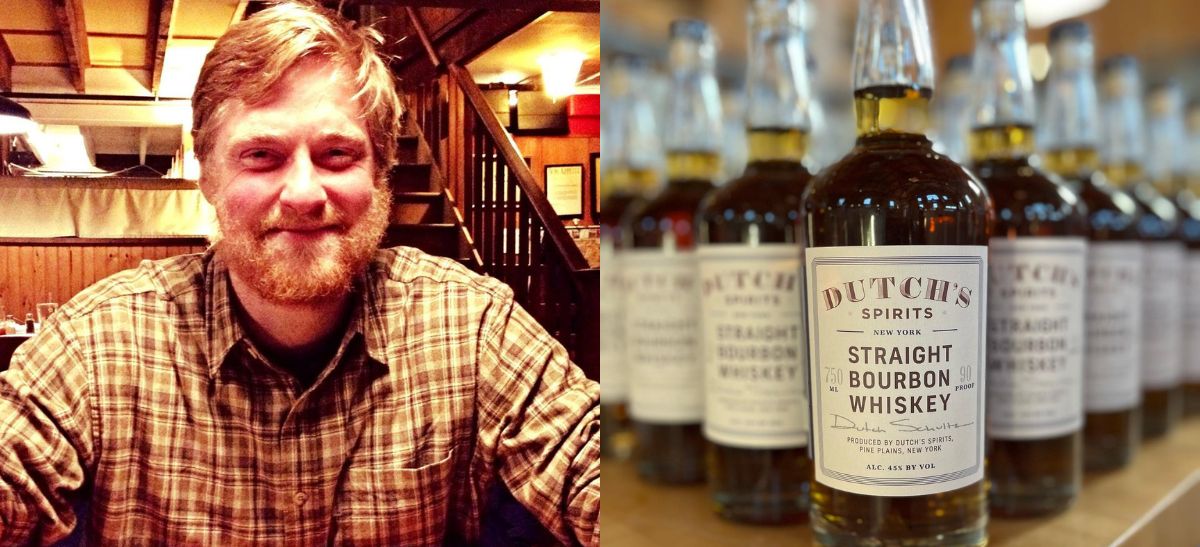 25/01/2023 A good distiller is reliable, hardworking, and nimble. Meet Michael Sharry, Head Distiller at Dutch's Spirits.
Tell us a little about your background and journey into distilling
I brewed beer with friends in college and worked part-time at a cidery in Vermont. After graduating, I apprenticed under a vintner in the Alto Adige region of Italy. At the end of the wine-making season, we took the fermented grape skins to make grappa. This was very much an illegal practice but nonetheless introduced me to the amazing world of distilling. I returned to the US hell-bent on working in the industry in any capacity and became a brand ambassador for a craft distillery in MA. After years of hitting the road, working events, and lending a hand in production, I became head distiller at Berkshire Mountain Distillers. In my time there, I put away hundreds of barrels of bourbon, rye, rum, and single malts as well as countless iterations of gin and of course some fruit brandy. I also worked with east coast brewers to produce a line of craft beer whiskeys, some have been released and more to come! After appearing on the Discovery channel Master Distiller I got to make grappa in a competition, reminding me of my roots in distilling, I decided to leave the company and build out a distillery I could call my own. I am now the head distiller at Dutch's Spirits in Pine Plains, NY.
Your current role and what does your day look like?
At the moment, we are in the process of designing our facility where we plan to mash whiskey, process local fruits, and a second phase of producing and canning RTDs. At my previous job, as an active distiller, I would be dedicating the entire month (or two) to mashing bourbon or rye, stripping those mashes, and blending them into barrels. After filling 8-10 barrels at a time, I would shut down and clean everything, and do back-to-back runs of gin to make sure we had stock for our distributors and tasting room.
[[relatedPurchasesItems-31]]
What inspired you to become a distiller?
Since their very first batch of beer, I can't tell you the pure joy and excitement I get from watching the CO2 being released due to fermentation. That continues to this day, walking into work the next day after mashing and smelling the sweet smell of fermenting corn or molasses and of course fruit. It is truly an obsession. I even make small batches of hard cider at home because I can't get enough. When it comes to distilling, you witness these lovely aromas during the fermentation (or in some cases, the substrate itself), and distilling these ferments captures those esters and other congeners, trapping them in the spirits for eternity (if sealed properly). Esterification can continue in a barrel or even a glass or steel container, so tasting a spirit years later has also become such a rewarding experience.
What are some of the most important skills for a distiller?
PATIENCE. Exercising your nose and palate is paramount in trusting your senses. Being handy saves a lot of time and money. Effective communication, its important to have the ability to go into the weeds with an interested partner or keep it light and simple for someone who just wants to understand the basics
How do you think a distiller can help in driving marketing and sales personally?
Meet the maker/customer education events. Meeting with key accounts for private label/custom projects. Present at notable on-site events
Define a good distiller
A good distiller is reliable, hardworking, and nimble.
What is the hardest part of a distiller's job?
Balancing production schedules with R&D. Continuous improvement
What's your elevator pitch to a bartender when pitching your brand
Famous mobster Dutch Schultz allegedly funded an illegal bootlegging operation in upstate New York. The underground bunkers were raided by the Feds in 1932 finding two massive stills and because of the intricate tunnels that are still here today, only two people were arrested. The bunkers are available to visit and sit beneath a three-story, newly-constructed barn housing a distillery, tasting room, event space, sprawling lawn, and a 400-acre farm. The distiller has recreated the moonshine from almost 100 years ago with plans to produce gins, whiskeys, and brandy.
What are the current challenges the spirits industry is facing according to you?
Because of the massive number of distilleries that have opened in the last decades, it is difficult to prove one's uniqueness and style. Because of this, we really rely on the bartender that seeks out good craft spirits and educates their customers on those distillers that try so hard to elevate spirits while honoring their rich history.
Dutch's Spirits: Distilleries are trendy in rural New York. But this one has opened 88 years ago, during Prohibition. About 30 miles north of Poughkeepsie, in the small town of Pine Plains, is Ryan Road. Quiet and flanked by farmland, it has a discreet turnoff onto a long, gravelly driveway.
What is your idea of a good life?
I went to a conference and met a distiller from Scotland who had been working for the same distillery for the last 48 years. Of course, I had to ask him what the oldest thing of his he had tasted. He said on his 45th work anniversary his boss pulled a bottle out of the first barrel he had ever filled. My jaw dropped, what an amazing experience that must have been. That is my idea of a good life, being able to open barrels like chapters in a book that is your life. I asked him how it was, he said he was so drunk he didn't remember.
Which is your go-to drink and what is the perfect setting you enjoy it in?
I have to say I am still a beer drinker but when in the setting of a cozy bar with an experienced cocktail maker, I always will pull something off their cocktail list. Generally spirit-forward
Your favourite 2-3 distilling or spirits books?
1) The Compleat Distiller by Michael McCaw, Michael Nixon
2) Proof: The Science of Booze by Adam Rodgers
3) By the Smoke and the Smell: My Search for the Rare and Sublime on the Spirits Trail by Thad Vogler
Bartender Spirits Awards medal will help you in raising your bar in the on-trade channels. View complete winning benefits here. The international submission deadline is March 24, 2023.