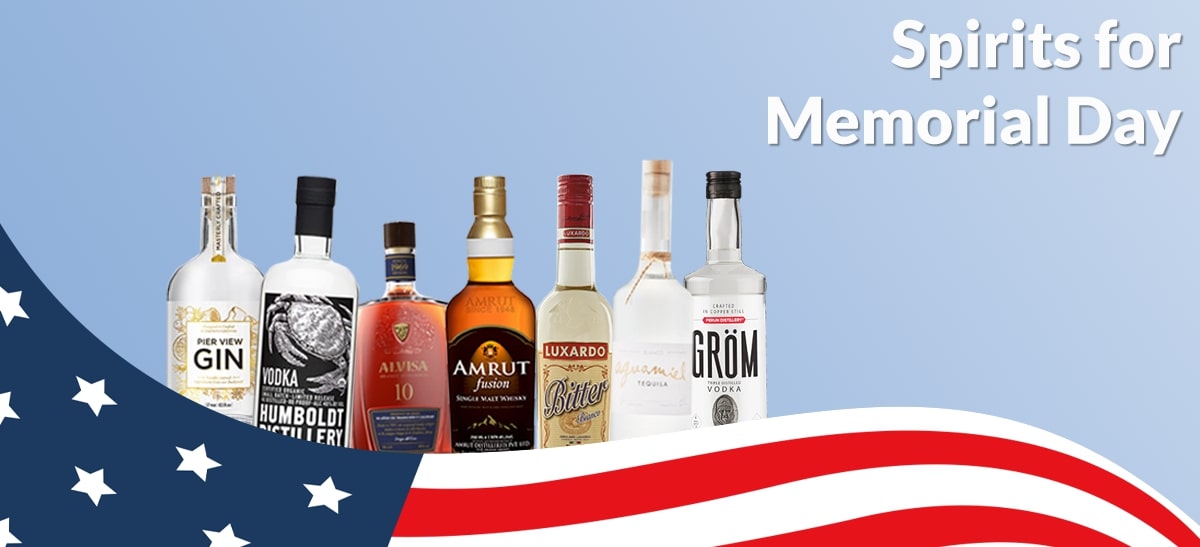 19/05/2020 7 spirits you can order online to make the most out of your quarantine Memorial Day Weekend
Memorial Day Weekend is almost here, and usually this is the season for outdoorsy cocktails, sunbathing, and some great bbq skewers. However, due to the unfortunate events taking place across the globe, right now, going out and celebrating Memorial Day Weekend isn't the best idea. However, who says you can't celebrate it at home?
Just like every year, Memorial Day Weekend is used to reminisce and pay tribute to the heroes who fought for our country - and what's that without a bit of booze? Here are 7 spirits you can order online to make your quarantine Memorial Day Weekend a well, quite memorable one.
1. Humboldt Distillery Organic Vodka
Made in Humboldt County, California, using pristine water sourced from a watershed that originates in old-growth redwood forests, Humboldt Distillery's Organic Vodka is known to be a shining star across the world. Grabbing a whopping 96 points at the 2019 Bartender's Spirits Awards, and also taking the title of Spirit of the Year, this vodka definitely doesn't disappoint. Kara Newman from Wine Enthusiast described it to be "Made on a sugarcane base, the palate on this small batch vodka leads with a flash of marshmallow sweets and finishes clean and bracing with ginger and white peppercorn sizzle."
For those worried about all the artificiality out there, let us remind you that this vodka has no added glycerin, sweeteners, citric acid or other additives and is also Non-GMO, Gluten-free. So not only is it the perfect summer vodka, but it's crisp, clean taste is also suitable for everyone. Visit their website.
2. Pier View Gin
Nothing beats a classic G&T on a warm summer day, even though you're probably going to enjoy it on your couch in front of the tv. Say hi to Pier View Gin by Stoke Distilling, which is also known at 2019's Gin of the Year by Bartender's Spirits Awards. On the nose, Pier View Gin hits the aromas of citrus peel, sweet vanilla, and a touch of cinnamon. This "San Diego Style" gin is light and easy going, like the perfect sunny day. Bright citrus is accompanied by a tediously specific blend of herbs and spices. A smooth back bone is the core to the entire experience. Visit their website.
3. Aguamiel Tequila
You can't go to Mexico right now, but we can help in bringing Mexico to you - well, sort of. A shot of tequila and a lime goes a long way - and for the perfect shot, you need Bartender Spirits Awards 2019 Tequila of the Year - Aguamiel Tequila. Blissful scents of sweet agave are accentuated by the scents of tropical fruit and citrus which are complemented by noticeable notes of fresh botanicals and volcanic minerals. The bright agave flavour introduces a light to medium-bodied palate with hints of black pepper and vanilla bean that are graced by the sweet hints of grilled pineapple and lemongrass. The finish is clean and warm with layers of spice, white pepper and green vegetables. All ready for a shot. Visit their website.
4. Alvisa 10
Let's get a little warm. Alvisa 10 - as the name says is a 10 year aged brandy, described as "The taste of a decade". The decade aged brandy is of a bright colour with dark amber sight and a touch of brown and old gold tints. On the nose, Alvisa 10 shells out aromas of both vanilla and cinnamon, along with a rustic wooden touch that does justice to its 10 year aging. With a 40% ABV, Alvisa 10 is warm in the mouth with a long and velvety finish - a divine taste to be precise. Visit their website.
5. Amrut Fusion Single Malt Whisky
Still on the warmer ends for this Memorial Day Weekend, Whisky lovers, don't worry, we still remember you here. Bartender Spirits Awards 2019's Whisky of the Year is the perfect whisky you need to settle down your quarantine blues. Amrut Fusion, released in 2009, was voted the 3rd best Whisky in the world by Whisky-guru Jim Murray. He did so, after tasting over 4000 whiskeys from all over the world. Amrut Fusion Single Malt Whiskey has a very heavy, thickly oaked and a complex nose. The smoke on the nose turns into a warm, full-blown peat as vague sherry trifle notes with oaky vanilla are introduced. It also has barley-fruitiness to make for a bit of a free-for-all. For extra food measure, the flavors develop into a really intense chocolate fudge middle which resonates through the palate. A perfect whisky for whisky lovers. Visit their website.
6. Bitter Bianco by Luxardo S.p.a
Bitter Bianco by Luxardo S.p.a is not only a gold medal winner at the 2019 Bartender's Spirits Awards, but is also known as a fan favorite amongst drinkers. It has infusions of bitter herbs, aromatic plants and citrus fruits with Luxardo Bitter. An infusion of Roman Absinth (Wormwood) is added at the end to enhance the bitter taste, giving the ivory color to the product. According to producers Luxardo, their Bitter Bianco is best in a Negroni - a classic cocktail. Visit their website.
7. Perun Vodka
Serbia's Perun Distillery went home with a Gold medal for its Perun Vodka at the 2019 Bartenders Spirits Awards. Perun Vodka is a triple distilled, easy to sip or mix vodka that has a neutral aroma with hints of sweet. Crafted in a copper still, Perun Vodka comes with 40% ABV & gives you a delightfully smooth experience. Also, Perun Vodka is 100% Gluten Free. So whether you're a vodka soda person, or one for a vodka based cocktail, Perun Vodka is the way to go this Memorial Weekend. Visit their website.
Want to know who else delivers to you? Check out Get Drinks Delivered
Get In Front Of Leading Bartenders and Grow Your On-Premise Presence. Now Accepting International and Domestic Submissions. Enter Your Brands Before Super Early Deadline Is October 31, 2023, and Save.