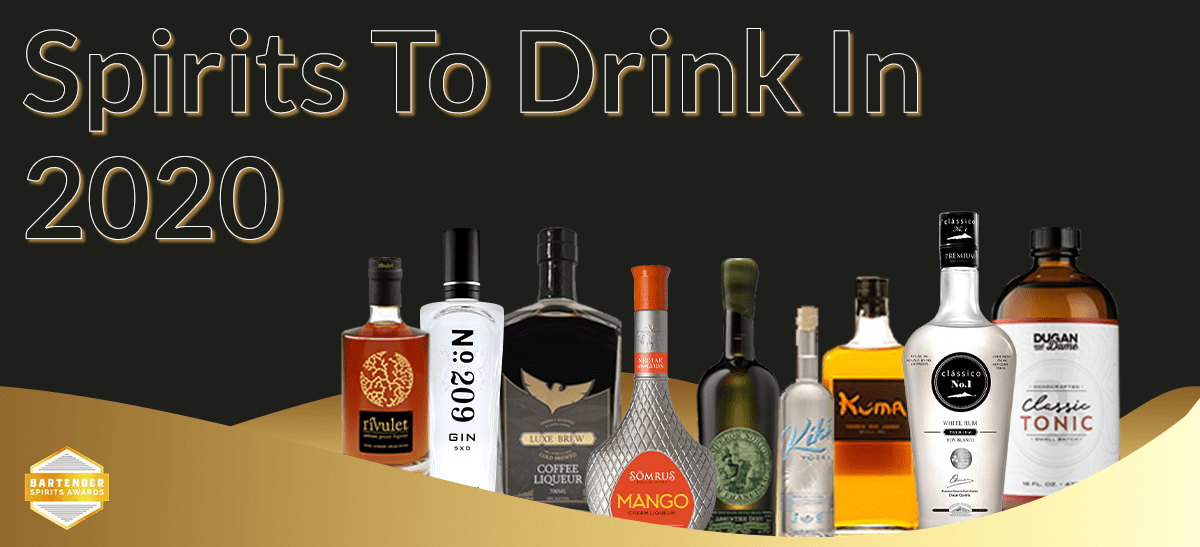 28/01/2020 Here are 10 spirits that are going to steal the spotlight in 2020. Make sure to get your hands on them.
Wondering which spirits brands should you be eyeing on for 2020? We're recapping some of the best bottles of 2019 to give you a cheat sheet of spirits selected by leading bartenders themselves. That being said, the spirits that follow in this list are our picks for those that offer the very best combination of incredible taste and value. These spirits brands will not disappoint you in their packaging too. There's something for everyone in here.
Selected by leading on-premise spirits buyers and bartenders, these brands will fill the gap in your bars, restaurants, pubs or clubs.
1. Kiki Vodka
Kiki Vodka by Kiki Vodka Company LLC is made with the most advanced technology in water filtration. It is then combined with six times distilled premium corn neutral spirits sourced from the United States. The final product is refined through a three stage silver and platinum vodka filtration system. The result is a smooth and mellow premium vodka that is both GMO and gluten free.
2. No 209 Gin
No. 209 by Distillery 209 opens with a beautifully aromatic nose of predominately citrus and floral notes with a hint of spiciness. First across the palate are the citrus high notes, with lemon followed by a hint of orange. As the spirit warms in the mouth, delicate floral notes are liberated from the bergamot and coriander. Mid-palate, there is a pepper-like warmth from the emerging cardamom and juniper. As the cardamom continues to bloom across the palate mint-like components further emerge. The cassia and other warm spice notes become prominent on the finish. The cassia in particular lingers, encouraging another sip.
3. Rivulet Artisan Pecan Liqueur
Rivulet Artisan Pecan Liqueur by C88 Holdings, LLC is the finest expression of all natural ingredients, time honored small batch distilling, and the patience of a delicately slow-aged product. Nutty, caramel and orange citrus with vanilla cinnamon stick spice and butterscotch undertones. Extremely clean texture showing hints of maple syrup, toasted pecans, butter, orange zest and baking spice. Expressive backbone of spice notes up front with lingering pecan notes.
4. King's Town Whisky
King's Town Whisky by Swamp Fox Distilling Co. is a proprietor's blend of four grains: rye, barley, wheat and corn dealt at 100 proof. Aromas of butterscotch, charred maple, and sweet leather prelude flavors of spiked Autumn syrup complete with earthy notes and a gradual unveiling of allspice. Like all Swamp Fox Spirits, King's Town is handcrafted in small batches to ensure that our standard for premium quality, distinction, and flavor is met.
5. Kuma Turmeric Liqueur
Kuma Turmeric Liqueur is made with the bright, earthy spice of the turmeric root, Kuma is a liqueur rich with intrigue. The unique combination of turmeric and other natural ingredients combine for an earthy, floral, citrus aroma and flavor.
6. Clássico No.1 White Rum
Aged in American white oak barrels the clássico No. 1 White Rum by Rones Finos de Colima S.A. de C.V results into a well defined amber rum with complex vanilla, almond and wood notes.
7. Dugan and Dame Classic Tonic Syrup
This tonic mix by Dugan and Dame is a balance of bittersweet with herbaceous and citrus undertones. It is patiently steeped with a delicate blend of botanicals with bark from the Quassia tree and finished with the zest of orange, lemon and lime, then lightly sweetened with pure cane sugar. The final product is a unique and complex mixer for the sophisticated and novice drinker alike.
8. Luxe Brew Tequila Caffe
Luxe Brew Pty Ltd's tequila caffe is an authentic, world-class coffee liqueur is bursting with the full flavour of freshly roasted Arabica coffee beans, extracted through a unique 48 hour cold brewing process. Enjoy over ice, in cocktails or in your favourite creations.
9. Somrus Mango
Everyone loves mango and when mango is married with real dairy cream and handcrafted rum, you have a taste sensation that keeps you coming back for more. Imagine a cross between mango, peach, nectarine and apricot, but better. The Somrus Mango is produced by SomPriya Fine Spirits LLC.
10. Emperor Norton Absinthe
The premium Emperor Norton absinthe by Raff Distillerie is a perfect representation of the absinthe served all over Paris 130 years ago. Woody hints of wormwood and a gentle taste of anise followed by floral and citrus undertones. This absinthe creates complex flavors not seen in other absinthes by using only traditional herbs picked for their fresh and vibrant flavors.